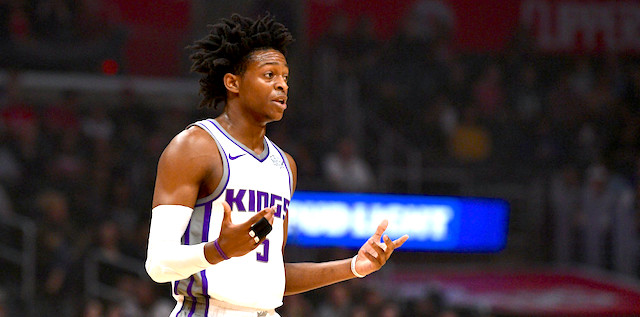 Welcome to the RotoBaller NBA Recap. In this feature, we will highlight one key fantasy basketball takeaway from each night during the past week. These viewpoints can be both positive and negative and will hopefully help to provide insight into different roster moves you should consider making.
Fantasy basketball has a lot of moving pieces with all the different scoring settings that are possible to play under, so I will always do my best to spotlight where players gain or lose value in certain game types.
Without further ado, let's get right into the ninth week of the season and try to figure out how to take advantage of what we saw transpire.
Editor's Note: Our friends at Monkey Knife Fight have the best, most fun, fastest growing DFS props game! It's super simple to play and to win real money. Just choose your NBA, NHL or PGA game, and make your picks! Get a 100% instant deposit bonus up to $50 using promo code: BALLER. That's $50 for free - don't miss out!
Play Now!
Monday, December 16th
Believe It Or Not, Luka Doncic's Injury Will Make The Mavericks A Better Team 
The Dallas Mavericks have been one of the surprise teams so far in 2019, compiling a record to date of 18-8. Most of their success has stemmed from Luca Doncic's MVP caliber beginnings to his second year in the league, but the team will need to learn how to provide a complete effort if they want to take the next step in their maturation process.
While the time without Doncic in the lineup should help everyone on the roster, a player such as Kristaps Porzingis might be able to overcome his early-season woes after missing most of 2018 with a torn ACL. Porzingis has gotten off to a rocky start in 2019, shooting right around 40 percent from the field on the year, but the increased usage rate he will see in the next few weeks should be indelible for their future success.
On Monday, the Latvian exhibited some of what the Mavericks will be hoping to receive from him going forward, scoring 26 points to go along with 12 rebounds, four assists, two blocks and four tiples in 33 minutes. Give Porzingis a short-term boost in terms of fantasy production in all settings, which in turn should give the Mavericks more upside once Doncic is able to return to the court.
Tuesday, December 17th
De'Aaron Fox Scores 19 In Return From Injury
De'Aaron Fox returned from a 17-game absence on Tuesday, recording 19 points, eight assists, two rebounds, two steals and two three-pointers in 30 minutes.
Head coach Luke Walton has made it clear that the Kings will be cautious with their star guard going forward, saying "he is on a minutes restriction, and then we will re-evaluate and see how he feels." Tuesday night didn't exactly have him see a massive decrease in playing time, but I think Friday and Saturday's back-to-back contests will give a better idea of how cautious the team will get when they have games on consecutive days.
If I am not an owner of Fox currently, I would keep a close eye on how active he is in the Kings' gameplan during the next week or two. There is a possibility that we see a buy-low window open if he does receive sporadic playing time from game-to-game, which could present us with a chance to acquire the young guard for pennies on the dollar.
Wednesday, December 18th
Brandon Ingram Continues To Soar For Pelicans
Brandon Ingram continued his astronomical rise so far in 2019, scoring 34 points to go along with six rebounds, five assists, one block, three steals and three three-pointers - snapping the Pelicans' franchise-worst 13-game losing streak.
Coming into the year, Ingram slipped into the end of the ninth round on Yahoo and ESPN drafts but has recorded top-20 production in both nine-category and point settings so far this year.
It will be interesting to see how the offense runs once Zion Williamson enters the fray, but New Orleans is clearly ready to build their franchise around those two centerpieces, allowing Ingram to proceed as one of the favorites to be named the NBA's "Most Improved Player." If you own him on your fantasy roster, do not sell high.
Thursday, December 19th
Jabari Parker Is A Short-Term Hold
Jabari Parker came off the bench on Thursday, scoring 23 points with nine rebounds, five assists, one steal and one three-pointer in 24 minutes against the Utah Jazz.
Game flow worked out perfectly for Parker after rookie De'Andre Hunter got into early foul trouble on the night, but playing time has been on the steady decline over the past few weeks for the former second pick in the 2014 draft. Head coach Lloyd Pierce has been adamant that he wants his younger players to learn together on the court, which helps to explain Parker's demotion to the second unit.
With John Collins set to return from his suspension on Monday, the former Duke product is likely to see even less of a role going forward. There is always a chance that Collins gets used primarily as a center, helping Parker receive six-man minutes between 25-30, but the Hawks are set on giving their young crop the brunt of the on-court action. Feel free to start Parker on Saturday, but the waiver wire is most likely the best place for him after that.
Friday, December 20th
Duncan Robinson Has Nine-Category Value
Duncan Robinson made six of 10 shots from the field for 18 points, adding three assists and six three-pointers in 23 minutes.
Robinson has made 3.1 shots per game from behind the arc this year and has shown the ability to go off for big stat lines occasionally, but his inability to provide a more robust output outside of scoring and threes will get even further limited once Justice Winslow does return.
That is a bridge that fantasy owners will have to cross when the time comes, but his sharpshooting nature does present him with an opportunity to be owned in settings as low as 10 participants in category leagues. However, if you play in a group that rewards points for each statistic, the 25-year-old can be left on your waiver wire.
More Fantasy Basketball Analysis