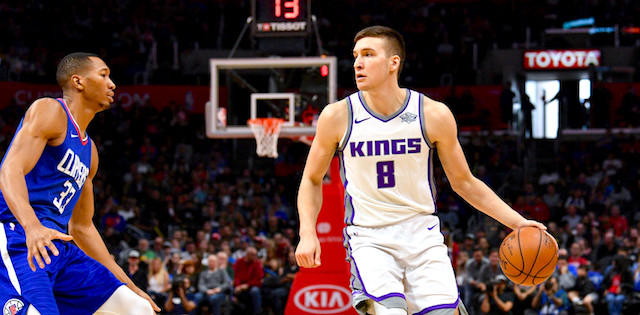 Hopefully, everyone had an enjoyable Thanksgiving holiday weekend.
Looking ahead into Week 7, owners should have a slight idea of what their team's strengths and weaknesses are. It's never too early to explore trades to boost your team's chances, especially in head-to-head leagues. With that said, we're here to bless you all with everything you guys need to stay ahead of your opponents in all your fantasy leagues. Below are our recommended waiver wire pickups for Week 7 of the fantasy basketball season, for those looking to beef up their teams. We wish everyone the best of luck in your leagues and may the odds forever be in your favor!
As a reminder for most leagues, it's crucial to plan ahead. Waiver wire adds, scheduling and player injuries are all things to consider. Drop the dead weight, make an effort to improve your team by maximizing your weekly adds and utilizing streamer spots via the waiver wire. Don't be attached to short-term pickups when there is a hot player on the horizon, especially if a hot player can stick with significant minutes the rest of the season. Be wary of weekly streaming options and stay ahead of your opponents. Our staff at RotoBaller has great insight and daily columns on how to improve your squad and tips to make your team successful, so be sure to check them out! Now let's get prepared for Week 7.
Editor's Note: Get any full-season NBA and DFS Premium Pass for 50% off. Our exclusive DFS tools, Lineup Optimizer and daily Premium DFS Research.
Sign Up Now!
Week 7 Schedule
4 Games - Jazz, Wizards, Hornets, Bulls, Cavaliers, Rockets, Pacers, Lakers, Pelicans, Suns, Spurs

3 Games -  Celtics, Nets, Mavericks, Pistons, Clippers, Grizzlies, Timberwolves, Knicks, Raptors, Trailblazers, Sixers, Magic, Hawks
2 Games - Kings, Thunder, Nuggets
Week 7 Standard Leagues - Waiver Wire Pickups
I write my columns based on H2H 9-category standard size leagues:
Collin Sexton - PG, CAVALIERS (55% Ownership)
Sexton has been playing a ton of minutes lately, especially since being called out by his teammates for being incapable of playing at the NBA level. Over the last five, the rookie has averaged 21.2 points, 3.2 boards, 2.8 dimes, 0.4 steals and 1.0 treys on 53.7 percent from the field. He won't shoot this well going forward, but it's clear that the Cavaliers will give him the green light as they work towards a rebuild. Don't expect defensive stats or assists from Sexton, but he should be owned in most leagues.
Monte Morris - PG, NUGGETS (13% Ownership)
Morris has emerged as a legit back up to Jamal Murray and has been averaging just over 28 minutes per game in the last five games. He's averaged 12.0 points and 5.0 assists in that span, connecting on 1.2 3-pointers and hitting 59 percent of his attempts. Needless to say, if he's going to be playing 26-28 + minutes, he would need to be on rosters in most leagues. The 3-pointers and assists upside isn't easy to find anywhere on the waiver wire, and his role on the team with Jamal Murray shifting to the shooting guard spot for certain lineups is a great sign for his overall value for the rest of the season. Gary Harris (sore Achilles) might need to miss more time as well, making Morris an attractive appeal.
Kyle Anderson - SG/SF, GRIZZLIES (64% Ownership)
Slo-mo has really worked his way into the standard league consideration after a brutal start. He's no longer battling a sore Achilles, and while the numbers won't wow you, he'll contribute in most categories to help you in many ways. He's had a block in six straight outings now, and he's averaging over 34 minutes per game over his last five. Pick him up if you have dead weight on your roster.
Noah Vonleh - PF/C, KNICKS (51% Ownership)
Vonleh has been hot and ice all season long, with Coach David Fizdale constantly switching starting lineups on a nightly basis. However, Vonleh's hot three-game stretch makes him a pickup in standard leagues with averages of 14.6 points and 11.6 boards per game to along with 1.6 steals and two blocks per game. Although he did drop a dud on Sunday night, we'll give him a pass given how well he's played.
Trey Burke - PG, KNICKS (46% Ownership)

Trey Burke finally fizzled out on Friday night, notching only seven points and one assist in 20 minutes of action against the Pelicans. However, he was on fire before that, averaging 25.6 points per game in that four-game stretch. If you picked him up, you might as well see what happens the next game since he could get hot again. If you have dead weight on your roster and need a lottery ticket to put you over the edge for the head-to-head match-up, it's not a bad idea.
Justin Holiday - SG/SF, BULLS (67% Ownership)
Holiday is continuing his trend from last season, and he continues to play heavy minutes despite the fact that Jabari Parker is healthy. At this point, he's been flirting with early-round value all season long, ranked #36 among nine-category leagues. He's been ignored for too long now and still logging in heavy minutes. Over the last five, Holiday is playing 34.7 minutes per night with averages of 16.8 points, 7.0 rebounds, 2.6 assists and 1.2 steals per game. Make sure he's not available in your league.
P.J. Tucker - SG/SF, ROCKETS (30% Ownership)

The Rockets play four times this week, and Tucker is playing just under 36 minutes per game this season. He could very well give you single digit points with nothing else, or he can heat up and give owners across-the-board contributions. I wouldn't drop anyone with a good outlook for Tucker, but he's certainly worth streaming as he's someone who won't put you in any categories.
Mikal Bridges - SG/SF, SUNS (15% Ownership)
The Suns have been trying Devin Booker at point guard the past two games, and it bonds well that the Suns are a lot more competitive in the last two with Bridges moving into the starting lineup. Although Bridges didn't hit it out of the park in the box score, he's played 28.2 minutes over the last five games and should only trend up from here. Treat him like a stash, as he should only get better as the season goes on.
Bogdan Bogdanovic - SG/SF, KINGS (64% Ownership)
The Kings only play twice this week, but Bogdanovic is heading to the starting lineup with Iman Shumpert (rest) out on Sunday night. It's a move that could be permanent going forward, giving Bogdanovic a look in most leagues. He's been playing relatively well, and his game is suited for fantasy. He's hit double-digit scoring in six straight contests.
Week 7 Deeper Leagues - Waiver Wire Pickups
 Jeremy Lin - PG/SG, HAWKS (34% Ownership)
Lin has picked things up lately, hitting double-digit scoring in six of the past nine games. Given how well he's played, and his upside in getting assists - he's worth a long look. John Collins (ankle) returning will also mean there's another big man to throw passes to, so he's worth at least a streamer spot this upcoming week.
Jordan Clarkson - PG/SG, CAVALIERS (41% Ownership)

Clarkson will get a chance to average double-figures on a team that desperately needs offense. He's an undersized shoot-first shooting guard, which is why his upside is capped because of his inability to play on the other end of the ball. Still, he's still averaging 27.8 minutes and is averaging 14.6 points in the past five games. He might be for you if you're in dire need of some extra points and a couple of assists. Clarkson is more suited for deeper leagues.
Kevin Knox - SF/PF, KNICKS (24% Ownership)
Knox's hype coming into the season has quickly diminished. He has struggled with his shot and shot selection, where his inability to make it up for other parts of his game makes him an unappealing fantasy asset. He should get better as the season goes on because the Knicks will soon realize their rookies are the only thing that can boost the moral of this quick and tanking franchise. Knox will need to get better with taking better shots, while contributing in assists, steals, and blocks before we consider him as a standard league option. The Knicks are a serious mess in terms of rotation, making Knox a difficult option even in deeper leagues.
Bryn Forbes - PG/SG, SPURS (23% Ownership)
Forbes continues to play heavy minutes, and it's thanks to his shot making ability. The Spurs are desperate for production outside of Aldridge, DeRozan, and Gay, so Forbes will continue to get decent looks from deep. He'll be someone to stream throughout the season and worth owning in deeper leagues, given that he's connecting on 2.3 3-pointers per game on 45 percent shooting.
Mitchell Robinson - C, KNICKS (25% Ownership)
Robinson has been very inconsistent this season, and it's expected given he's a rookie. With the constant jerking from the Knicks coaching staff and the different rotations, it's hard to play at a consistent level. However, he's still among some of the league's best shot-blockers, despite having played only 18.9 minutes per game. There will be plenty of growing pains throughout the season, but patience may eventually pay off. Hopefully, the Knicks will learn that their team just isn't very good and it would be in their best interest to let the young guns play more.
Dorian Finney-Smith - SF/PF, MAVERICKS (5% Ownership)
DFS has quietly sustained value this season, thanks to a consistent source of 3-pointers and steals. With injuries to Dirk Nowitzki (ankle) and Wesley Matthews (hamstring), the Mavericks will continue to give him minutes at the forwards position. He's a versatile wing who can defend and hit 3-pointers, giving him an appeal in deeper leagues.
Emmanuel Mudiay - PG/SG, KNICKS (14% Ownership)
Mudiay has played well as of late for the Knicks, who won their second straight game on Sunday night against the Grizzlies. He posted 17 points with two rebounds, four assists, two treys, one steal, one block, and one turnover in 23 minutes. There's no telling if he'll continue to start, and it's anyone's guess given Fizdale's constant jerking of the rotation. He's worth a look if you can deal with the volatile production.
Terrence Ross - SG/SF, MAGIC (35% Ownership)
Despite falling out of the standard league consideration when Jonathan Isaac returned to the lineup, Ross has still been consistent in doing what he does, making 3-pointers. He did it again on Sunday to help the Magic beat LeBron James and the Lakers, connecting on four triples on route to 16 points, six boards, and two steals. It's likely he's going to be playing a huge role for the Magic all year for his shot making ability. Should he continue to hold this up, he'll play his way back into the standard league consideration.
More Fantasy Basketball Analysis
By popular demand, RotoBaller has aggregated all of our fantasy basketball NBA waiver wire pickups into a running list of NBA waiver options, so bookmark the page and check back often for updates.