While a player's minutes can substantially affect an individual's fantasy basketball value, it can also lead to a variety of negative outcomes as the season progresses.
When DeMarcus Cousins fell to the New Orleans Pelicans home floor with just under 10 seconds left to play, what should have been a celebrated win over Houston was a tragedy. A team that was turning the corner and looking to fit the pieces in play had lost one of its top two best players to a torn achilles.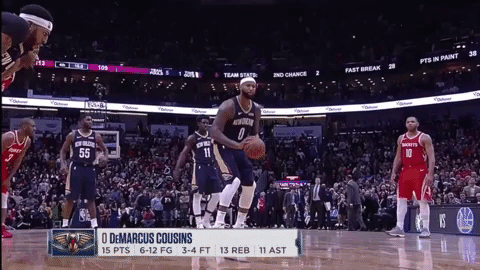 According to the US National Library of Medicine National Institutes of Health, fatigue induced damage is likely a contributing factor to ultimate [achilles] tendon failure. Adam Silver alluded to this when people got upset last year after stars began sitting out games.
"But we also have to be realistic that the science has gotten to the point where there is that direct correlation that we're aware of between fatigue and injuries."
Injuries and minutes played go hand and hand. It's important to note if a player you own plays a sizable amount of minutes, it might be nice from a fantasy standpoint, but their body may also be a ticking time bomb waiting to break down. You can either stick it out and hope their bodies are medical marvels like LeBron James--who has never had a serious injury. Or you can look at science and understand when players pass a certain minutes threshold day after day, they are more susceptible to injuries, and in Cousins case, could be season-ending.
The Minutemen
When Butler was traded to Minnesota, everyone remarked on the happy reunion between the two former Bulls. There's probably a good chance Butler's hamstrings started to cramp up the moment he landed in Minnesota.
Butler led the NBA in minutes in former Bulls head coach Tom Thibodeau's final two seasons in Chicago. The All-Star played 38.7 minutes per game, playing at an elite level on both sides of the court.  In his first four months in Minnesota, Butler is back as one of the league leaders in minutes at 36.9 minutes per game.
Jimmy Butler says he needs to talk to Thibs about playing 40 minutes pic.twitter.com/a8MgqPboKO

— CJ Fogler (@cjzero) December 7, 2017
It would be understandable if Butler were averaging those type of minutes due to a disproportionate amount of close games. In four games, however, where the Timberwolves have won by over 15 points, Butler has played over 35 minutes. That includes a 17-point win against the Lakers on Christmas Day where Butler played 41 minutes.
Butler is having the second best statistical year of his career. He is currently the 10th best player in fantasy basketball, averaging 21.7 points, 5.4 rebounds, 5.0 assists and 2.0 steals per game. How long can he keep it up? Last season under Thibs, both Wiggins and Towns were the only two players in the league to play more than 3,000 minutes; both regressed in the second half of the season.
Butler has already missed four games in January due to knee soreness.
Middleton has had a breakout year alongside Giannis Antetokounmpo and Eric Bledsoe. The former three-and-d specialist has emerged with an all-around game this season, averaging 20.1 points, 5.2 rebounds 4.3 assists, 1.9 threes and 46 percent shooting from the field. Those are all career highs.
Middleton is also averaging a career high 37.1 minutes per game. He is also coming off a serious hamstring injury that sidelined him the majority of last year. While his injury--described as a torn hamstring that ripped completely off the bone--has been labled a "fluke" there are plenty of people in Milwaukee who did not like the direction the team was going with its young nucleus. In the two games since Jason Kidd was fired, Middleton has played 33 and 32 minutes respectively. More rest will come with Jabari Parker's imminent return.
Most likely, Middleton will not keep up his current top-30 value. Which is probably a good thing since the minutes he and Antetokounmpo have expended this season--top two in the league--is a very rare occurrence. It just might mean Middleton will be there to finish the season, and give your fantasy team a consistent scorer in a career year.
Giannis Antetokounmpo (37.6) and Khris Middleton (37.1) are the NBA leader and runner-up in minutes per game this season. No teammates have finished a season 1–2 in that category since Shawn Marion and Joe Johnson of the Suns in 2003–04.#Bucks host @Warriors
8 pm ET on @ESPN

— Elias Sports Bureau (@EliasSports) January 13, 2018
While Butler may be a product of Thibs' working-man ethos personified through his players, and Middleton is the victim of a lack of depth on the wing, Holiday's minutes output is simply the product of a coach on borrowed time doing whatever he can to win. We saw this scenario play out when Mike D'Antoni ran Amar'e Stoudemire's knees into the ground in New York. Now Alvin Gentry's disregard to player health has already led to Cousins' season being over, Holiday may not be too far behind.
For the record: Anthony Davis, Jrue Holiday and DeMarcus Cousins are 1, 2 and 3 in minutes per game in January.

Playing 3 OT games certainly plays a big part in that, but it's fair to ask whether the workload is becoming too much for those guys. pic.twitter.com/Hah6dSoc2V

— Will Guillory (@WillGuillory) January 29, 2018
This is the same Holiday who only played in 62 percent of his games in his first three years with the Pelicans. So far this year, Holiday has played in every game. He is posting career-highs in points, rebounds and threes per game. His 18.7 points, 4.5 rebounds, 5.2 assists, 1.4 steals and 1.6 threes per game are some of the reasons he is ranked 23 in 9-cat leagues.
At the same time, red flags should be flying from every chimney of every fantasy basketball player around the world. Players who show a proclivity for injury can be viewed as unlucky, deservedly so, but there should be caution especially when the minutes start to add up over an 82-game season.
For Clutch Time (last five minutes of game, five-point-differential), Jrue Holiday (136) and DeMarcus Cousins (126), rank first and second, respectively, in the #NBA in total minutes played.

— Pelicans PR (@PelicansPR) January 25, 2018
Two days before Cousins' season was over, New Orleans Pelicans public relations department tweeted Cousins and Holiday ranked first and second in "clutch time." Holiday now stands alone. That's the risk and reward of The Minutemen.