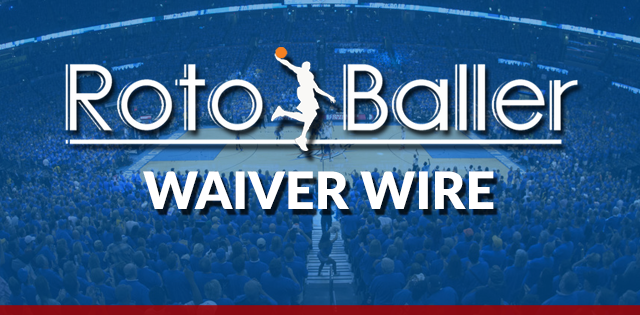 As we draw closer to All-Star Weekend, fan voting for the main event in Chicago continues to dominate the national headlines with, shall we say, less than deserving players making their mark on the ballot.
The skewed fan vote doesn't have as large an impact as it did in previous years, but the bias towards those in bigger markets raises a larger question about where the media attention currently lies compared to where it should.
Certain fans in smaller markets tend to crave a bit more respect for their team's star players. Others are in favor of going where the clicks are. No matter the side you're on, debates are bound to follow. As a distraction, consider these five mid-week waiver wire pickup options for Week 13 of the NBA fantasy season.
Editor's Note: Our friends at Monkey Knife Fight have the best, most fun, fastest growing DFS props game! It's super simple to play and to win real money. Just choose your NBA, NHL or PGA game, and make your picks! Get a 100% instant deposit bonus up to $50 using promo code: BALLER. That's $50 for free - don't miss out!
Play Now!
Week 13 Mid-Week Waiver Wire Pickups
Darius Garland - PG - Cleveland Cavaliers - 44% owned
Like plenty of rookie floor generals, Darius Garland had a rough go trying to run an NBA offense while balancing scoring and playmaking responsibilities.
Whatever concerns some may have had regarding Garland's future are slowly evaporating with each passing game for the Cleveland Cavaliers as the most recent No. 5 overall pick continues to shine.
Garland hasn't scored below double-figures since Dec. 27, a span of 10 games in which he's averaged 16.0 points, 5.6 assists, and 2.2 makes a game from beyond the arc.
A rookie wall might be in Garland's future. He may have already powered through it after gaining some early traction. As Cleveland strips down its roster having already traded Jordan Clarkson with a desire to also deal Kevin Love, expect Garland to shoulder more responsibilities offensively while looking mighty impressive doing so.
Thaddeus Young - SF/PF - Chicago Bulls - 40% owned
Thaddeus Young has been having his worst season since his rookie year on account of a crowded Chicago Bulls frontcourt that's limited his ability to contribute, but that rotation is going to look a lot different in the coming weeks.
Wendell Carter Jr., the young starting center for the Bulls who's already missed five straight outings, is set to miss the next four to six weeks after severely spraining his right ankle.
Over his last four, Young has had two single-digit performances, but those subpar outings were sandwiched by 17 and 18 point games, the latter of which was the more recent one against the Boston Celtics.
The absence of Carter should certainly result in more minutes for Young, who also finds himself an intriguing trade candidate as the Feb. 6 deadline inches closer.
A trade to a team in need of his services would do wonders for Young's production. For now, the adjustments being made along Chicago's frontline open the door for more of that desired role as well.
Omari Spellman - PF - Golden State Warriors - 36% owned
Omari Spellman was no more than a bench filler for the Golden State Warriors before the start of the new season. Like many of his teammates, however, the sophomore big man has taken the minutes afforded to him and left Steve Kerr without any option but to supply more.
He's played 23.4 minutes a night over his last seven games including three consecutive starts that have resulted in averages of 13.7 points, 4.9 rebounds, 2.1 three-pointers, and 1.8 steals per game.
With the Warriors focusing more on the developmental side of basketball for the first time in a while, Spellman seems to have overtaken Willie Cauley-Stein in the starting lineup without any indication of a switchback any time soon.
As the losses pile up in Golden State, expect Kerr to turn to Spellman to see what he can provide beyond this season. And if this recent stretch is any indication, the outcome is encouraging.
Christian Wood - PF/C - Detroit Pistons - 31% owned
Christian Wood has bounced around several locations during his relatively short NBA career thus far, but the Detroit Pistons seem to be the team willing to give the former UNLV product a chance and are seeing first-hand what that results in.
The numbers have been sporadic for Wood over the last 11 outings with five single-digit outings. During that span overall, he's still managed to put up 11.2 points and 6.3 rebounds in just 21.0 minutes a game.
Blake Griffin is likely out for the year, leaving a gaping hole in Detroit's frontcourt that could only grow larger if Andre Drummond is dealt by the deadline.
His numbers aren't all that impressive now, but Wood has done enough to warrant a stash given the added opportunities that are being afforded to him now and the extra ones that may arrive in less than a month as well.
Elfrid Payton - PG - New York Knicks - 28% owned
After playing just four games to start the season, Elfrid Payton required more than a month to work his way back into the regular rotation for the New York Knicks.
Since then, the fifth-year guard has earned a spot in the starting lineup and has played well particularly as of late. Over his last five games -- excluding New York's most recent blowout at the hands of Milwaukee -- Payton averaged 13.0 points, 5.2 rebounds, 4.4 assists and 1.8 steals per game.
His three-point stroke is non-existent, but Payton still shot 50.0 percent from the field during that stretch with only 2.2 turnovers in just 29.9 minutes of action.
The Knicks should be prioritizing their youth, but they seem to be content allowing Payton to be their primary floor general.
His numbers won't blow any potentially interested parties away and there will always be consistency issues and the threat of being demoted behind guys like Dennis Smith Jr. and Frank Ntilkinia.
But as long as Payton's numbers hover around his recent production, he's certainly worth a look if options at the point guard spot are a bit slim in your league.
More Fantasy Basketball Analysis