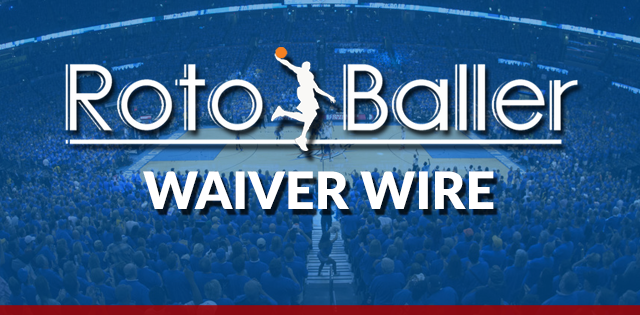 2020 is finally upon us. It's a new year, a new decade and the time we'll see a new team crowned as champions of the NBA. Which team that will be is anyone's guess -- finally -- but it's certainly been a refreshing change of pace to have a level of unpredictability the league hasn't seen in years.
As we say goodbye to the previous decade, it's crazy to think of all the madness crammed into those 10 years and what that same exercise will look like in 10 years from now.
It's a frivolous attempt to play psychic, but one that requires imagination and fosters creativity nonetheless. When you're not attempting to put your brain in a blender, though, come back to reality and focus on your fantasy team with five potential pick-up options for week 11 of the fantasy season.
Editor's Note: Get any full-season NBA and DFS Premium Pass for 50% off. Our exclusive DFS tools, Lineup Optimizer and daily Premium DFS Research.
Sign Up Now!
Week 11 Mid-Week Waiver Wire Pickups
Gary Payton II - SG - Washington Wizards - 40% owned
Gary Payton II only recently made his season debut for the Washington Wizards on Dec. 23, but he's been incredibly impactful during that short time it's difficult not to take notice.
Across just four outings, the former Oregon State alumn has registered 16 steals, or 4.0 a game. He had 10 points, 11 rebounds, six steals, and five assists in his debut against the New York Knicks. He's also scored in double figures three out of four times -- his most recent outing only afforded him 14 minutes.
With injuries affecting every crevice of Washington's roster -- including Bradley Beal -- the Wizards need some consistency in their lineups right now.
Payton hasn't even played 40 NBA games in his career, so he's not exactly the model of stability. For now, though, he's running with the excess opportunities he's been given, so why not ride along until it stops?
 Jordan Clarkson - PG/SG - Utah Jazz - 29% owned
Jordan Clarkson was already a solid source of points for fantasy owners early in the season. Then he got traded to the Utah Jazz on Dec. 23, thrusting him into a similar sixth-man role but with far more importance on a playoff contender.
Following an underwhelming debut, Clarkson has bounced back over Utah's last two games with a combined 39 points on 53.8 percent shooting.
Clarkson will occasionally knock down an excess amount of three-pointers -- he hit four in his last game against Detroit -- or contribute in other areas, but he's been about buckets his entire career and that's not going to stop anytime soon.
What is likely to change alongside more talented teammates, though, is a level of efficiency that's been modest at best. On a team in need of his scoring punch, that could pump up his value enough to make him a more viable pick up.
Danuel House Jr. - SG/SF - Houston Rockets - 27% owned
Danuel House Jr. has been hard to peg down in recent weeks, at least in regards to his scoring output. He had five straight games in single-digits only to follow that up with four consecutive in double-figures. Sandwiched in between two eight-point outings was a 22-point performance, bringing us to the present day where his consistency is still in question.
Even amid that rollercoaster ride, the one thing House continues to bring to the table is three-pointers.
Feasting off the looks created by his All-Star teammates, he's pumped in multiple makes from beyond the arc in six of the Houston Rockets' last seven games.
In Houston's amplified perimeter attack, there's no reason to think House's production from downtown will decrease.
It's a very niche area of production, but there's also the upside of the occasional breakout performance or hot streak that should serve as a bonus for those in need of three-pointers.
Kevin Porter Jr. - SG - Cleveland Cavaliers - 6% owned
Like many late-round picks, Kevin Porter Jr. certainly had his fair share of ups and downs during his rookie season.
He's averaged 8.6 points per game while shooting 30.3 percent from downtown, but recent developments have him playing at a much higher level.
The Cleveland Cavaliers parted ways with Jordan Clarkson more than a week ago, opening up a spot in the rotation that Porter has happily filled. Over his last four games, he's putting in 13.5 points, 5.3 rebounds and 2.8 assists per game on 45.7 percent shooting.
Porter's three-point percentage of 21.4 on more than three attempts per game is woefully bad, but it's hard to get too picky with a first-year player.
As Cleveland charts path for the future, expect more trades to be made. If Porter continues this level of play after just one deal has been made, imagine what's to come if the Cavs part ways with more of their veterans to free up more time for youngsters like him.
Ersan Ilyasova- SF/PF - Milwaukee Bucks - 14% owned
For reasons known only to him, Ersan Ilyasova has decided to make the league-best Milwaukee Bucks even more unfair with incredible production over his last three games.
During that stretch, the 11-year veteran has posted three consecutive double-doubles, averaging 16.3 points, 14.0 rebounds, 2.7 three-pointers, and 2.3 assists, all in just 23.4 minutes per game.
Two of these games came as part of the starting lineup as a replacement for Giannis Antetokounmpo, but even after moving back to the bench following the Greek Freak's return, Ilyasova still found a way to keep his double-double streak alive.
Ilyasova has never had a stretch quite like this, which makes it difficult to determine how long it will last.
It's for that reason then, that if he hasn't already been picked up in your league, then like a great shopping sale, go take advantage of his incredible play before it runs out.
More Fantasy Basketball Analysis