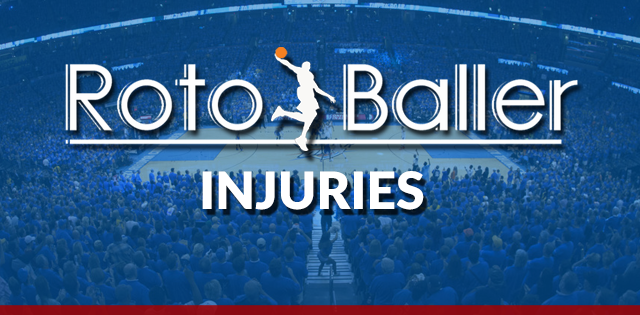 Welcome back, RotoBallers! Most fantasy seasons are done, but we wanted to keep this weekly article going for all the dynasty players, and for anyone else looking for a weekly roundup. From here on out short-term means that the player will be back before the end of the regular season, and long-term means playoffs or beyond. So, as always I'm here to help you stay up to date on injury news, and how it impacts your teams in case you had a busy weekend and couldn't keep track of everything.
I'm doing this midday on Monday for release Tuesday morning, so any news that drops on Monday night won't be covered. I'll just cover what has changed since last week.
Drop me a follow on Twitter (@Maxadelphia) for all things fantasy basketball and nightly NBA plays. Be sure to also bookmark our awesome free NBA injuries report tool for up-to-the-minute fantasy basketball injury updates.
Editor's Note: Our incredible team of writers received five total writing awards and 13 award nominations by the Fantasy Sports Writers Association, tops in the industry! Congrats to all the award winners and nominees including NBA Writer of the Year, Best NFL Series, MLB Series, PGA Writer and Player Notes writer of the year. Be sure to follow their analysis, rankings and advice all year long, and win big with RotoBaller!
Read More!
Short-Term Injuries for Fantasy Basketball
Damian Lillard, PG, Portland Trailblazers - Calf
Lillard has missed three straight games as of last night's absence against the Pelicans. With the Blazers' season effectively over, there have been rumors of a shutdown about the team's all-time leading scorer. If Lillard is shut down, I think it's only fair the Blazers would be added to the Tank Corner.
D'Angelo Russell, PG, Los Angeles Lakers - Hip
Russell has missed two straight games due to a hip injury he picked up last week against the Suns. The Lakers were/are off yesterday/today, so no additional updates have been provided yet, but if he misses Wednesday's rematch with the Bulls this may end up as a more serious injury than initially thought.
Bradley Beal, SG, Washington Wizards - Knee
Beal suffered a knee injury one week ago today, which lead the Wizards to have the hottest names on the waiver wire during fantasy championship week. The Wizards don't play again until Friday, so it's definitely possible Beal is back by then. But if he isn't, the Wizards may start to think shutdown for their big-money man in a lost season.
Kyle Kuzma, SF/PF, Washington Wizards - Ankle
Kuzma reportedly suffered a mild ankle sprain during Saturday's loss to the Kings, and ankle injuries are notorious for lingering. This is the last week of the fantasy regular season, so we're looking for every short-term edge we can find. If Kuzma does miss time, I'd take my chances with Corey Kispert as a direct replacement option.
Week 2: Looks like Kuzma's ankle injury is lingering, because he still hasn't had a timeline to return announced.
Long-Term Injuries for Fantasy Basketball
Paul George, SF/PF, LA Clippers - Knee
Clippers fans saw their season flash before their eyes when George went down with a scary-looking knee injury last Tuesday night in OKC. Thankfully, it was only deemed a sprain, and it looks like George should be able to return before the end of the first round of the playoffs, should the Clippers maintain their current #6 seed and not have to worry about the play-in games.
Kevin Durant, PF, Phoenix Suns - Ankle
KD didn't last long in a Suns' uniform before picking up a new injury, a freak accident caused by a slip in pregame warm-ups. Durant won't be evaluated for three more weeks, so chances are he's done in season-long formats.
Update 3/26: Durant is eyeing a return as soon as this week potentially.
Colin Sexton, PG/SG, Utah Jazz - Hamstring 
The Jazz announced Monday (2/27) that Sexton will be re-evaluated in another week. He was missing time pre-ASB and has continued to sit. I guess I'm technically cheating by putting him in short-term considering he's already missed multiple weeks, but from this moment his injury is short-term, so cut me some slack, okay?
Update 3/26: The Jazz are STILL ruling out Sexton on a game-by-game basis, which is equal parts absurd and hilarious. I guess they want to bring him back at some point since they're still in the thick of things for a play-in spot, but who knows if/when that will happen.
The Tank Corner 
The Tank Corner makes its debut, FINALLY!
Unfortunately, it's an underwhelming debut, as we don't even have full shutdowns of players yet. At this point in time, it certainly seems that the San Antonio Spurs are going to cross the finish line first. They might not have the worst record, but when you're pulling starters and going 11 men deep against fellow tankers in the Houston Rockets, it's not exactly hard to read between the lines. No doubt, Gregg Popovich knows what he's doing. The Spurs have lacked a true star since Kawhi Leonard left for Toronto, and getting one would give Pop one last run toward another title.
The next addition to the Tank Corner is one that makes too much sense. The Detroit Pistons currently hold the worst record in the NBA (as of 3/13/23) and look to be the first team to see meaningful contributors go out with injuries that just keep them out through the regular season. After losing franchise cornerstone Cade Cunningham earlier this year, the Pistons have had a season to forget. As of the night of writing this (3/13/23), the Pistons currently have six players who see meaningful minutes listed as out, with two of them recently diagnosed with four-week injuries (Isaiah Stewart and Hamidou Diallo). I expect the Pistons to continue to stink it up in hopes of a top-two pick to pair with Cunningham.
Download Our Free News & Alerts Mobile App
Like what you see? Download our updated fantasy basketball mobile app for
iPhone
and
Android
with 24x7 player news, injury alerts, lineup notifications & DFS articles. All free!
More Fantasy Basketball Analysis