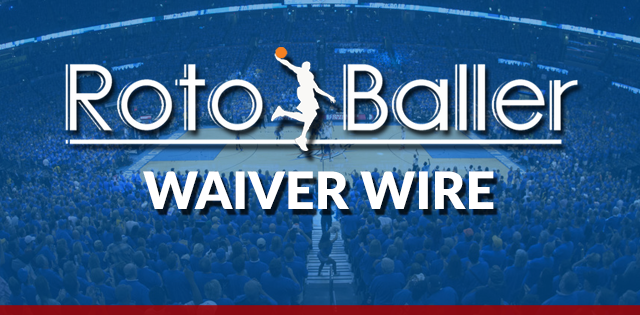 Hey, all! How's the 2021-22 NBA season treating you?
It's time for this week's Drop List, my weekly look around the NBA at what players can be moved on from.
Below is our weekly fantasy basketball drop list, a look at players who are can be dropped in some or all formats. Every week, we'll look at why it's fine to move on from certain players based on their recent play. Remember: every league is different, so make sure you evaluate what options you have to replace these players before you actually drop them.
Editor's Note: Our incredible team of writers received five total writing awards and 13 award nominations by the Fantasy Sports Writers Association, tops in the industry! Congrats to all the award winners and nominees including NBA Writer of the Year, Best NFL Series, MLB Series, PGA Writer and Player Notes writer of the year. Be sure to follow their analysis, rankings and advice all year long, and win big with RotoBaller!
Read More!
Players to Consider Dropping or Replacing
34% rostered
Three games in a row with Achiuwa shooting 22.2 percent or worse is, uhh, not good, nor is it good that someone with SF eligibility hasn't made a three over his last five games.
Over the past four games, Achiuwa is averaging 5.0 points on 25/0/66.7 shooting, which is just a wild split. He's averaging 7.0 boards per game, so if you really need the rebounding then...I guess take the rebounding, but overall, there's not a ton of upside here.
Especially when you factor in circumstances.
Achiuwa has been starting all season, but we should be getting close-ish to Pascal Siakam's return. There's also the fact that Khem Birch has been more efficient than Achiuwa lately, something that could lead to Birch getting more time on the floor.
26% rostered
I was high on Walker, but over his past three games, he's averaging 6.3 points and 3.7 rebounds per game while shooting 29.2 percent.
He also moved back to the bench last game, with Doug McDermott returning to the lineup. Add in that Devin Vassell clearly outplayed Walker in that game as the first wing off the bench and...yeah, it seems like the days of Walker being a nice fantasy play are over for now. He'll be worth an add in the future when the Spurs inevitably deal with more injuries, but for now you won't really be losing much if you send Walker to the waiver wire.
32% rostered
Bledsoe has been such a field goal percentage killer this ear, shooting under 40 percent in six consecutive games and scoring no more than seven points in each of the last five games.
The veteran guard is off to a rough start. Things will (probably) look up eventually, but right now he's averaging his fewest points since 2013 and shooting the worst percentage of his career.
No, Bledsoe won't remain a 13 percent shooter from deep. And yes, there are definitely situations where his 4.3 assists and 1.7 steals per game are useful numbers for fantasy managers, but in smaller leagues, Bledsoe just kills you in way too many areas.
9% rostered
An injury-related drop, Kleber is out for the next week or so. I was high on him at waiver add time because he had seven points in just seven minutes of action before he left with the oblique strain, but that was before I knew the severity of that injury.
Kleber is the ultimate fill-in streamer player. When he's healthy, he's someone you can grab in case of injury and plug into your lineups in hopes he gets a double-double, but when Kleber is injured, there's really no reason to keep him on your roster, because he's not valuable enough to waste a roster spot on.
And hey, Kristaps Porzingis has to be back at some point, another future knock against Kleber.
(Also, don't think the Kleber injury opens up room to stream someone in Dallas — like, Willie Cauley-Stein and Moses Brown should see more action, but neither is going to get enough of Kleber's minutes to really make a difference, even if I firmly believe the Mavs are doing themselves a disservice by not playing Moses Brown enough.)
42% rostered
Early in the year, it looked like McDaniels could be a good fantasy asset, as he didn't do a ton of scoring but he was adding steals, blocks, and rebounds.
But even that is evaporating. In 29 minutes last game, McDaniels had five points, one rebound, one assist, and one steal. He's gone three games in a row without a block, and he's averaging just 3.7 points per game.
To the 42 percent of people who are still rostering McDaniels, I've got to say this: stop, move on, the numbers aren't going to rise much at this point.
Download Our Free News & Alerts Mobile App
Like what you see? Download our updated fantasy basketball mobile app for
iPhone
and
Android
with 24x7 player news, injury alerts, lineup notifications & DFS articles. All free!
More Fantasy Basketball Analysis