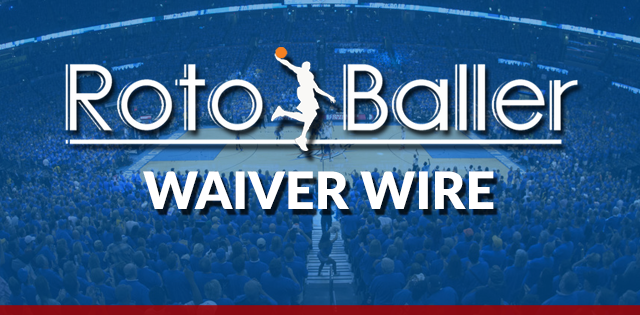 The deeper a fantasy basketball league, the harder it is to hit a winner with your last few picks. It is also harder to find decent help from the waiver wire if your late-round picks don't do you justice. If you picked up a few stinkers, don't lose hope just yet. I will try to help you pick up a winner.
Here are my deeper league fantasy basketball waiver wire pickups for your fantasy basketball teams. These NBA players should be available in most leagues and they might just help you out, whether it's a few weeks rental or a long-term fix to a problem your team is having.
If a guy on your team is frustrating you with his weak performances, give some of them a go. They might just be worth it.
Editor's Note: Our incredible team of writers received five total writing awards and 13 award nominations by the Fantasy Sports Writers Association, tops in the industry! Congrats to all the award winners and nominees including NBA Writer of the Year, Best NFL Series, MLB Series, PGA Writer and Player Notes writer of the year. Be sure to follow their analysis, rankings and advice all year long, and win big with RotoBaller!
Read More!
Fantasy Basketball Waiver Wire Targets for Week 5
Naz Reid (C, MIN) - 12% rostered
Reid has been a super-sub for Minny this season as he's playing really low minutes on a game-by-game basis but he's demolishing expectations and efficiency leaderboards with his magnificent outcomes. Reid is 22 and into his third season as a pro for the franchise that signed him as a UFA a few years ago. He went from playing 17 MPG as a rook to 19 last year and he's now averaging only 16 MPG, but putting up the most efficient and best numbers of his career to date: the average line reads 9-3-1-1-1, yes, but pro-rated to a per-36-minute basis Reid would be dropping a 21-8-2-1-2 line.
We can expect Minnesota to be fighting for the last play-in position, best-case scenario. That means Reid will end 2021-22 starting a bunch of games as in years past, and getting probably more playing time down the road. Those minutes will be fundamental when it comes to raising his counting stats, and we'll see if that affects his efficiency. Through 11 games played, Reid is averaging 1.12 FP/min and an even better 1.20 FP/min in games when he played 10+ min (nine of them). His shooting percentage sits at 48%+ on 7+ FGA and he's even stretching the floor (almost 1 3PA per game hitting his attempts at a 31%+ clip) and his mojo is to be found on the steals/blocks departments.
JaVale McGee (C, PHO) - 11% rostered
Don't overthink McGee's traits as a real-world and fantasy-realm talent. He's just a big man who doesn't stretch the floor even a couple of inches, mans the paint, put up monster shooting percentages if only because he lives under the rim, and tries not to miss on boards (and he usually does not miss on grabbing them, just in case). McGee has started a bunch of games of late while Deandre Ayton has stayed injured (he's missed a week and a half through Saturday already but he should be back come Monday), but McGee is bench fodder at most.
While McGee is starting these days, he's also battling another big in Phoenix: Frank Kaminsky. Frank is--to my eyes at least--the no. 2 center to Ayton's no. 1, no matter the fact that the Suns went to pony up some dollars on McGee this past offseason. But even then, McGee should retain a similar production given he's only averaging 17 MPG even while starting. The shooting percentage is high at 67.6% though the volume isn't that great. All things considered, though, and coming back to the start of this blurb, McGee is a good source of points and rebounds with the odd block coming here and there. Not much more than that.
Dwight Powell (PF/C, DAL) - 8% rostered
Powell has stayed on the same role in Dallas from last season to this one, staying in the pain for long stretches and starting at the center spot while working on low-volume terms averaging a 13% usage rate through 12 games. The volume won't ever go up with the likes of Luka Doncic, Kristaps Porzingis, and Tim Hardaway Jr. around getting shots in bunches, but Powell can't be much better for what he does.
Powell has averaged 22 MPG in six November games through Saturday. He's only scoring 6+ PPG but the shooting percentage sky-high at 78% (although on just 5 FGA season-wise), while the rebounding (6 RPG this month) is actually quite nice given the low playing time, same as the blocks (1 BPG on the year, up to 1.5 in November alone). No turnovers and low fouling are a little bonus added to Powell's equation.
Alec Burks (SG/SF, NYK) - 8% rostered
If we're honest, Burks has not been great this season. He's had up and down performances and he's been quite bouncy since the year tipped-off back on Oct. 20. Burks, though, has played more than 20 minutes in five of the seven games played this month, is averaging a higher 25 MPG in the past two weeks of play, and his season-long line is sitting at 8-3-2-1 through Sunday. The wing has reached 10+ pops in five of the past eight games, but again, the percentage has jumped north-to-south-and-back pretty much on a daily basis.
Burks has had almost as many games of shooting 50%+ from the field as he's had at or below 40%. Spot-up shooter's life, I guess. Nothing to hate on a lot, though, as Burks is hitting his good 1.7 3PM per game and has only missed on scoring at least one triple in one of the 12 games played to date. Burk is grabbing 3+ boards, dishing out 1.5+ dimes, and more uniquely than anything he's also stealing 0.85 possessions per game with steadiness. Burks will put up some good counting stats, but you can forget about very efficient numbers coming from him.
Immanuel Quickley (PG, NYK) - 5% rostered
Quickley stayed on New York's pine for 61 of the 64 games he appeared on for the Knicks last season as a rookie. He's on the same path this year, having yet to start a single game while backing up Kemba Walker and sharing pine-riding duties with veteran Derrick Rose. Obviously, DRose has been better but he's also rostered in more than half of Yahoo leagues compared to IQ's hyper-low five-percent rostership mark 13 games into the season. But truth be told, Quick has been fantastic as of late, kicking into high gear since the start of November.
In the six games he's played this month as I'm writing this, IQ has yet to drop below a 37.5 shooting percentage from the field (he started the year at a putrid 23.4% through the first seven games) while attempting a not-so-low 7+ FGA per game. The usage is sitting at an average 20.4% this month and he's not killing the offense with lots of TOs (0.8 per game) while dishing out a fair amount of dimes (3.5 APG in the last six). The most interesting thing about Quick's game these days: the massive amount of treys and the tasty total point counts. Imma is scoring almost 10 PPG in just 19 MPG off the pine, and he's averaging 1.7 3PM per game in November--and an even spicier 2.5 (!) treys in the past four games getting back to Nov. 7.
Download Our Free News & Alerts Mobile App
Like what you see? Download our updated fantasy basketball mobile app for
iPhone
and
Android
with 24x7 player news, injury alerts, lineup notifications & DFS articles. All free!
More Fantasy Basketball Analysis
By popular demand, RotoBaller has aggregated all of our fantasy basketball NBA waiver wire pickups into a running list of NBA waiver options, so bookmark the page and check back often for updates.