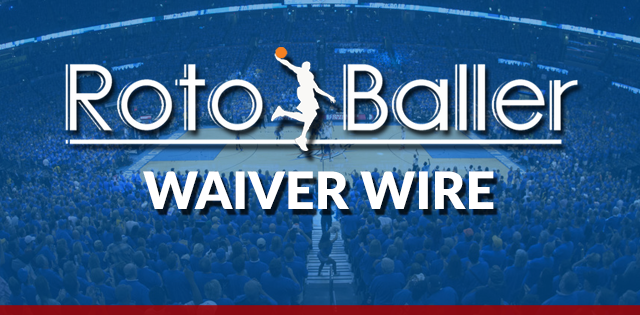 The deeper a fantasy basketball league, the harder it is to hit a winner with your last few picks. It is also harder to find decent help from the waiver wire if your late-round picks don't do you justice. If you picked up a few stinkers, don't lose hope just yet. I will try to help you pick up a winner.
Here are my deeper league fantasy basketball waiver wire pickups for the upcoming week and your fantasy basketball teams. These NBA players should be available in most leagues and they might just help you out, whether it's a few weeks rental or a long-term fix to a problem your team is having.
If a guy on your team is frustrating you with his weak performances, give some of them a go. They might just be worth it.
Featured Promo: Get any full-season NBA Premium Pass for 50% off. Win big with our exclusive DFS lineup tools, matchup rating projections, powerful Research Station, Lineup Optimizer, daily DFS lineup picks/cheat sheets and more!
Sign Up Now!
Fantasy Basketball Waiver Wire Targets for Week 15
With Zion Williamson out until the end of the month (if not more) and Brandon Ingram getting back for a month now but never actually making it to the court, Trey Murphy III has been one of the main beneficiaries from the absence of the Pelicans' top two players.
It is true that New Orleans has suffered those two injuries a ton with their record flopping massively as of late, but it's not that Murphy (or perhaps better said, Murphy's fantasy GMs) care about that. Trey M has started 26 games in a row now spanning all the way back to November 28. He's logging 30 MPG since then, and although his minutes went down a hair through December, they have bounced back up as of late.
In January, Murphy is playing 31 MPG, averaging a 12-3-1-1 line with 0.7 BPG on top of that. The efficiency is not good on a per-minute basis but that's mostly because he's logging 30+ minutes more often than not, so it's impossible to average good FP/min on such a large load of playing time.
Murphy, though, is racking up numbers if only because of the bulky workload he's getting these days. He's played 34+ minutes in four of the last five games he's started from January 11 to January 20. He's scored 15+ points in those four outings while shooting 53.7% from the floor in that 10-day, five-game span.
Ingram and Zion could very well remain out for one more week at the very least and New Orleans won't risk a damn thing once they return, most probably easing them in through a week or two after their comebacks. The Pels are in fourth place and 1.5 games clear of the fifth team in the West so they can operate with some margin of error.
While it is true that Tom Thibodeau has moved from an early-season 10-man rotation to a 9-man one since mid-December, there is a deeper truth baked into that: it's really a six-man rotation with three ancillary reserves added to it. And the best news is that Immanuel Quickley is the clear go-to pine man on Thibs' watch and can be considered the "Sixth Starter" on the Knicks rotation.
IQ is seemingly off the trade block after getting there earlier this season. Makes sense, considering his absolutely hot stretch of games starting in relief of an injured R.J. Barrett a few weeks ago and how he's still producing off the bench in New York.
The efficiency sucks because the minutes are large, of course, but that comes with the positive of IQ having ample time and room to pile up numbers nightly. It's been 17 games in a row for Quickley to reach 11+ points while averaging a gaudy 17+ PPG in that span.
In January, Quickley is scoring a bit lower than 15 PPG but even removing the games he's started this month from the equation, he's at 14.8 PPG in the last six outings, all of them playing off the bench. In that six-game span manning the sixth-man role, Quickley has averaged a 15-3-1 per-game line shooting a pinpoint crisp 50% from the field (30-of-60) and a near-perfect 95% from the stripe (20-of-21).
Quickley has limited turnovers a lot this season (1.1 TOPG) while contributing 3+ APG in 47 games to date. The shooting always went up and down in his early career days but he's found peace and steadiness on that front.
From December 20 to January 20, IQ hit a total of 40 three-pointers on 108 attempted long-range shots. Only seven other players hit more on a similar (or lower) shooting volume, and just one (D'Angelo Russell) also hit freebies at a better clip than Quickley.
Tyus Jones (PG, MEM) - 11% rostered
If Tyus Jones is not the best backup point guard in the Association, he must be close to being so. Since we flipped the calendar page to the year 2023 of our Lord, Jones has been absolutely incredible on a per-minute basis, putting up 1.15 FP/min (league average at 0.90) in relief of Ja Morant while also having two back-to-back starts in which he tortured the Spurs and the Jazz.
Starting with those two oddities in the rare cases of finding Tyus starting games, he went on to reach 41 and 42.8 FP in those two nights, landing 21-2-6-4 and 24-3-6-3 stat lines. He "only" played 34 and 35 minutes back then, which is nothing really staggering, and averaged 1.21 and 1.22 FP/min.
In the games he's started on the bench, though, he's been similarly efficient as I already let you know. This month, Jones is averaging a nightly 13-2-5 line with 1.5+ SPG on top of that. The shooting woes pop up randomly, though, with Jones shooting 37.7% in his last five games... after doing so at a 51.7% clip in the four prior matchups.
Count on some nightly 2+ 3PM (Jones has scored at least two three-point shots in all but one of his last 12 games getting back to New Year's Eve), a nice source of dimes for a backup one, and a ridiculous amount of steals (Jones has 12 games with 2+ steals and 15 with one through Sunday).
Josh Richardson has experienced a (slight) bump up in playing time lately, going from playing around 23 MPG before January to 25+ MPG this month. That's all you can ask for while J-Rich stays in San Antonio, though, as the veteran won't feature heavily for a tanking and rebuilding Spurs franchise.
Things might be about to change for Richardson, though, with the trade deadline just a couple of weeks away and San Antonio expected to open the doors to any contending teams looking for veteran help to boost their rotation. Richardson can surely provide that boost and then some.
Since we flipped the calendar page, Richardson has only had one game in which he's put up fewer than the league-average 0.90 FP/min. In fact, he's averaged an extraordinarily efficient 1.10 FP/min in the last 10 games he's played, all from January 1 on, while getting 25 MPG and keeping up a 14-3-4-1 nightly stat line.
Richardson has yet to finish a game without hitting a three-point shot in 2023 as he's dumping 2.1 3PM per game while shooting a ridiculous 53.7% from the floor and hoisting 10.5+ FGA a pop.
Only five players have scored more three-point shots than Richardson's 21 since the start of 2023 while attempting no more than 52: Caris LeVert, Kentavious Caldwell-Pope, Grayson Allen, Anthony Lamb, and Franz Wagner, all of them with either 22 or 23. Only Lamb (54.7%) and Wagner (54.5%) have shot better overall than Richardson from the floor, though.
Richardson's per-game stat line in January (14-3-4-1) is only getting mimicked by 29 players and none of them is getting there while playing fewer than 29 MPG compared to Richardson's 24.
The Knicks lost Mitchell Robinson for three weeks at the very least when the big man went down injured a few days ago. I wrote about him yesterday, recommending him as an add-and-stash type of WW pickup for those with enough room to afford that move. For the ones who don't have such a margin, though, Jericho Sims could be a quick fix for a few days and weeks.
The Knicks happen to be coached by Tom Thibodeau, who is a very stubborn man when it comes to his rotations. That means that he often uses just five men at some 32+ MPG while just one or two sixth/seventh-man-type-player get bulky minutes on top of the starters.
With Robinson out, Sims is going to be the starting C for the Knicks and even though the youngster was playing around 12 MPG before this news, he is inevitably going to get 30+ MPG going forward.
Sims has the most similar skill set to that Robinson provided New York with, so don't worry too much about the possibility of Isaiah Hartenstain usurping the starting gig from him. Sims is a stationary center, doesn't stretch the floor a hair, and limits his game to scoring baby buckets and pulling down boards with the odd block here and there.
Don't ask a lot from him, but consider Sims a good source of 10-8 lines on a nightly basis with upside to swat some shots while keeping up nice shooting percentages.
Download Our Free News & Alerts Mobile App
Like what you see? Download our updated fantasy basketball mobile app for
iPhone
and
Android
with 24x7 player news, injury alerts, lineup notifications & DFS articles. All free!
More Fantasy Basketball Analysis
By popular demand, RotoBaller has aggregated all of our fantasy basketball NBA waiver wire pickups into a running list of NBA waiver options, so bookmark the page and check back often for updates.