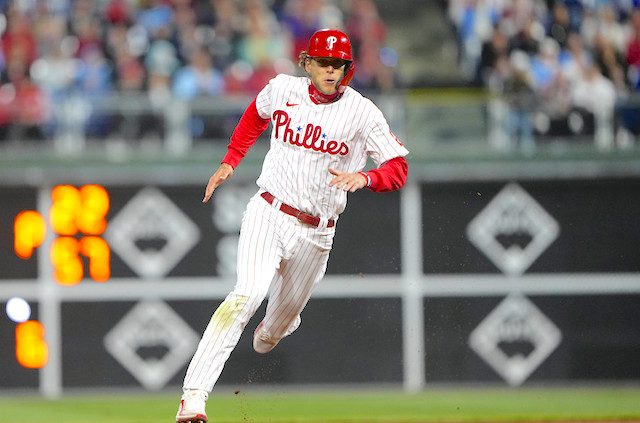 Welcome back to our annual Fantasy Baseball Insider series on RotoBaller.com, where we take you inside Major League Baseball clubhouses, press boxes, and front offices for exclusive insights that provide a completely unique edge on the competition. We give you an all-access pass to information and takes, along with comprehensive Fantasy breakdowns.
On the condition of anonymity, former and current players, executives, coaches, scouts, and media members provide their unfiltered insights on key players and situations, and Scott Engel supplies his fantasy baseball analysis on their commentaries. These reports contain perspectives from the most established experts on the game.
The Fantasy Baseball Insider series has won the Fantasy Sports Writers Association's award for best Fantasy Baseball Series. Scott was also a finalist for the 2021 FSWA Fantasy Baseball Writer of the Year Award, as the nomination recognized his work on the Insider Series.
Editor's Note: Our incredible team of writers received 13 award nominations by the Fantasy Sports Writers Association including Baseball Writer of the Year, Football Writers of the Year, Golf Writer of the Year and many more! Be sure to follow their analysis, rankings and advice all year long, and win big with RotoBaller!
Read More!
In this edition, we feature the insights of a longtime scout who is in his fifth decade of covering MLB. He shared his takes late in the preseason, and you can get confirmation of where you drafted certain players or possibly consider early-season trade targets based on his observations and recommendations.
"I like him. They put a lot on his plate last season and he had a much better second half when he adjusted to the MLB style of play. He's shown some leadership skills. He's a switch-hitting catcher, and you can't beat that."
"He's got more power as a lefty than as a righty. His numbers were much better against righties with a .280 average, and .173 vs. lefties. But I think he will improve against lefties once he gets to learn the pitchers more. I project him at .265 with 19 home runs and 68 RBIs."
I think I'm in love with Adley Rutschman's swing

— Baseball Quotes (@BaseballQuotes1) August 20, 2022
Engel's Insider Angles: The scout's projections are a bit better than the ATC projections of .254, 17 home runs, and 68 RBIs. Rutschman signaled what may have been the beginning of a true breakout year with five hits, a home run, and four RBIs on Opening Day. Rutschman is a player you don't want to trade in a two-catcher league, because he may deliver an impressive breakthrough campaign.
"He's got a lot of upside, but he also has some danger attached to him. He swings for the home run, so he tends to take himself out of his at-bats at times. He doesn't project to hit for a high average. He is going to be a power guy because that is what he swings for.
"I have him at .240, with 22 homers, and 70 RBIs. As far as the lineup, he is the center of what? There's not a lot there. Can he carry the lineup? I am not sure. He will stay at shortstop this year, but he may change positions in the future. He's a big guy. He's going to be running around a lot at shortstop, so can he have the stamina to hold up? That's a concern."
Engel's Insider Angles: This scouting report sounds skeptical that Cruz can outperform most fantasy industry projections. The ATC projections have him at .246 with 24 homers and 70 RBIs. Many fantasy projections tend to be a bit on the conservative side, so this outlook indicates that Cruz won't take his game to any exciting new levels. It also infers that he may wear down later in the season.
We may indeed see an eventual switch to the outfield for Cruz, which keeper and dynasty players will certainly keep a watch on in the seasons ahead.
"He looked good this spring. But sometimes he swings out of his shoes. A lot of young guys do that. I think he will outperform expectations if he gets the opportunity this year, though. He's a good prospect."
"His swing is a little herky-jerky. It's not as smooth as most left-handed swings that you see. If he calms that down, makes more contact, and cuts down on the strikeouts he may do even better than expected. At some point, maybe he forces his way into the lineup. I think he will stick if and when he gets his shot."
Engel's Insider Angles: Baty showed enough in the spring to earn a spot on the Opening Day roster, but the Mets sent him down for more seasoning rather than ask him to contribute right away in 2023. Baty hit .315 with 19 homers in 95 minor league games last season.
It appears there may not be much more he can accomplish as a hitter in the minors, and Baty can contribute with a respectable average and power when he inevitably joins the Mets this season. He will become a sought-after waiver add at some point, so stash him if you can for now.
"I think he has a lot of upside. He has a great strikeout-to-walk ratio. He's got four featured pitches and his stuff plays in any ballpark. He can get a really good number of ground balls along with strikeouts."
"Righties actually had better numbers than the lefties against him, but he will adjust. He doesn't give up a lot of home runs, that's been his M.O. throughout his whole career, in college and the minors. He gave up 12 homers in the first 64 innings, and one homer in his last 65, which was a nice adjustment and tells you a lot. I have him at 12 wins and a 3.25 ERA."
George Kirby's 9Ks in 5 IP pic.twitter.com/DGZcS4IaeN

— Rob Friedman (@PitchingNinja) March 23, 2023
Engel's Insider Angles: Kirby can offer a nice return for those who drafted him at an NFBC ADP of 101.5. I was very glad to land him as a complementary option to my top starting pitchers in more than one league. ATC projections have his K-BB percentage at 18.7 for 2023. His GB% of 45.5 from 2022 may also improve.
Kirby actually has a six-pitch arsenal and opposing hitters had an xBA of .208 against his four-seam fastball last season. I can certainly live with a slightly higher ERA with a 25.0 K%. I believe the floor will be good enough for Kirby, but won't be surprised if he well outperforms expectations. If you did not draft him, I would try to land Kirby in an early-season trade.
"I liked him last year too, and he came up a little short. He is really good in the clutch, and he will give you RBIs. He hit .282 with runners in scoring position last season. He also led the league in sacrifice flies. That' 's not a stat to dismiss, as he is getting the job done in run-producing situations."
He had a much better second half as he started to play off more experience. He wasn't great in the playoffs, but I like him as a player. I have him hitting .282 with 22 home runs and 90 RBIs in that lineup."
"He has more experience now, and he's been in a pennant race. He's come through for the Phillies at key times. He's shown he can be a clutch hitter even though he didn't do so well in the playoffs. He's a tough out in the middle of that lineup. He's kind of like the unexpected source. He may now get more RBI opportunities with Trea Turner on base. There's a lot of upside for Alec Bohm."
Engel's Insider Angles: This scout expects more from Bohm than fantasy industry projections would indicate. ATC projections peg Bohm for 15 home runs and 70 RBIs. Last season, Bohm had a SLG of .398, yet the xSLG was .436. Bohm could prove to be a value play after he was drafted at an NFBC ADP of 173.8. At a third base position that is perceived to be thin, Bohm is a viable trade target.
Lars Nootbar
"I found him to be intriguing when he came up. He's not going to give you batting average, but he has good power. He had good numbers against lefties but there wasn't a lot there, only 77 at-bats. He didn't really hit homers against lefties, but he made contact, hitting .273. But he wasn't that good at hitting lefties in the minors."
"He will hit the right-handers and have trouble with the lefties. I think he will be a nice left-handed power source. I have him hitting 20 homers with a batting average of around .240. He will also give you OBP if you are looking for that."
Engel's Insider Angles: After he fashioned a .340 OBP last season, I targeted Nootbar in the Tout Wars mixed salary cap auction for 14 dollars. He is more valuable in that type of format for the OBP respectability with some quality pop.
Last season, Nootbar had an xBA of .247, and that is obviously more tolerable and not impossible to achieve if he takes advantage of the opportunity to play frequently for the Cardinals. The outfield is crowded in St. Louis, so Nootbar cannot afford to start slowly.
"This guy is an enigma to me. Is he a flash in the pan? He's a nice.270 hitter, which has been his track record throughout his career. He has middle-of-the-road power. That's not a great lineup, though, and 70 RBIs may not be attainable. I don't know if he is quite a 20-homer guy."
Engel's Insider Angles: Meneses had an xBA of .267 last season, so forecasting him to hit .270 over a full season certainly seems realistic. Meneses had an NFBC ADP of 189.1, so fantasy expectations are tempered, but seeing him fall short of 20 home runs would be somewhat frustrating.
This scout said pitchers will continue to adjust to Meneses, who is an obvious late bloomer, but he may be one with limited upside. Meneses may settle in at a respectable fantasy corner infield level.
"I like what I saw from him last year. He hit .277 against righties and .184 against lefties, but I think that will get better. He's in kind of a better lineup this year with a few more veteran hitters."
"Last year, he had an incredible September. Even though the games weren't pressurized for Miami, they were playing with nothing to lose. But he was still trying to prove himself, so the pressure was on him. He really broke out in September and I think that can carry over some. I have him at .260. 18 homers and 70 RBIs."
Engel's Insider Angles: Last season, De La Cruz hit .275 in September with five home runs and 17 RBIs. I was able to get De La Cruz for one dollar in Tout Wars and saw him drafted in the final rounds in some leagues. This scout has De La Cruz's HR and RBI totals higher than most fantasy industry projectors. I will certainly be patient with De La Cruz to show he can build on what he showed late last season because the fantasy investment was minimal.
"I think he will perform similarly to last year. He got better as the year went on. He was injured twice. He hurt his hand in August, and then at the end of the season, he had a bad back. For this year, I have him at 30 home runs and 90 RBIs."
"He'll have 25 steals, as the stolen bases will go up. He will slightly outperform expectations. He had a good second half last year when he started to learn the league a little more. He's got a nice swing. His body style reminds me of Eric Davis from the 1980s Reds. He's got quick hands and  a lanky frame, he's a good athlete."
Engel's Insider Angles: The projections of this scout are much in line with what we have seen across the fantasy industry. The 2023 ATC projections have Rodriguez hitting .278 with 29 home runs and 28 stolen bases. There seem to be some minor health concerns pointed out by the scout, but Rodriguez still seems worthy of the consensus top 5 five pick.
The comparison to Davis is very interesting though, as he was a magnificent offensive player for the Reds. He averaged 30 homers and 40 steals from '86 to 1990. Such a mention in connection to Davis does confirm Rodriguez as a significant upside option if you spent a first-round pick on him.
August 2, 1987: Eric Davis crushes a walk-off homer to become the seventh player in MLB history to hit 30 home runs and steal 30 bases in one season. #RedsVault pic.twitter.com/KCWYuV4Aad

— Cincinnati Reds (@Reds) August 2, 2022
"He had a lot of trouble against lefties. He was kind of exposed in the four playoff games against the Phillies, where he was 1 for 14. He was 0 for 5 against left-handed pitching in that series. He had 19 homers last year, but only two were against lefties."
"His minor-league numbers are okay. He was the No. 60 prospect in their system when he was brought up. I have him for .268, 23 homers, and 70 RBIs, but he will have 30 steals."
Engel's Insider Angles: At an NFBC ADP of 29.6, many fantasy players might have drafted Harris expecting modest strides forward from his impressive rookie season. The scout is expecting a batting average drop, which does make sense since Harris' xBA was .268 last season. A steals boost from 20 to 30 will be welcomed, though.
The low RBI projection would be a source of frustration, however, and the scout does not see as much upside for Harris as some others do. Harris won't be considered a bust if this outlook holds up, but he would be a minor disappointment. Do keep this scouting report in mind if Harris hits a cold stretch that makes you consider trading him away.
 Scott Engel's fantasy and betting analysis is also featured at The Game Day.
Download Our Free News & Alerts Mobile App
Like what you see? Download our updated fantasy baseball app for
iPhone
and
Android
with 24x7 player news, injury alerts, sleepers, prospects & more. All free!
More Fantasy Baseball Advice