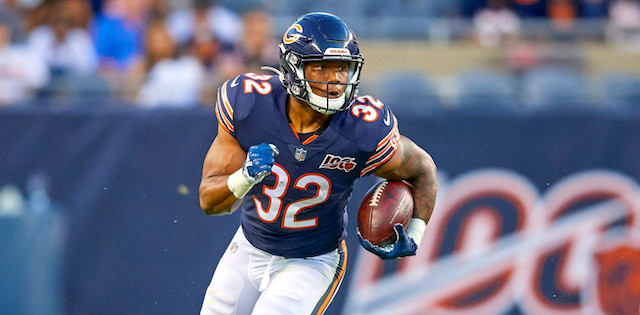 It's already week 14! Time flies when you're having fun and this has been an eventful football season to say the least. We have another solid Sunday upcoming, but we'll kick things off with a Thursday match-up between the Cowboys and Bears. The Cowboys are slight road favorites, but this game is a toss-up and we want exposure to both sides.
In this article, I will be providing you with daily fantasy football picks on FanDuel for Thursday Night Football on December 5th, 2019 (Week 14). These lineups can vary from higher-priced players and elite options to lower-priced players and value picks on FanDuel.
If you have any questions you can follow me on Twitter @VarneyDFS and fire away. Now let's break this slate down and make some cash. Good luck RotoBallers!
Editor's Note: Get any rest-of-season NFL Premium Pass for 50% off. Our exclusive DFS Tools, Lineup Optimizer and Premium DFS Research through the Super Bowl.
Sign Up Now!
DFS Quarterbacks - Week 14 Picks
Dak Prescott - DAL (FanDuel $15,500 / DraftKings $10,800)
Prescott is an interesting play in this game as the match-up isn't as bad as it seems and Elliott will be more popular. The Cowboys will still lean on Dak to open up the running game and you can still expect 200+ passing yards. This game won't be very high-scoring, so we can't look at upside through the same scope. Prescott still has a ton of upside as he can run the ball as well and isn't afraid to do so even more in big games. The price on Dak will drive some away, but he's a great flex play and a very interesting GPP captain if he can run the ball a bit.
Mitch Trubisky - CHI (FanDuel $15,000 / DraftKings $8,800)
If the Cowboys have the lead, I can see the upside in Trubisky. His price is low and there's enough value to for both quarterbacks on your team. Still, I don't think you have to play Trubisky here. The Cowboys Defense is better than their reputation and I expect Trubisky to struggle a bit here. I also think his ownership will be over 50%, which is too high, even in a showdown format.
DFS Running Backs - Week 14 Picks
Ezekiel Elliott - DAL (FanDuel $14,500 / DraftKings $11,200)
Ezekiel Elliott should be the most popular play on this slate. He's my favorite captain and the guy I expect to put up 20+ fantasy points. With Akiem Hicks out for the Bears, this is a completely different team. They've ranked bottom 10 against RB since week 12 and have allowed 10 rushing touchdowns on the season. This is nowhere near the Bears Defenses we've gotten used to. The Cowboys are road favorites and it seems like an obvious game script of feeding Elliott the ball as much as he can handle. His price isn't crazy and the ownership should be upwards of 70%. Get your edge with him at captain.
David Montgomery - CHI (FanDuel $11,500 / DraftKings $7,600)
Montgomery is locked into 15 touches a game and there's always an upside when you're touching the ball 15 times out of the backfield. Montgomery rushed for 75 yards and caught a touchdown last week en route to 15.5 fantasy points. The Cowboys are a middle of the road team against the run and have struggled all year against running backs that can catch. I don't think Montgomery is a cash play as an underdog, but I love Montgomery in tournaments if the Bears get behind or he catches a long screen for a score.
Tarik Cohen - CHI (FanDuel $9,000 / DraftKings $6,600)
Mr. lighting in a bottle is always worth playing in a tournament. He's the kind of player that can change an entire showdown slate in 10 seconds. He's getting consistent volume and has caught at least four ball in every single week since September. Cohen is always worth a shot on showdown slates.
DFS Wide Receivers - Week 14 Picks
Allen Robinson - CHI (FanDuel $14,000 / DraftKings $9,600)
Robinson may not get as much attention here with everyone all over Anthony Miller. I don't necessarily disagree, as I think Byron Jones will sharpen Robinson. Jones is one of the best corners in football and Trubisky isn't good enough to put it in spots that Jones can't touch. There is still upside, as Jones is by no means unbeatable. He's just a 6'1 physical converted safety that is rarely targeted by opposing QB's.
Amari Cooper - DAL (FanDuel $13,000 / DraftKings $9,400)
We have a similar situation going on with the Cowboys where more people seem to be on the number two than the number one. Amari Cooper is obviously the top option for Dak, but the production between the two hasn't been very different. I don't expect Kyle Fuller to sharpen anyone in this game, but Cooper will line up on his side more often as that's how the offense naturally is. I still like Cooper more than Gallup in a vacuum as Cooper can go for 150 yards and two touchdowns if he's all of a sudden 100% healthy. I'm not sure a cold-weather game with Chicago is the environment for the hamstrings to finally open up, but there's always a chance.
Anthony Miller - CHI (FanDuel $10,500 / DraftKings $7,000)
Miller is averaging 11 targets over his last three games and the whole world is playing him tonight in turn. While I'll have my fair share of exposure, I don't love Miller here. Chidobe Awuzie is the best corner he's seen in a month and I wouldn't be surprised if Miller sees just six to eight targets and doesn't have a huge game.
Michael Gallup - DAL (FanDuel $11,000 / DraftKings $8,200)
Gallup is cheaper and the more popular play as a result. Prescott looks his way just as often, averaging eight targets over the last five games. Gallup is leaned on in the red-zone and on third down just as much as Cooper, if not more. Expect another 7-10 targets for Gallup and for him to destroy value if he finds the end zone.
DFS Tight Ends - Week 14 Picks
Jason Witten - DAL (FanDuel $8,000 / DraftKings $5,600)
There's always touchdown upside with Jason Witten, but I can proudly say I've played him twice this year and it was the two times he went into double-figures. It's all about game script with Witten and I don't see him catching more than four or five short stick-movers. One of those can always be a TD and he's then a great play for the price.
Jesper Horsted - CHI (FanDuel $6,000 / DraftKings $2,000)
Here's a sad, yet interesting fact. The Bears haven't had a tight end go for more than 20 yards this season in a single game. That incredible mark belongs to Trey Burton, who caught four balls for 20 yards in week two. Horsted is by no means a fun play, but he caught a touchdown last ween in a similar spot. He should see at least two or three targets in this game and will be in there inside the 20. Crazier things have happened on showdown slates.
More Weekly DFS Analysis