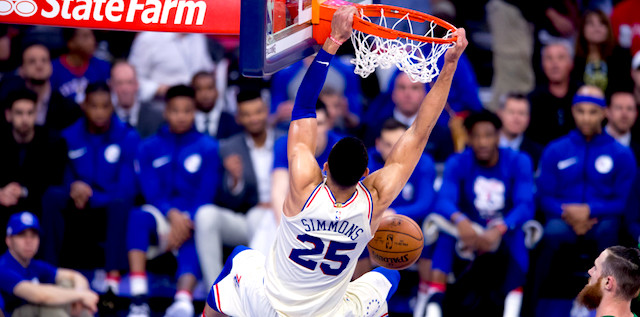 Saturday's NBA lineup features five games of NBA action, but they're some good ones! We get a Celtics/Warriors battle that would have been a Finals preview before Kawhi joined the Raptors, a 76ers/Nuggets game that...is actually not going to be great since Joel Embiid and Jimmy Butler are out (or probably out, in Butler's case, as he just flew to Los Angeles to see a wrist specialist, though he's still listed as doubtful), and a Spurs/Pelicans matchup that features an Anthony Davis-less Pelicans team that is...oh, who I am kidding, y'all. That Celtics/Warriors game is going to rule, and if there's one game to keep your eyes on then that one is it!
In this article, I'll be providing you with my daily fantasy basketball lineup picks for FanDuel on 1/26/19. These DFS lineup picks can vary from higher-priced players and elite options to lower-priced players and value picks on FanDuel. You can also check out today's DraftKings lineup picks.
Make sure you don't set your lineups too early and also be sure to check player statuses and availability prior to opening tip. If you have any other questions, shoot me a tweet at @juscarts.
Editor's Note: Our friends at Monkey Knife Fight have the best, most fun, fastest growing DFS props game! It's super simple to play and to win real money. Just choose your NBA, NHL or PGA game, and make your picks! Get a 100% instant deposit bonus up to $50 using promo code: BALLER. That's $50 for free - don't miss out!
Play Now!
FanDuel DFS Guards
Ben Simmons - PG, at DEN ($10,100)
As I mentioned above, Joel Embiid and Jimmy Butler are out, which means the Sixers are going to be relying on Simmons and J.J. Redick to be their top players tonight. While I think Redick is a solid value play if you're a little nervous about this game and don't want to spend big for a player on a depleted Sixers roster, I like Simmons tonight because he's a guy capable of giving you production in (almost) all phases of the game. It's a limited sample size (274 minutes) but Simmons' per 36 numbers this year with both Embiid and Butler off the floor look like this: 21 points, 9.3 rebounds, 9.2 assists, 1.6 steals. Essentially, a full game of Simmons without that duo looks like a lower scoring version of Russell Westbrook, and a triple-double should be in play for the second-year guard.
Bryn Forbes - PG, at NO ($4,400)
I really don't love the shooting guards going tonight (I guess if I had to pick one to endorse, it would be Klay Thompson in what should be a high-scoring game), but I do like some of the point guards, including Bryn Forbes of the Spurs. While Forbes has hit a bit of a rough patch lately, including a three-point game against the Clippers, his January averages speak volumes for him as a low-cost option: 11.8 points per game, a 43.5 percent shooting mark from three, with 4.1 rebounds as well. Here's one things Forbes isn't, though: an assist guy. Still, with DeMar DeRozan out on Saturday, Forbes could do more of that ball-handling and passing without the team's leading assist man on the floor.
FanDuel DFS Forwards
Bojan Bogdanovic - SF, at MEM ($5,400)
The news that Victor Oladipo will miss the rest of the season is devastating to the Pacers and their hopes of making noise in the postseason. Still, the show has to go in Indianapolis, and someone has to step up for the Pacers. My eyes are on Bogdanovic, who averages 20.5 points per 36 minutes when Oladipo isn't on the floor. He could be the Pacers' top offensive weapon on Saturday and moving forward. Memphis also gives up the most threes per game to small forwards in the league this season.
LaMarcus Aldridge - PF, @ NO ($8,400)
Similar to Forbes above, Aldridge gets a bump tonight with DeMar DeRozan sidelined, especially when we consider the front court injuries for the Pelicans that are likely to leave Aldridge guarded by Jahlil Okafor for large chunks of the game. Aldridge has a chance to feast on the offensive end, and he's also got a shot to put up a strong rebounding game -- three Thunder players had double-digit rebounds against the Pelicans on Thursday.
FanDuel DFS Centers
DeMarcus Cousins - C, at BOS ($6,400)
You can still play Cousins while it feels like a steal, but I imagine his price is going to rise by the game at this point. After returning from an Achilles injury that kept him out for almost a full calendar year, Cousins has immediately shown himself to be a great fit on an already great Warriors team. In three games, Cousins is averaging 13 points and seven rebounds per game along with 3.7 assists and 1.3 threes per game on 57.1 percent shooting beyond the arc. The Warriors have a legit weapon at the five for the first time on this run, and Cousins can't get the kind of defensive coverage he did when he was the only weapon in Sacramento. Keep in mind that Cousins is risky since he's still on a minutes restriction, which could definitely scare you off, but at this price point, you can build a great, well-rounded lineup that has a potentially explosive star holding down the center position. (Or you can spend big and grab Nikola Jokic against an Embiid-less Sixers team, which is probably the smartest call tonight, even if Jokic costs $11,000)
More Fantasy Basketball Analysis