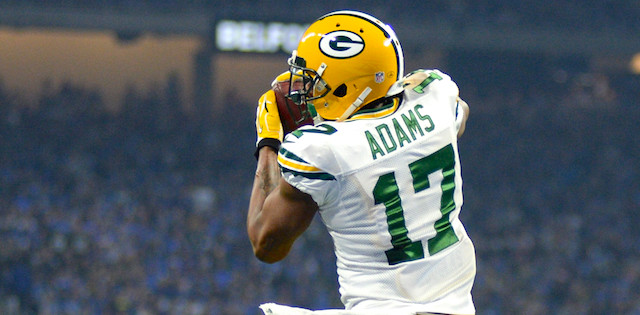 As we continue our progression through the offseason, the designation of franchise and transition players is complete. We are about to experience the rapid-fire assortment of roster transformations that will occur during free agency, and these impending changes in destinations and expectations will impact anyone who manages rosters in dynasty leagues.
The team at RotoBaller is fully aware of your ongoing efforts. That is why we have been compiling statistics, analysis, and thoroughly researched recommendations as part of our unrelenting efforts to guide you through the process of examining which players to retain, and which are movable commodities.
This article will provide you with a tiered analysis of our dynasty rankings at the wide receiver position. Seven of these players finished within the top 20 in fantasy scoring last season, and nine different receivers currently reside within our top 20. We will continue to update our rankings throughout the offseason and you can check out full rankings here.
Featured Promo: Get any full-season NFL Premium Pass for 50% off and win big in 2023. Exclusive access to our Premium articles, 15 lineup tools, new Team Sync platform, Lineup Optimizer, Premium DFS tools and cheat sheets, and much more!
Sign Up Now!
Wide Receiver Dynasty Rankings
Tier 1
DeAndre Hopkins, Odell Beckham Jr., Michael Thomas, Davante Adams, JuJu Smith-Schuster, Tyreek Hill
While there are several receivers that are viable candidates to reside atop our rankings, Hopkins captures that distinction after leading all receivers in snaps (1,084) and snap count percentage (99%). Hopkins has finished among the top seven in targets during each of the last four seasons, including the 163 that he collected in 2018 (10.1 per-game). He also finished second in yardage (1,572), third in receptions (115), and fourth in touchdowns (11). Owners can anticipate another collection of outstanding numbers this season.
Even though Beckham was unavailable from Weeks 14-17, he was in the process of assembling a prolific season prior to his absence. He collected 10+ targets during eight of his first nine games and entered Week 11 tied for second in targets-per-game (11.3). Of the 18 receivers that accumulated 1,000+ yards, only Beckham accomplished it in fewer than 14 games. He has exceeded 1,050 yards in four of his five seasons (1,293.5 average), and the 26-year old remains fully capable of exploding whenever he enters the field.
Thomas finished among the top five scorers for a second consecutive year (WR3) and has steadily improved his reception and yardage totals during each of his three seasons (92/104/125 receptions), (1,137/1,245/1,405 yards). Those 125 catches led the league, as did his 7.8 receptions-per-game average. Thomas also tied his career high with nine touchdowns, finished sixth with 1,405 yards, and further cemented his spot within the upper region of tier 1.
Adams secured a place among 2019's elite receiving options after finishing at WR1 in PPR leagues and nearly matching that level of scoring in standard leagues (WR2). Adams was also second in touchdowns (13), fifth in receptions (111), and seventh in yardage (1,386) while registering career bests in each category. His 169 targets were just one fewer than league leader Julio Jones, and Adams could have attained the highest total if he had played in Week 17. He paced all receivers in red zone targets (31) and is justifiably ranked within the top four at his position.
Smith-Schuster won't turn 23 until November, but his name became prominent in every major category during his second season. He vaulted to WR8 in scoring, while joining Hopkins as the only receivers to attain 10+ targets in 10 different games. This helped Smith-Schuster finish fourth in overall targets (166),  fifth in receiving yards (1,426), fifth in receptions (111), and emerge with a top 10 overall ranking.
Hill's explosiveness has repeatedly been on display throughout his three-year career. But the steady surge in his production during that span has resulted in numbers that are significantly better than his output as a rookie (61 receptions/593 yards/6 touchdowns). Hill's exceptional speed consistently set opponents ablaze in 2018, as he finished third in touchdowns (12), and fourth in yardage (1,479), yards-per-reception (17.0), and YPG average (92.4). The 25-year old Hill also soared to WR6 in scoring and has secured his place among tier 1 receivers.
Tier 2
Mike Evans, Antonio Brown, Julio Jones, Amari Cooper, Keenan Allen, Stefon Diggs, Brandin Cooks
Evans accumulated career bests in yardage and YPG average in 2018 (1,524/95.3), which enabled him to finish third in both categories. That propelled him to 10th in fantasy scoring, while Evans also finished 10th in targets (138), and 11th in receptions (86). He won't turn 26 until August, and his ability to operate as a steady source of production sustains his presence in tier 2.
The ongoing spectacle surrounding where Brown would perform in 2019 obscured his continued excellence in 2018. Amid the emergence of Smith-Schuster, Brown still finished second in fantasy scoring, while stockpiling a league-best 15 receiving touchdowns. He also finished just two targets behind Julio Jones' NFL-best total despite missing Week 17. It might be difficult for him to maintain his averages of 1,524 yards and 11 touchdowns that he has constructed since 2013. But he could eclipse 1,100 yards for a seventh consecutive season and reach a double-digit touchdown total if the Raiders can improve the proficiency and talent level of their offensive line.
Jones led the league in yardage for the second time in his career and has now finished either first or second during each of the last four seasons. He has also been targeted more than any other receiver in two of the last four years, after attaining a league-high 170 in 2018. His reception total was third overall (113), and his eight touchdowns were the most since 2015. There is no indication that a downturn in production is imminent.
Cooper is still just 24-years old and his value has elevated sizably after his relocation in Dallas. He averaged 5.2 targets-per-game with Oakland last season, but that average rose considerably during his nine-game sequence with the Cowboys (8.4). He also averaged 5.8-receptions-per-game, and 81 yards-per-game after his transition, while six of his seven touchdowns were generated during that span. Cooper is primed to commandeer sizable weekly target totals throughout an entire 16-game schedule and assemble the best numbers of his career.
Allen led all rookie receivers with 1,046 yards in 2013, but multiple injuries conspired to sideline him for 25 games from 2014-2016. But his ability to elude lingering health issues in 2017-2018 helped him eclipse 1,000 yards in each of his last two seasons. That includes the 1,196 that he collected in 2018, as he also secured 97 receptions. He remains entrenched as the WR1 on his own team while retaining a spot on the periphery of the top 10.
Extensive targeting from Kirk Cousins placed Diggs seventh overall in that category (149), while he also attained the league's seventh highest targets-per-game average (9.9). That propelled him to eighth in both receptions (102), and touchdowns (9), as he also generated his first 1,000-yard season (1,021). Diggs also attained those numbers after missing one game with a rib issue and persevering through a knee problem in early December. His age (25) and route running acumen keep him locked within the second tier of our rankings.
Cooks sustained his previous level of production in 2018, without the benefit of collaborating with Tom Brady or Drew Brees. Instead, he generated a career-best 1,204 yards with Jared Goff launching passes in his direction, which placed him 12th among all receivers. Cooks has now accrued 1,082+ yards in each of the past four seasons (1,204/ 1,082/1,173/1,138) while operating in three different offensive structures. Cooks also surpassed 100 yards in five different games during 2018 and was targeted 17 times in the red zone. He has not missed a game since 2014 and remains a reliable point producer.
Tier 3
A.J. Green, T.Y. Hilton, Adam Thielen, Kenny Golladay, Corey Davis, Robert Woods, D.J. Moore, Cooper Kupp, Allen Robinson, Calvin Ridley, Chris Godwin
Green will turn 31 in July, has missed at least six games in two of his last three seasons, and his seven-game absence in 2018 has diminished the rationale for using him as a WR1 at this point of his career. However, a downgrade in expectations does not equate to a devastating decrease in value, as Green can still be deployed as a WR2. He finished 12th in YPG average during 2018 (77) and was ninth in targets prior to his toe injury (76). Green will exceed expectations if he can avoid another protracted injury.
Hilton has now exceeded 1,000 yards in five of his last six seasons, after amassing the NFL's 10th highest total in 2018 (1,270). He was also one of just three wide receivers who reached that 1,000-yard threshold while playing in fewer than 15 games. His 90.7 YPG average was sixth among all receivers, while his 8.6 target-per-game average placed him 13th. He should thrive once again as Andrew Luck's primary target while working within an offense that finished ninth in pass percentage (61.6%).
Thielen's overall numbers were excellent, as he tied for third with 113 receptions, and finished eighth with 1,373 yards. But there was a significant drop-off in his usage and production as the season progressed. He entered Week 9 leading the league in yardage (925), receptions (74), and targets (96). But he only averaged 56 YPG while catching just 39 passes (4.9 per-game) from Weeks 10-17, and his target per-game average plunged to just 4.8 in Weeks 14-17. Owners must hope that Thielen can avoid being neutralized by the double teams that await him this season.
Golladay vaulted from a WR76 finish in 2017 to WR19 in 2018, and he accomplished it despite being sidelined in Week 17. He emerged as Detroit's clear WR1 while finishing 14th overall in receiving yards (1,063),  and 15th in targets from Weeks 1-16 (119). He also played on 90% of the Lions' offensive snaps before his absence (904) and has a legitimate opportunity to establish new career highs in receptions and yardage this season.
Davis performed in 16 games and collected 112 targets within a Tennessee offense that was largely devoid of receiving weaponry. That contributed to his failure to surpass 56 yards in 12 matchups, as he also scored just four times. His talent is not a concern, but the Titans' level of quarterback play and the teams' schematic approach definitely are. If the team bolsters the talent level of its complementary receivers, then Davis' outlook will improve.
Hopkins was the only wide receiver who accumulated more snaps than Woods, (1,041) who performed on 95% of the Rams' offensive plays. This helped him deliver the most prolific numbers of his career, as he established new highs in yardage (1,219), and YPG average (76.2). Woods also placed 13th in targets (130), and 12th in receptions (86). A healthy Cooper Kupp will join Cooks in providing formidable competition for targets. But their presence will also create additional space for Woods to operate and assemble respectable numbers.
After performing on just 38.5% of Carolina's snaps from Weeks 1-7, Moore's percentage rose to 90% from Weeks 9-16. That escalating usage boosted his production during his final seven games (4.6 receptions/67 yards-per-game) and helped Moore finish second among rookie receivers in receptions (55) and receiving yards (788). He should absorb WR1 responsibilities with the Panthers and could lead the class of 2018 in most major categories.
Kupp was compiling favorable numbers in 2018 (40 yards/566 yards/6 touchdowns) before multiple injuries limited him to just 7.5 games. He was third overall with 11 red zone targets after Week 5, and likely would have stayed entrenched among the leaders in that category. Owners can be encouraged by Kupp's prowess near the goal line, and the 6.9 targets per-game that he averaged during his abbreviated season.
Robinson's output during his initial season as a Bear did not remotely approach his career-best numbers of 2015 (1,400 yards/14 touchdowns/WR4). Instead, multiple injuries (groin/hip/ribs) sidelined him for three games and relegated him to third on his own team in receptions and fourth in receiving touchdowns. Sustained health would lead to improved production, although Mitchell Trubisky will distribute targets to a variety of weapons.
Ridley led first-year receivers in scoring (WR22), targets (92), receptions (64), receiving yardage (821) and touchdowns (10). That touchdown total also tied him for fifth among all receivers, and he became the first rookie receiver to accrue double-digits in that category since 2014. Last year's 24th overall pick excelled at gaining separation and should build upon his 2018 numbers.
Godwin owners should be encouraged by the possibility that he could operate as the WR2 in Bruce Arians' offense. Whether that cavernous path to increased opportunity and production actually occurs will be determined after DeSean Jackson's status is resolved and Adam Humphries's 2019 team of record will be finalized. Godwin tied for third with 11 targets inside the 10, and his overall production will surge if he rises on the depth chart.
Tier 4 
Jarvis Landry, Alshon Jeffery, Christian Kirk, Courtland Sutton, Will Fuller, Mike Williams, Tyler Boyd, Sammy Watkins, Dante Pettis, Tyler Lockett
Landry was second overall with 101 targets after Week 9 but averaged 6.9 per-game after Freddie Kitchens began calling plays. Jeffrey could not replicate his 2017 touchdown total (9/6), but he did garner more receptions (65) and receiving yards (843) despite 28 fewer targets.
The 22-year-old Kirk averaged 5.7 targets-per-game and finished fourth among rookies in receptions (43) and yardage (590) despite missing four games. Sutton led rookie receivers in snaps, was second in targets (84) and third in yardage (704). Fuller has stockpiled yardage and touchdowns when he is on the field, but the number of games that he has missed games is escalating each season (2/6/9). Williams rebounded from his injury-laden 2017 rookie season to tie for fifth in touchdowns (10), and his role will expand if Tyrell Williams departs.
Boyd missed Cincinnati's final two contests with a knee issue, after eviscerating his previous career highs in yardage (1,028), receptions (76), and touchdowns (7). Watkins' potential to deliver favorable numbers while operating in Kansas City's explosive attack is offset by the recurrent injuries that keep him affixed to the sidelines. Pettis demonstrated his immense talent while averaging 85 YPG from Weeks 12-15 and his output should rise significantly during his second season. Lockett emerged as Seattle's most prolific receiver after leading the Seahawks in receptions (57), receiving yards (965), YPG average (60.3). and touchdowns (10).
Tier 5
Doug Baldwin, Robby Anderson, Marvin Jones, Anthony Miller, Michael Gallup, Keke Coutee, Golden Tate, Sterling Shepard 
Multiple health issues kept Baldwin from performing in all 16 games for just the second time in eight seasons, as he registered his lowest reception and yardage totals since 2012. Anderson's late-season momentum resulted in 312 yards and three touchdowns in Weeks 14-16, along with the league's sixth-best 9.75 targets-per-game average from Weeks 14-17 (9.75). Jones averaged 79 YPG in Weeks 8-10 and had procured 11 red zone targets before his season abruptly ended in November (knee).
Miller scored seven times but was unable to reach 50 yards in 14 of his 15 games. He also finished just eighth among rookies in receptions, and 11th in yardage. Gallup targets-per-game average rose from 3.1 to 5.1 after Cooper began running routes as a Cowboy. Coutee's 6.8 target-per-game average led all first-year receivers, although his problematic hamstring limited him to just six games. The 9.9 targets-per-game average that Tate attained from Weeks 1-8 with Detroit plummeted to a paltry 3.6 from Weeks 14-16 with the Eagles. Shepard finished 12th among receivers with 936 snaps but finished outside the top 20 in targets, receptions, and receiving yardage.
Tier 6
Dede Westbrook, Antonio Callaway, James Washington, TreQuan Smith, John Brown, Julian Edelman, Marquise Goodwin
Players in this tier have the potential to ascend beyond this level, although their outlooks are dependent upon what occurs in free agency and the NFL Draft.
Tier 7
Marques Valdes-Scantling, Daesean Hamilton, Emmanuel Sanders, Curtis Samuel, Tyrell Williams, Devante Parker, Quincy Enunwa, Josh Reynolds, Devin Funchess, Adam Humphries, Robert Foster, Donte Moncrief, Zay Jones, Marqise Lee, Nelson Agholor, John Ross  
These receivers are located between WR50 and WR65 in our rankings, but their value could be altered as the weeks unfold.
Check out all of RotoBaller's fantasy football rankings. Staff rankings are updated regularly for all positions and include standard formats, PPR scoring, tiered rankings and dynasty leagues.