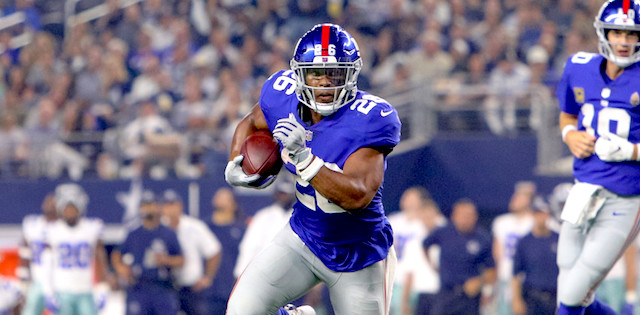 Recently, the RotoBaller staff put together our up-to-date rankings for dynasty formats. As you will see in dynasty formats as well as redraft leagues, the running back position is at a premium. Of the first 24 players overall, half of them are RBs. With the number of teams in the NFL to adopt the committee approach in their gameplans, many owners are going to be drafting deep at the position early on. You'll find that this puts a strain on the position during a draft and if you fail at filling your depth early, it puts you in a position to hope that your players stay healthy.
What we saw at the end of the 2018 season is something that may start to become the norm. That is the emergence of players off the waiver wire due to injuries to starters. Players like Damien Williams, Jaylen Samuels, and Justin Jackson were major late-season factors that helped redraft owners bring home titles. But savvy dynasty owners already had these players waiting on the roster due to deep benches. So even though the shine of the position is clear at the top, there will be some diamonds in the rough out there for owners to take fliers on.
That's the purpose of our consensus rankings. It's to give a leg up to the owners out there that are struggling with who to value over another during your drafts. Within this article, I take a look at the RB position from an analysis standpoint to give you an idea of the names that will be better on your roster as you look to build a strong dynasty team.
Dynasty RB Rankings
Tier 1
This tier of RBs will be comprised of the players that you will see coming off the board early in the first round of drafts. Any of the Top 3 (Saquon Barkley, Ezekiel Elliott, and Christian McCaffrey) all have their own stakes to claim the top overall spot in the rankings. Both Barkley and Elliott are traditional three-down backs with strong skills are pass catchers as well. While McCaffrey is improving each year as a runner, he led the position in catches in 2018 (107). Each of these three players is strong cornerstones to begin your draft with.
Rounding out the tier are Alvin Kamara and Todd Gurley. Kamara's true value is as a receiving back but showed a nose for the end-zone in 2018 with 14 rushing TDs. With the departure of Mark Ingram, his value was beginning to look up, but the team decided to add Latavius Murray, putting Kamara right back in a position where he will be sharing the backfield responsibilities. Todd Gurley is a player that finds himself as an asterisk currently due to his lingering injury concerns. If healthy, he should remain the top back in the rankings. But there are legit concerns with his knee. The team may have removed some of those by letting C.J. Anderson walk in the offseason, but I expect to see his workload diminish in 2019 and beyond.
Tier 2
This tier is full of backs that could be viewed in a variety of orders in rankings. Joe Mixon currently tops the tier, coming off an excellent year (1,168 yards and 9 total TDs- 243.40 FP) in a bad Bengals offense. But the knock on Mixon so far has been his inability to stay on the field. If he can stay on the field for 16 games, a new creative offense from Zac Taylor could move Mixon into the top tier by season's end.
Melvin Gordon is a mainstay here in this tier as he continues to be a steady producer as an RB1 in fantasy (271.50 FP in 2018 in only 12 games). Gordon is another back that is plagued by injury issues and plenty of fantasy owners can only hope just what he can contribute if he plays an entire season.
The remainder of this tier is full of players that have plenty of upsides, but questions remain. Dalvin Cook and David Johnson are wildcards that could prove to be big-time players in fantasy. Cook, has to prove he can stay healthy. We have seen him produce at a high level and there are weapons on this offense that can help him achieve that status again. Johnson is a back that we all hope can regain his form from a couple of years ago as the Cardinals are all but reset the offense. He continues to say his goal is to be a 1,000/1,000 player. If the coaching staff runs the offense through him, he could easily get to that point.
Le'Veon Bell, once a top overall player, now finds himself on a new team after sitting out the 2018 season. He could come out with something to prove this season and become a stud yet again, or he may be the new version of CJ2K. A back that got paid and loses his passion for the game and busts. Nick Chubb, Sony Michel, and James Conner all have RB1 capabilities but could potentially be splitting time in the backfield at some point in the 2019 season, which could limit their season-long potential.
Tier 3
This tier is really where the question marks start to compile. Filled with a group that shows promise, you can either hit a home run drafting from this tier or find yourself dropping them in and out of your starting lineups. Leonard Fournette leads this tier in the rankings, but what version will we see in 2019 and beyond? The team has flip-flopped on their commitment on him over the offseason and now have a reputable QB to lead the offense. He has more value as a standard scoring back than he has in PPR formats. Not to mention the time he continues to miss due to injuries. He has the skillset to get back to RB1 form, but his efficiency has dropped over the last two seasons and it's hard to see him returning to that form.
I'm highest on Derrius Guice and Kerryon Johnson among this group. Guice coming back from the ACL tear could go either way, but he has all the makings of becoming a sure-fire RB1 as the focal point of the Redksins offense. Sure, the team re-signed Adrian Peterson, but that move is more of a fallback option in case Guice struggles early on. Johnson, on the other hand, has to deal with the fact that his coaching staff refuses to truly unleash him. Anytime the team gave him 15 touches or more in a game, he responded well. His 5.4 YPC and 32 receptions in 10 games show that there is a very high ceiling to be had here. But it is up to the coaching staff to allow that.
Marlon Mack could see his ADP continue to rise through the summer based on his expected workload, but we have only seen him produce steadily for one season. He'll have the 11th easiest schedule for RBs in fantasy for the 2019 season, meaning that there will be games to take advantage of. But the presence of Nyheim Hines will also limit his PPR value. Others in the tier find themselves locked into a timeshare in their respective backfields. Finding the right week to plug them into your lineups could prove to become headaches unless they play themselves into a higher workload.
Tier 4
This tier is where we find the inclusion of the top rookies in the 2019 RB class. Josh Jacobs, the new workhorse for the Raiders, followed by David Montgomery, and then Miles Sanders. Jacobs should, of course, be viewed higher among the others, but I like Sanders ceiling to be higher early on over Montgomery. All three of the rookies will prove to be key fantasy players over the next few seasons. Damien Williams is a wildcard among this tier. If given the true every-down role for the Chiefs, he is without a doubt a player that returns RB1 value. But will Carlos Hyde's presence present a problem? Mark Ingram could become the workhorse for the Ravens power run game, but the selection of Justice Hill in the draft almost assures that he comes off the field in change of pace situations.
Others in this group could become standouts as well, but most of the remainder of the tier are players that will be staples in Flex spots in weekly lineups. Tarik Cohen has been in and out as an RB1 in PPR scoring for some weeks, but others he completely disappears. He will never become more than a Darren Sproles type. Valuable in PPR formats but not worth the time in standard scoring.
Kenyan Drake has the tools to become a weekly starter in fantasy, but the team constantly insists on rolling other backs in and out. Maybe the change in coaching staffs can bring Drake more of a workload but the recent signing of Mark Walton isn't inspiring confidence.
The 49ers RB duo of Tevin Coleman and Jerrick McKinnon are in this group as well. I've stated my case for over a year now that Coleman would become a 49er and that McKinnon would be shown the door. This remains to be seen, but I see Coleman becoming the lead on this depth chart and bringing back RB2 value.
Top Value Plays in Remaining Tiers
These are a few names to keep an eye on as the summer progresses. Their ADP could shift based on training camp news.
Lamar Miller, Tier 5 - He continues to be a playable asset in fantasy in this offense. With the 13th easiest schedule for RBs in 2019, Miller could take advantage and become a low-end RB2 in what could be his final year with the Texans.
Ronald Jones II, Tier 6 - The team continues to talk of the potential of Jones. He was a non-factor in 2018 but was also the youngest positional player drafted. Maybe a full year in the league could be a wakeup call for the second year back, who must overcome the 28th ranked schedule for RBs in 2019. If given the feature role in the Arians offense, the value could be there as a steady Flex play.
Jamaal Williams, Tier 7 - The stats may not show it, but Williams has been a key part in many fantasy championships over the last two years. Being featured late in the year, he uses a heavy workload to pile up fantasy points. New head coach Matt LaFleur has continued to state his belief in a two-back system, so I look for Williams to be the between the tackles pounder for the Packers. Certainly could provide some scoring potential for standard leagues.
Darrell Henderson, Tier 7 - Henderson is a player that I was high on entering the draft. The landing spot wasn't great as he sits behind Gurley and Malcolm Brown on the depth chart. But as the Rams look to limit Gurley's touches, Henderson could be the biggest beneficiary. Expect for him to play a Chris Thompson type role for this team and bring you late round PPR value.
Ryquell Armstead, Tier 12 - Drafted in the fifth round by the Jaguars, Armstead immediately moves into the backup role for the Jaguars. Playing behind Fournette almost assures that he will see playing time in his rookie year. If the team loses confidence in Fournette at any point, Armstead could be that late round gem that carries you to the finish line in fantasy.
Be on the lookout throughout the summer as we continue to evaluate players in our rankings!
Check out all of RotoBaller's fantasy football rankings. Staff rankings are updated regularly for all positions and include standard formats, PPR scoring, tiered rankings and dynasty leagues.