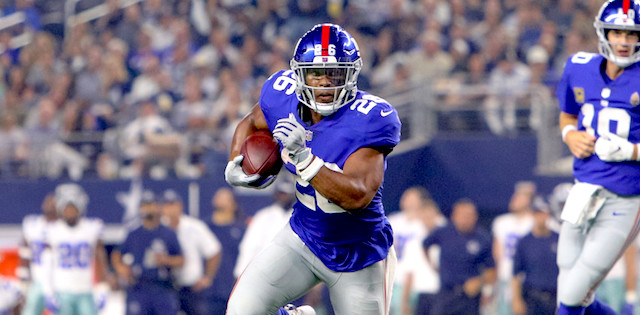 The NFL season is not over, but the Rotoballer staff have already started preparing for the 2019-20 season with a Way Too Early Dynasty League Startup Mock Draft. In a startup draft, it's important to focus on building a solid foundation for the seasons to come.
In this particular mock, there are 12 teams that all are owned by various members of the staff. Each had their own strategy and reasoning for the picks they made, and it's time to evaluate those decisions. Later-round evaluations will come in groups, but the first round alone can make or break your potential dynasty for years.
Let's get started and evaluate the methodology of each drafter. To view the full draftboard, simply click here.
Editor's Note: Get any full-season NFL Premium Pass for 50% off. Our exclusive In-Season Lineup Tools, Lineup Optimizer and over 150 days of Premium DFS Research.
Sign Up Now!
Dynasty Mock - Round 1
Pick 1.01 (Steve Rebeiro) - Todd Gurley (RB, LAR)
One of the NFL's best running backs since he entered the league, Todd Gurley has flourished under the guidance of Sean McVay. Heading into his age-25 season, Gurley is set up to be the engine that drives one of the best offenses in the league. Steve starts off his dynasty with an RB1 that will get him consistent points in the running and receiving games for years to come.
Pick 1.02 (Richard King) - Saquon Barkley (RB, NYG)
Following the pick of Gurley, Richard follows it up with one of the best pass-catching and most explosive running backs in the NFL last season. Saquon Barkley finished his rookie season with an impressive 1,307 yards on the ground and 721 yards through the air. With the amount of volume that Barkley gets as a pass-catcher, combined with his big-play ability and youth, Barkley is a great choice in the second overall slot. In some startups, it wouldn't be surprising to see him go as the top pick.
Pick 1.03 (Gage Bridgford) - Ezekiel Elliott (RB, DAL)
Getting a bell-cow running back has become more and more difficult in the modern NFL, but I was able to get one with the third overall pick in Cowboys running back Ezekiel Elliott. Elliott came on strong late last season in the pass-catching game. Heading into his fourth season, he's coming off of his best year with 77 receptions and over 2,000 yards from scrimmage. He starts off any dynasty team with a set-and-forget player who is still just 23 years old.
Pick 1.04 (Chris Mangano) - Christian McCaffrey (RB, CAR)
In a PPR scoring format, Chris gets the current record holder for running back receptions in Panthers running back Christian McCaffrey. McCaffrey hasn't been the most impressive runner, but he makes up for it with his pass-catching. He totaled 107 of them last season for 867 yards. McCaffrey's workload is only going to grow moving forward, so Chris does a great job getting a player like McCaffrey fourth overall.
Pick 1.05 (Pierre Camus) - DeAndre Hopkins (WR, HOU)
Ending the run on running backs is Pierre with the selection of Texans superstar wideout DeAndre Hopkins. Hopkins is coming off his second career All-Pro season, and he is only developing a stronger connection to quarterback Deshaun Watson. Heading into his sixth career season, Hopkins has many productive years as a WR1 ahead of him. Pierre saw that and locked in this pick.
Pick 1.06 (Frankie Soler) - Alvin Kamara (RB, NO)
In his rookie season, Saints running back Alvin Kamara was a league winning late-round flyer. Last season, he was a lock as a first-round pick, and he is surely that in dynasty going forward. Kamara gives Frankie a strong pass-catcher that will provide plenty of value when he isn't running as efficiently as possible. He totaled 81 receptions in each of his first two seasons, and his role is only growing with time. It appears Mark Ingram may stay with the team but even so, that doesn't hurt Kamara's long-term value.
Pick 1.07 (Keith Hernandez) - Davante Adams (WR, GB)
After Kamara, there is a pretty fast drop-off to the next running back. Keith saw that and went in search of an elite young WR1. He got just that with Packers wideout Davante Adams. Adams is a dangerous red zone threat that plays alongside one of the game's top quarterbacks in Aaron Rodgers. He nearly broke multiple Packers receiving records last season, and he will only push for more of those moving forward for Keith.
Pick 1.08 (Justin Carter) - Michael Thomas (WR, NO)
The third wide receiver off the board was one of the best in the NFL last season. Saints wideout Michael Thomas has a combination of size and speed that are rarely seen, and he also plays in one of the NFL's best offenses. Thomas caught an impressive 85 percent of balls thrown his way last season, which included just three drops. Justin starts his team off with one of the NFL's best receivers for the next decade.
Pick 1.09 (Matt Terelle) - JuJu Smith-Schuster (WR, PIT)
The wide receiver run continues with Matt's pick of a budding superstar in Pittsburgh wideout JuJu Smith-Schuster. His star has only gotten brighter in two seasons, and, with the news that fellow wide receiver Antonio Brown wants out, Smith-Schuster's role figures to grow even larger in the future. Matt starts his team with a big play waiting to happen, who has plenty of room to grow at only 22 years old. It's hard to imagine before the season that we would see JuJu as a top-10 pick while AB fails to be selected in the first round, but things change quickly in the NFL.
Pick 1.10 (Kyle Richardson) - Odell Beckham Jr. (WR, NYG)
The wide receiver run stretched to four when Kyle selected the second New York Giant of the first round in wide receiver Odell Beckham Jr. Beckham has struggled to stay healthy over the last couple of seasons, but he is still as explosive as ever. Excluding the injury-shortened 2017-18 season, he has totaled over 1,000 yards every year. As long as he remains healthy, Kyle has a volume receiver to lead his team for years. Formerly considered the top player in all of dynasty, this could be a bargain at the 10th pick.
Pick 1.11 (Dominick Petrillo) - Joe Mixon (RB, CIN)
After a subpar rookie season, running back Joe Mixon put together an impressive but injury-plagued year two. Near the end of the first round, Dominick snatched up the combo back for the Bengals. The Bengals are bringing in Rams offensive coordinator Zac Taylor to be their new head coach, and that should lead to an even bigger workload with him calling the plays. Mixon just needs to stay on the field to be a great pick.
Pick 1.12 (Cliff Clinton) - Melvin Gordon (RB, LAC)
To wrap up the first round, Los Angeles Chargers running back Melvin Gordon gets picked up by Cliff to start his dynasty. Gordon has gotten better every year, and he was on pace for his best season yet before a nagging injury slowed him. As quarterback Philip Rivers gets older, the team will lean on Gordon more, and that makes this pick a great one with a player that can score touchdowns and catch passes consistently.
Round 1 Recap
After 12 picks, we saw a lot of very common names come off the board. We also saw a near-even split between the running back and wide receiver position, as it went seven and five respectively. It's rare in the modern NFL to find a true bell-cow running back, and most of those names were selected early as expected. Stay tuned for the other rounds to come.
More Dynasty League Strategy