Be sure to follow me on Twitter @TeeOffSports to get more answers this week, and if you aren't doing so already, I'd love for you to consider signing up for my RotoBaller premium subscription. There are numerous tools available, including my heralded 'PGA Rankings Wizard Model.'
PGA DFS Rankings Wizard - The Fortinet Championship
We have some exciting changes that we are implementing this year over at RotoBaller. There will be multiple subscription-based tiers for our readers to enjoy, including my very own TeeOffSports VIP Package that will include the following items:
PGA Rankings Wizard Model (Pre-Tournament)
A powerful and interactive data spreadsheet that allows user inputs to create custom rankings and models for golf. If you are considering signing up, take a look at this how-to guide of everything you can find weekly inside my pre-tournament model. The sheet is loaded with sortable and weighable information to help you in all sectors of the market. 
Vegas Report (All Pre-Tournament Bets)

Top Pre-Tournament H2H Pick: (104-60-9) 63.41%
All Pre-Tournament H2Hs: (234-174-23) 57.35%
Total H2Hs Since 2017: (434-301-59) 59.05%
Outright Winners Since 2017: 36
Units: +311.229 Units
All Totals Are Entering 2023
In-Tournament Model (Updated Stats + User Configuration Ability)
Here you will find updated stats for the particular tournament – all sortable and weighable when you make a copy of your own under the file tab. The purpose of this is to provide an area where you can research the daily proceedings for DFS strategy or find outright or daily head-to-head wagers. There are over 25 weighable categories by the time round four comes around, including the ability to add back in your pre-tournament research for every day.
In-Tournament Head-To-Head Bets For Rounds 1,2,3 and 4
Lifetime Record: (200-127-36) 61.16%
First-Round Leader Article
Eight first-round leader wins in 2022.
One & Done (Deep-Dive Into Potential Options To Consider)
10+ million in earnings during two of the past three seasons while providing information for contests. We will take a comprehensive look into a handful of options to consider.
Late DraftKings Article (Condensed Player Pool)
We will build off the Monday article throughout the week and consolidate selections toward a more concrete player pool for everyone to consider by Wednesday.
Premium Discord Access
Join the community! There you will be able to talk to fellow subscribers and have real-time weekly chats with me.
Field
Field Size: 156
Cut: Top 65 and Ties
Top 20 Entrants: 1
Last Five Winners Of The Fortinet Championship

| | | |
| --- | --- | --- |
| 2022 | Max Homa | -16 |
| 2021 | Max Homa | -19 |
| 2020 | Stewart Cink | -21 |
| 2019 | Cameron Champ | -17 |
| 2018 | Kevin Tway | -14 |
Expected Cut-Line
| | |
| --- | --- |
| 2022 | -1 |
| 2021 | -2 |
| 2020 | -4 |
| 2019 | -1 |
| 2018 | -2 |
Silverado Resort & Spa North
7,166 Yards - Par 72 - Greens: Poa Annua Mixed With Bentgrass
Designed in 1957, Silverado Country Club has undergone some restorations over the years, including two notable changes from Robert Trent Jones in 1967 and Johnny Miller in 2011.
It is worth noting that the facility had to take on some additional repairs after fires ravaged the area in 2017-2018. Still, the layout walks this fine line between your classic "resort-style" birdie shootout and something slightly more diabolical when you consider Miller has petitioned for this course to be up for major championship consideration in the past.
Narrow fairways have always been noticeable from a statistical perspective, which we see with players hitting the short grass only 52% of the time. However, most of the metrics will start to push us toward a bomb-and-gouge mentality since the tree-lined setup doesn't present quite the difficulty that you might expect since sporadic spacing of those trees will allow for that extra aggression we see from the heightened returns of missing fairways. Golfers that can land on the correct side of the rough should have an easier time traversing the course under the assumption that they don't find themselves so errant with their first shot that they become trapped with no line-of-sight to the green.
There is some wind potential that can come into play. I'd have to imagine we see the putting surface a little firmer than usual to try and deter this from creeping lower than 20-under par, but for a track that often struggles to find its identity, the rudimentary strategy will likely come down to total driving (geared toward distance) and wedge proximity from 0-150 yards. A shockingly high 51.2% of shots are projected to occur from that range, giving us an 11.9% higher return than your average stop on tour.
I don't want to make it sound as if there isn't a need to look into long-iron proximity since the par-three and par-five holes will demand some semblance of expertise being plausible if a player wants to move up the leaderboard, but we pretty much get a track that requires par-saving potential on the four par-three setups, the ability to make birdie (or better) on the four par-fives and some combination of those two answers on your 10 par-four holes.
Put all that together with the ability to make putts on Poa/Bentgrass greens, and you get the recipe for success right there for the taking on a wine/cheese platter.
Let's Look At The Stats
| | | |
| --- | --- | --- |
| Stat | Silverado | PGA Average |
| Driving Distance | 285 | 283 |
| Driving Accuracy | 51% | 62% |
| GIR Percentage | 67% | 65% |
| Scrambling Percentage | 60% | 57% |
| Average Three-Putts Per Round | 0.475 | 0.55 |
Key Stats 
Let's quickly run through how I built my model.
Strokes Gained: Tee-To-Green Short Par 72s (10%)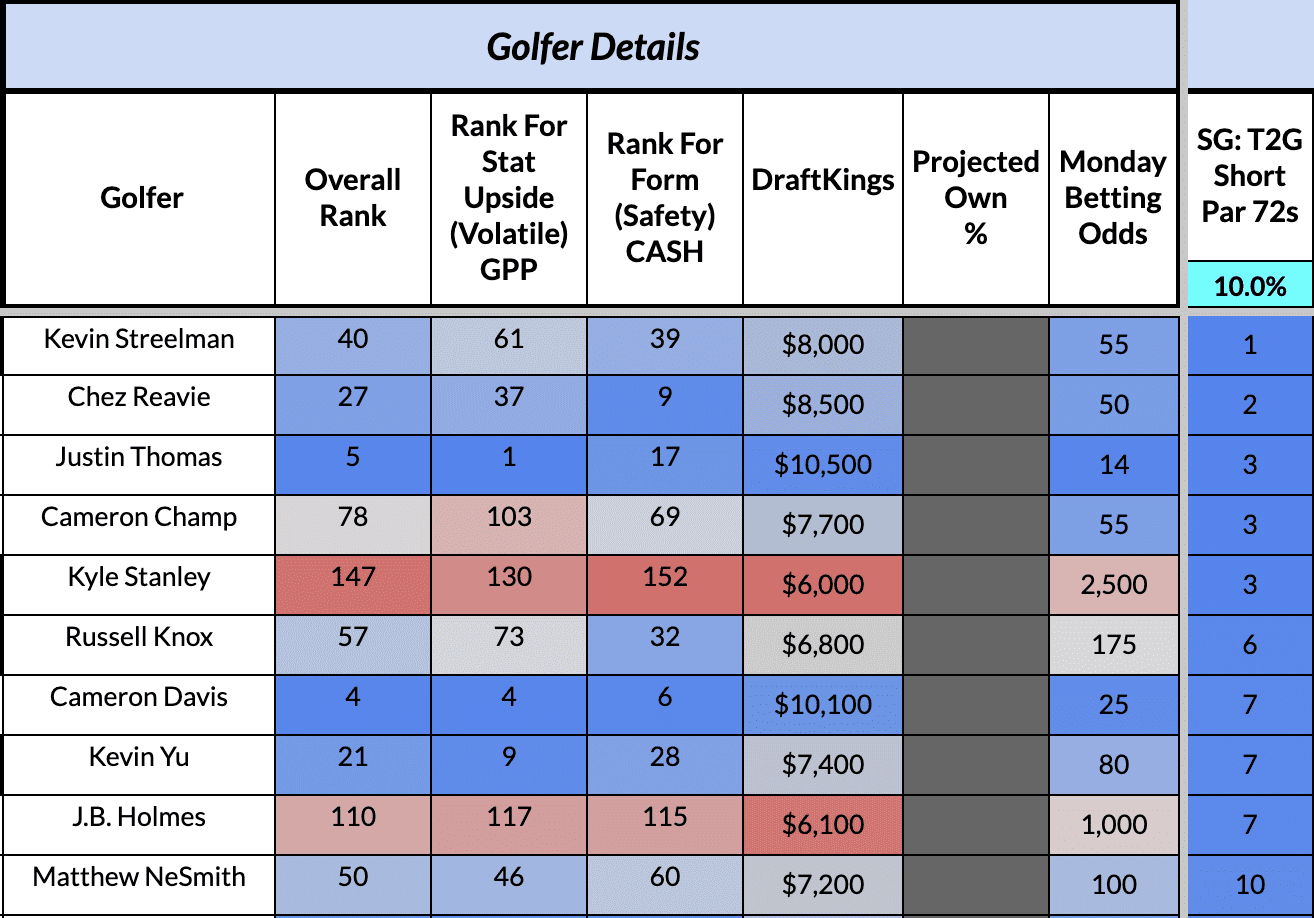 Strokes Gained: Tee-To-Green Last 24 Rounds (10%)
Weighted Strokes Gained Total (30%)

Strokes Gained Total Poa + Bent (10%)
Strokes Gained Total Easy Courses (10%)
Weighted Scoring (20%)
Weighted Distance + Weighted Proximity (10%)
Total Number Of Top 10's Out Of The Seven Categories: Two-Year Running Model


I will dive deeper into what went into these totals later in the week on my podcast. If you aren't doing so already, you can follow Bettor Golf Podcast on Twitter.
First Look Into Outright Bets
| | | | |
| --- | --- | --- | --- |
| Golfer | Odds | Risk | Win |
| Stephan Jaeger | 30 | 0.25 | 7.5 |
| Sahith Theegala | 19 | 0.38 | 7.22 |
| J.J. Spaun | 40 | 0.18 | 7.2 |
| Kevin Yu | 80 | 0.09 | 7.2 |
***Jaeger has moved marginally at Bet365 and is now 27/1. Anything 25/1+ works for me. 
Fantasy Golf Lineup Picks for DraftKings (PGA DFS)
We have tons of great weekly PGA articles, DFS analysis, tools and DFS advice. Be sure to read our other fantastic articles regarding this week's event.
High-Priced DraftKings DFS Players 
***There are four players priced above $10,000. Please remember that my DFS article is always a first look at the field. Opinions might shift as the week goes on, and I am more than happy to discuss anyone further on Twitter.
It is a pick-your-poison spot up top, as all four names listed over $10,000 are ranked inside the top four of the upside portion of my model.
I am not going to attempt to talk anyone out of whatever route they deem most fitting for their preferred construction. Ownership will play a vital part in figuring out that solution later in the week, but my early inclination is to roster Max Homa, Stephan Jaeger and Cameron Davis. 
I do believe there is an edge to be had in going aggressive near the top of the board because of the high-end nature my model found from golfers priced $9.000+.
Max Homa is the back-to-back champion for a reason and projected number one in this field for strokes gained total at Silverado. 
Stephan Jaeger topped the tournament in weighted scoring over these 18 holes, a stat that mostly will resemble the expected strokes gained total output but does make one minor deviation.
And then Cameron Davis ranked first this week in projected proximity for a course that will deliver 51.2% from 0-150 yards. 
Thomas may be worth a shot if the entire industry goes the opposite direction of fading, but the lack of expected ownership in the market at this moment mostly makes that a guessing game on Monday. I feel much more comfortable aggressively stacking the other three choices.
Did you know RotoBaller has a Premium DFS PGA subscription? Like what you read today? You can show your support for Spencer by using the discount code TEEOFF when purchasing a PGA Premium Pass. You get 10% off and full access to all of our Premium PGA articles, DFS tools, and Lineup Optimizer! You also get access to weekly betting picks from Spencer Aguiar, one of the top betting minds in the industry.
End of the Season Totals: @rotoballer @BettorGolfPod

2017 +54.26 Units
2018 +55.88 Units
2019 +27.743 Units
2020 + 37.015 Units
2021 + 68.846 Units
2022 +67.485 Units

Total Winnings: +311.229 Units

Total Outright Wins Since 2017: 36

H2H Totals Inside Thread… https://t.co/pNQrSK1rFE

— Spencer Aguiar (@TeeOffSports) December 12, 2022
Mid-Priced DraftKings DFS Players
$9,000 Range
The same picture we saw in the section above continues to shine when we dive into an entire crop of names that will land in the top 13 of my model from an overall rank perspective. 
Sahith Theegala will be my favorite in this group because Silverado allows golfers to be a little more wayward off the tee. That factor, mixed with his 87-spot improvement in weighted proximity, helped to create a straightforward narrative of scoring potential that ran rampant for a golfer who closed his season with back-to-back top-15 finishes. My model believes he builds on his two top-14 finishes at this course over the past three years. 
Beau Hossler is typically not my cup of tea. There are very few occasions where my model hones in on him because of his erratic nature off the tee and shaky approach game. However, I am going to take a swing at him here on a course where he has delivered three straight top-25 finishes. Hossler's distance and short game should give us a unique combination at a venue that allows that skill set to perform admirably. 
J.J. Spaun - My outright card is very top-heavy and continues that mindset one final time here on J.J. Spaun at 40/1. I considered a more well-balanced approach, but Spaun's statistical profile was too enticing to ignore. The American ranked third this week when performing at easy-scoring venues and generated a tournament-leading 18 straight rounds of shooting par or better when running the data over the last 10 events.
Mid-Priced DraftKings DFS Players
$8,000 Range 
Akshay Bhatia - Bhatia showed what he could do at a birdie fest when he bludgeoned the Stableford-scoring Barracuda in July. That boom nature should play exceptionally well at a venue that allows aggression, and he joined Cameron Davis, Max Homa and Justin Thomas as the only other players to crack the top 15 for total driving and proximity to mimic Silverado.
Doug Ghim - Ghim quietly closed the season with eight made cuts in nine starts, highlighted by seven results landing in the top 35 of those fields. If that often boom-or-bust profile has become steadier, Ghim's playability at the price becomes highly intriguing.
Low-Priced DraftKings DFS Players To Consider ($7,000+)
Check out my model for everything in this section. There, you will get individual rankings on all players and create the possibility to weigh the data to create your own model when you make a copy. Please consider signing up for this tool that I am very proud to share with the public!
Here are the top players from the $7,000s
Garrick Higgo - I wanted to find a way to fit Garrick Higgo onto my outright card. His combination of distance and poor iron play resembled the makeup of Cameron Champ, who won the title here in 2019, although the lack of high-end returns ultimately had me use him in other areas. Higgo cracked the top 50 of the seven categories I ran at the Fortinet, and despite the shaky iron play, he still graded 15th when adding distance and weighted proximity together.
Kevin Yu - When we remove the notable names that the standard fan of golf would know, Yu is the best ball-striker in the world. No, not you...although I am sure your game is better than mine. But I instead speak of the Arizona State product that stood out in college and has flashed early in his PGA Tour career. My model has continued to believe that this price won't be around for long, and the sky is the limit if the short game can show any signs of life.
Sub-$6,000 Options To Consider
We will dive deeper into this section later in the week, but let's highlight the one name that graded as the most mispriced player on the board.
Kevin Roy - It has been nothing but missed cuts or finishes inside the top 40 for Kevin Roy over his last eight starts, but that volatile nature isn't detrimental here at $6,600. If the ball-striking performs as we have seen in spurts, the ceiling is there for a top-20 finish - even if the floor is another poor performance that misses the weekend.
Win Big With RotoBaller
Golf is back, and it's time for you to win big with RotoBaller!
Our PGA DFS Premium Package
 features several savvy analysts and proven DFS winners.
Our very own Joe Nicely recently took down a big DraftKings DFS tournament for the Travelers Championship. And as an encore, RotoBaller subscriber @tenndolly2 won $100K on FanDuel with the help of Joe and the rest of our Premium PGA team:
If you read my articles @RotoBaller or listen to @TheTurnGolfPod I've been telling y'all it was #WinningSeason when golf came back! Shoutout to the entire @RotoBallerPGA squad and all you guys that support my work for all the ❤️ pic.twitter.com/07a4ynvbSU

— Joe Nicely (@JoeNicely) June 28, 2020
Congrats @tenndolly2 ???

Thanks for being a @RotoBaller PGA DFS Premium subscriber & checking out all the amazing golf content that @JoeNicely produces every week! https://t.co/tHKZVsPbbt

— RotoBaller PGA (@RotoBallerPGA) August 10, 2020
Between all the incredible
Premium PGA DFS
content and tools we put out each week, and our Premium Slack Community where we chat with our subscribers before lineups lock, RotoBaller PGA subscribers are armed with the tools, analysis, and advice to win big.
Golf DFS News and Player Outlooks
More PGA Analysis and DFS Lineup Picks