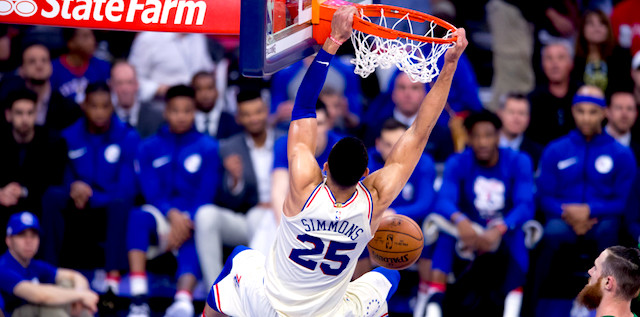 I have the flu. I'm going to make this quick. My apologies, but hopefully I'll feel better tomorrow and return with another just, oh-so-exciting DraftKings article. Warriors-Lakers is aimed to be the highest scoring, but I would suggest targeting both the Suns-Hawks and the Kings-76ers contests if you are looking for the most upside. The Wizards versus Bucks is another game that has the potential to be extremely competitive, but eventually Giannis Antetokounmpo will take over.
To be completely honest, I'm tired of rostering Domantas Sabonis and he continues to flounder when we need him not too. While normally I would fade him, that strategy and emotional thinking is exactly what gambler's fallacy is all about. I am done making room for him, so if he fit's he fits. Sabonis starts the season off strong and for the second year in a row, that has spiraled out of control into barely relevant conversations, mainly due to his inconsistency. If he could string together strong outings, then the one or two games wouldn't be a problem. That's just not the case and Sabonis is posting the most basic stat lines every two games. It will work out for him now that his price is reflecting that, but it's taken a lot of patience to get to this point and I see him as a high-risk, low-reward player.
For the rest of the article, I will be providing you with my daily fantasy basketball lineup picks for DraftKings on 2/2/19. You can also check out today's FanDuel lineup picks. As always, don't set your lineups too early. Be sure to check all the NBA starting lineups and player statuses and availability prior to opening tip.
Editor's Note: Our friends at Monkey Knife Fight have the best, most fun, fastest growing DFS props game! It's super simple to play and to win real money. Just choose your NBA, NHL or PGA game, and make your picks! Get a 100% instant deposit bonus up to $50 using promo code: BALLER. That's $50 for free - don't miss out!
Play Now!
DraftKings DFS Guards
Ben Simmons - PG @ SAC ($9,200)
The 76ers should dominate this game. The Kings do not have the defensive tools to keep up with the Philadelphia firepower, and De'Aaron Fox will be out of luck when it comes to playing defense. With both of Philadelphia's best backcourt options utilizing their strength more than speed, it's going to be near impossible for the Kings to overpower them. Not to mention, if Joel Embiid plays, which he should, there will be even less help defense on Sacramento's end. Simmons and Butler are guaranteed to exceed projected tonight and hopefully the Kings can shoot well enough to keep them in the game, for our sake.
Cory Joseph - PG/SG  @ MIA ($4,000)
Other than T.J. McConnell, there are not many cheap guard options that actually have upside. Cory Joseph is dealing with an injury so MAKE SURE YOU STAY UPDATED. If he does play, which he should since the Pacers can't afford to lose inter-conference games, then Joseph is going to be a big part of that. Since the Oladipo injury, Indiana is desperate for nightly offense and they will give shot attempts to whoever is hitting. This isn't to totally pull from Darren Collison's upside, but if I had to choose between the two, I'm going with value. The Heat rank well against opposing backcourts, so the rest of the Pacers will have to produce, which I expect to actually happen. Tyreke Evans will eventually find a groove and start controlling the Pacer offense when he is on the court.
DraftKings DFS Forwards
Jimmy Butler - SG/SF @ SAC ($7,300)
I know I should have used the intro to talk about both Jimmy Butler and Ben Simmons, but alas, I didn't. Butler is one of the names in contention for being an All-Star snub, (along with Eric Bledsoe) so look for both to make a statements tonight. There is blowout potential in this game because the Kings are not the most consistent on offense, but they do have the players that can run the floor and cause problems for some of the best teams. They have seriously simmered down since earlier this season, but Butler will have free-range and no one to defend him. While the same can be said for Simmons as well, there is a reason I took the time to talk about both.
Dorian Finney-Smith - SF/PF @ CLE ($3,700)
I'd bank on a blowout here. The Mavericks shouldn't have much trouble scoring or defending the Cavaliers, so expect Dorian Finney-Smith to see extra minutes. If you are a box score reaper, don't expect Finney-Smith to stick out with any massive games. He contributes across the board and is most useful on the defensive end. Luckily, that puts him good graces with his team and they look to get him shots. In his past 10 games, he has been taking close to 10 shots a game, and while there are outliers there, e.g. is one shot attempt game versus the Clippers, he STILL managed to make something of it. With his price well below $4,000, it's not hard to see why Finney-Smith would be a top sleeper tonight. He will need to actually convert his shots, but if his most recent games are an indication of anything, its that he will be taking plenty of shots against some of the league's weakest teams.
DraftKings DFS Centers
Jarrett Allen - C @ ORL ($5,200)
There are decent amount of options at center tonight and while I was also thinking about taking Deandre Ayton, both centers in this game have a ridiculous amount of upside. Jarrett Allen should have the athletic advantage over Nikola Vucevic, and Vuceciv should have the advantage in the post. I'm hoping that the Nets can come out firing, giving more than enough spacing for Allen to feast on easy buckets. If you want value at the center position tonight, you can either go with the cheapest in Allen, semi-cheap but risky with Sabonis, or mid-level pricing with Ayton. All should be good to go and exceed projected, but for the price go Allen. If you can afford it, go Ayton.
More Fantasy Basketball Analysis