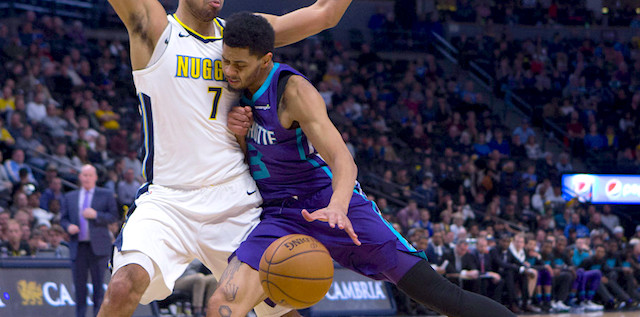 Last night was a great night of basketball with so many players having high-scoring games, so look for Saturday to pick up exactly where Friday left off. Per usual, the value plays are going to decide the lineups, so when looking at the Rockets-Hawks matchup, feel free to find most of your value coming from Chris Clemons or someone off the Houston bench.
Let's take a look at some stars and value plays that have great opportunities to lead your team. In this article, I will be providing you with my daily fantasy basketball lineup picks for DraftKings on 11/30/19.
You can also check out today's FanDuel lineup picks. Remember to monitor injury news as the slate can completely change before line-up lock. If you have any questions, find me in the NBA Chat Room or @HalfCourtJester on Twitter.
Editor's Note: Get any full-season NBA and DFS Premium Pass for 50% off. Our exclusive DFS tools, Lineup Optimizer and daily Premium DFS Research.
Sign Up Now!
DraftKings DFS Guards
 Cam Reddish - PG/SG, ATL @ HOU ($3,700)
I guess you could say that the right player I was looking for tonight was Cam Reddish but really? Cam Reddish? All season he has been low-grade fast food meat, but he's also a rookie and that's what rookies are. He is a body that is able to do body-like things. As long as those things don't require shooting consistently, Reddish is your guy. I am going to be honest, I think this is a great play and since Trae Young is coming off a massive game and the Rockets just being the Rockets, the upside is there for Hawks players who get minutes in blowouts.
Malik Monk - PG/SG, CHA @ MIL ($3,600)
If you are lucky enough to have access to our optimizer, you'll see right beneath Malik Monk in terms of points per thousand dollars spent is Austin Rivers. Rivers has been a staple of my lineups all season with his upside and price, but it hasn't really amounted to anything just yet. Instead of running with someone who is a toss-up literally every night, Malik Monk has found some consistency after arguably losing his minutes, usage, and starting gig to Devonte' Graham.
Graham should be starting and should get priority over Monk in literally, every facet of the game, but that's a conversation for another time, so look for Monk to exceed his projected against a middle-of-the-road Bucks backcourt.
DraftKings DFS Forwards
Jeremy Lamb - SG/SF, IND v. PHI ($6,100)
Normally, I don't like playing players on the second night of a back-to-back against a decent defense, especially the 76ers somewhat stingy defense, but this is where Jeremy Lamb shines. Philadelphia tends to generate a ton of production from their small forwards and shooting guards, but if Josh Richardson ends up missing a few games, it's key we hone in on that matchup. T.J. Warren and Tobias Harris are up for a scoring duel, but someone will have to fill the stat sheet elsewhere and that's where Lamb should come into play. With everyone on the Pacers playing at a medial-level after playing last night as well, they will be looking for that one guy who seems to never run out of energy.
Thabo Sefolosha - SF/PF, HOU vs. ATL ($3,000)
Remember that long while back when I had Myers Leonard here? Good times. But this time we have another total-shot-in-the-dark candidate with Thabo Sefalosha. Let me remind you that this is technically a revenge game since Sefalosha used to play for the Hawks, but this pick is mainly because he is due for a game where he is just randomly hitting shots. Random might not be the best word for it, but watching Sefalosha, all he needs is some momentum in terms of scoring and then it's all downhill after that. He looks awakward on offense but who wouldn't trying to play alongside Russell Westbrook and James Harden.
DraftKings DFS Centers
Robin Lopez - C, MIL vs. CHA ($3,000)
It has been too much fan playing centers against Charlotte this season, but realistically Bismack Biyombo has been a great play recently as well. The Hornets frontcourt has been letting up a ton of points lately, and while Brooke Lopez is clearly the one with upside here, it's so hard to pass up on bigs who should produce at such a low price. Robin Lopez does accumulate stats, but it is big ol' risk and you could look at Isaiah Hartenstein as well, but he doesn't have that basement-level, bottom-of-the-barrel price that we love so much.
More Fantasy Basketball Analysis