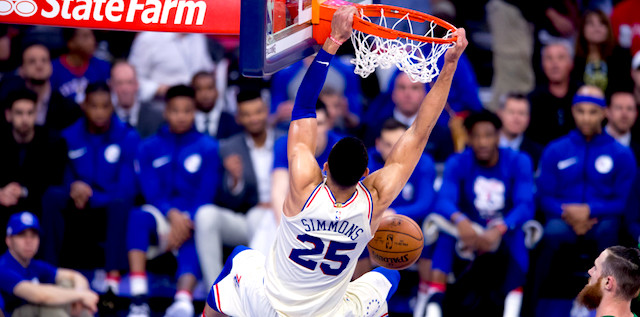 With only five games total, it's unfortunate DraftKings won't consider the Pelicans-Spurs game as part of the main slate.....Selfish.
Anyway, after last nights smorgasbord of competitive games, expect the complete opposite tonight. The teams that are playing aren't terrible, it's just the matchups are NOT enticing. Even though four games offers some type of variety when it comes to lineups, I really think the winning lineup is going to consist of the same four or five players. You will undoubtedly need some combination of the Warriors starters, so make sure you package Klay Thompson and Draymond Green's price with either Steph Curry or Kevin Durant. While the idea of someone on the Celtics stopping Durant is laughable, they do have Marcus Morris and Al Horford, two players dedicated to defense. They won't stop Durant, but they may force a more modest statline, giving me even more confidence in Steph Curry tonight. It will be fun to watch Kyrie Irving and Curry duel it out from behind the arc, but I'm banking on Curry putting together one of his best statlines of the season. Not only will he have the freedom to roam around the perimeter, but the Celtics defense doesn't have the speed capable of staying with Curry all game.
I will be providing you with my daily fantasy basketball lineup picks for DraftKings on 01/26/19. These DFS lineup picks can vary from higher-priced players and elite options to lower-priced players and value picks on DraftKings. You can also check out today's FanDuel lineup picks. As always, don't set your lineups to early and check player statuses before the opening tip.
Editor's Note: Our friends at Monkey Knife Fight have the best, most fun, fastest growing DFS props game! It's super simple to play and to win real money. Just choose your NBA, NHL or PGA game, and make your picks! Get a 100% instant deposit bonus up to $50 using promo code: BALLER. That's $50 for free - don't miss out!
Play Now!
DraftKings DFS Guards
Ben Simmons - PG/SF @ DEN ($9,600)
Did I forget to mention that you should absolutely play Ben Simmons? Well, you should. The Denver defense is already susceptible to playmakers like Simmons, so combine that with his strength and ability to get to the rim and boom, that's another Simmons triple-double right there. His price seems WAY above what it should be seeing how he is never really guaranteed points, but playing in Denver definitely helps his overall upside. Hopefully, the role players on the 76ers struggle to score on their own, giving Simmons more than enough opportunities to exceed his projected. J.J. Redick is always a comfortable start giving his track record of living up to the moment, so playing on the road doesn't inhibit his production whatsoever, giving Simmons at least one option to find for outside shooting. For players like Landry Shamet, Furkan Korkmaz and other bench options, they will rely on Simmons opening up the floor for them so expect a high-usage game.
Shelvin Mack - PG/SG vs. IND ($3,400)
For this pick, we are entirely benefitting off the incompetence of the Memphis Grizzly organization. Year after year they make poor decision after poor decision and literally nothing has changed in the past decade. As long as the Grizzlies continue to waste the talent of their young players, seasoned veterans like Shelvin Mack will get the minutes and usage. Lately, his minutes have fluctuated depending on how well he is playing that night, but tonight I expect him to turn in a more efficient outing than the first time around playing the Pacers. Mack scored three points on eight shots in the first game of the season, so while normally the Grizzlies would use this game to help develop younger players like Jevon Carter or Dillon Brooks, look for Memphis to go for the win here by overplaying Mack and JaMychal Green. This is a bold pick, but for such a low price Mack barely has to do anything against the Pacers to exceed projected.
DraftKings DFS Forwards
Juancho Hernangomez - SG/SF vs. PHI ($3,300)
There are not many options cheaper than Juancho Hernangomez tonight, and as long as Jimmy Butler's status remains in doubt, stretch bigs will have upside. Not because Butler would have been guarding them, but because when Butler is in the game, he impacts the overall intensity of the rest of the team. Butler usually takes on the hardest defensive assignment each night, and without him, the 76ers will look to rely on their offense more than anything. If they decide to get into a shootout with Denver, it's going to allow Hernangomez to play to his strengths comfortably. The return of Paul Millsap has made playing Hernangomez a risky play because the minutes aren't there, but he still offers more than enough space to give him upside in tonight's game.
Al-Farouq Aminu - SF/PF  Vs. TOR ($4,500)
If you haven't noticed, risky plays are clearly a theme tonight. Against the Hawks, Al-Farouq Aminu will run into his younger, Atlanta Hawk doppelganger, Taurean Prince. With both of these players playing nearly identical roles in the offense, you can assume that there will be more three's being shot than usual. If you look at the caliber of players in this game, you know the Trail Blazers have the definitive advantage, so Aminu should see extended run as the best defender in this game. The Hawks exposable defense will make it easy for Aminu to get to the rim and hit from outside, so look for him to get a major boost from his teammates spacing and his opponent defense. Since Atlanta's primary focus will be on Lillard and McCollum, I'm assuming this game will allow both Jusuf Nurkic and Aminu to find all the backdoor cuts they want.
DraftKings DFS Centers
Domantas Sabonis - C @ MEM ($6,700)
Since Victor Oladipo is out and the Pacer's will NEED offense, look for one of the most consistent options Indiana has. Even off the bench, Domantas Sabonis has been incredibly productive and that won't change with more usage coming his way. If Darren Collison and Cory Joseph see more playmaking duties, it will only help Sabonis get to his spots. Oldaipo offers spacing and automatic offense which is beneficial to how Sabonis plays, but now with Collison doing most of the dirty work on offense, it should allow Sabonis to see more shot attempts than usual. Normally he posts well-rounded numbers, scraping at double-doubles. But tonight I think he double-doubles without a problem and has one of his higher scoring nights of the season. It's unfortunate for the Pacers overall upside that Oladipo got injured, but in the long run, this will specifically help Sabonis learn how to handle a bigger role. He will capitalize on some of these situations so make sure you are targeting the right games.