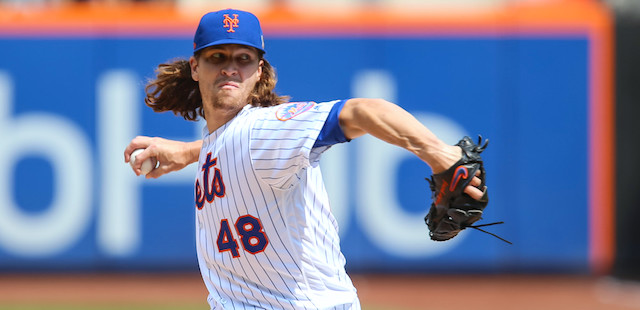 Welcome to Wednesday baseball on DraftKings! Per the usual, DK has given us some monstrous tournaments to have fun with. For $15, you can get into the Web Gem and take home $100k in first place. No matter the price point you're looking for, there is a big tournament styled for you. There also two separate slates to have fun with, but we'll be focusing on the main one starting at 7:05.
Pitching is pretty tough, with most of the action coming on the higher end. With the top guys being so expensive, we'll do our best to focus on some cheaper options that have a bit of upside. Without a game in Coors Field on the main slate, we can dig in and find some value from offenses that are projected to put up four or five runs. Let's dig in and find some value at each position!
In this article, I will be providing you with my daily fantasy baseball lineup picks for DraftKings on 7/31/19. The lineup picks will range from some of the elite players to mid-priced options and value plays. Be sure to also check out all the Vegas Odds for today's slate. You can also read more DFS advice and lineup picks for sites like FanDuel, and other sports too. If you have any questions or comments, feel free to hit me up on Twitter @VarneyDFS.
Editor's Note: Get our 2020 MLB Premium Pass for 50% off, with exclusive access to our draft kit, premium rankings, player projections and outlooks, our top sleepers, dynasty and prospect rankings, 20 preseason and in-season lineup tools, and over 200 days of expert DFS research and tools.
Sign Up Now!
DraftKings DFS Starting Pitchers
Jacob deGrom - NYM @ CHW - $11,800
Syndergaard headlined last nights article, and more than came through with 7.1 innings and 11 strikeouts. We'll now get to play deGrom, who's more polished and has more upside than Syndergaard. He's been one of the best pitchers in baseball, regularly going 7+ innings and striking out double digits. The match-up with the White Sox is nothing to worry about, as they rank 25th against righties and strikeout nearly 26% of the time. deGrom is the top play at SP in both cash and tournaments.
Jose Berrios - MIN @ MIA - $10,700
It may seem like a cop-out to recommend the two most expensive pitchers, but it's just the nature of the slate. Without a game in Coors Field, we're able to pay down for some bats and play it safe at pitching. I see Berrios and deGrom in a tier of their own, and nobody else comes close. Berrios will travel into Miami and face off with the leagues weakest offense. The Marlins have ranked dead last against righties with a .279 wOBA against and 24% K rate. They also hold the leagues lowest ISO, mostly in part to calling spacious Marlins Park home. Berrios has struck out a batter per inning while sporting a .291 combined wOBA. He's strong against both sides of the plate and doesn't walk many. Berrios is cheaper than deGrom and relatively safe compared to the field. The upside is huge. If you can make it happen, jamming both of these guys into your lineup isn't the worst idea.
DraftKings DFS Infielders
C - Tom Murphy - SEA @ TEX (Minor) - $3,700
I've gone ahead and recommended the two most expensive arms on the slate, so I'll make sure to balance things out with some affordable bats. The Mariners are facing off with a lefty, so Omar Narvaez should be benched in favor of Tom Murphy. Murphy has been absolutely dominant vs lefties, sporting a .403 wOBA and 46% hard contact rate. He's hit six home runs in just 70 at-bats, with eight doubles to add. His numbers against lefties have been beyond ridiculous and his price is fair on DK at just $3,700.
1B - Brandon Belt - SFG @ PHI (Velasquez) - $3,600
The Giants are a very different team when outside of Oracle Park. Brandon Belt has been solid this season, but a .354 wOBA on the road vs a .293 at home is clearly a huge difference. Against righties on the road, he's sported a .388 wOBA and 19 XBH in just 140 at-bats. He goes from a poor hitter at home to a legitimate superstar on the road. He's now in Citizens Bank Park, which ranks eighth for left-handed power. Vince Velasquez has given up a .346 wOBA and 17 home runs in just 70 innings of work. This seems like a perfect recipe for success for Belt, who is always under-owned and a completely different hitter on the road.
2B - Robel Garcia - CHC @ STL (Mikolas) - $3,500
Garcia hasn't surprised Cubs fans, as he already had 21 home runs in the minors before getting the call-up. Garcia may not seem like a big hitter, but he has a phenomenal launch angle (24%) and has driven the ball hard nearly 50% of the time. The Cubs have rewarded him with both the lead-off and the five-spot. While a switch-hitter, he's been consistent better against righties and has carried that to the majors so far. He faces off with Miles Mikolas, who's had troubles with lefties on the year (.351 wOBA). The Cubs should get back on track here and Garcia is a great way to save if once again in the heart of the order.
3B - Miguel Sano - MIN @ MIA (Alcantara) - $5,000
I've recommended three value bats in a row, so I think it gives me the luxury of rostering Miguel Sano. Sano has been destroying the baseball, with eight hits in his last four games. He now gets to face off with Sandy Alcantara, who's allowed the 2nd hardest contact rate in all of baseball. Against righties, he's been even worse with a .345 wOBA and 1.61 HR/9. Sano can hit the ball out of any park and the Twins will have plenty of runners on base. Sano may be expensive, but he shouldn't be popular and has as much upside as everyone on the slate.
SS - Tim Beckham - SEA @ TEX (Minor) - $3,700
First things first, you don't need to be scared of Mike Minor. His 3.00 ERA is mostly luck, as he's sporting a 4.60 xFIP and .270 BABIP. This game is being played in Arlington, which has ranked in the top five for right-handed power three years in a row. It's summertime and hot as could be in Texas. Tim Beckham is another value bat that is in a platoon advantage and has a ton of upside. He's sported a .336 wOBA vs lefties and now moves from Safeco to Arlington. He's affordable on DK at just $3,700 and has legitimate home run upside.
DraftKings DFS Outfielders
Max Kepler - MIN @ MIA (Alcantara) - $5,000
I've already touched on Sandy Alcantara and just how bad he has really been. If you take away his surface stats and look at the peripherals, he's been one of the worst pitchers in the entire league. He now draws the Minnesota Twins, who hit more home runs than any other team. Max Kepler has been dominant vs righties on the season, sporting a .372 wOBA and hitting 21 home runs in under 300 at-bats. He's certainly expensive, but the Twins are going to put up runs tonight and Kepler will be a part of it. If I can only pay up for a couple of bats, Kepler is one of them.
Lorenzo Cain - MIL @ OAK (Anderson) - $3,800
If you need an affordable outfielder, Lorenzo Cain dominates (.361 wOBA) left-handers and gets a solid match-up against Brett Anderson. Anderson has allowed a 4.93 xFIP vs righties and is only trending downwards with a 4.12 K/9 and 2.62 BB/9. Cain doesn't strikeout much in his own right, so we can count on two or three hard-hit balls from him. There will be runners on base and you can assume at least two RBI opportunities with RISP.
MLB DFS News and Injury Alerts