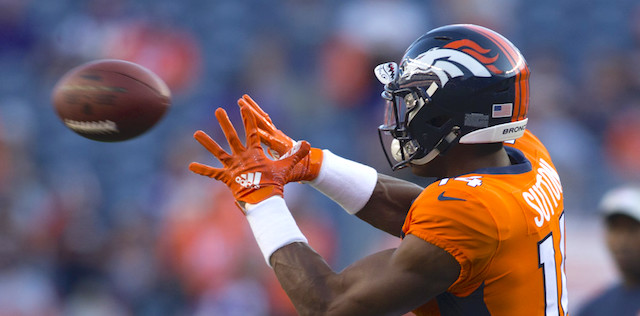 Every year, there's at least one offense in fantasy football that drafters avoid like the plague. Last year it was the much-maligned Jets, with rookie QB Sam Darnold. According to current ADP this year's quarantined fantasy offense appears to be the Broncos. Most egregiously ignored in fantasy drafts is Denver's wide receiving corps, which has all the makings of a Cinderella Story in 2019. Drafters are holding their noses up at the thought of drafting any of Emmanuel Sanders, Courtland Sutton, and especially Daesean Hamilton. Much of that wariness has to do with Joe Flacco and the fantasy football community's complete lack of faith in him making receivers relevant. And folks, that's a mistake.
Over the last six full seasons, Joe Flacco has averaged 577 passing attempts and a completion percentage of 61.6. And he's not slowing down. Through nine games last year, Flacco had 379 pass attempts and was on pace to chuck the ball 674 times. For reference, Ben Roethlisberger led the league with 675 attempts, a number that busted his previous career-best by 67 attempts. From 2013 to 2017, the Ravens offense averaged a 59.7% pass-to-run ratio. Their pass ratio with Flacco under center last year was a ridiculous 62.9%. The league average was 57.1%. Only Matt Ryan and Aaron Rodgers finished the year with a higher pass ratio than Flacco had in those nine games.
And sure, most folks know that Flacco is a bit of a gunslinger, but the common misconception is that throw-at-all-costs mentality only really benefits his tight ends. His receivers never become big-time assets. While it's true Flacco has targeted his tight ends more than the average quarterback (Dennis Pitta saw a team-high 121 targets in 2016), that narrative is a little overstated. It certainly wasn't the case last year, when he was force-feeding his wide receivers on a weekly basis.
Editor's Note: Get any rest-of-season NFL Premium Pass for 50% off. Our exclusive DFS Tools, Lineup Optimizer and Premium DFS Research through the Super Bowl.
Sign Up Now!
Baltimore's 2018 Receiving Options
Here are the full-season paces of Baltimore's top receivers with Flacco throwing the ball:
John Brown: 119 targets, 60 receptions, 1068 yards, 7 touchdowns
Michael Crabtree: 135 targets, 73 receptions, 839 yards, 3 touchdowns
Willie Snead: 123 targets, 80 yards, 796 yards, 2 touchdowns
These numbers had them ranked at WR22, WR31, and WR34 respectively when
Lamar Jackson
took over. The biggest problem with Flacco's receivers from a fantasy perspective isn't that they have a quarterback that spreads the ball around too much, it's that they're usually not high-end talent.
The best receiving corps Flacco had in recent years was probably the group from 2014. It's no coincidence that in that year both Steve Smith and
Torrey Smith
finished as WR19 and WR28 respectively. But even in 2016, the year Dennis Pitta beasted out for the Ravens, Flacco supported two receivers inside the Top 36.
Flacco made three different receivers fantasy viable on a weekly basis last year while working opposite a defense that gave up the fewest total yards and second-fewest total points in the league. His defense was constantly working to put him in favorable game scripts and didn't need to throw the ball so much. But that's just what Joe Flacco does.
The
Broncos Defense
, while solid, is not on the same level as the Ravens were in 2018, ranking 22nd in total yards allowed and 13th in total points allowed. That's not to say Flacco will match or exceed his outlandish pace of pass attempts from last year, just that the need to air it out will almost certainly be there. And he has a stable of more-than-capable receivers to throw it to.
Denver's 2019 Receiving Options
Curiously, all of those receivers are being drafted at WR38 or later in PPR formats, with Sanders going off the board the earliest. It bears repeating, just to ensure this doesn't get glossed over: Emmanuel Sanders, a 32-year-old coming off a late-season Achilles tear, is the first Broncos receiver being drafted in the back of the 7th round.
Is this all because of rookie tight end Noah Fant? Because no one's drafting him, either. It begs the question: Who do people think is going to catch Flacco's 550+ passes in Denver?
For the record, if Sanders can defy the laws of aging and his Achilles holds up better than history has indicated it will, then he could very well be a steal at his current ADP. Coming out of Week 13, Sanders was the WR15 in PPR leagues and had racked up four Top 10 finishes. He only fell below WR36 twice during that stretch, making him one of the safest options at the position. His injury makes him a potential ticking time bomb, but if Sanders truly is back to form, there's an outside chance he delivers huge numbers at a severe discount.
Demaryius Thomas is gone, clearing up the depth chart for a couple of sophomores to potentially break out in 2019. Both Courtland Sutton and DaeSean Hamilton performed very capably when called upon to be "the guys" in the offense at different points in the season.
Sutton, a second-round draft pick out of SMU, didn't light the fantasy football world on fire in his rookie season the way some hoped. It's worth mentioning, however, that after Thomas left town and the bye week passed, Sutton finished as the WR38 during the last seven games. He was a boom or bust proposition during that time, as his connection with Case Keenum never fully clicked.
Enter Flacco, whose thirst for hurling 50-50 balls to big-bodied receivers is rivaled by no active quarterback. Sutton has a strong chance to put up significant touchdown numbers in his sophomore season thanks to Flacco's willingness to throw downfield even when the game is well in hand.
Hamilton, meanwhile, was peppered with targets down the stretch last year. Over the last four games of the season, when he was forced into a starting role due to Sanders' injury, Hamilton averaged nearly 10 targets, six receptions, and 45 yards per game. He also found paydirt twice in those four games. Those aren't "stop everything and anoint this man the second coming!" numbers, but they make for a steady and reliable presence on your fantasy roster.
Tim Patrick and Juwann Winfree are two other guys to keep an eye on in deeper dynasty leagues. Patrick looked sharp in limited action as a rookie last year, and Winfree has been the training camp darling. Even undrafted free agent Kelvin McKnight is getting some buzz lately. While these WRs are not worth a draft pick outside of the deepest dynasty leagues, keep an eye on them if injury should strike any of the starters.
More ADP Values and Sleepers