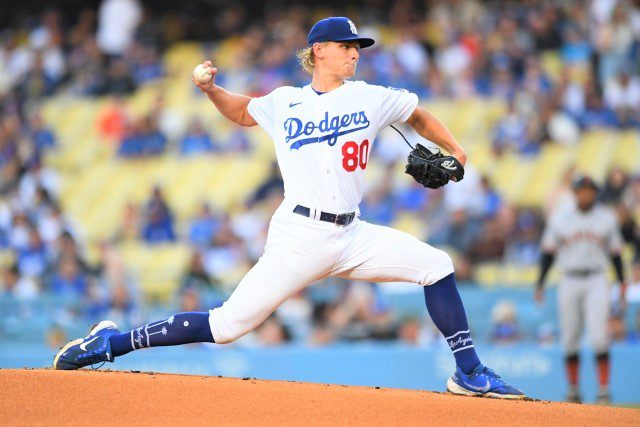 Major League Baseball has now passed the midseason point, and multiple prospect promotions have occurred over the last week. This will be something to watch over the next couple of weeks before the trade deadline, as teams attempt to showcase potential "trade bait" players.
The biggest baseball even that affected the minor leagues recently was the MLB draft, held July 9-11. In light of the draft happening and providing an influx of players into the minors, it would be wise to reflect back on the selections in last summer's draft to check in on how they are doing in pro ball - at least those that haven't been featured yet.
Look here for insight on potential fantasy baseball dynasty league pickups before they hit and to get to know players as they ascend to the major leagues!
Featured Promo: Get any full-season MLB and DFS Premium Pass for 50% off. Exclusive access to our Team Sync platform, Premium articles, daily Matchup Rating projections, 15 lineup tools, DFS cheat sheets, Research Stations, Lineup Optimizers and much more!
Go Premium, Win More!
Top Hitter Prospects
Statistical highlights:
Hitter Prospect Outlooks: Fantasy Six-Pack
Druw Jones, OF, Arizona Diamondbacks
Considered by many to be the most talented player in the draft in 2022, Jones was selected second overall by the Diamondbacks. The son of former Braves star Andruw Jones, Druw was considered to have advanced defensive instincts as well as a blend of other tools.
Between injuries and difficulties barreling the ball, Jones has had a very slow start to his pro career. He opened the season in Single-A Visalia, hitting .175/.283/.200 across 10 games before going on the injured list in late April. He went on a rehab assignment with one of the Diamondbacks' complex league teams upon returning, and he's played four games on the complex, getting two hits over 12 at-bats.
Jones has shown positive skills in his plate discipline, walking 13% of the time though he's also been criticized for potentially being passive at the plate, leading to a 28% strikeout rate as well. That said, a hamstring strain has been the major culprit in his early struggles, so it will be interesting to see how the rest of 2023 plays out.
VERDICT: Those who argued loud for Jones over Jackson Holliday in FYPD drafts are eating a bit of crow right now, but he still has massive talent. He may simply take a "normal" amount of time to mature and reach the majors for a high schooler, instead of the advanced track many thought he'd be on. He should definitely be rostered in deep leagues, and in shallow leagues, he should still carry plenty of trade value if you can't wait that long for him to get healthy and adjust to pro ball.
Jacob Berry, 3B/1B, Miami Marlins
When the Marlins called LSU infielder Berry's name with the sixth pick, it surprised many within the industry. Berry was seen as a strong power hitter but also a free swinger that may get exposed in pro ball.
His debut did nothing to quell those thoughts, as he hit .248/.343/.362 across complex ball and A-ball with just three home runs. It wasn't his strikeouts that did him in though, as he struck out just 17.5%. This season he was bumped up to High-A, and while the strikeout rate has gone up, it's still reasonable at 20.8%, but his walk rate has plummeted to 4.4% and he's struggled to drive the ball, with a .140 ISO.
The big concern in his overall profile is that Berry's defense has been rough at third base, to say the least (16 errors in 58 games this season, a pace of 41 over a season with 150 games). He's played more first base this season, but the Marlins are attempting to be patient with him.
VERDICT: I'm all the way out on Berry. I had him significantly low in 2023 FYPD rankings, and even then, I had him above guys that I'd definitely take over him now. I see no reason to roster him until he can figure out how to drive the ball. This could turn into a second dose of JJ Bleday for Miami.
Brooks Lee, SS, Minnesota Twins
After a strong career at Cal Poly, Lee was selected eighth overall by the Twins last season. He jumped out and worked his way all the way to Double-A by the end of his pro debut, hitting .303/.389/.451 with four home runs in just 31 games.
Lee opened his season in Double-A this year, and he produced rather "meh" results in the first half of the season, posting a .265/.341/.420 line over 62 games, but since Wichita hosted Northwest Arkansas beginning June 28, Lee has been on a tear. He's hit .346/.436/.692, not just controlling the strike zone and getting hits, but driving the ball frequently.
Defensively, the Twins have been very pleased with his work at shortstop, where Lee is more steady than flashy. He may end up moving to second or third in the majors, but his hands and reactions are such that he should definitely work on the dirt.
VERDICT: Lee had a high pedigree for hitting coming out of college, and he's actually exceeded expectations based on college performance. He should be in Triple-A by the end of the year and could contribute to a playing time conundrum in Minnesota around the infield in 2024. Lee should be owned in all dynasty formats.
Gavin Cross, OF, Kansas City Royals
After leading an explosive Virginia Tech offense for two years, Cross was drafted by the Royals with the ninth pick in the 2022 draft. He had a strong pro debut, hitting .312/.437/.633 with eight home runs and four stolen bases in 29 games.
There were some concerns due to Cross's passive-aggressive approach that have come through strong as he moved up to High-A this season. So far, he's hit .203/.294/.373 with 10 home runs and 19 stolen bases over 80 games, but his walk rate has dropped below 10% and his strikeout rate has ballooned over 30%.
Blessed with an impressive arm that had him initially recruited as a two-way talent to the Hokies. His center field is average to above average, but adding in that arm and moving to right could allow Cross to be one of the elite defensive right-fielders in the game.
VERDICT: Cross has elite raw talent, but a typical college bat drafted as high as he was would be in Double-A quickly. He may take more time to develop than many expected, but the talent is still there. Certainly a guy to own in deep dynasty, but if you can't hold on while he develops, he might be a drop.
Kevin Parada, C, New York Mets
Georgia Tech has a history of producing first-round catchers, from Jason Varitek to Matt Wieters to Joey Bart and Parada joined the group as the 11th overall selection last summer. Parada bombed out in his draft year, hitting 26 home runs for the Yellow Jackets.
Parada absolutely has the bat to stick, but whether he'll be able to handle the work behind the plate as he climbs up levels remains to be seen, as he's struggled to control the run game, allowing 84% of runners to successfully steal. He's also tallied six passed balls and seven errors behind the plate in 51 games.
However, with the stick, Parada hit .270/.353/.463 with 10 home runs. He's walked 9% and struck out 24%. He's really turned it on since June 1, hitting .298/.361/.534 with seven of his home runs in that time.
VERDICT: Parada's bat is major-league quality, and he makes adjustments on the fly at the plate. The Mets will do all they can to keep him behind the plate for at least the next year before his bat may force a position change. The bat is worth rostering in all dynasty leagues, but if he could stick at catcher, Parada could be a top-10 fantasy catcher.
Jace Jung, 2B, Detroit Tigers
The younger brother of Texas Rangers infielder Josh Jung, Jace had an impressive career in college, hitting .328/.468/.647 over three seasons for Texas Tech and clubbing 39 home runs over 136 games. Jung was able to produce an impressive walk rate in his pro debut with High-A West Michigan.
Jung returned to West Michigan to open the season, and he's been able to show plenty of power and draw walks. Jace started the season slowly, hitting .228/.353/.386 through May 28, but since May 30, he's hit .276/.400/.537 with eight of his 13 home runs on the season. He's posted consistently strong walk rates all season, but his strikeout rate has gone down each of the three months of the season.
Jung is incredibly sure-handed at the keystone. He doesn't have the arm or range to move to the left side of the infield, but his hands should allow him to be a potential Gold Glove defender at second base and certainly, he should stay there as he moves up to the majors.
VERDICT: Jung should find his way to Double-A soon, with the chance that he could find his way to the majors in 2024. His ownership is surprisingly low in deep and shallow dynasties. It should be higher for a guy who could give 20+ homers and a strong OBP from the 2B position.
Top Pitcher Prospects
Statistical highlights:
Pitcher Prospect Outlooks: Fantasy Six-Pack
Gabriel Hughes, SP, Colorado Rockies
Considered by many to be the top pitcher available in the 2022 draft, Hughes ended up going off the board with the tenth selection after an impressive college career with Gonzaga, striking out 218 over 171 innings.
The Rockies pushed Hughes straight to Single-A for his pro debut, and he made one start. This year, he opened with High-A Spokane and has now made six starts with Hartford. Overall, he's posted a 6.21 ERA, 1.35 WHIP, and struck out 83 over 66 2/3 innings.
Hughes is still really learning on the mound after spending his first two years of college as a two-way player. He works with a mid-90s fastball and has a plus slider as his second pitch. He also mixes in a cutter and a change.
VERDICT: Hughes has the tools to be a mid-rotation arm, but with a fastball that is quite straight in Colorado, he may need a change of scenery to work in the rotation, but his fastball/slider combination could allow him to be very strong out of the bullpen.
Dylan Lesko, SP, San Diego Padres
If it were not for Tommy John surgery, Lesko may have repeated as the Gatorade National Player of the Year and gone top-five in the draft last summer. Instead, he was the 15th overall selection by the Padres.
Lesko's elite pitch as a prep was his fading change. He touches the upper-90s and sits 93-95. His breaking pitch is a 12-6 curve with elite spin but he sometimes struggles to locate the pitch.
The Padres started Lesko in complex ball, and he's made four appearances, yet to throw more than two innings. He has struck out nine over five innings and has shown above-average command and control, but he's been hit hard so far.
VERDICT: Lesko has potential frontline stuff if his curve can catch up to the fastball and change. He's a guy to hold if you own him, but I'd not pursue him until he's able to locate better with his breaker.
Owen Murphy, SP, Atlanta Braves
Monday, Quinn Priester made his debut for the Pirates. Murphy drew a lot of comparisons to Priester coming into the 2022 draft, and not just because they both were Illinois prep pitchers. The Braves nabbed Murphy with the 20th pick.
He had an impressive few games in his pro debut after being drafted, striking out 17 over 12 innings. This season has been up and down with Single-A Augusta, posting a 4.44 ERA over 50 2/3 innings, striking out 67.
Murphy has a good feel for four pitches, leading with his mid-90s fastball that can induce weak contact along with a hammer curve. The Braves are working with Murphy to develop his slider shape, akin to the same pitch that Luke Jackson and Spencer Strider have thrown with success.
VERDICT: Murphy is a strong athlete and has a consistent delivery, portending a future mid-rotation starter. Though he has a strong floor, Murphy's upside may not be as high as one would like for a high school arm to own in a dynasty before he hits the upper minors.

Brandon Barriera, SP, Toronto Blue Jays
The top prep lefty in the draft, the Blue Jays nabbed Barriera with the 23rd pick, after Brandon dominated the summer showcases in 2021. He made waves at instructs with the Jays but didn't make his pro debut until this season.
He struggled in Single-A this season, posting a 5.40 ERA over 13 1/3 innings, walking six, hitting four batters, and uncorking two wild pitches, but he also struck out 18. While Barriera has an impressive collection of four above-average pitches, he can get a bit stiff on the backside of his delivery, which has been part of his control issues.
As he develops, his combination of stuff from the left side could allow him to be a mid-rotation starter or even better if he can really work on his command and control.
VERDICT: The talent is absolutely there with Barriera, and he has an impressive demeanor on the mound. Once he "gets it" with consistent control, he should move quickly to the upper minors. Like most prep arms, Barriera is best served in a deep dynasty until he works his way to the upper minors or shows absolutely elite stuff.
Noah Schultz, SP, Chicago White Sox
The White Sox picked lanky lefty Schultz with the 26th selection in the first round. Standing 6'9", Schultz towers from the mound. He works with a mid-90s fastball that he throws from a low slot, making it extremely difficult to pick up.
Schultz adds in a sweeping low-80s slider and a mid-80s change to balance the fastball. He has a very lean frame, but he does a very good job keeping his long limbs in sync.
Schultz has yet to allow a run in his pro debut in Single-A. He's tossed 14 1/3 scoreless innings to start his pro career, allowing just five hits and two walks while striking out 21.
VERDICT: The makeup and pitch mix for Schultz are quite impressive, but he's still very young in his career, so there's no need to jump on picking him up quite yet, but his blend of size and stuff could be one that jumps quickly into top-100 lists.
Reggie Crawford, SP, San Francisco Giants
Many were surprised to hear Crawford's name called with the 30th overall pick last summer by the Giants, and even more so when he was announced as a two-way player.
Crawford would have been one of the top prospects in the 2022 draft if not for surgery that kept him out the entire year. He's still hitting, but his focus has been pitching this season, as he's tossed 12 innings with a 4.50 ERA and a 19/6 K/BB ratio. At the plate, he's put up a .250/.278/.563 line over 18 plate appearances.
The 6'4" lefty lights up the radar gun with a fastball that sits mid-90s and touches triple digits. He adds in a plus slider, but his change needs significant work. At the plate, Crawford has huge power but needs more refinement in his eye at the plate.
VERDICT: Crawford's got incredible raw talent, but whether on the mound or at the plate, he needs plenty of polish, still working his way back from surgery. He will be older than a typical prospect as he works his way up. There's no reason to add him at this point, but his talent is absolutely one to keep an eye on.
Check back again next week for more evaluations and look behind the numbers!
Download Our Free News & Alerts Mobile App
Like what you see? Download our updated fantasy baseball app for
iPhone
and
Android
with 24x7 player news, injury alerts, sleepers, prospects & more. All free!
More Fantasy Baseball Prospects and Rookies