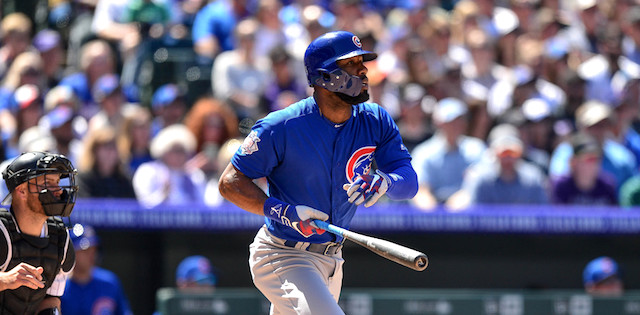 Just as soon as it began, it is now coming to a close. It's the final week of the regular season, and with that, another fantasy baseball season is in the books. Hopefully, you did well as it is most likely championship week. Every move matters at this point and there are, surprisingly, a few good under-rostered options sitting readily available in the free-agent pool that just may help managers out and win a championship.
This article will be a look at players that are under 15% rostered in Yahoo leagues that are options to be considered in deeper leagues, or in the case of the Year of Coronaball, injury replacements with upside that have the possibility of sticking on rosters even beyond a few games or couple of weeks.
Without further ado, let's get into it.
Featured Promo: Get your 2023 MLB Premium Pass for 50% off. Exclusive access to our preseason Draft Kit, #1 accuracy rankings, #1 ATC projections, Team Sync platform, Live Draft Assistant, 15 in-season lineup tools, customized rankings and much more!
Sign Up Now!
15% Rostered, Recommended Move: Add for this week. 
Heyward has quietly had a tremendous season with a .291/.412/.500 triple slash and it is surprising to see him still at 15% rostered, especially because the Cubs have moved him out of a platoon role and into the everyday starting lineup. The matchups for the Cubs are encouraging to close out the season as well. They will finish up a series against the lowly Pirates on Wednesday and then face the White Sox this weekend, in which they will avoid seeing their top pitchers. Heyward and the Cubs will see all right-handed pitchers, which favors Heyward and will likely see Dylan Cease, Dane Dunning, and Reynaldo Lopez, not exactly the most feared trio.
Heyward has a .327/.457/.554 triple slash against right-handed pitchers this season, and with three righties on the docket this weekend, Heyward should be expected to produce. Pick him up before it is too late.
14% Rostered, Recommended Move: Add for this week. 
Another player to add before it's too late is Cooper. He's been a favorite for the last few weeks of these recommendations and his roster rate has been trending up from the 3% roster rate back when he was first featured here. He's been a sleeper pretty much all season since he returned from the COVID-19 injured list, as he has been performing exceptionally well with a .283/.366/.505 triple slash, including a .333/.462/.571 mark in his last seven games.
He has been a hitting machine as of late and with the Marlins expected to be fighting for a playoff spot until the very end, Cooper will be penciled into the heart of their lineup pretty much every day. Playing time was an issue coming into the year, but that is no longer the case. He faces lefties and righties and hits usually hits third for the team. While the Marlins do face the Yankees to end the season, they will not be facing their top two pitchers in Gerrit Cole or Masahiro Tanaka, so good results can be expected.
14% Rostered, Recommended Move: Add for this week. 
With the Rays missing Austin Meadows, Ji-Man Choi, and Yandy Diaz, there was all of a sudden, a giant hole in the middle of their lineup. With Nate Lowe, they may have filled it. Lowe came into the season without a true path to playing time, especially after an uninspiring 2019 debut, but now it looks like he'll be one of their bigger bats, even perhaps in the postseason.
All that he has done in his first 17 games of the season is hit for a .260/.373/.540 triple slash. He has struck out a whopping 37% of the time, but he has also shown a good eye with a 15% walk rate, and he is hitting the ball extremely well, with a 46.4% hard-hit rate and an outstanding 21.4% barrel rate. While that barrel rate shouldn't be expected to last, he has shown good barrel ability before, with a 10.6% rate in his first taste of the Majors last year. While projecting him for the future is a completely different story, the Rays have some pretty favorable matchups to end the season, facing Steven Matz and the Mets on Wednesday and a not-so-great Phillies pitching staff on the weekend. Lowe should be a good bet for solid productuion for the remainder of the week.
14% Rostered, Recommended Move: Add for this week. 
Moving to a shortstop option, Rojas was recommended last week, as his unlikely hot season has shown zero signs of cooling off, as he went .273/.407/.500 last week with two juicy stolen bases as well to keep his great season going. It's been an improbable run for Rojas this year, and while I wouldn't bet on it lasting long-term, there is still a good opportunity for fantasy managers to jump in, even at the last minute, considering his 14% roster rate.
The same things that applied to Cooper earlier apply to Rojas as well. The team is not going to keep him out of the lineup, and he provides some stolen base upside as well, which is definitely an added plus. Definitely consider Rojas if there is a hole in your lineup at shortstop.
13% Rostered, Recommended Move: Add for this week. 
Another player that has been featured here before, France has seen his roster rate jump from  around 5% two weeks to now 13%. It has been a justified jump, with a .294/.333/.510 triple slash in his last two weeks.
France has consistently been in the lineup for the Mariners and hitting fifth behind Dylan Moore, Kyle Lewis, and Kyle Seager, which should provide him with plenty of opportunities to drive in runs. His dual eligibility at second and third base is very nice as well, as he should provide managers with flexibility. The Mariners do end the season against the Atheltics, with their dominant group of relief pitchers so it's not going to be the easiest time for France, but he has gotten plenty of good results this season.
5% Rostered, Recommended Move: Add for this week.
If some of these earlier options are taken, here is a deeper option. In another unlikely occurrence, Vogelbach, on his third team in this shortened season, has come out of nowhere and has been one of the best hitters in baseball over the past couple of weeks since becoming a Brewer.
He's managed a .409/.480/.864 slash line in the last week, including three home runs and nine RBI in that span. Since becoming a Brewer, he's had a 211 wRC+ in 44 plate appearances. The Brewers are still fighting for a postseason spot and Vogelbach has been right there in the heart of their order and will remain there through the final few games. The Brewers get an added bonus of playing an extra game this week, as they will play a doubleheader against the Cardinals on Friday, meaning that they will play five games in four days which will perhaps give Vogelbach extra opportunities to keep swinging his hot stick. It's not super explainable and very, very weird to see, but Vogelbach is on fire. Ride him out for the final few games.
Looking Back on Last Week's Picks
At the end of each week's post, we'll end with a brief look back on last week's picks along with a brief recommendation on what to do with the said player for the future.
Last week: 12% rostered. This Week: 12% rostered. 
Bradley only played four games since last week's recommendation, but he did do well with a .375/.444/.438 triple slash with a stolen base added in there as well. He is not a platoon threat the Red Sox finish up against the Orioles on Thursday and a decimated Braves pitching staff this weekend, so he should still be a good option for the final few games of the season. Current Recommendation: Hold. 
Last week: 8% rostered. This Week: 9% rostered. 
Hayes continues to play well, with a .350/.435/.600 slash line in the last week. He's still under 10% in terms of roster rate, which doesn't make much sense, but keep him if you have him. Current Recommendation: Hold. 
Last week: 7% rostered. This week: 7% rostered. 
Tapia was recommended due to the great amount of home games the Rockies had last week, but he did not perform very well. He did have a .300 batting average in those five games which was maybe useful to some and it did come with one stolen base, but not much else as he had just a .650 OPS in those games. The Rockies are done playing in Colorado this year so there is not much reasonto keep him around, even against lackluster pitching staffs in San Francisco and Arizona. Current Recommendation: Drop.  
Last week: 7% rostered. This week: 6% rostered. 
Ruiz did not do much last week, with just a .214/.267/.429 triple slash, with just one run scored and one RBI. The Orioles will see the Red Sox and Blue Jays to finish the season, but decent matchups shouldn't enough to justify a spot in fantasy lineups. There likely are better options, so feel free to drop. Current Recommendation: Drop. 
Last week: 7% rostered. This week: 8% rostered. 
While the Tigers have fallen out of the postseason race, Castro has been a bright spot for them this season. He didn't play great last week with just a .730 OPS and a 38% strikeout rate, but the overall performance this season still looks great, with a .330/.364/.532 slash line. The Tigers should keep him in the lineup despite having really nothing to play for, and the Tigers do end the season against the Royals, which could provide him some good opportunities to hit for a nice average and maybe add some power, too. I would hold him. Current Recommendation: Hold. 
Download Our Free News & Alerts Mobile App
Like what you see? Download our updated fantasy baseball app for iPhone and Android with 24x7 player news, injury alerts, sleepers, prospects & more. All free!


More 2020 Fantasy Baseball Advice