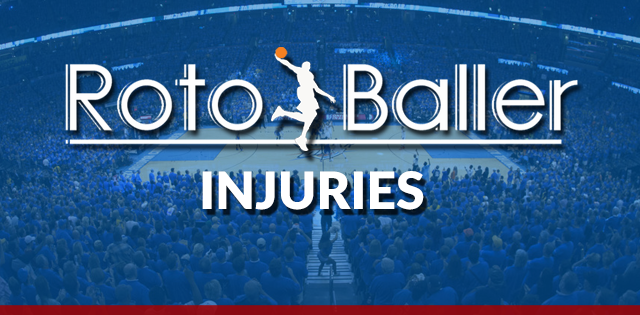 What Appears In This Article?
hide
RotoBaller has assembled a list of daily NBA injury updates to help you prepare both your seasonal and daily fantasy basketball (DFS) lineups, every day of the NBA season.
Below is our updated list of injured NBA players for March 2nd, 2022. Only players on teams that are scheduled to play today will appear below on this list.
Understanding the injury landscape is key in all forms of fantasy basketball, especially when setting DFS lineups on sites like FanDuel and DraftKings. Consider this your one-stop overview of fantasy-relevant injuries around the NBA.
Featured Promo: Our friends at Sharp App have created the ultimate tools for sports bettors. Download the FREE app to track bets, compare odds, get daily picks from the most accurate models in the industry, and identify the sharp side of any bet. Use promo code BALLER to get a month free of Sharp Pro access.
Get The App!
NBA Injury Roundup for March 2nd, 2022
Note: this post is automatically updated throughout the day, every 5 minutes, in case new injury updates are reported.

| Name | Team | Status | Opponent | Home/Away | Notes |
| --- | --- | --- | --- | --- | --- |
| Gordon Hayward | CHA | Out (Ankle) | CLE | Away | Hayward is battling a left ankle sprain and will not take the court for the Hornets. |
| Jalen McDaniels | CHA | Out (Ankle) | CLE | Away | McDaniels is nursing a sprained left ankle and will not take the court for the Hornets. |
| Nick Richards | CHA | Probable (Foot) | CLE | Away | Richards is dealing with a foot injury and is available to take the court for the Hornets. |
| James Bouknight | CHA | Out (Neck) | CLE | Away | Bouknight is dealing with neck-soreness and will not take the court for the Hornets. |
| Rajon Rondo | CLE | Out (Toe) | CHA | Home | Rondo is dealing with a toe injury and will not take the court for the Cavaliers. |
| Caris LeVert | CLE | Out (Foot) | CHA | Home | LeVert is dealing with a right foot sprain and will not take the court for the Cavaliers for about 1-2 weeks. |
| Collin Sexton | CLE | Out (Knee) | CHA | Home | Sexton will miss the remainder of the 2021-2022 season following left knee meniscus surgery. |
| Lance Stephenson | IND | Probable (Ankle) | ORL | Away | Stephenson is dealing with an ankle issue and is available to take the court for the Pacers. |
| Ricky Rubio | IND | Out (ACL) | ORL | Away | Rubio has suffered a torn ACL and will miss the remainder of the 2021-2022 season |
| T.J. Warren | IND | Out (Foot) | ORL | Away | Warren has been ruled out indefinitely as he recovers from foot surgery. |
| Myles Turner | IND | Out (Foot) | ORL | Away | Turner has a stress reaction in his left foot and is uncertain to take the court for the Pacers. |
| T.J. McConnell | IND | Out (Wrist) | ORL | Away | McConnell is recovering from right wrist surgery and will not take the court for the Pacers. |
| Chris Duarte | IND | Out (Toe) | ORL | Away | Duarte is dealing with a toe injury and will not take the court for the Pacers. |
| Jonathan Isaac | ORL | Out (Knee) | IND | Home | Isaac is dealing with a knee injury and will not take the court for the Magic. |
| Moritz Wagner | ORL | Out (Ribs) | IND | Home | Wagner is dealing with a rib injury and will not take the court for the Magic. |
| Bol Bol | ORL | Out (Foot) | IND | Home | Bol is recovering from right foot surgery and will miss some time. |
| Cole Anthony | ORL | Probable (Hip) | IND | Home | Anthony is dealing with a sore hip but is likely to take the court for the Magic. |
| Derrick Rose | NY | Out (Ankle) | PHI | Away | Rose to undergo ankle surgery; without timetable for return. |
| Kemba Walker | NY | Out (Rest) | PHI | Away | Walker will miss the remainder of the 2021-2022 season following an agreement with the Knicks to prepare for the next season. |
| Quentin Grimes | NY | Out (Patella) | PHI | Away | Grimes suffered a right patella injury and will not take the court for the Knicks. |
| Richaun Holmes | SAC | Out (Back) | NO | Away | Holmes is battling a back injury and will not take the court for the Kings. |
| Terence Davis | SAC | Out (Wrist) | NO | Away | Davis is dealing with a right wrist injury and will not take the court for the Kings. |
| Larry Nance Jr. | NO | Out (Knee) | SAC | Home | Nance Jr. is expected to undergo knee surgery and will miss multiple weeks for the Pelicans. |
| Zion Williamson | NO | Out (Foot) | SAC | Home | Williamson suffered a setback in his recovery from a foot injury and will not participate in basketball activities for the Pelicans. |
| Kira Lewis Jr. | NO | Out (ACL) | SAC | Home | Lewis Jr. has a torn ACL and a MCL sprain and will miss the remainder of the 2021-22 season. |
| Jared Butler | UTA | Out (Ankle) | HOU | Away | Butler is dealing with a right ankle sprain and will not take the court for the Jazz |
| John Wall | HOU | Out (Trade Pending) | UTA | Home | Wall will not play in games as the Rockets seek a potential trade partner. |
| Eric Gordon | HOU | Out (Groin) | UTA | Home | Gordon is battling a groin injury and will not suit up for the Rockets. |
| Dennis Schröder | HOU | Out (Ankle) | UTA | Home | Schroder is dealing with an ankle injury and will not to take the court for the Rockets. |
| Kevin Porter Jr. | HOU | Probable (Ankle) | UTA | Home | Porter Jr. is dealing with an ankle injury but is expected to take the court for the Rockets. |
| Garrison Mathews | HOU | Probable (Ankle) | UTA | Home | Mathews is dealing with an ankle injury but is available to take the court for the Rockets. |
| Usman Garuba | HOU | Out (Wrist) | UTA | Home | Garuba will undergo wrist surgery and be out 6-8 weeks for the Rockets. |
| Kyle Lowry | MIA | Out (Personal) | MIL | Away | Lowry is dealing with some personal matters and will not take the court for the Heat. |
| Victor Oladipo | MIA | Out (Knee) | MIL | Away | Oladipo underwent knee surgery and is expected to miss part of the 2021-2022 season. |
| Markieff Morris | MIA | Out (Neck) | MIL | Away | Morris is dealing with a neck injury and will not take the court for the Heat. |
| Caleb Martin | MIA | Probable (Achilles) | MIL | Away | Martin is dealing with an Achilles injury and is available to take the court for the Heat. |
| Brook Lopez | MIL | Out (Back) | MIA | Home | Lopez is recovering from back surgery and will not take the court for the Bucks. |
| George Hill | MIL | Out (Neck) | MIA | Home | Hill is dealing with neck-soreness and will not take the court for the Bucks. |
| Pat Connaughton | MIL | Out (Finger) | MIA | Home | Connaughton suffered a broken right ring finger and will not be available for the Bucks for around 4 weeks. |
| Mike Muscala | OKC | Out (Ankle) | DEN | Away | Muscala is dealing with an ankle injury and will not take the court for the Thunder. |
| Derrick Favors | OKC | Out (Back) | DEN | Away | Derrick Favors is dealing with a back injury and will not take the court for the Thunder. |
| Kenrich Williams | OKC | Out (Knee) | DEN | Away | Williams is dealing with a right knee sprain and will not take the court for the Thunder. |
| Ty Jerome | OKC | Out (Hip) | DEN | Away | Jerome is dealing with left hip soreness and will not suit up for the Thunder. |
| Luguentz Dort | OKC | Out (Shoulder) | DEN | Away | Dort is dealing with a shoulder injury and will not suit up for the Thunder. |
| Josh Giddey | OKC | Out (Hip) | DEN | Away | Giddey is dealing with a hip injury and will not take the court for the Thunder. |
| Jeremiah Robinson-Earl | OKC | Out (Foot) | DEN | Away | Robinson-Earl is dealing with a broken right foot and will not take the court for the Thunder for six weeks. |
| Aaron Wiggins | OKC | Out (Ankle) | DEN | Away | Wiggins is dealing with an ankle injury and will not take the court for the Thunder. |
| Austin Rivers | DEN | Questionable (Illness) | OKC | Home | Rivers is battling an illness and is uncertain to take the court for the Nuggets. |
| Jamal Murray | DEN | Out (Knee) | OKC | Home | Murray is recovering from a torn ACL and is expected to miss most of the 2021-2022 season. |
| Vlatko Cancar | DEN | Out (Foot) | OKC | Home | Cancar is recovering from right foot surgery and will be out indefinitely. |
| Michael Porter Jr. | DEN | Out (Back) | OKC | Home | Porter Jr. is rehabbing from lower back surgery and is hopeful to return to the court in March for the Nuggets. |
| Zeke Nnaji | DEN | Out (Knee) | OKC | Home | Nnaji is dealing with a knee injury and will not take the court for the Nuggets. |
| Damian Lillard | POR | Out (Abdominal) | PHO | Away | Lillard has undergone abdominal surgery and will be out indefinitely. |
| Jusuf Nurkic | POR | Out (Foot) | PHO | Away | Nurkic is battling plantar fasciitis in his left foot and will not take the court for the Trail Blazers. |
| Joe Ingles | POR | Out (ACL) | PHO | Away | Ingles suffered a torn left ACL and will miss the remainder of the 2021-22 season. |
| Eric Bledsoe | POR | Out (Achilles) | PHO | Away | Bledsoe is dealing with a Achilles injury and will not take the court for the Trail Blazers. |
| Justise Winslow | POR | Out (Illness) | PHO | Away | Winslow is dealing with an illness and will not take the court for the Trail Blazers. |
| Didi Louzada | POR | Out (Knee) | PHO | Away | Louzada has a torn meniscus and is out indefinitely. |
| Nassir Little | POR | Out (Shoulder) | PHO | Away | Little is having surgery on a torn labrum in his left shoulder and will miss the rest of the season. |
| Chris Paul | PHO | Out (Thumb) | POR | Home | Paul suffered a right thumb fracture and is expected to be out 6-8 weeks |
| Frank Kaminsky | PHO | Out (Knee) | POR | Home | Kaminsky is dealing with a stress fracture in his right knee and will remain out indefinitely for the Suns. |
| Cameron Payne | PHO | Probable (Wrist) | POR | Home | Payne has a sprained right wrist but is likely to take the court for the Suns. |
| Devin Booker | PHO | Out (Health Protocols) | POR | Home | Booker has entered the league's health and safety protocols and will not take the court for the Suns. |
| Dario Saric | PHO | Out (Knee) | POR | Home | Saric has a torn right ACL and will miss at least most of the 2021-2022 season. |
More Fantasy Basketball Analysis