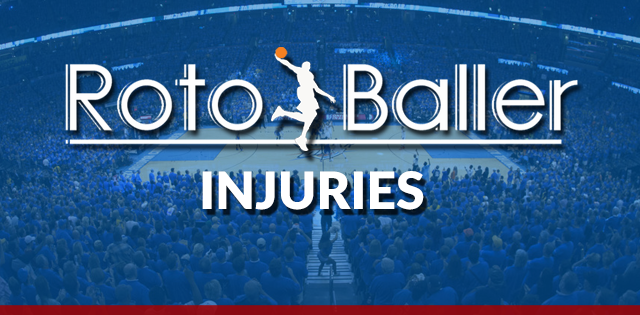 RotoBaller has assembled a list of daily NBA injury updates to help you prepare both your seasonal and daily fantasy basketball (DFS) lineups, every day of the NBA season.
Below is our updated list of injured NBA players for December 8th, 2019. Only players on teams that are scheduled to play today will appear below on this list.
Understanding the injury landscape is key in all forms of fantasy basketball, especially when setting DFS lineups on sites like FanDuel and DraftKings. Consider this your one-stop overview of fantasy-relevant injuries around the NBA.
Editor's Note: Get any full-season NBA and DFS Premium Pass for 50% off. Our exclusive DFS tools, Lineup Optimizer and daily Premium DFS Research.
Sign Up Now!
NBA Injury Roundup for December 8th, 2019
Note: this post is automatically updated throughout the day, every 5 minutes, in case new injury updates are reported.

| Name | Team | Status | Opponent | Home/Away | Notes |
| --- | --- | --- | --- | --- | --- |
| Kyrie Irving | BKN | Out (Shoulder) | DEN | Home | Irving is sidelined due to a right shoulder impingement. He is expected to be absent from the lineup until the middle of December. |
| Wilson Chandler | BKN | Out (Suspension) | DEN | Home | Chandler has been given a 25-game suspension for violating the league's policy on performance-enhancing drugs. He is expected to be reinstated Dec. 15 against the 76ers. |
| Kevin Durant | BKN | Out (Achilles) | DEN | Home | Durant is expected to sit out the entire 2019-20 season while rehabbing from surgery to repair a torn right Achilles tendon. |
| Caris Levert | BKN | Out (Thumb) | DEN | Home | LeVert had surgery to repair ligament damage in his right thumb, and he is expected to need four to six weeks to recover. |
| Chandler Parsons | ATL | Probable (Flu) | CHA | Away | Parsons was held out of the previous game due to flu-like symptoms, but it is not expected to impede his status for Sunday's tilt with the Hornets. |
| Allen Crabbe | ATL | Probable (Knee) | CHA | Away | Crabbe has sat out the past two games after having a non-surgical procedure conducted on his right knee. He is expected to rejoin the lineup Sunday versus the Hornets. |
| John Collins | ATL | Out (Suspension) | CHA | Away | Collins is serving a 25-game suspension for violating the league's policy on performance-enhancing drugs. He is expected to be reinstated Dec. 23 versus the Cavaliers. |
| De'Andre Hunter | ATL | Probable (Finger) | CHA | Away | Hunter missed the last game due to a dislocated right index finger, but he is likely to be available against the Hornets on Sunday. |
| Michael Kidd-Gilchrist | CHA | Questionable (Calf) | ATL | Home | Kidd Gilchrist has been held out of the previous three games due to a left calf strain, and it is unknown if he will participate in Sunday's matchup against the Hornets. |
| Marvin Williams | CHA | Probable (Knee) | ATL | Home | Williams exited the previous game with right knee soreness, but it is projected that he will play against the Hornets on Sunday. |
| Otto Porter | CHI | Out (Foot) | MIA | Away | Porter is sidelined with a left foot bone bruise. He is not expected to return prior to the latter part of December. |
| Thaddeus Young | CHI | Probable (Personal) | MIA | Away | Young sat out the last game for personal reasons, but is expected to return for Sunday's matchup against the Heat. |
| Cristiano Da Silva Felicio | CHI | Out (Wrist) | MIA | Away | Felicio suffered a non-displaced fracture of the trapezoid bone in his right wrist, and it is expected that he will be out four to eight weeks. |
| Chandler Hutchison | CHI | Out (Shoulder) | MIA | Away | Hutchison missed his fourth straight game with a right shoulder sprain, and he will not return Sunday against the Heat. |
| Udonis Haslem | MIA | Out (Illness) | CHI | Home | Haslem is out of commission with an illness, and it is uncertain when he will return to the court. |
| Goran Dragic | MIA | Out (Groin) | CHI | Home | Dragic has missed the last three games due to a right groin strain and he will not participate in Sunday's matchup versus the Bulls. |
| Dion Waiters | MIA | Out (Suspension) | CHI | Home | Waiters has served his suspension for conduct detrimental to the team. He has an illness and will not draw back into the lineup Sunday against the Bulls. |
| Justise Winslow | MIA | Out (Back) | CHI | Home | Winslow missed the last game with a lower-back strain, and it will impede his status against the Bulls on Sunday. |
| Bam Adebayo | MIA | Probable (Groin) | CHI | Home | Adebayo is suffering from a groin contusion, but he is expected to face the Bulls on Sunday. |
| Kz Okpala | MIA | Out (Achilles) | CHI | Home | Okpala is sidelined due to a left Achilles strain, and there is no timetable for return. |
| Stanley Johnson | TOR | Out (Groin) | PHI | Away | Johnson has a stress reaction in his left groin and is expected to be out until the middle of December. |
| Patrick McCaw | TOR | Out (Knee) | PHI | Away | McCaw is recovering from arthroscopic surgery to remove a benign mass on the back of his left knee. He will likely be out of action until at least mid-December. |
| Matt Thomas | TOR | Out (Finger) | PHI | Away | Thomas is out of commission due to distal phalanx fracture to the left ring finger. He is expected to miss four weeks. |
| Joel Embiid | PHI | Probable (Hip) | TOR | Home | Embiid missed the previous game with a left hip contusion, but he is expected to play against the Raptors on Sunday. |
| Josh Richardson | PHI | Out (Hamstring) | TOR | Home | Richardson has missed the last five games due to right hamstring tightness, and he will not return to the court for Sunday's matchup against the Raptors. |
| Jonah Bolden | PHI | Out (Achilles) | TOR | Home | Bolden missed the last game with right Achilles soreness, and he will not be available against the Raptors on Saturday. |
| Zhaire Smith | PHI | Out (Leg) | TOR | Home | Smith missed the last game with a lacerated right lower leg, and he will not play against the Raptors on Sunday. |
| Matisse Thybulle | PHI | Probable (Ankle) | TOR | Home | Thybulle left the last game with a right ankle sprain, but it is not expected to impede his status for Sunday's clash against the Raptors. |
| Patrick Patterson | LAC | Out (Back) | WAS | Away | Patterson exited the previous game with back spasms. and he will not play the Wizards on Sunday. |
| JaMychal Green | LAC | Probable (Tailbone) | WAS | Away | Green has missed the previous two games with a tailbone contusion, but he is likely to line up Sunday versus the Wizards. |
| Rodney McGruder | LAC | Out (Hamstring) | WAS | Away | McGruder will be out of the lineup for an undetermined length of time due to a right hamstring strain. |
| Landry Shamet | LAC | Out (Ankle) | WAS | Away | Shamet is sidelined with a Grade 2 left high-ankle sprain, and it is unclear when he will return to the lineup. |
| John Wall | WAS | Out (Achilles) | LAC | Home | Wall has undergone surgery to repair a ruptured left Achilles tendon and is expected to miss the entire 2019-20 season. |
| Isaiah Thomas | WAS | Out (Calf) | LAC | Home | Thomas has sat out the previous two games with a left calf strain, and it will prevent him from playing Sunday against the Clippers. |
| C.J. Miles | WAS | Out (Wrist) | LAC | Home | Miles is recovering from surgery to repair ligament damage in his left wrist, and there is currently no timetable for return. |
| Ian Mahinmi | WAS | Probable (Achilles) | LAC | Home | Mahinmi missed the last game with a right Achilles strain, but he is expected to be available against the Clippers on Sunday. |
| Jordan McRae | WAS | Out (Finger) | LAC | Home | McRae had a pin extracted from his right ring finger and is likely to be out of the lineup for at least two weeks. |
| Thomas Bryant | WAS | Out (Foot) | LAC | Home | Bryant is projected to miss at least three weeks due to a stress reaction in his right foot. |
| Cory Joseph | SAC | Questionable (Back) | DAL | Away | Joseph is tending to lower-back soreness, and it is undetermined if he will take the court against the Mavericks on Sunday. |
| Bogdan Bogdanovic | SAC | Probable (Knee) | DAL | Away | Bogdanovic is nursing a right knee contusion, but he is expected to play versus the Mavericks on Sunday. |
| De'Aaron Fox | SAC | Out (Ankle) | DAL | Away | Fox is sidelined with a Grade 3 left ankle sprain and is likely to miss four to six weeks. |
| Marvin Bagley | SAC | Out (Thumb) | DAL | Away | Bagley III is sidelined due to a non-displaced fracture in his right thumb, and he will not return to action against the Mavericks on Sunday. |
| Delon Wright | DAL | Out (Groin) | SAC | Home | Wright exited the previous game with a right adductor strain, and will not be in the lineup Sunday against the Kings. |
| Andre Roberson | OKC | Out (Knee) | POR | Away | Roberson is sidelined while recovering from a left knee surgery that plagued him for the entire 2018-19 season. It is uncertain when he will make his season debut. |
| Hamidou Diallo | OKC | Out (Elbow) | POR | Away | Diallo will spend four to six weeks out of the lineup with a right elbow hyperextension sprain. |
| Terrance Ferguson | OKC | Out (Hip) | POR | Away | Ferguson missed the last game due to right hip soreness, and he will not be available for Sunday's clash against the Trail Blazers. |
| Jusuf Nurkic | POR | Out (Leg) | OKC | Home | Nurkic is recovering from surgeries to repair compact fractures in both his left tibia and fibula. He is expected to be out of action until sometime in February. |
| Rodney Hood | POR | Out (Achilles) | OKC | Home | Hood tore his left Achilles tendon and is expected to miss the remainder of the 2019-20 season. |
| Zach Collins | POR | Out (Shoulder) | OKC | Home | Collins will be out for at least four months after having surgery to repair a dislocated left shoulder. |
| Gary Trent Jr. | POR | Questionable (Hamstring) | OKC | Home | Trent Jr. has been sidelined with a right hamstring strain, but is nearing a return and may play against the Thunder on Sunday. |
| Jeff Teague | MIN | Questionable (Ankle) | LAL | Away | Teague has a sore left ankle, and it is unknown if he will line up against the Lakers on Sunday. |
| Shabazz Napier | MIN | Probable (Hamstring) | LAL | Away | Napier has a right hamstring strain, but will likely play against the Lakers on Sunday. |
| Andrew Wiggins | MIN | Questionable (Thumb) | LAL | Away | Wiggins missed the last game with a left thumb sprain, and it is uncertain if he will be in Sunday's lineup against the Lakers. |
| Karl-Anthony Towns | MIN | Probable (Knee) | LAL | Away | Towns is dealing with right knee tendinopathy, but is expected to be available against the Lakers on Sunday. |
| Jake Layman | MIN | Out (Toe) | LAL | Away | Layman is sidelined due to a left toe sprain, and team officials have yet to provide a return date. |
| Naz Reid | MIN | Questionable (Shoulder) | LAL | Away | Reid has missed the previous two games due to soreness in his right shoulder, and it is unclear if he will face the Lakers on Sunday. |
| Anthony Davis | LAL | Probable (Shoulder) | MIN | Home | Davis is nursing right shoulder soreness, but will likely be available against the Timberwolves on Sunday. |
| Rajon Rondo | LAL | Questionable (Hamstring) | MIN | Home | Rondo departed the last game with a left hamstring strain, and it is undetermined if he will suit up for Sunday's contest against the Timberwolves. |
| Avery Bradley | LAL | Out (Leg) | MIN | Home | Bradley has a hairline fracture in his right leg and will likely be out of commission until mid-December. |
| Troy Daniels | LAL | Probable (Knee) | MIN | Home | Daniels exited the previous game with a left knee injury, but he expected to line up against the Timberwolves on Sunday. |
| DeMarcus Cousins | LAL | Out (Knee) | MIN | Home | Cousins suffered a torn ACL in his right knee. It is unknown if he will make his season debut if the team makes the playoffs. |
| Kyle Kuzma | LAL | Probable (Ankle) | MIN | Home | Kuzma has a mild left ankle sprain, but he is expected to play against the Timberwolves on Sunday. |
More Fantasy Basketball Analysis