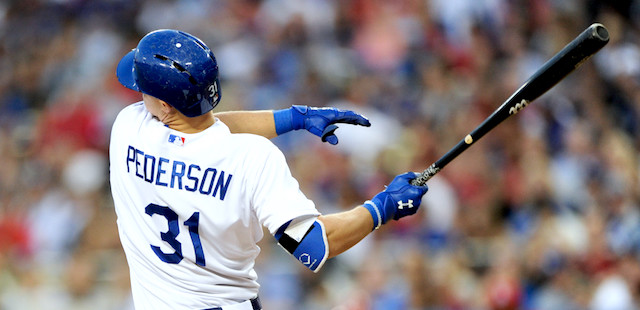 Welcome to Contact Rate Risers and Fallers for Week 8! Our premium tools allow us to get out ahead of trends in player performance, including contact rate. Every Wednesday, we'll be looking at some players that have seen an increase in contact rate and some that have seen it decline.
Contact rate can foretell a player's batting average and general hitting statistics, and any drastic change could signal a shift in performance. Contact rate shifts often act as a precursor to hot streaks and slumps.
Here is a breakdown of some of the biggest fantasy relevant risers and fallers in contact rate over the last seven days.
Editor's Note: Get any full-season MLB Premium Pass for 50% off, with exclusive access to our season-long articles, 15 in-season lineup tools and over 200 days of expert DFS research/tools.
Sign Up Now!
Contact Rate Risers
Data current as of 5/29/2019 and taken from RotoBaller's Premium Tool.
100% contact rate last seven days (+21%)
2019 has been good so far for Pederson. In just 175 PAs he has 15 home runs and is well on pace to beat his career highs in home runs previous to this season. In addition, his batting average currently sits at a career-high .264. That is thanks in large part to a fifth straight season of reducing his strikeout rate, and to do that while hitting for more power is impressive. At 27, Pederson is still a young hitter so it is not unexpected that his game would continue to grow. The key to his continued increase has been his ability to make contact with pitches outside the zone. In fact, his O-Contact% has risen in each of those past five seasons. However, part of the reason we did not see these results last season was that Pederson had an O-Swing% above 33%. This season, he has got that back below 30%, which when combined with the impressive O-Contact% has led to this impressive batting average.
A small frustration with Pederson in certain leagues is that he only plays when right-handed pitchers are on the mound. While that is frustrating in weekly leagues, he has more than repaid that in daily formats, hitting all 15 home runs and for a .276 batting average when right-handed pitchers are on the mound. The power has been extremely impressive, and interestingly 10 of his 15 home runs have come at home, compared to a near 50/50 split last season. However, this pace is likely unsustainable, as Pederson currently has a HR/FB% over 10% above his career 20% rate.
There is a reason for this success though. Pederson is hitting the ball incredibly hard this season, with an average exit velocity that ranks in the top 9% of the majors, and a career-high 12.9 Barrel%. The good news is that the xBA, xSLG and xWOBACON all reinforce that Pederson is good for these numbers. Throw in how well he hit the ball last week and things may only get better for Pederson's fantasy owners as we enter the full heat of summer.
88% contact rate last seven days (+21%)
A move to the Pacific North West for Bruce appears to have somewhat remedied the decline we saw last year in New York. That is at least the case for power where Bruce already has four more home runs this season than he managed in the entirety of the 2018 season. However, the return of Bruce's power has not come without cost. His .206 batting average is the lowest of a very up and down career and his 29.4% strikeout rate is the highest mark he has achieved in that statistic as well. A major part of the problem is that while Bruce's O-Contact% is in line with his career numbers, his O-Swing% is significantly up on his 30.6% career number. That combined with Bruce showing the second worst numbers of his career in Z-Contact% has led to a concerning 16% SwStr%. That is by far the highest of his career and nearly 3.5% above his career average.
The batting average is also not helped by his career-low .206 BABIP. The problem is that the reason for the career low BABIP is partially the same reason as the return of his home runs. His 2019 launch angle has jumped to an impressive 24.8 degrees, which ranks top in the major leagues. The problem is that Bruce ranks just 67th in the majors in average exit velocity on fly balls and line drives, at 95.2 mph. Increased launch angle is a good thing, but it can also go too far, especially if you are not hitting the ball hard enough to consistently clear the fences. At that point, those fly balls simply become deep outs.
Unless Bruce either starts hitting the ball harder, or brings that launch angle down marginally, he is going to remain an empty power hitter, in a league not currently short of hitting. The issue for Bruce is that he in the top-5% of the league in Barrel%, so he cannot make much better contact. Therefore, it is likely the launch angle that is going to need to change, if we are to see more success from Bruce in the rest of the season. At this point he is worth a speculative pick up in case the hot hitting of the last week is the indication that he is about to have a purple patch, in which case it is worth riding that until it is over.
95% contact rate last seven days (+19%)
It has been a rough year for Cabrera owners. On one hand, the veteran hitter is returning a more than adequate .294 batting average across 212 PS this season. However, he has managed just two home runs this season, and that is a major concern. The recent hot stretch at the plate in terms of contact will have fantasy owners hoping the good times are returning, but it seems unlikely. At his peak Cabrera was one of the hardest hitters of a baseball in the league, ranking in the top-1% in exit velocity as recently as 2016. However, the last three years things have simply not gone as well.
The drop off started in 2017, when his exit velocity dipped to 91.3 mph, still very good but it coincided with a 16 home runs season, his worst since his rookie season. In 2018, he got his exit velocity back to 94.4 mph, but his barrel% and launch angle were massively low, meaning he could not return the home run totals the fantasy community expected. 2019 has seen the launch angle creep back over 10 degrees, but the exit velocity has tumbled to 90.9 mph. His HR/FB% appears far too low at 4.8% and there may be some positive regression on the horizon, but anyone hoping for the 30 home run seasons of past is going to be sorely disappointed.
There is also some reason to be concerned about the long-term health of his batting average. This season, Cabrera owns the second highest strikeout rate of his career outside of his first two major league seasons. Part of that is due to his increased aggression swinging on pitches outside the zone. In 2019, Cabrera has an O-Swing% exceeding anything we have previously seen in his career. Currently, he is making the most of that and making contact with over 70% of those pitches. However, his O-Contact% has sat in the mid-60 region for each of the last six years. If that O-Contact% regresses even slightly, then Cabrera could see his already high 10.6% SwStr% go even higher, taking that strikeout rate closer to a concerning 25%, which will almost certainly have a negative effect on his batting average. If this recent hot streak is an indication that Cabrera could have a strong next couple of weeks, then that would make a perfect time to try and sell him and move on, before the floor potentially falls out.
Contact Rate Fallers
Data current as of 5/29/2019 and taken from RotoBaller's Premium Tool.
40% contact rate last seven days (-26%)
Up until now, Baez has bee having a pretty fantastic season, hitting 13 home runs and .307 so far. However, not everything is positive, as Baez is striking out 32.5% of the time, the most since his rookie season. His batting average is driven by .414 batting average, which is in no small part thanks to an average exit velocity which ranks among the top-7% in the league.
Overall, there is no major reason for concern. Yes, his xBA is just .282, but there is nothing major in his contact profile that would explain this level of strikeout rate. There will be rough stretches, as he can be streaky hitter, but so far he is returning most of the value you would expect. Even if he loses a little of this batting average, he should still be a very solid hitter.
The biggest concern would be that he has just two stolen bases and just four stolen base attempts in total on the season. However, at this time last season, Baez only had eight stolen base attempts, so at this early stage, there is no major reason for concern. His sprint speed ranking in the 83rd percentile suggests he has the ability to steal plenty of bases when he is given the green light to do so.
60% contact rate last seven days (-15%)
It has been a mixed season for Moreland so far. On the positive side, he already has 13 home runs and 34 RBI. The downside is that he is hitting just .228. There is no real concern in his contact profile prior to the last week that would suggest he should have a batting average that low. However, his BABIP is extremely low at .208, and there doesn't appear to be any reason outside of bad luck for this.
In fact, according to Statcast, his xBA is up at .252, suggesting there is some growth to come in his numbers. Wednesday also saw Moreland end up on the IL with back soreness. That is likely part of the reason for his struggles in the last week. However, back problems can be a lingering issue, so it may be hard to know how it will effect Moreland going forward.
56% contact rate last seven days (-15%)
This week the fallers section of this article is the home of the streaky hitters. Story, much like the two hitters above him has had mixed fortunes so far. The positive headlines are 13 home runs and nine stolen bases, but the .267 batting average is lower than many might have hoped coming into the season. The .291 batting average last season was largely driven by a 77.4% overall contact rate. This season, he has seen that dip to 74.9%, but maybe not for the reason you might expect.
In fact, Story's O-Contact% is actually up 6% on last season, but his Z-Contact% is down nearly 7%. That has led to a slight increase in SwStr%, but it is still nothing compared to last season. Part of the issue is that Story has a great average exit velocity, but is actually making worse contact in terms of barrel%. In the last three years of his career we have consistently seen Story outperform his xBA, which currently sits at .252, so there should be no reason to expect major batting average regression. The nature of owning Story is accepting the cold with the hot, so there is no reason to panic if this last week is an indicator of some tough times to come.
Contact Rate Risers and Fallers - Premium Tool
Identifying top batting average surgers for each week can help you spot the best pickups before your competition. RotoBaller's Premium Contact Rate Risers and Fallers tool has you covered every day. As thoughtful fantasy baseball players, we won't lead you astray. Here is a small sample: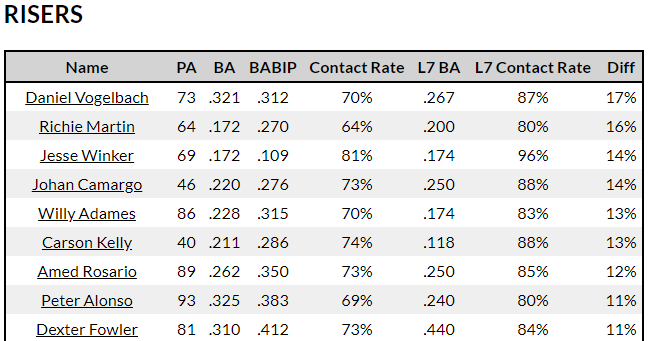 This type of data is available as part of our Premium MLB Subscription and launched on April 22nd for the 2019 season. Don't settle for basic stats and surface-level advice from other sites. RotoBaller brings you advanced statistics and professional analysis that you need to win your fantasy leagues and DFS games because we're ballers just like you. We are your secret weapon!
More Fantasy Baseball Advice and Analysis