Welcome to Contact Rate Risers and Fallers for Week 20! Our premium tools allow us to get out ahead of trends in player performance, including contact rate. Every Wednesday, we'll be looking at some players that have seen an increase in contact rate and some that have seen it decline.
Contact rate can foretell a player's batting average and general hitting statistics, and any drastic change could signal a shift in performance. Contact rate shifts often act as a precursor to hot streaks and slumps.
Here is a breakdown of some of the biggest fantasy-relevant risers and fallers in contact rate over the last seven days.
Editor's Note: Get any full-season MLB Premium Pass for 50% off. Exclusive access to our Draft Kit, premium rankings, projections, player outlooks, top prospects, dynasty rankings, 15 in-season lineup tools, and over 200 days of expert DFS research.
Sign Up Now!
Contact Rate Risers
Data current as of 8/14/2019 and taken from RotoBaller's Premium Tool.
86% contact rate last seven days (+17%)
It has been a very mixed year for Walker in 2019. He started off hitting .307 with seven home runs in 113 PA in March/April. However, since then he has hit .250 or below in every month up until August. In the current month, he is hitting .378 but has just one home run so far. The other thing that is massively down in August is his K%, having been 24.8% or above in every other season, it sits at just 16.3% in the month of August. Overall this season his strikeout rate gas massively improved, getting below 30% for the first time in his career, although he had only had 99 PA in his career before this season.
His contact rate stats have started to look better this season, with an O-Swing% less than 25, an overall Swing% below 50 and a Contact% above 70%. To go with that his SwStr% is down below 13 after been over 18% in all of the previous four years. In August he has taken it to a new level. His O-Swing% has dropped down to 18.6% and his contact rate is up to 79.1% with a SwStr% of 9.2. This is a fascinating change and is absolutely going to be something worth monitoring for the rest of the season. Right now there is the potential for a speculative add in the hopes that he can combine his power game with this improved plate discipline.
100% contact rate last seven days (+16%)
After a poor July in which he hit .233 with four home runs, Bregman is flying in August with a .469 batting average and two home runs. Over the course of the season, Bregman has lost a little off his batting average, which currently sits at .276, but he has traded it off for an improved OBP with a 17.4 BB% and a .406 OBP. This is the second year running in which he has improved that BB%, having seen it double since 2017. The reasons become quite evident when you look at his contact profile. His O-Swing% has dropped from over 25% down to 17.9%, and his SwStr% has been below 5% in each of the previous two seasons.
So far in August, his SwStr% has dropped down to 3.6% and his Contact% sits at 89.5. Outside of the power dipping a little still in August he looks to be back to the hitter we know him to be. The boat has possibly passed for any kind of value on Bregman, given his current batting average, but this surge in performance looks to be a good sign that he could be due for a very strong finish to the season.
96% contact rate last seven days (+14%)
Castro did not settle into life as a Marlin particularly well in 2018, and things continue to be mixed in 2019. His batting average is down once again at .260 and his OBP has not been this low since his 2013 season with the Cubs. He has never been a great walker but a BB% of 3.6 equals his career-low. However, things have changed massively since the start of July.
Castro is hitting over .300 in each of the last two months, with 6-of-11 home runs coming in the last month and a half. His BABIP is up and he is hitting the ball harder in the last two months. Outside fo that he is not doing anything different contact rate wise, and that shows in his similar strikeout rate. However, that is not a reason to be concerned, as his contact profile does not show a particularly concerning trend this season. He is still not walking but he is making better contact and hitting the ball in the air a little more, which is reflecting in his spike in power and batting average.
Contact Rate Fallers
Data current as of 8/14/2019 and taken from RotoBaller's Premium Tool.
47% contact rate last seven days (-23%)
What a strange year it has been for Vogelbach, hitting just .226 with a K% over 25 but 26 home runs a .260 ISO. However, that batting average does not tell the full story as he hit a whopping .310 in March/April, and has only hit over .200 in one month since. His strikeout rate has also leaped since the All-Star break, having sat at 23.2% in the first half it has been 33.3% since. That last month has seen some of the good things he has done this season completely backtrack. His O-Swing% has jumped to 24.4% and his Contact% is down close to 73%, with the highest SwStr% since his rookie season (9.3%).
Right now Vogelbach is trending in a terrible direction and if you have not already he is a player you should be completely moving on from. He does still have his uses, such as in DFS or if he starts to heat up as a potential plug-and-play type option on a week-to-week basis, as he has still neem hitting a minimum of five home runs a month.
65% contact rate last seven days (-17%)
August has been kind of tough for Devers, as he is hitting .281 compared to over .315 in each of the last three months. However, compared to .240 last season this season has been superb for the young hitter. That does not mean you can look to exercise caution and use the dip we are seeing to try and cash in if someone just looks at the frankly superb numbers he has put up on a season-long basis.
What has been interesting is his reduction in K% down to 16.3 this season, but the numbers in contact profile do not fully back it up. His SwStr% is only marginally below the last two seasons at 12%, with a marginally increased Contact% at 78%, while still swinging at nearly 40% of pitches outside the zone. All of this combined with the slight dip in the last couple of weeks concerns me that he is due for some regression to end the season. His value will likely never be higher again in a redraft league than it is right now so it may be worth trying to flip him for another stud hitter with a longer track record.
70% contact rate last seven days (-13%)
In Devers, we have a regression candidate, but in Polanco, we are already in full-on regression. In the first half of the season, he hit .312, but in the second half, he is hitting just .241. The decline started in July when he hit .230 and his K% jumping up to 18% and continuing to rise to 22% in August. His contact profile through the first three months should have hinted at the regression coming, as his SwStr% was the highest at 6.9 that it has been since 2015, with his lowest Contact% since that same year.
The numbers have not improved in the last two months with his SwStr% increasing to 7.7% and Contact% decreasing to 81.4%. Whether you can still salvage anything in value for Polanco is up for debate, but he also serves as a warning for players such as Devers that poor underlying numbers can catch up to you in a big way.
Contact Rate Risers and Fallers - Premium Tool
Identifying top batting average surgers for each week can help you spot the best pickups before your competition. RotoBaller's Premium Contact Rate Risers and Fallers tool has you covered every day. As thoughtful fantasy baseball players, we won't lead you astray. Here is a small sample: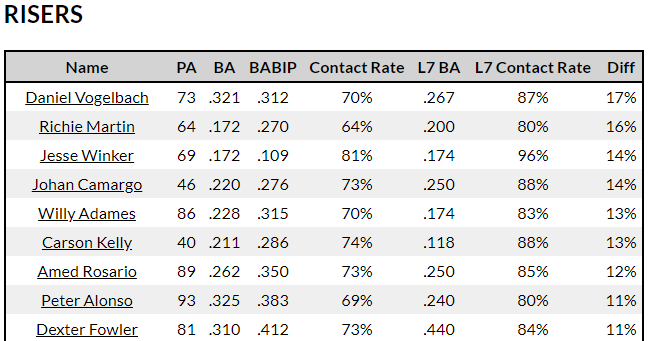 This type of data is available as part of our Premium MLB Subscription and launched on April 22nd for the 2019 season. Don't settle for basic stats and surface-level advice from other sites. RotoBaller brings you advanced statistics and professional analysis that you need to win your fantasy leagues and DFS games because we're ballers just like you. We are your secret weapon!
More Fantasy Baseball Advice and Analysis