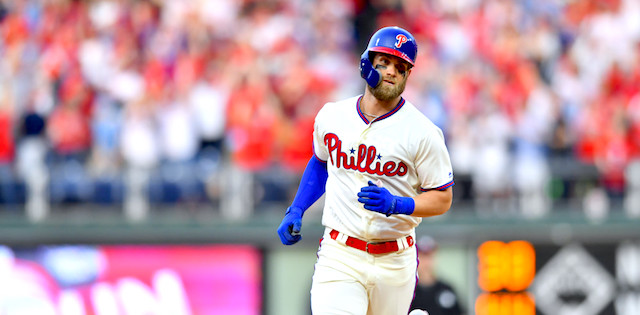 Welcome to Contact Rate Risers and Fallers for Week 10! Our premium tools allow us to get out ahead of trends in player performance, including contact rate. Every Wednesday, we'll be looking at some players that have seen an increase in contact rate and some that have seen it decline.
Contact rate can foretell a player's batting average and general hitting statistics, and any drastic change could signal a shift in performance. Contact rate shifts often act as a precursor to hot streaks and slumps.
Here is a breakdown of some of the biggest fantasy relevant risers and fallers in contact rate over the last seven days.
Editor's Note: Get any full-season MLB Premium Pass for 50% off, with exclusive access to our season-long articles, 15 in-season lineup tools and over 200 days of expert DFS research/tools.
Sign Up Now!
Contact Rate Risers
Data current as of 6/5/2019 and taken from RotoBaller's Premium Tool.
83% contact rate last seven days (+15%)
Dahl has been fantastic this season, hitting for a .330 batting average. However, there are some reasons for concern. His five home runs are well below what we would expect from a player who hit 16 in just under 300 PA last season. The problem for Dahl is that his exit velocity ranks in just the 36th percentile, and his launch angle is down on last season. That decrease in launch angle appears to have helped his xBA, which is up at .293, compared to .262 last season. However, the power appears to be the trade-off, with that loss of launch angle.
In terms of his contact profile, there are no real concerns other than the bump in batting average this season, despite not making any more contact than he has previously. His batting average is nearly .040 above his xBA, so there is some regression to come. However, his impressive 13.9 Barrel% and reduced launch angle appear to have set him up for success on the batting average front. In a league where power is plentiful, but batting average can be hard to find, Dahl is a valuable commodity, even with the power decrease this season.
100% contact rate last seven days (+14%)
It has been an interesting season for Pujols so far in 2019, with 11 home runs, but a career-low .228 batting average. He is on pace to hit around 30 home runs, which he has not done since 2016. However, this season has seen his batting average decline once again. Since coming to the Angels we have seen in drop from around .300 to bounce around between .240 and .270, now it has dropped again to .230. This comes despite no real increase in strikeout rate, in fact, he has actually cut his strikeout slightly from the last two seasons.
His contact profile is actually extremely impressive, remaining around 90% with a SwStr% below 7%. The issue is that his exit velocity has dropped slightly this season, while his launch angle has increased. His FB% is close to his career-high at 43.8%, while his LD% has dropped down to just 11.7%. Unfortunately, this type of profile often leads to plenty of power, but to a poor batting average, as balls that do not clear the fences, fall tamely into the hands of outfielders. Additionally, he is pulling 57% of balls this season, which means that he will be falling victim to the shift plenty. This little contact rate boost is fun, but ultimately it is hollow in an environment where power is plentiful.
79% contact rate last seven days (+14%)
2019 has not been a great season for Harper so far, as he has essentially continued his form from 2018. Currently, Harper is hitting .247 with 11 home runs, but the biggest concern will be a 29.6 K%, and the 13.9 BB%. The problem for Harper is someone a to fold problem. He is both swinging at more pitches outside the zone than last season and is making a career low contact rate on those pitches outside the zone. Those two elements have contributed to an extremely problematic 15.6 SwStr%, nearly 4% higher than his career average.
The positive is that when he is making contact, he is hitting the ball as hard as ever, with a career-high 92.2 mph exit velocity. That exit velocity currently places him in the 92nd percentile in the majors this season. The positive side of that exit velocity is that it is fueling an xBA of .260, suggesting there has been some bad luck for Harper this season. Additionally, his 19.6 HR/FB% is the lowest of the last three years, despite him hitting the ball harder than ever. Therefore, there is potentially still some power growth to come, meaning he could yet end the season with 35-40 home runs. Hopefully, the hot hitting of the last week is a sign that things are about to turn around, and Harper is going to provide superb value over the coming summer.
Contact Rate Fallers
Data current as of 6/5/2019 and taken from RotoBaller's Premium Tool.
42% contact rate last seven days (-29%)
It has been a strange year for Polanco, which has not been helped by missing time with injuries. The positive is that he is on pace to hit 20 home runs once again, and for just the third time in his career. However, his batting average is a career-low .244 and his strikeout rate is at a career-high 25.9%. The strikeout rate is such a problem that his career-low batting average comes despite a .301 BABIP. Generally this season contact is down, both inside and outside the zone, but his O-Contact % is extremely concerning. At 58.3% it is 5% below anything else we have seen in his career. Unfortunately, when you combine that with a close to career-high O-Swing% (34%), it fuels a massive 13.5 SwStr%. You do not need to look much further to find the source of those batting average problems.
A bigger concern for his fantasy value is that he has attempted to steal just one base this season, and even then he was caught. His sprint speed is down in the 52nd percentile this season, suggesting that the stolen bases might not be on their way back anytime soon. Other than the power, these numbers are making for ugly reading for anyone still buying into Polanco.
39% contact rate last seven days (-28%)
Contreras is in the middle of a wonderful 2019 season. He already has 10 home runs, a .291 batting average, and a .398 OBP. However, there are some elements to be concerned about. The walks are up but so are the strikeouts, at a career-high 27.7%. This is largely due to a poor O-Contact% which is around 5.5% lower than we saw last season. His batting average is currently driven by a .356 BABIP, and given he has a .244 xBA there should be concern about potential regression. Last year he only outperformed is xBA by .017 so to expect him to be able to sustain a batting average .050 above his current xBA is unreasonable. Hs current power does look sustainable, as he has increased both his exit velocity and his launch angle, both good factors for fueling home runs.
With any other position, I would likely be preaching a sell-high attitude, but at catcher Contreras is among the better options. Therefore, you unlikely to find equivalent value by selling him and relying on another catcher, However, given the potential for regression being this high, it is absolutely worth seeing what offers you can get for him, especially as this last week could be a sign of things to come.
52% contact rate last seven days (-25%)
There has been a lot to be positive about with Bryant this season. He has already matched his home run total from last season (13), and still has over half the season to go. Another positive is that his strikeout rate is back down below 20%. This is largely thanks to improvements in both his O-Swing% and his O-Contact%. Bryant appears to be being more selective outside the zone, and both his walk and strikeout rates reflect that.
However, concerningly his batting average has not bounced back from the .270-region that it sat around last year. This is largely due to a career-low .296 BABIP, nearly .050 below his career numbers. Throughout his career, Bryant has consistently outperformed his xBA, and his .266 number this year is close to the numbers he posted in 2016 and 2017, when he had .290-plus batting averages. The issues appear to be largely bad luck, as he is hitting the ball as hard as he has ever done. Therefore, all of the numbers suggest positive regression being just around the corner for Bryant. If this streak of bad contact lasts another week or so, then Bryant might be someone to try and target in trades with panicky owners.
Contact Rate Risers and Fallers - Premium Tool
Identifying top batting average surgers for each week can help you spot the best pickups before your competition. RotoBaller's Premium Contact Rate Risers and Fallers tool has you covered every day. As thoughtful fantasy baseball players, we won't lead you astray. Here is a small sample: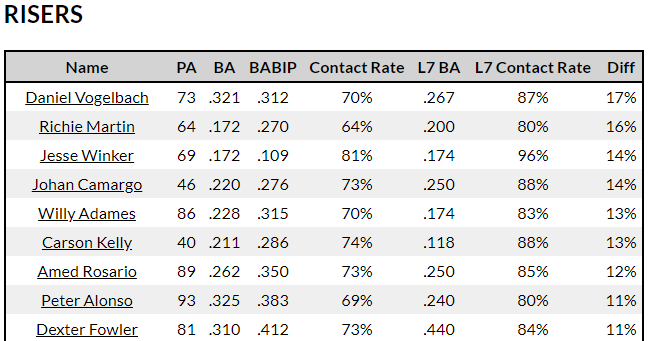 This type of data is available as part of our Premium MLB Subscription and launched on April 22nd for the 2019 season. Don't settle for basic stats and surface-level advice from other sites. RotoBaller brings you advanced statistics and professional analysis that you need to win your fantasy leagues and DFS games because we're ballers just like you. We are your secret weapon!
More Fantasy Baseball Advice and Analysis