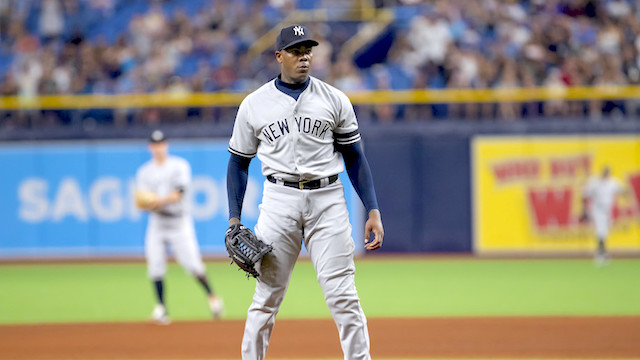 Predicting bullpen roles this offseason has been a guessing game. With the transaction freeze brought on by the lockout, some clubs will still be adding to their staff during Spring Training and could change the whole landscape of their closing situation. Not to mention, managers have been more prone to using a closer by committee, meaning there are fewer guys you can count on to provide the saves you need.
This uncertainty has put a premium price on relievers. Fantasy managers are reaching for someone they trust will have the lion's share of saves so they don't get stuck with someone in a time-share or no share at all.
Regardless of the rising price, there are some relievers you should let someone else take a chance on. It doesn't mean to leave them on the draft board forever, but they aren't worth the risk at their current draft price based on ADP Consensus Rankings.
Featured Promo: Want a free RotoBaller Premium Pass? Check out these sports betting promo offers from the top sportsbooks! All new sign-ups get a free bonus offer on their first deposit, and a free year of RotoBaller's Premium Pass for all sports ($450 value)!
Sign Up Now!
Aroldis Chapman had a roller coaster year out of the Yankees bullpen in 2021. No one could muster any success against him during the first two months when he struck out 52.1% of the batters faced and allowed a .097 batting average, leading to a 0.45 ERA.
In June, the time of the sticky stuff ban, Chapman's season became a nightmare. His ERA ballooned to 3.77 after surrendering three home runs, 10 walks, and 11 runs altogether in just 8.2 innings. To make matters worse, his strikeout rate dipped to a meager 22.4%. Chapman's four-seam fastball seemed to be the driving force behind his struggles. It still averaged 98.7 MPH, about where it's been the last few years, and only lost 72 RPM from the previous month. However, its whiff rate dropped to 17.1% after it sat above 30% to start the season. 
He was able to right the ship, posting a 2.93 ERA with a 39.7 K% after June. Chapman still walked opponents 15.7% of the time in that span, though, and his fastball continued to perform poorly. It lost velocity every month and was obliterated to the tune of a .600 SLG and .544 xSLG overall on the season.
The 34-year-old gave up the hardest contact of his career, allowing a first-percentile 16.2% barrel rate, a season after it sat at 11.1%, and his 88 MPH average exit velocity was the second-worst as a big leaguer. His 1.44 HR/9 was down from 1.54 the season prior but still nowhere near his exceptional 0.45 HR/9 across his first 10 seasons. 
Chapman's 3.36 end-of-season ERA is respectable, but his 3.84 xERA was miles away from previous marks (2.97 career-worse xERA before 2021), and his 3.99 FIP was 70 points higher than any other season. 
The Cuban Missile may still save 30 games and produce some of the best strikeout numbers in the sport. However, hitters have beaten him more and more the past couple of seasons, which makes you wonder what kind of pitcher lies ahead. Not to mention, with the Yankees rostering arguably better arms in Jonathan Loaisiga and Chad Green, another step backward for Chapman may mean the end of his closing days in the Bronx.
With an ADP of 85, he's the seventh reliever off the board. That's a high price, even if he was the best closer in baseball at one time. Taking Will Smith (ADP of 98), who possesses a solid arm and looks like a lock as the closer of a conventional Braves bullpen, instead is the better play.
Corey Knebel's a good pitcher with a big arm and a dependable track record. His two-pitch mix of a high-velocity slider and big moving curveball prevents hard contact and generates a lot of strikeouts. He did miss the majority of last season dealing with a lat injury, but was effective when healthy and didn't allow a run in his last 7.1 innings pitched. Knebel wound up with a 2.45 ERA, 29.7 K%, and 0.97 WHIP while picking up three saves across 25.2 IP. His career 3.23 ERA along with a 33.6 K% were attractive to the Phillies, who ended up inking him to a one-year, $10 million pact.
But I'd be careful drafting the 30-year-old too early. First of all, 2017's Corey Knebel, the one who put up a 1.78 ERA and 40.8 K%, isn't around anymore. His fastball is a mile per hour slower these days, and his whiff and chase rate the last couple of seasons aren't close to where they were in the past. 
However, he's not on this list because of his ability. Knebel's still capable of a 30 K% with decent ratios, and given the opportunity, he could still reach 30 saves. Though, no one knows for sure if he'll get that chance. The team will be without Hector Neris and presumably Ian Kennedy, the club's top-two save beneficiaries from last season. However, Jose Alvarado, who picked up five saves in 2021, remains on the roster, and they should have 2018 closer Seranthony Dominguez back for a full season. Moreover, they might still add to their consistently shaky bullpen now that the lockout's over.
Steamer currently projects just 15 saves on his ledger for next season. And not only are there questions regarding his role, but injury risk plays a factor here as well. He's thrown just 39 innings over the last three seasons due to multiple injuries, including Tommy John surgery in 2019. A full season of Knebel is far from a guarantee.
His current ADP is 186. Even in a year where you may have to pay up for a reliever, that's too high for someone you can't count on contributing 20 saves. You're better off waiting to get a discount on Joe Barlow at pick 238, or even Taylor Rogers at pick 211, who can provide the same, if not better, skill set than Knebel.
The Seattle Mariners signed Ken Giles to a two-year deal last February, hoping that he could come back from Tommy John and contribute to a very deep and productive bullpen in 2022. If his recovery went as planned, that shouldn't be too hard for Giles. During his last full season, he threw 53 innings with a 1.87 ERA, 39.9 K%, and 8.2 BB% while limiting batters to a .180 xBA and .316 xSLG. His career numbers are a thing of beauty as well; 2.74 ERA, 1.12 WHIP, 31.6 K%.
He's been a closer for most of his days in the big leagues, racking up 115 saves over seven seasons. But he hasn't fired a pitch since September of 2020 and threw just 3.2 innings that season. It would be a stretch to assume he'd be the full-time closer on most teams, let alone the Mariners.
Altogether, eight pitchers recorded at least one save in 2021 for Seattle, and the most saves of any individual pitcher was 14. They weren't scrambling trying to find someone they can trust, but rather the opposite. Manager Scott Servais had enough guys he could trust with the game on the line that he could afford to use his best arms before the ninth inning. And this Rays-like method worked, as the bullpen was worth the fourth-most WAR in the league. Why wouldn't that be the approach again? 
Giles won't be reaching the 20 save threshold, and I don't even think he'll be the number one option in the ninth inning. That role will belong to Drew Steckenrider and/or Paul Sewald. The duo emerged as late-inning stalwarts last year, seemingly out of nowhere. Steckenrider posted a 2.00 ERA along with a respectable 3.35 FIP and 14 saves, while Sewald pitched to a 3.06 ERA, 3.08 FIP, and 11 saves. So, though there probably won't be anyone reaching 20 saves in 2022, these guys have the best shot. And to make matters worse, Giles may have to share the leftover chances with Diego Castillo, whom the Mariners acquired at the deadline last year and has experience closing in Tampa. 
Giles has the stuff to be a dominant reliever, but considering the closing options the Mariners have at their disposal, he may muster just a handful of saves. His 295 ADP is a reach, especially considering he's being drafted ahead of Castillo (425 ADP), Steckenrider (414 ADP), AND Sewald (326 ADP). If you're looking for saves later in the draft, why not take the discount and draft a Mariner not named Giles? Steckenrider specifically gives you the best value of the bunch, with Steamer projecting him for 15 saves, as opposed to eight from Giles.         
During Gregory Soto's first full season as a big leaguer, he found success in the Tigers' bullpen, making the All-Star team and getting the most out of his big left arm. He posted a 3.39 ERA, 27.5 K%, 1.35 WHIP, and added 18 saves over 63.2 innings. Shortly after the season's conclusion, Tigers manager A.J. Hinch showed full confidence in the 27-year-old, announcing him as the closer for 2022.
Soto will continue striking batters out. He throws a 98.2 MPH sinker, and his slider, which he used 37.6% of the time, generated whiffs at a 43% clip. As a whole, his whiff rate was in the 81st percentile, and he had an enticing 30.6% called and swinging-strike rate.
Not only does Soto keep bats off the ball, but when batters make contact, they don't do much damage. He held opponents to a .199 xBA and .330 xSLG. His average exit velocity on flyballs and line drives was an above-average 92.7 MPH, and he allowed barrels at a 6.9% rate, good for the 62nd percentile. In doing so, Soto was able to keep his HR/9 below 1.00 for the second consecutive season with a 0.99 mark.
However, there's one aspect of pitching he hasn't been able to figure out - command. His career 13.2% walk rate is eyepopping, and his 14.5% mark from last year was a career-worst. It got uglier as the year went on, posting a 13.5 BB% in the first half, followed by a 15.8 BB% in the second. 
As you can see, Soto's slider was all over the place, including a patch of red way out of the zone. Plus, when his pitches missed the zone, batters rarely chased. He owned a 25th-percentile chase rate, which was actually the best mark of his career.
When you walk as many batters as Soto does, it leaves little room for error. And although he's been able to overcome his lack of control thus far, it makes him more volatile at the game's most volatile position. An increase to his .257 BABIP or 12.1% HR/FB from last season would bump his ERA up closer to the 4.14 FIP or 4.32 xFIP he had in 2021. It's safe to assume Soto would squander some save chances as a result.
Even if things turn out a bit sunnier, his new closer title doesn't guarantee there'll be a significant saves increase. Soto was the unofficial closer last season, leading the team in saves, but Hinch was aggressive with his bullpen. He'd used him in any high-leverage situation, meaning that ninth-inning duties would sometimes go to someone like Michael Fulmer, who pitched to a 2.97 ERA with 14 saves. There's no reason to believe that strategy won't continue in 2022.
Soto hasn't done enough to gain my trust. Last year was his first time with an ERA under 4.30, and he's shown no signs he'll ever fix his command. Add in the fact that he'll probably be sharing saves again, and he should be avoided at his ADP of 206.
Download Our Free News & Alerts Mobile App
Like what you see? Download our updated fantasy baseball app for
iPhone
and
Android
with 24x7 player news, injury alerts, sleepers, prospects & more. All free!
More Fantasy Baseball Advice