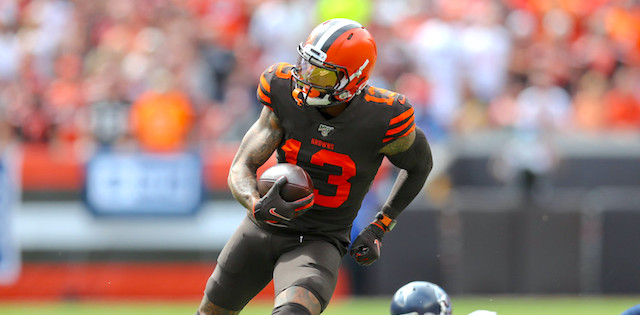 Where to even begin with the Browns? After being hyped all 2019 offseason, they laid a stinker off the bat and got drubbed at the Dawg Pound by the Tennessee Titans in Week 1. That was only the start of a miserable year that featured newly acquired Odell Beckham Jr. not getting the ball enough, QB Baker Mayfield regressing, Myles Garrett making headlines for a skirmish, and "coach" Freddie Kitchens not knowing how to handle NFL coaching.
The Browns ended up missing the playoffs again and haven't made them since the 2002 season (which nobody remembers at this point). I guess some things may never change. That may be true in relation to the Browns, but coach Freddie Kitchens is now in his kitchen (you knew I had to say that) after getting the boot. Now, former Vikings offensive coordinator Kevin Stefanski is the new head coach and tasked with turning this out of sync squad into the well-oiled machine that it looks like on paper. Alex Van Pelt will be the new offensive coordinator and Joe Wood will be the new defensive coordinator.
And I must say the Browns' offense is EVEN MORE talented this year after signing TE Austin Hooper. This team is loaded on all offensive skill units and it would be a shame if they are not at least competitive (and do I dare say make the playoffs?). Nevertheless, this is the Browns we are talking about, so losing or finding ways to be bumbling is a staple. If anything, this team does have quite a few fantasy gems, so let's look at them:
Featured Promo: Get any full-season NFL Premium Pass for 50% off and win big in 2023. Exclusive access to our Premium articles, 15 lineup tools, new Team Sync platform, Lineup Optimizer, Premium DFS tools and cheat sheets, and much more!
Sign Up Now!
Quarterback
Baker Mayfield has been polarizing on and off the field. Whether it's getting into spats with other players or dawning a new mustache, the 2018 first overall pick has just not been as consistent on the field as hoped. Last season, the QB compiled 3,827 pass yards, 22 pass touchdowns, 21 picks, 7.2 pass yards per attempt, 239.2 pass yards per game, a 78.8 quarterback rating, 141 rush yards, and three rush touchdowns. The Oklahoma product had an 18.1 percent poor throws per pass attempt rate and 93 bad throws.
The QB ranked tied for sixth in bad throws and ranked 31st among NFL QBs in the percentage of on-target throws per pass attempt rate at 70.6. Adding to the concern is the fact that he finished 41st among QBs in completion percentage with 59.4 and 38th in QBR. Mayfield ranked second in interceptions, only trailing Jameis Winston's famous 30 and 30 "accomplishment."
Thus, the QB has had modest finishes in fantasy among players at his position, ranking 19th in 2019 and 16th in 2018. The biggest problem with Mayfield is his accuracy (AKA picks) and lack of rushing upside. This and the fact that he is a streaky player does not bode well for consistent fantasy production. His 2018 and 2019 finishes should spell what his fantasy value is heading into 2020 drafts. Mayfield is nothing more than a backup QB in 10-team leagues who can offer a high upside if the matchup is right.
Running Back
The Browns have two capable backs in Nick Chubb and Kareem Hunt. The 24-year-old Chubb is the clear RB1 on this team and had a magnificent second season last year. The Georgia product accumulated 1,494 rush yards, eight rush touchdowns, five rush yards per attempt, 93.4 rush yards per game, 36 receptions, and 278 reception yards. He had an impressive three rush yards after contact per rush, 32 broken tackles, and 882 rush yards after contact. The Georgia native also had 78.9 percent of rushes inside the 5 for Cleveland.
After ranking 15th among fantasy RBs in 2018, Chubb finished in sixth last season. Among NFL RBs, the 2018 pick finished third in total rush attempts (298), third in rush attempts per game (18.6), second in rush yards, and second in rush yards per game.
With such a large role, proven production, and huge red zone opportunities, Chubb sits squarely in the RB1 tier for redraft leagues.
Former Chief Kareem Hunt should see plenty of opportunities on an offense that is expected to be efficient. The 24-year-old played only eight games last season due to suspension. During that time, he notched 179 rush yards, two rush touchdowns, 4.2 rush yards per attempt, 22.4 rush yards per game, 37 receptions, 285 rush yards, and one receiving touchdown. Hunt had a total of 464 scrimmage yards, along with 2.7 rush yards after contact per rush. The Toledo product was very heavily involved during his two seasons with Kansas City in 2017 and 2018 and was a fantasy rockstar.
This time around, he will take a backseat to Nick Chubb. Hunt should have a good role as the team RB2, but his fantasy value isn't as high as it once was. Downgrade him to an RB2 or RB3 in redraft leagues.
Wide Receiver
Close pals and LSU alumni Odell Beckham Jr. and Jarvis Landry headline this Cleveland receiving corp. Both are elite options for Baker Mayfield and are coming off 1,000-yard seasons each.
Many fantasy owners know the fantasy worth of Beckham. He has been elite and consistent for much of his career. Last year was surprisingly his worst fantasy finish (2017 season doesn't count due to injury), coming in at 31st among receivers despite getting good stats. This is even considering there was some minor drama about the elite wideout not being involved enough in the passing game.
All in all, OBJ still finished with 74 receptions, 133/539 targets (24.7%), 1,035 yards, 14 yards per catch, and four touchdowns in 16 games.
Now in his second year in Cleveland, there is hope Mayfield and Beckham have a stronger rapport together. On a talented offense, Odell still stands out. His value to the team and fantasy owners is simply too high to pass up. Despite some bumps in the road during the last fantasy season, Beckham is trustworthy because of his stable role on the offense and incredibly high potential when things are clicking. Roll with him as a WR1 in redraft.
Beckham's buddy Jarvis Landry had a great season as well in 2019. His former LSU teammate led the team in receptions, targets, yards, and touchdowns. In his sixth-year, the 27-year-old recorded career-highs in yards and yards per catch. Overall, the 2014 pick finished with 83 receptions, 138/539 targets (25.6%), 1,174 yards, 14.1 yards per catch, and six touchdowns.
Landry finished 22nd among fantasy wideouts in 2018, his first season with the Browns. Last season, he ranked 14th. He also ended up ranking 10th in targets and yards among NFL pass-catchers. Both Beckham and Landry are solid fantasy receivers, and because the latter has a proven role on this offense, he can be considered a terrific RB2 in redraft leagues for 2020.
There is a huge drop-off on this unit after these two. Damion Ratley was the receiver who came in third on this unit last season. In 13 games, the 25-year-old mustered 12 receptions, 24/539 targets (4.5%), 200 yards, and one touchdown. He was just drafted in 2018 but does not have a consistent role on this offense to merit any fantasy value.
The same goes for Colorado State product Rashard Higgins. After a decent 2018 season, the 25-year-old experienced a dip in production last year. In 10 games played, the 2016 pick had four receptions, 11 targets, 55 yards, and one touchdown. Aside from Beckham and Landry, avoid the rest of the Browns' receiving corp for fantasy.
Tight End
Cleveland inked former Falcons tight end, Austin Hooper, to a massive deal this offseason. Thus, the big investment means Hooper is the new starter on the Browns. This comes at a good timing, as the Stanford product is coming off his best NFL season. The 25-year-old broke records last year in his fourth season with Atlanta.
Hooper finished with 75 receptions, 97/684 targets (14.2%), 787 yards, 10.5 yards per catch, and six touchdowns in 13 games. He recorded career-highs in receptions, targets, yards, and touchdowns. The TE finished seventh among fantasy players at his position in 2019. This comes after he finished seventh in 2018, 18th in 2017, and 35th in 2016.
Among NFL TEs, the 2016 pick finished fifth in yards per game with 60.5, fifth in receptions, tied for fifth in targets, sixth in yards, and tied for fourth in touchdowns. Hooper is also very reliable, holding a 77.32 percent catch rate last season, one of the highest among pass-catchers.
With a large role expected, a proven season under his belt, and not many stars at the position in fantasy, Hooper is a terrific TE1 in redraft leagues with 10-12 teams.
With Hooper's presence, this spells bad news for David Njoku. In fact, Njoku recently requested a trade from Cleveland as his role is set to downsize. This is even with the fact that the Browns picked up the 2017 pick's fifth-year option. When looking at it from a statistical perspective, the-24-year-old is coming off an injury-marred 2019 campaign in which he suffered a wrist injury early on and missed many games while on injured reserve.
In total, the tight end mustered five receptions, 10 targets, 41 yards, and one touchdown in a total of four games played. The Miami product had a stellar 2018 season though, in which he grabbed 56 receptions, 88 targets, 639 yards, 11.4 yards per catch, and four touchdowns.
It is best to avoid picking up Njoku in drafts until his situation becomes more clear. If he does indeed get traded, then evaluate the expected size of his role on a new team before deciding whether to draft him.
More Fantasy Football Analysis