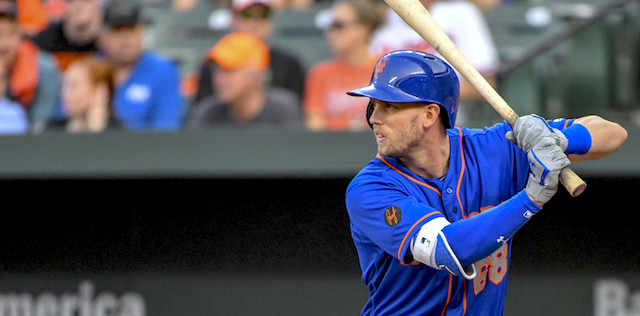 What Appears In This Article?
hide
Recently, some unheralded minor leaguers have been making noise at the MLB level. Toronto's Rowdy Tellez is a 23-year old first baseman with an 80-grade name and more extra base hits over his first 15 PAs than anybody in baseball history. His MiLB resume suggests some power and an advanced feel for the strike zone, so he might show up on 2019 sleeper lists.
Likewise, 26-year old Jeff McNeil is hitting .329 over 159 PAs for the Mets. He's probably not a true talent .330 bat, but the underlying metrics support a batting average high enough to interest owners looking to move up in the category.
Let's take a closer look at how these players figure to perform over the rest of 2018 and beyond.
Featured Promo: Get any full-season MLB and DFS Premium Pass for 50% off. Exclusive access to our Team Sync platform, Premium articles, daily Matchup Rating projections, 15 lineup tools, DFS cheat sheets, Research Stations, Lineup Optimizers and much more!
Sign Up Now!
The Fantasy Jury is Out
Rowdy Tellez (1B, TOR) - 2% Owned
Tellez is slashing a ludicrous .571/.600/.1.214 over his first 15 MLB PAs, numbers that he obviously won't keep up over a full campaign. However, there is a solid prospect behind the early success.
Tellez made his high minors debut for Double-A New Hampshire in 2016 and had a great campaign. He slashed .297/.387/.530 with 23 HR and four SB (3 CS) over 574 PAs, demonstrating an excellent command of the strike zone in the process (12.3% BB%, 17.9% K%). His power indicators also looked promising (39.6% FB%, 16.5% HR/FB), though it should be noted that New Hampshire is a power-friendly ballpark (1.185 HR factor from 2014-2016). Finally, his .324 BABIP was a tad on the high side.
The performance earned him a shot at Triple-A Buffalo in 2017, but it did not go well. He slashed .222/.295/.333 with just six homers and six steals (one CS) over 501 PAs. His plate discipline remained strong (9.4% BB%, 18.8% K%) while his FB% (38.2%) was solid, but his power completely evaporated (4.5% HR/FB). Buffalo is not a power-friendly park (0.982 HR factor), so the decline probably wasn't entirely his fault. Still, a power decline this sharp is never good news. His BABIP also cratered to .264, though nothing in his batted ball distribution suggests that anything besides luck was involved.
Tellex repeated Triple-A this year and performed better, though not quite up to his Double-A performance: .270/.340/.425 with 13 HR and seven steals (four CS) over 444 PAs. His power rebounded (39.4% FB%, 10.2% HR/FB) while his BABIP (.298) returned to an acceptable level. His plate discipline was strong again (9% BB%, 16.7% K%), standing out as Tellez's signature skill.
That's a good thing, as prospects with a knowledge of the zone tend to fare better early in their big league careers than those who are learning on the job. Tellez is certainly a wild card in 2018, but Toronto's willingness to hit him fifth should set him up for some RBI opportunities. His consistently plus FB% rates and favorable home park (Toronto had a 104 HR factor for LHB last year) also suggest that his power could play up. There are worse lottery tickets if you need lightning in a bottle, and he's definitely a name to keep in mind for the end of next year's drafts.
Verdict: Champ

Jeff McNeil (2B, NYM) - 17% Owned
McNeil entered the 2018 season as a nobody, but he'll head to 2019 with some hype if his .329/.389/.483 line has anything to say about it. His counting numbers aren't great (two homers and four steals over 159 PAs), but his batting average alone plays in fantasy. For the most part, it seems sustainable.
You might expect a 26-year old rookie to have extensive experience in the high minors, but a series of injuries severely limited McNeil's development. He received a 16 PA cup of coffee with Double-A Binghamton in 2015, managed a total of 14 PAs there in 2016, and was limited to 194 PAs split between two levels in 2017. In a lot of ways, 2018 was McNeil's first taste of quality competition.
McNeil started in Double-A Binghamton, slashing an impressive .327/.402/.626 with 14 HR and three steals over 241 PAs. His BB% (9.1%) was nearly equivalent to his K% (9.5%), suggesting a complete refusal to strikeout that's rare in today's game. His 49.7% FB% was also out of this world, producing solid power numbers without an insane HR/FB (15.1%). His power wasn't a byproduct of his park either, as Binghamton is a slight pitcher's park (0.939 HR factor). His .316 BABIP may have been a shade high for someone with such a high FB%, but it wasn't terribly inflated.
The Mets promoted McNeil to Triple-A Las Vegas, where he slashed .368/.427/.600 with five homers and three steals over 143 PAs. His FB% cratered to 33%, but his raw power held steady with a 14.3% HR/FB. His BABIP jumped to .394 in the process, and his plate discipline was superlative (9.8% BB%, 13.3% K%). Vegas inflates offense (1.048 HR factor, 1.089 hits factor), but McNeil still had a season to remember there.
McNeil's plate discipline mastery has translated to the majors, where his 5.7% BB% is more than good enough when paired with a 9.4% K%. His 36.2% chase rate is too high, but his MiLB success suggests that McNeil will be able to work through it. His 8% SwStr% doesn't quite support a sub-10% K% either, but again his MiLB season suggests that he won't K often.
McNeil's .357 BABIP is on the high side, especially since he has roughly league average LD% (21.3%), FB% (37%), and IFFB% (10.6%) rates. McNeil's fly balls are the most likely area for regression, as he has a .222 BABIP despite average exit velocity (90.9mph) and a low rate of Brls/BBE (3.1%). His .283 BABIP on grounders also seems inflated, even if he is a plus runner (27.5 ft./sec Statcast Sprint Speed) with above average exit velocity on ground balls (84.3mph).
However, his Baseball Savant xBA of .297 suggests that he is a big league hitter. The Mets also buy into his potential, consistently hitting him second in recent games. That makes him a widely available waiver option for owners looking for a boost in average and/or runs scored. His power indicators don't suggest much pop, but he could have the upside of a Daniel Murphy if everything breaks right down the road. He's another guy for your 2019 sleeper list!
Verdict: Champ