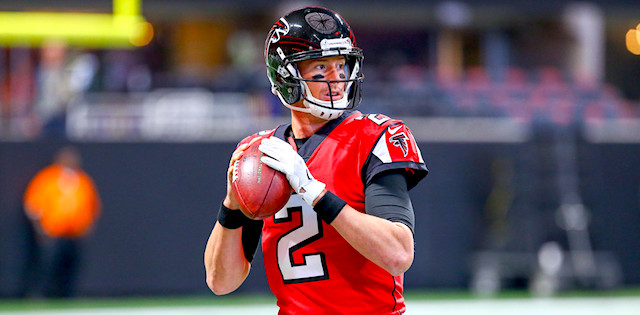 The odds of repeating an MVP-caliber season, let alone a historic one, are not very high in the NFL. That's why the expectation that the Atlanta Falcons would be just as good in 2017 as they were in 2016 was a bit off-base. You were banking on Matt Ryan having back-to-back MVP seasons. You were counting on an offense nearly matching their all-time high in points scored. It didn't happen, of course, but now when you look at this 2018 team, you can't help but wonder if they're on a similar pace.
Let's consider some of those 2016 numbers. As a team, the Falcons bested their own all-time scoring record with 540 points. Sorry, I should rephrase that. As a team, the Atlanta Falcons obliterated their own scoring record with 540 points...which is almost 100 more than the previous total of 442 in 1998.
It's an insane jump, one that would stand out as an anomaly for any franchise. Quarterback Matt Ryan finished his MVP year with 4,944 yards and 38 touchdowns, career highs in both categories. Julio Jones was second in receiving yards in just 14 games with 1,409. Mohamed Sanu and Taylor Gabriel, the team's complimentary receivers at the time, each had over 500 yards and combined for another 10 scores. Throw in a rushing attack that saw career highs from Devonta Freeman as well as touchdown machine Tevin Coleman, and you get the idea, the team was unprecedentedly spectacular. How does that translate over to 2018?
Editor's Note: Get any rest-of-season NFL Premium Pass for 50% off. Our exclusive DFS Tools, Lineup Optimizer and Premium DFS Research through the Super Bowl.
Sign Up Now!
It's All About Pace
If you consider the pace of this current Falcons team you start noticing some eerie similarities. For starters, Matt Ryan's 1,316 passing yards through four games puts him on pace to hit over 5,000 for the year. His 10 touchdowns would translate to 40 over the course of a full season. Amazingly, he is actually on pace to be better in those categories than he was in 2016. Even the statistics that are lower are only lower by a very small margin. His completion percentage in 2016 was 69.9% compared to his current rate of 68.3%. Average yards per attempt? 9.26 in 2016 compared to 9.08 today. Interceptions? He's on pace for eight as opposed to seven in 2016. Any way you slice it, Matt Ryan is on track to essentially match (or better) his MVP year.
Assuming a clean bill of health for all 16 games, Julio Jones is also on pace to improve upon his 2016 numbers. Expand his 502 yards through four games over the course of a full 16 and he hits 2,008. (That's basic fantasy math if I ever saw it.) Somehow the issue with Julio has become his touchdown rate. He's been shutout to start the year, and he only had three scores in 2017. It seems unfathomable but it is what it is. If the passing attack keeps clicking the way it has been, Julio will find his way into the endzone one way or another. The "problem" is the newfound addition of rookie Calvin Ridley. Ridley already has SIX touchdowns through the first four games of his career. Combine that with his yardage total of 264 and he's basically replicating the sum of Sanu and Gabriel's 2016 numbers all by himself. Atlanta's passing game is out of control right now.
The only difference between 2016 and 2018 is the ground game. Devonta Freeman was injured back in Week 1, leaving Tevin Coleman and Ito Smith as the one-two punch to carry the load. Coleman is better served as a compliment to Freeman while Smith is more of a speedy, "get him out in space" type of pass-catching back. It just isn't the same as the usual combo of Freeman and Coleman. But with Freeman returning for Sunday's shootout with the Pittsburgh Steelers, the rushing attack should get right on track.
Now the question is what to make of all this for fantasy purposes? Well for one, if you own any Falcons this year, your team is in excellent shape. Even the owners out there who lost Freeman for a few weeks should be positive about their team the rest of the year. Those who rostered Tevin Coleman basically have a "set it and forget it" flex play. Looking ahead at the team's schedule, you can bank on at least four home-run matchups against the Steelers, Saints, and Buccaneers twice. That's four games against bottom-10 defenses in both points and yards allowed. Atlanta also gets three middle-of-the road matchups with the Giants, Browns and Cardinals. None of those should scare you from a fantasy perspective. Falcons owners should feel good about their season-long outlook from here on out.
If you're on the outside looking in, now is the time to trade for any and all Atlantans you can acquire. Unfortunately I don't think it's possible to acquire Matt Ryan. The dude is simply on fire, so much so that it might actually be easier to sell high than it would be to get him. I think the same could be said for Calvin Ridley. The Ridley owner in your league either cleverly drafted him as a sleeper or lucked into him via free agency. They're sitting tight with their head held high. Surprisingly, I think it will be much easier to target either Devonta Freeman or Julio Jones in a trade. Freeman is coming off of an extended absence, so his owner may be frustrated and looking for someone else. His value is currently less than it was at the start of the year. If you're looking for a receiver/running back swap, I would offer the likes of Amari Cooper, Allen Robinson, Robert Woods, or Emmanuel Sanders for Freeman. It's always difficult to swing a trade within the same position but it's worth trying to sell high on someone playing well like Philip Lindsay or Matt Breida, hoping the Freeman owner has run out of patience.
Julio Jones will be much more difficult to acquire based on name recognition alone. Luckily he's technically underperforming from a fantasy perspective. Julio was drafted as a top three or four receiver, and is sitting at WR15 in standard, WR8 in PPR. You may be able to get him at a discount. A straight swap is unlikely for a guy of his caliber but it can't hurt to try. Throw out names like Jordan Howard or, honestly, I would do David Johnson for Julio Jones right now. Johnson is on arguably the worst team in the NFL and who knows what that offense is going to look like going forward. At least we know the Falcons are a powerhouse. Positional need may trump redraft value here. (For the record, the most frustrating thing in fantasy trades is when people stick too firmly on what they paid for them. It's Week 5. Adjust "draft value" accordingly. We're well past that point.) I think a package deal is much more realistic. Obviously, it will depend on roster construction, but you may be able to package some of those players I just mentioned for Julio. Something like strong start Emmanuel Sanders plus over-performing Matt Breida may help an RB-needy team.
The one takeaway from the Falcons this year is that they're back to being one of the best offenses in football. Unfortunately for their real-life outlook, it's come at the expense of their defense. They have been mangled by injuries on defense, which should lead to them having to play catchup more often than not. Use that to your advantage. And by the way, the fantasy points don't end with the obvious names. Mohamed Sanu can be a WR3/flex play in the right matchup. Austin Hooper is your prototypical plug-and-play tight end, especially this week against Pittsburgh. With the TE position as porous as ever, Hooper could develop into an every week starter should the touchdowns start coming with frequency. Loading up on Atlanta is a viable fantasy strategy going forward. Get in while you can.
More NFL Analysis