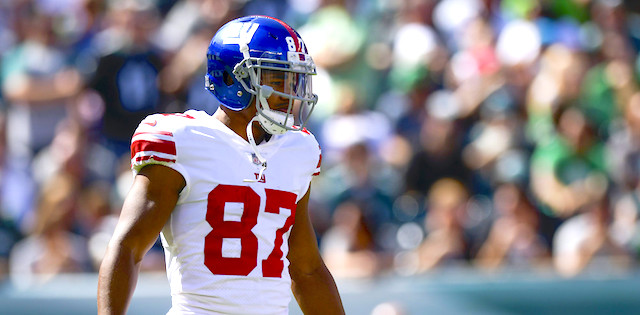 We're officially in the last week of preseason. Cuts are done. There are very few "sleepers" that haven't been written about, or who you can get at an affordable price. So I'll save the long, drawn-out introduction for my last article in this series.
For now, thanks for reading this long, and if you're yet to draft... well, I hope Zeke has signed by now.
As a quick technical note, all mentions of ADP come from FantasyFootballCalculator and are for full PPR leagues.
Editor's Note: Get any rest-of-season NFL Premium Pass for 50% off. Our exclusive DFS Tools, Lineup Optimizer and Premium DFS Research through the Super Bowl.
Sign Up Now!
Dallas Cowboys
Save your final dollar for __________
Man, if you can still get Tony Pollard for $1 (assuming my earlier quip about Zeke signing has yet to come true), I would absolutely do it. If not, I direct you to my colleague Antonio Losada's very smart player highlight about Randall Cobb. Antonio details it better than I could, but considering almost every other member of the Cowboys team has stayed consistently ranked or risen through draft season, getting Cobb for basically free will be a boon in deeper leagues, especially if Ezekiel Elliott does stay out for a longer and the team feels like passing the ball is the more advantageous route.
You can also argue, as Antonio hints, that a crowded Packers team without much of a rudder in former coach Mike McCarthy (and as I noted in the previous column, a Rodgers-led offense that largely came down to his connection with receivers) was less of an ideal set-up than the Cowboys might be, and Cobb fills a needed role on a Dallas team that the Wisconsin team simply didn't need filled. I really like him in the $1 range.
Where To Take Him: End of the Draft, Re-Draft
Confidence: Low
Timeline: If he's not seeing consistent targets by the end of September, you can happily leave him in the dust.
Washington Redskins
_________'s value is rising, but it's still not high enough
This is one of those drums I was sure would be beaten throughout the offseason. Derrius Guice, arguably the most disheartening injury to the fantasy community (depending on how you sort of rate that type of emotional gut feeling, I suppose Rob Gronkowski also rates highly here), didn't exactly rebound up fantasy football draft boards in 2018. Guice was back, and after a calendar year to get back and get healthy, he was going at the very end of the seventh round. A starting RB, on a team where his peers look like.... well, the guys I listed.
Adrian Peterson represented more of a deep-league value than a work horse back, despite finishing in the top-20 at his position, based on a sudden opportunity in a run desolate team. Jordan Reed is rocketing up draft boards despite coming off another concussion. Paul Richardson is.... I mean, I got him for $1 in a very deep dynasty league if that means anything.
It's another instance of me simply believing the coach when Jay Gruden said this week that the offense would run through Guice. For reference, Guice is being drafted behind Tarik Cohen (the starter as of Week 1, but expected to be splitting meaningful work with the talented backfield), Baker Mayfield and Matt Ryan (QB's 4 and 5), and Jared Cook (almost certainly due for a down year in New Orleans.) If you're not taking a starting QB who should be staying on the field, you're not maximizing value anymore.
Obviously Guice is a player whose value has skyrocketed since we got to see his jets finally reignite in the preseason, but the bottom of the 7th to the bottom of the 6th still isn't quite high enough, especially not behind those players.
Where To Take Him: 6th Round, Re-Draft
Confidence: High
Timeline: All season
Philadelphia Eagles
You can probably avoid the ________ hype unless he's your absolute last pick
Philadelphia Defense
I wanted so badly for JJ Arcega Whiteside to beat out Nelson Agholor, so I could have some clarity on who would be the third wide receiver for the Eagles, so I could justify his draft price (still a very late-to-last pick in redraft leagues, but going increasingly higher in keeper leagues) and so I could get some shares. And let's be clear, I have no plans on grabbing him there if you don't plan on using him this year.
But thanks to the fantasy community's growing hype on this preseason gem, with 147 yards on 12 receptions, there are people who are very much grabbing him in re-draft leagues thinking that they are going to absolutely cash out on this steal this year. Unless he's your absolute last pick, or there are some keeper implications, you simply didn't get the clarity you wanted to from cut day. He's still fourth on the WR chart, fifth if you count Zach Ertz as the best pass catcher on the Philadelphia Eagles (which, of course he is.)
I love grabbing guys for nothing when the potential is there, and for 2020, and maybe even the very end of 2019 (think playoff playoffs, not fantasy playoffs) it is for Arcega-Whiteside.
New York Giants
The real sleeper in this offense is ____________

Last year his ADP was 110. This year, he's at 92. Not a dramatic change for Sterling Shepard, and he's one of the absolute lowest valued team WR1's in fantasy football. This isn't just a poor indicator of Shepard's inability to take the next step professionally, it's also an indicator of how problematic the Giants offense is as a whole.
Outside of the virtual certainty of Saquon Barkley (if he wasn't so certain, why would he be drafted #1 overall?), the rest of the Giants offense is much more suspect with either Manning or Daniel Jones at the helm. Quite frankly, Evan Engram is only entering his third season as a professional, but the stats of the two pass catchers are incredibly similar. 3 to 4 touchdowns. 12.8 to 13.2 yards per reception. Yes, this is purposefully ignoring the fact that Engram played five fewer games than Shepard, but if both players were going as WR, they'd be within a round of each other, instead of 3+ rounds.
I don't think Shepard at his current 92 ADP is incredible value, but I've also seen Shepard falling in many of my own drafts. That space has become when fantasy players are reaching for TE (see Engram, Evan) or grabbing their QB just to make sure they're ok. Even backup RB's (Darrell Henderson and recently cut LeSean McCoy) are going about here as players harken back to simply not having enough depth at the position in 2019. So guys like Shepard are going to fall.
I'm largely avoiding the Giants offense outside of Barkley, but value and depth are the keys here as well. Shepard is still worth that pick, and maybe (just maybe) we've arrived at the breakout year.
Where To Take Him: End of the Draft, Re-Draft
Confidence: Low
Timeline: If he's not seeing consistent targets by the end of September, you can happily leave him in the dust.
More Draft Prep and Analysis