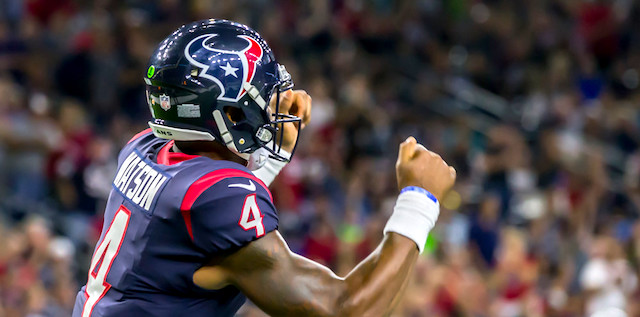 The AFC South was arguably the best division in the NFL this year. The South was the only division in both conferences to have three teams finish with winning records.  The division posted a combined 35-29 overall record. The AFC South also had the highest point differential in all of football at plus-111 points. But we want to know who are some of the players we can look to going forward in the fantasy world.
The Jaguars, who were the only team in the division to fail to post a winning record, were a major disappointment. The Jags were not only expected to win the division but also be a major contender to represent the AFC in the Super Bowl. However, they finished the season by winning only two of their final 12 games. On the other end of the spectrum, the Colts were one of the biggest surprises in the conference as they improved their win total by six games over their 2017 total with star quarterback Andrew Luck back behind center. The Texans (11-5) posted their most wins since 2012 while the Titans have now posted a winning record in each of the past three seasons.
Looking back at the 2018 season in the AFC South, there were several standout players who had excelled in terms of both on the field and in the fantasy world. Nonetheless, we will look at a player or two from each team who came up big or dropped the torch.
Editor's Note: Get any rest-of-season NFL Premium Pass for 50% off. Our exclusive DFS Tools, Lineup Optimizer and Premium DFS Research through the Super Bowl.
Sign Up Now!
Houston Texans
Riser - Deshaun Watson, QB
Watson was terrific last season. After seeing his rookie season end prematurely as a result of a torn ACL, the 23-year-old was named to the Pro Bowl in 2018. Watson threw for 4,165 yards along with 26 touchdowns and nine interceptions while completing 68.3 percent of his passes. More importantly, he led the Texans to playoffs after an 11 win season which was a seven-win improvement over 2017. The second-year pro, who led Houston to five fourth-quarter comeback wins, had five games of 300 or more passing yards and eight multi-touchdown games.
The 6-foot-2, 220-pounder ranked in the league's top-10 in several categories despite being sacked 62 times, which is the fifth-most in NFL history. He also finished as the fourth-best fantasy quarterback.  Can he repeat the performance next year? Yes, I believe he can.
The Clemson product can beat opponents both with his arm and legs. He is an excellent scrambler who is very good at throwing on the run. Watson made tremendous strides in his accuracy overall last season and protected the ball extremely well. He thrives at throwing passes down the middle of the field. But he really excels at throws between 10 and 20 yards, registering a passer rating of 138 in all three quadrants -- which is well above the league average.
Watson will enter the 2019 campaign as a sure-fire top-five fantasy quarterback. The big reason is that the Texans offensive line has to be better than last year (doesn't it?) and rookie wideout Keke Coutee, who showed off an ability to be elite in his six appearances, is likely to be healthier. Still, the Texans need to add weapons to go along with Coutee, Miller and DeAndre Hopkins.
Faller - Demaryius Thomas, WR
Thomas endured his worst season this past year since his first two seasons in the NFL. The four-time Pro Bowler brought in a combined 59 passes for 677 yards along with five touchdowns in 15 games with the Broncos and Texans. He finished as the 43rd fantasy wide receiver in 2018 after not ranking lower than 23rd over the previous six years.
The 31-year-old tore his left Achilles tendon in Week 16 and was released by the Texans on Feb. 12. There is no timetable for his return, but he is planning on playing when he is cleared. So, fantasy owners should take a wait-and-see approach before investing in him in 2019, regardless of where he might end up.
Indianapolis Colts
Riser(s) -Marlon Mack, Eric Ebron
Mack made massive strides in year two of his development. While the 22-year-old failed to reach the 1,000-yard mark, he ranked 16th in the league in rushing yards (906), tied for seventh in rushing touchdowns (nine) despite playing in just 12 games. His 75.6 rushing yards a game also ranked in the top-10 of the league despite playing in just 12 games. Mack recorded five 100-yard games, which included a season-high 148 yard-performance in the Wild Card victory over Houston.
The former University of South Florida star should be able to improve in 2019 and will enter the campaign as a borderline RB1. Mack has shown the ability to be the team's workhorse, and he racked up 19 runs of 10 or more yards -- including 11 runs (four coming in the postseason) of at least 20 yards. He is also tough to bring down, producing 3.04 yards after initial contact. Indianapolis' offensive line ranked third by Pro Football Focus last season, although starting right guard Mark Glowinski is an unrestricted free agent. Mack is not a great pass catcher out of the backfield, however.
There are also rumors circling that Le'Veon Bell could end up in Indy.
Ebron was terrific in his first season with the Colts. The first-time Pro Bowler set career bests with 66 receptions, 750 yards and 13 touchdown catches. He added another rushing touchdown to give him 14 on the season which was the fifth most in the league. The 25-year-old had five games of at least five receptions along with five contests of 65 or more yards receiving.
The 6-foot-4, 253-pounder is slated to be the starter next season and should begin the season as a top-10 fantasy tight end. So, the big question is can he produce similar numbers? I believe the fifth-year pro is capable as he has accumulated at least 47 catches and 500 yards in each of his past four seasons. Ebron, who does have a history of dropping passes, should be able to improve his 60 percent catch rate this upcoming season.
Plus, coach Frank Reich has a tight end-friendly offense. The Colts' five tight ends last year combined for a league-high 21 touchdowns and 108 receptions, which was the third most in the league. Also, he is a great red-zone target due to his size.
Faller - Jack Doyle, TE
The 6-foot-6, 262-pounder entered last season as a top-10 tight end, and he got off to a good start to the campaign, hauling in seven of 10 passes for 60 yards. But he suffered a hip injury in Week two and missed the subsequent five weeks. Then, following Week 12, the 28-year-old was placed on injured reserve as a result of a kidney issue.
Doyle ended up being fairly productive despite appearing in just six games. He finished with 26 receptions on 33 targets for 245 yards and two touchdowns.
While Doyle is not slated to be the starter in 2019, he has shown enough versatility to play alongside Ebron and still be productive. The two players shared snaps in the six games that he appeared in, however, Doyle saw 70 percent of the snaps in five of the six contests. The Western Kentucky product was targeted six times in the red zone, including three times inside the 10, and he came up with five catches and two touchdowns during this period. Meanwhile, Ebron hauled in four of five red-zone passes and tallied four scores when both players appeared in the same game.
Doyle will unlikely go undrafted in fantasy leagues in 2019. But, he would be an excellent backup tight end in deep leagues.
Tennessee Titans
Riser(s) - Derrick Henry, RB
Henry came on strong real late in the season. The 25-year-old racked up 585 rushing yards and seven touchdowns of his career-high total of 1,059 yards and 12 touchdowns that he produced on the ground over the last four games. He garnered 80 rushing yards in each game during this stretch, topping the 100-yard mark twice.
Henry ran wild against the Jaguars in Week 13, setting a franchise record by rushing for 234 yards and four touchdowns. This included an NFL record-tying touchdown gallop of 99 yards midway through the second quarter.
The good news is that the fourth-year pro could have just cracked the ice of his potential as a "home run hitter." While he only had four runs of 20 or more yards, Henry did compile 30 runs of at least 10 yards and averaged at least four yards per carry in eight of his last nine contests. Plus, the Titans have said that the former Alabama star will be a huge part of the offense next season, which could mean that he will also be more involved in the passing game which would only help his fantasy value. As a result, Henry should be considered a top-10 running back heading into the 2019 season with tremendous upside as he is explosive in the open field and a load to bring down.
Faller(s) - Dion Lewis, Marcus Mariota
After two years of being ranked among the top-18 fantasy quarterbacks, Mariota dropped to 24th this year. A big reason for the dip in production was injuries, an offensive line that couldn't protect him and the fact that the Titans had an outstanding running attack.
Mariota attempted the fewest passes of his career and averaged just 180.6 passing yards a game, which is the lowest total of his career. He also tossed a personal-low 11 touchdowns and was sacked 42 times. The 25-year-old did add a career-high 357 yards and two touchdowns on the ground. Mariotta, who posted a career-worst 53.1 QBR, also led two fourth-quarter comebacks and three game-winning drives.
Despite his poor statistical season, there are signs that Mariota will bounce back in 2019. Not only was the fifth-year pro the most accurate of his career as he completed 68.1 percent of his passes, but he also recorded a completion+ percentage of 119, marking the first time that he posted a mark over 100 (which is average) in that category in his career. The former No. 2 overall draft pick also threw the ball down the field well this past season, posting a passer rating of at least the league average in five of the six quadrants of passes over 10 yards, including all three quadrants of 20 or more yards. Additionally, he cut his interception rate from 3.7 percent in 2017 to 2.3 percent in 2018 and graded out as the 18th best quarterback overall by PFF and the 20th best passer.
Mariota also should benefit from the promotion of tight ends coach Arthur Smith to offensive coordinator as he will likely make good use of three-time Pro Bowler Delanie Walker and third-year specimen Jonnu Smith. The Titans will also look to add talent at receiver to go along with Corey Davis and  Taywan Taylor, who came on late in the season. So, if the team also improves the offensive line and the running game can come close to matching the production from last year, the Titans could be a playoff team in 2019.
Lewis didn't have a terrible season, but he fell from being the 12th-best fantasy running back to the 36th in 2018. A year after having his best season running the ball with the Patriots, the 28-year-old totaled 517 rushing yards and one touchdown on 180 carries. He did set career highs with 59 receptions and 400 receiving yards. While Lewis also earned a personal-best 214 touches, he averaged a career-low 3.3 yards per carry and just two touchdowns overall, which was down from a career-best nine in 2017.
Lewis is slated to back up Henry next year. However, as a result of his pass catching ability and the fact he will earn a decent workload, he will still have some fantasy appeal, especially in PPR leagues.
Jacksonville Jaguars
Riser - Dede Westbrook, WR
The 24-year-old separated himself from the Jaguars' other two top receivers, Donte Moncrief and Keelan Cole, as the team's No. 1 wide receiver going forward. Westbrook led the team in receptions, receiving yards, targets, receiving touchdowns, yards after catch and receptions of 20 yards. More importantly, he led the team in reception rate at 65.3 percent and 38.8 percent of his catches resulted in a first down.
Westbrook, who has electrifying speed, was not a one trick pony last year. The second-year pro also added 98 rushing yards on 10 attempts and 303 return yards with 266 yards coming on a punt return, which included a  long of 74 yards that resulted in a touchdown against the Redskins in Week 7. However, he does need to be more consistent as the Oklahoma product topped 50 receiving yards five times this season and just once over the final 11 contests. Westbrook also dropped eight passes, which was the second most in the league.
Westbrook should enter next season as a WR3, however, he could have a breakout campaign as the Jaguars could have a new signal caller next season. The reason for the optimism? He was both Blake Bortles and Cody Kessler's favorite target this past season. Westbrook hauled in seven of a team-high 13 red zone targets with five of those targets coming inside the 10. In addition, he is pretty good at creating separation between himself and defenders.
Marqise Lee's return to form also could benefit Westbrook. Lee missed all of last season after suffering a major knee injury during the preseason.
Faller(s)- Blake Bortles and Leonard Fournette
Things changed real quickly for Jacksonville this season. The division favorites went from three wins in 2016 to 10 victories and a berth in the AFC championship game last year to five W's this past season. The Jaguars won three of their first four contests by outscoring their opponents 88-56. But that was the end of the good news as the Jags failed to hit the 20-plateau in 10 of their last 12 outings. The team ranked 31st in the league in scoring at 15.3 points a game.
The Jaguars ranked 27th in total offense (302), 26th in passing yards (196.6) and 19th in rushing (107.7) in 2018. In comparison, Jacksonville led the league in rushing, was sixth in total offense, 17th in passing, and fifth in scoring a year ago.
Bortles and Fournette have taken the brunt of the blame and for a good reason. Both players entered the year with high expectations and both finished with highly disappointing campaigns.
For the third year in a row, Bortles' passing yards has declined to a tune of a career-low 2,718 yards as he also attempted the fewest passes of his career. The 26-year-old was benched for three games after the Jaguars 24-21 loss to the Bills as he completed just 12 of 23 passes for 127 yards along with one touchdown and two interceptions. The second interception set up the Bills' Stephen Hauschka's 22-yard field goal that put Buffalo up 24-14 with 3:06 remaining in the game. He finished the year with 13 touchdowns and 11 interceptions.
Bortles did have a few big games, topping the 300-yard plateau on four occasions with the Jaguars winning two of those games. However, the former UCF star did not top 130 yards through the air in any of his last four appearances. On the plus side, he totaled 365 rushing yards and one touchdown on 56 carries. The fifth-year pro entered the season with a 15th round ADP and finished the year as the 32nd best quarterback, according to Pro Football Focus, and the 26th-ranked fantasy signal caller. It was the lowest fantasy ranking of his career.
Fournette had a fantastic rookie campaign in 2017. But he got off to a slow start this past season, in part due to a hamstring injury and putting on weight, and then really blew up in the Jaguars 24-21 loss to the Bills on Nov. 25. The 24-year-old got off to a fantastic start in the game against Buffalo, scoring twice on short runs. He tied his season high with 95 rushing yards on 18 carries before getting ejected late in the third quarter along with the Bills' Shaq Lawson. Fournette was also suspended for one game.
With Fournette having a second-round ADP this past, he qualifies as a surefire bust. But in reality, besides appearing in only eight games and earning 133 carries, his numbers aren't that far off from his rookie season. Granted, the 3.3 yards per carry the former LSU star registered was a major disappointment, and he did not post a 100-yard game, which is something that he did six times during his first season.
It will be surprising if Bortles is not with the club next season as he signed a three-year, $54 million contract prior to the 2018 season. The Jags would take a large cap hit if they released him this year. But he certainly is not guaranteed to be the team's starter. Fournette, who lost his contract guarantees, is expected to become the team's featured back in 2019. There is a caveat and that is if he comes into training camp in great shape and a new found attitude.
If Fournette does not do what is expected, Carlos Hyde along with Thomas Rawls and David Williams are available to take over the workload.
More Fantasy Football Year-in-Review