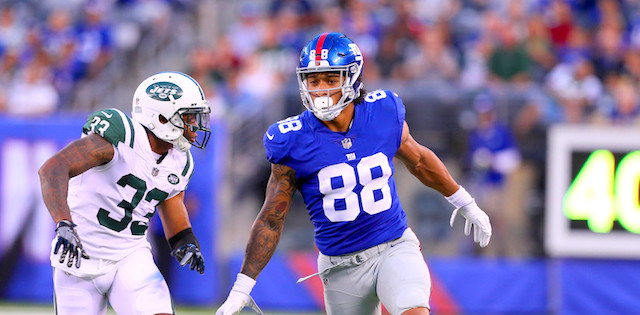 We know about the big three tight ends but most of us won't own one of them in every fantasy football league. When it comes to the next tier, Evan Engram and Hunter Henry are among the most popular choices.
In our latest ADP Showdown, Pierre Camus and Steve Rebeiro take opposite sides of this debate to decide which TE is the better choice. Both have an average ADP in the 6th round in 12-team, PPR leagues, but fantasy owners can only choose one.
When you're done here, also check out our ADP Showdowns on Gurley vs. Conner, Beckham vs. Brown, or Fournette vs. Williams.
Editor's Note: Get any rest-of-season NFL Premium Pass for 50% off. Our exclusive DFS Tools, Lineup Optimizer and Premium DFS Research through the Super Bowl.
Sign Up Now!
The Case for Engram
ADP: TE5 (64 Overall)
Evan Engram started out the 2018 season as one of the most disappointing tight ends in the league. He hit the sophomore slump hard due to a combination of injuries and poor offensive play as a whole. Still, Engram was able to come back strong at the end of the season. He finished with at least five catches and 75 yards in each of his final four games. Engram ended the season with the seventh-highest PPR points-per-game among tight ends.
A major factor for Engram's resurgence near the end of the year was that Odell Beckham Jr. was on the sidelines with an injury. Engram wound up being the de facto number one option through the air. Heading into 2019, Engram will split targets with a banged-up Sterling Shepard and an aging Golden Tate. Engram and Saquon Barkley may very well lead the team in targets next season. With Beckham out of the picture, the Giants lost their favorite red-zone receiver. Engram has a chance to blow-up in 2019 if he can stay healthy.
Both Hunter Henry and Evan Engram essentially have two seasons of football under their belts. Engram has more total yards in three fewer games and is averaging 14 more yards per game on his career. While Henry has more touchdowns than Engram, Henry's total may be a bit bloated. He scored eight touchdowns in his rookie season, a year where Keenan Allen only appeared in one game before suffering a season-ending injury. When both Allen and Henry were healthy in 2017, Allen doubled Henry's red-zone targets.
While Henry will still be fighting for targets with Allen and an emerging Mike Williams, Engram is heading into his first full season without Beckham in New York. Engram played his best football of the year by far with Beckham on the sidelines last season. Engram may very well be the best pass-catcher on the Giants besides Barkley. Not only is his floor higher than a guy who didn't catch a single pass in 2018, he probably has the higher ceiling.
The Case for Henry
ADP: TE6 (66 Overall)
We might as well throw last year's stats out the window for this debate. That'll be easy in the case of Henry since his stat line reads as such: zero receptions, zero yards in zero games. A year has gone by since he tore his ACL in OTAs, which means Henry is ready to officially begin his third-year breakout., Engram might be the exception, continuing to decline from his rookie season and putting up even worse numbers than last year.
First, let me explain why I'm still bullish on Henry. He gives the team another red-zone threat. The Chargers spent a lot of time in the red zone last year but they preferred to run the ball with Melvin Gordon. While we all optimistically like to believe he will be back in time for Week 1 and all will be dandy. This is a serious concern that could lead the Chargers to a more pass-heavy offense if they are without their top RB for any length of time.
Engram is in the opposite situation. The Giants were bad last year, especially on offense. This isn't breaking news. They ranked 17th in yards per game and 16th in points per game. That was with Odell Beckham, one of the top wideouts in the league. They don't have him anymore but they have the same exact quarterback, unless they bring in rookie Daniel Jones (yikes). Talk of their offensive line improving is overblown. I wouldn't say that Kevin Zeitler or re-signing Spencer Pulley and Jon Halapio are instant impact-makers.
The recent rash of injuries and suspensions has made fantasy owners overzealous as they envision Engram as the #1 receiver in the Big Apple. There are two big caveats here.
First, Sterling Shephard's injury isn't believed to be serious and he is hoping to be back by Week 1 of the regular season. Golden Tate is appealing his suspension and states he is optimistic that it will be dismissed, but it's still just four games. Even in the worst-case scenario, these two receivers will be on the field for the majority of the season.
Second, if/when these receivers are not playing, does this help or hurt Engram? The Giants' offense is already suspect. If they are rolling out Kelvin Benjamin and Darius Slayton on the outside, Engram is sure to get extra attention from safeties. His targets will rise exponentially but not necessarily his production. Henry is far more likely to benefit from the absence of Melvin Gordon on a team that is a strong playoff contender, not a hot dumpster fire. Give me the guy on the better offense any day.
More ADP Showdown Articles