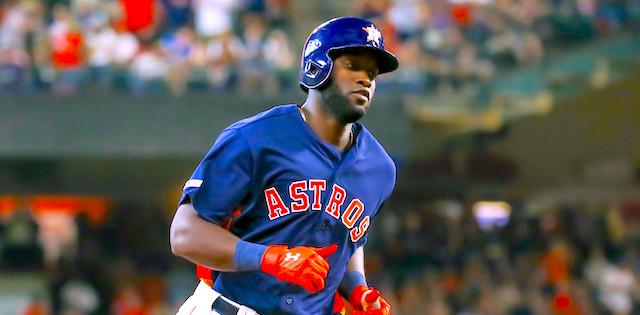 Average Draft Position (ADP) is a must-have piece of information when it comes to drafting. While every league is different and may have a particularly aggressive or conservative group of owners when it comes to certain players, it's the best tool we have when analyzing players' value. Now, instead of just talking about total ADP from all sites, we're going to look at Yahoo's respective ADP data.
Specifically, we're going to talk about players who are priced higher or lower — being selected earlier or later — on Yahoo compared to other sites. The price tag being higher doesn't make them undraftable and being lower doesn't make them an automatic steal, but it helps to stay oriented with the bigger picture of ADP data. If you draft with our staff ranks, you'll want to keep this in mind. In general, players on Yahoo can expect starting pitchers to be undervalued, while first basemen and outfielders tend to be overvalued against the average.
What we're looking to sidestep is the anchoring effect — a cognitive bias where we over-rely on the first piece of information encountered (such as the ADP ranking column in a draft room). Here, we simply raise awareness of those whose draft stock is seemingly getting raised or dropped based on nothing other than the site's default rank. ADP data current as of March 8.
Featured Promo: Get any full-season MLB and DFS Premium Pass for 50% off. Exclusive access to our Team Sync platform, Premium articles, daily Matchup Rating projections, 15 lineup tools, DFS cheat sheets, Research Stations, Lineup Optimizers and much more!
Sign Up Now!
Cheaper Early-Round Picks on Yahoo
Matt Olson (1B – OAK) – Yahoo ADP: 71 (ESPN: 70, RTSports: 64, NFBC: 54, Fantrax: 44, Average: 60)
Price check on power? If I told you Olson hit 36 homers with 91 RBI last season, you'd probably think that adds up with a fifth/sixth round pick. If I told you he did so in just 127 games after suffering a broken hamate bone, then you might slap me upside the head...but here we are!
Despite the potentially power-sapping injury, Olson's 97.1 MPH average exit velocity on flies and liners was tied with teammate Matt Chapman for ninth-best among qualified hitters. At 26 years old, Olson is one year removed from playing in all 162 games and two years removed from smashing 24 homers in just 59 games. We're a sophomore slump and acute injury not tied to durability away from a potential superstar. At pick 71, you've got a great price point to buy in and see what a full season of veteran-Olson can produce.
Marcell Ozuna (OF – ATL) – Yahoo ADP: 106 (ESPN: 55, RTSports: 107, NFBC: 101, Fantrax: 92, Average: 92)
Ozuna's Statcast profile is painted in deep red, with exit velocities, hard-hit rates, an xwOBA and an xSLG all in the top 10% of players. Just look at these glorious hit metrics: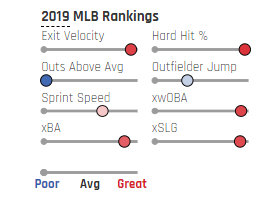 He goes from a good-not-great St. Louis lineup to an incredible Atlanta one, where that top of the order can bang with anyone. Ronald Acuna Jr., Ozzie Albies and Freddie Freeman helped Josh Donaldson reach 190 R+RBI alongside his 37 homers in 2019, and now Ozuna gets that slot.
In just 130 games (549 PAs) last season, Ozuna not only popped 29 homers with a 22.1% HR/FB rate, but he upped his walk rate from 6.1% to 11.3% and stole a career-high 12 bases. He had only stolen nine bags in his past five seasons combined! If he's getting more comfortable in the box and the basepaths, we could see something very special in 2020 if even half of that bad luck goes to torment some other soul.
Jeff McNeil (2B/3B/OF – NYM) – Yahoo ADP: 107 (ESPN: 85, RTSports: 103, NFBC: 91, Fantrax: 87, Average: 94)
McNeil is a career .321 hitter through 196 games (815 PAs) who had showed muscle before last season's 23-homer burst. Despite hitting just three homers in 63 games a year ago, McNeil had smacked 14 homers in just 57 Double-A games back in 2018. I'm mentally prepared for some power regression, juiced ball or not, but I don't believe the floor is below 10 HRs or anything either.
So he boasts an amazing average with some pop, though he only went 5-for-11 on steal attempts after going 7-for-8 in '18. Expect roughly 6-8 and be pleasantly surprised if he exceeds that. According to our Expected Draft Values metric, he's worth close to the 87th pick rather than 107th. And that doesn't bake in the 2B/3B/OF versatility that you get on Yahoo.
Patrick Corbin (SP – WAS) – Yahoo ADP: 51 (ESPN: 45, RTSports: 34, NFBC: 43, Fantrax: 30, Average: 41)
Corbin was here last year and he's here again. While he didn't have the sick 2.47 FIP/2.61 xFIP/2.91 SIERA from 2018, his 3.25 ERA/1.18 WHIP with 238 K's in 202 IP more than hit value for drafters in 2019. His slider is simply wicked, though it would've been nice if he'd kept more control gains. His walk rate had fallen to 6% in '18, but jumped up to 8.4% last season. I'm hopeful he can find middle ground between the two. Regardless, back-to-back seasons of 200 IP with plus-plus K's means you smile wide and enjoy the sale.
Charlie Morton (SP – TB) – Yahoo ADP: 64 (ESPN: 50, RTSports: 47, NFBC: 59, Fantrax: 48, Average: 54)
Morton's price may rise as more top-end starting pitchers succumb to injury, but his Yahoo discount is nearly a full round in most formats. That's plenty of room for profit given his elite turnaround since adding velocity at the end of 2016. He was one of 10 qualified SPs with a strikeout rate of at least 30%, as well as one of 11 above 28% in 2018.
Not only that, but his 2.81 FIP in 2019 was bested only by Max Scherzer (2.45), Gerrit Cole (2.64) and Jacob deGrom (2.67), with no other qualified SP finishing below 3.00. He's got the whiffs and the ratios to offer SP1 upside for those that focus on hitting early, while also making for a monstrous SP2 on more balanced squads.
Other Cheaper Picks
C: Travis d'Arnaud -- Yahoo ADP: 298, Average ADP: 268
1B: Josh Bell -- Yahoo ADP: 91, Average ADP: 81
2B: Cavan Biggio -- Yahoo ADP: 163, Average ADP: 136
3B: Scott Kingery -- Yahoo ADP: 197, Average ADP: 186
SS: Amed Rosario -- Yahoo ADP: 187, Average ADP: 163
OF: Kyle Schwarber -- Yahoo ADP: 151, Average ADP: 137
OF2: Lourdes Gurriel Jr. -- Yahoo ADP: 188, Average ADP: 163
OF3: Byron Buxton -- Yahoo ADP: 192, Average ADP: 177
OF4: Adam Eaton -- Yahoo ADP: 208, Average ADP: 185
SP1: Madison Bumgarner -- Yahoo ADP: 131, Average ADP: 118
SP2: Jon Gray -- Yahoo ADP: 280, Average ADP: 246
RP1: Brandon Kintzler -- Yahoo ADP: 318, Average ADP: 288
Costly Early-Round Picks on Yahoo
Gleyber Torres (2B – NYY) – Yahoo ADP: 24 (ESPN: 33, RTSports: 29, NFBC: 29, Fantrax: 28, Average: 29)
Torres has pushed his way into the top-25 on Yahoo. Between the young-player hype and Bronx spotlight, I feel like the inflation rate is too much here. Yes, Torres is very talented in a plus park within a loaded (albeit injured) lineup. But he's unlikely to be a batting average or speed asset. He's unlikely to break 200 R+RBI or 40 HRs, especially with Judge not ahead of him to drive in. The five-pick gap doesn't look like much, but percentage wise that's nearly a 20% markup. I wouldn't plan on nabbing Torres on Yahoo teams if your plan has been to snag him around pick 30 on other sites.
Yordan Alvarez (DH – HOU) – Yahoo ADP: 34 (ESPN: 44, RTSports: 51, NFBC: 38, Fantrax: 29, Average: 39)
Alvarez' ADPs carry a wide range, perhaps due to eligibility cutoffs, but that's not my concern here. He's already missing time due to pain in both knees after citing this as an issue in 2019. This isn't some aging slugger to be nursed. This is a 22-year-old rising star on a strong offense, but one who can't play the outfield right now. One who admittedly fought through knee pain last season despite primarily DHing.
New skipper Dusty Baker wants to rest his veterans enough to stay strong for October, which could mean some occasional DH appearances for the other stars. If Alvarez can't lace up in the field then he may only play 130-135 games, limiting the upside for such an early pick. I know he's a strong, talented hitter, but injuries will find you. Investing this early in them is tough.
Javier Baez (3B – CHC) – Yahoo ADP: 29 (ESPN: 29, RTSports: 37, NFBC: 37, Fantrax: 64, Average: 39)
I'll try not to make this about Fantrax's rank, because I feel it must be some reflection of points leagues where speed gets discounted. Still, Yahoo (and ESPN) have Baez eight picks above RT and the NFBC. A magician in the field and the batter's box, Baez may return top-30 value but you're hoping to break even at this pick.
His 24.4% HR/FB rate was steady with 2018's 24.3% mark, resulting in 29 homers in just 561 PAs, but he went 11-for-18 (61.1%) on the basepaths after going 43-for-58 (74.1%) from 2016-18. He also hit grounders at a career-high 50.3% while maintaining his ~27% strikeout rate and ~18% swinging-strike rate. He's a stud who can contribute in all categories with added versatility, so I understand buying in. Just be aware that you're paying full price at Yahoo.
Tim Anderson (SS – CHW) – Yahoo ADP: 90 (ESPN: 126, RTSports: 117, NFBC: 93, Fantrax: 120, Average: 109)
Anderson's batted-ball profile exploded in 2019, with his average exit velocity spiking to 88.3 MPH from 85.6 MPH. That fueled a .294 xBA behind the .335 BA, and he got more opportunities to shine by trimming his strikeout rate yet again. It started at 27.1% in 2016, going to 26.7% in '17, 24.6% in '18 and 21% flat last season. He still struggles to draw a walk (2.9% BB rate in '19) but Statcast had his zone-contact rate soar from 82.2% to 87.7%. Check out the profile, per Fangraphs:
With his plus wheels, putting bat on ball is paramount. Just as Marcus Semien splashed up to 123 runs scored atop Oakland's lineup last season, Anderson could hit the 110-120 range with Chicago's beefed-up order.
Brandon Workman (RP – BOS) – Yahoo ADP: 122 (ESPN: 133, RTSports: 133, NFBC: 145, Fantrax: 174, Average: 141)
Workman had an undeniably amazing 2019 and has been rightfully anointed Boston's closer for 2020 due to it. He allowed one barrel across 71 ⅔ IP, recording a 1.88 ERA/1.03 WHIP en route to 10 wins and a lowly .209 BABIP. He allowed an average exit velocity of 87.5 MPH, good for 161st out of 436 pitchers (min. 100 batted-ball events). That doesn't scream historic season to me, but Statcast recorded more spin on his four-seamer and the results showed.
His overall expected batting average against heaters, cutters and curves -- his three pitches -- all fell below the Mendoza line. His .173 xBA and .233 xSLG are simply absurd, and the 36.4% strikeout rate only amplified the fantasy results. But his 15.7% walk rate means he must lean on that BABIP and HR rate staying low, and Fenway Park is rarely kind to pitchers over the long run. I'm not saying he can't succeed, but 2019 sure looks like an anomaly.
Other Pricier Picks
C: Carson Kelly -- Yahoo ADP: 205, Average ADP: 236
1B: Howie Kendrick -- Yahoo ADP: 278, Average ADP: 317
2B: Whit Merrifield -- Yahoo ADP: 42, Average ADP: 52
3B: Vladimir Guerrero Jr. -- Yahoo ADP: 49, Average ADP: 61
SS: Corey Seager -- Yahoo ADP: 121, Average ADP: 135
OF1: Oscar Mercado -- Yahoo ADP: 119, Average ADP: 131
OF2: David Dahl -- Yahoo ADP: 135, Average ADP: 151
OF3: David Peralta -- Yahoo ADP: 225, Average ADP: 249
OF4: A.J. Pollock -- Yahoo ADP: 237, Average ADP: 268
SP1: Dinelson Lamet -- Yahoo ADP: 118, Average ADP: 135
SP2: Andrew Heaney -- Yahoo ADP: 175, Average ADP: 201
RP1: Keone Kela -- Yahoo ADP: 176, Average ADP: 202
RP2: Joe Jimenez -- Yahoo ADP: 183, Average ADP: 211