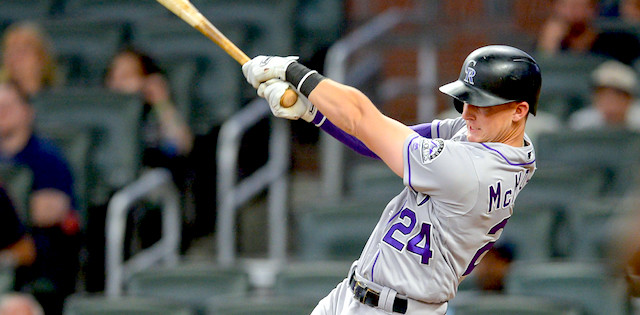 What Appears In This Article?
hide
The 2019 MLB campaign has reached Week 4, and there has been no shortage of friction and shake-ups among middle infielders on major league rosters. With many players still dealing with injuries, splitting time with their fellow teammates in hybrid platoon situations, straight-up ugly starts to the year, and the threat of prospect call-ups to take their spot, I find myself spinning on this Easter Sunday trying to make heads or tails of it all. Thankfully, a a handful of individuals have stepped up in the past week, or have displayed a specific skill set that shines bright enough to stand out among the pack.
As always, the second base and shortstop positions are notoriously lacking in waiver wire depth and are therefore quite fickle to navigate. Each week of the season, we are going to be taking a look at seven middle infielders who are worthy of acquisition (or strong consideration at the very least), and are owned in less than 50% of Yahoo Leagues. Staying on top of the injury, roster, and statistical trends regarding the middle infield positions will ensure that your team has year-long robust depth and is ready if a crisis situation were to arise.
With that, let's have at it and take a look at a fresh batch of second base and shortstop waiver wire targets for Week 4.
Editor's Note: Our incredible team of writers received 13 award nominations by the Fantasy Sports Writers Association including Baseball Writer of the Year, Football Writers of the Year, Golf Writer of the Year and many more! Be sure to follow their analysis, rankings and advice all year long, and win big with RotoBaller!
Read More!
Week 4 Middle Infield (2B/SS) Waiver Wire Targets
Ryan McMahon (1B/2B/3B, COL) - 40% Owned
24-year old Ryan McMahon has been a consensus top-100 prospect for the last few years, and he has certainly earned that distinction with 25 HR, seven SB, and a slash of .337/.379/.577 across 513 AB at Triple-A. McMahon didn't have a good rookie stint for the Rockies in 2018, finishing with five homers and a less-than pedestrian OPS of .683, but 2019 is already looking up in a big way for the Mater Dei High School alumni.
He finished this year's round of spring training with three dingers and an impressive slash figure of .439/.476/.789 through 57 AB, and has kept the ball rolling for the Rockies since his return from the ten-day IL with a left elbow sprain. Since being activated by Colorado, McMahon has already notched two HR (four XBH), one stolen base, and an OPS of .808. He is a defensively versatile player, and has already made starts at first base over Mark Reynolds and third base in replacement of Nolan Arenado. While second base is currently occupied for Colorado (by the next player we will be discussing), McMahon's meteoric rise has securely supplanted his place at first over Reynolds, and his spot directly behind Trevor Story in the batting order should make for some explosive results in Coors Field. He has been one of the most heavily added assets off of the waiver wire in the past week, so don't waste any more time deciding if this is a ride you want to be a part of.
Garrett Hampson (2B/SS, COL) - 38% Owned
While his teammate Ryan McMahon has been off to a hot start for Colorado, Garrett Hampson has coincidentally been off to...a rocky start. Over the first 20 games of the season the former Cal State Long Beach 49er has produced just one HR, one SB (in two tries), and a hideous slash of .191/.211/.294. However, despite this disappointing start to the regular season, there is still plenty of reason to be optimistic about the 24-year old replacement in the second base slot that was long occupied by DJ LeMahieu.
After three seasons and 1,233 AB in the Colorado farm system, Hampson had amassed 20 yard-knocks, a well-rounded slash of .315/.389/.457, and an incredible 123 stolen bases out of 146 attempts for an 84% success rate. Hampson's competence at the plate paired with his top-tier ability to swipe bags finally earned him a top-100 prospect distinction before 2019 by Baseball America and Baseball Prospectus. Hampson carried his minor league momentum successfully into spring training where he tallied four homers, hit for a .991 OPS, and once again demonstrated his base-running prowess with seven steals (out of nine attempts) in just 42 AB. While he has gotten off to a slow start to his first MLB regular season and he typically hits out of the #2 or #7 spot in the order, his security at second base paired with his ability to consistently reach base and steal a high volume of bases is the makeup of an extremely interesting middle infield asset. Look for his uncharacteristically high strikeout rate to subside as he adjusts to major league pitching, and his bat will start to find a rhythm in notoriously hitter-friendly Coors Field.
Willy Adames (2B/SS, TB) - 27% Owned
Another piece in the Tampa Bay Rays youth movement warrants waiver wire consideration, though this one isn't making it easy on the surface. I'm talking of course about 23-year old former top-25 prospect, Willy Adames, who has gotten off to a troubling start of just one HR and a .232/.293/.333 slash over 69 AB. While he achieved slightly more power/speed success during spring training with two homers and two steals (in three tries), he still came up extremely flat at the plate with a .627 OPS over 16 games. So we can all agree: Adames hasn't exactly set the world on fire in 2019. Despite that, there is still plenty of reason to keep him under your watchful eye.
In 751 AB at the Triple-A level, Adames produced a slightly above-average slash of .280/.358/.414, which reflects his greater skill in plate-discipline as compared to power propensity. However, in that time he also consistently displayed the ability to pair a modest yet significant power/speed game with his fantastic BA and OBP, hitting for 14 HR and stealing 14 bases in 22 attempts. This is also consistent with his major league production from 2018 in which he managed ten homers, six steals, and a slash of .278/.348/.406 in 288 AB. He typically bats near the end of the order and the Rays aren't exactly hurting for young and talented infielders, but Willy Adames appears to be valued highly enough at shortstop from a defensive perspective to remain safe in the lineup. With that being said, despite his struggles thus far in 2019, he remains an excellent candidate to put up a solid HR/SB total with a solid BA and OBP moving forward.
Jed Lowrie (2B/3B, NYM) - 22% Owned
It is rather important to note that Jed Lowrie remains on the IL with a capsule sprain in his left knee and is slated to be out until May. With that in mind, given his low rate of ownership, let's make the case for stashing the former Stanford Cardinal before it's too late. It's pretty rare that a player breaks out for the two best seasons of a lengthy MLB career at the age of 33 and 34, but that's exactly what Lowrie did for Oakland in 2017 and 2018. In those two consecutive campaigns he produced 37 HR (14 in 2017 and 23 in 2018) and slash figures of .277/.360/.448 and .267/.353/.448, respectively. He even earned his first All-Star selection and a top-20 finish in the AL MVP voting last season in his pinnacle year with the Athletics.
A change of scenery from Oakland to Queens may have been appropriate for Lowrie, considering the fact that last year he managed to produce just four homers and a .710 OPS in 284 AB at the Coliseum while he fared much better in 312 AB on the road with 19 knocks and a .282/.362/.522 slash. The drawbacks are clear: this injury paired with his age of 35 years deserves a healthy level of skepticism and trepidation, and even his best seasons are characterized by month-to-month inconsistency. Though the Mets currently sport some fresh pieces in the infield like J.D. Davis, Lowrie should be coming back from his injury with sufficient clout from the last two seasons to find his way into the third base slot, at least until the Todd-Father returns. Even then, while Robinson Cano has second base locked down, Lowrie should still carry considerably more value than Amed Rosario at shortstop. Taking that into consideration, Jed Lowrie is available in way too many leagues, and is well-worth a low-risk/high-reward stash for May.
For the Sneaky and Savvy
Leury Garcia (2B/SS/OF, CWS) - 7% Owned
We can all always go for a robust BA/OBP player with a high volume of steals to boot, and "El Molleto" appears to fit the bill. With a .296 BA, .344 OBP, and 63 swipes in 87 tries through 900 Triple-A AB, he commands attention for his base-running totals alone. Though he has started at a mediocre clip at the plate for the south side to start the season, he has still stolen four bases and can continue to offer speed until he begins reaching base at a more respectable pace.
Daniel Descalso (1B/2B/3B, CHC) - 6% Owned
Veteran utility man Descalso is off to a hot start in his first 51 AB for the Cubbies, mustering up one homer, one steal, and a laser-focused slash of .314/.386/.451. Addison Russell remains suspended until the start of May, and until then Descalso has a firm grasp of second base, even over Ben Zobrist. With his hot hitting and wise work at the plate, he could quite easily remain a fixture in Chicago's lineup after Russell returns, and he has plenty of opportunity to do statistical damage with a frequent slate at the top of the order.
Neil Walker (1B/2B/3B/OF, MIA) - 2% Owned
Neil Walker has definitely started trending downward at the plate since 2017, but it seems that everyone was quite quick to forget about what the 2014 Silver Slugger brings to the table. He's still hit three balls yard despite ugly results on offense to kick off the 2019 regular season, and he hit four bombs with a .500 slugging percentage across 40 spring training AB. He remains eligible across the infield, and has majority share of the work at first base in Miami. If nothing else, he is a ubiquitously available asset who is a strong bet to hit for power down the road this year.
More Waiver Wire Pickups and Streamers
Check out RotoBaller's entire fantasy baseball waiver wire pickups and sleepers list, updated daily!