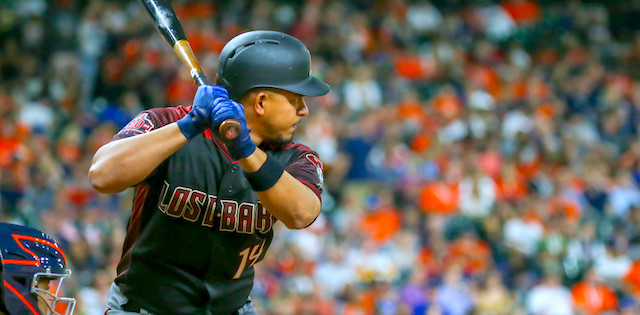 The 2019 MLB campaign has reached Week 3, and as typically comes with the first month of the season, we find ourselves both befuddled by the surprising starts of some players and desperately awaiting the acceleration of others. With still a limited sample size of AB under each player's belt, it could cause any human to break into a cold sweat trying to figure out which players to drop like Blockbuster stock and which to hitch your wagon to moving forward.
As always, the second base and shortstop positions are notoriously lacking in waiver wire depth and are therefore quite fickle to navigate. Each week of the season, we are going to be taking a look at seven middle infielders who are worthy of acquisition (or strong consideration at the very least), and are owned in less than 50% of Yahoo Leagues. Staying on top of the injury, roster, and statistical trends regarding the middle infield positions will ensure that your team has year-long robust depth and is ready if a crisis situation were to arise.
With that, let's have at it and take a look at a fresh batch of second base and shortstop waiver wire targets for Week 3.
Editor's Note: Get any full-season MLB Premium Pass for 50% off, with exclusive access to our season-long articles, 15 in-season lineup tools and over 200 days of expert DFS research/tools.
Sign Up Now!
Week 3 Middle Infield (2B/SS) Waiver Wire Targets
Eduardo Escobar (3B/SS, ARI) - 45% owned
Here's the bad news: Eduardo Escobar hasn't exactly played like an asset of value so far in 2019. He stunk it up in spring training with a .624 OPS and hasn't fared much better in his first 56 AB of the regular season, posting a discouraging slash of .214/.302/.339 with a single HR. Here's the good news: "El De La Pica" is coming off of two-straight emergent seasons, and currently finds himself in a consistent and advantageous position for the Arizona Diamondbacks.
The 30-year-old native of Venezuela hit 21 dingers, stole five bases, and produced a .758 OPS in 457 AB for the Minnesota Twins in 2017. He followed his breakout campaign with an impressive 23 HR (though only one SB) and hit for a well-rounded .272/.334/.489 slash in 566 AB (368 with the Twins, 198 with the D-Backs). The real question is: how has Escobar managed to knock 157 runners across home plate over the last two seasons? The answer is that he has been unconscious at the plate since 2017 with RISP, posting consecutive slash figures of .304/.341/.580 and .324/.383/.596 with his teammates eyeing a run. Escobar is versatile in his defensive capabilities, which always helps keep you on the field taking consistent AB. Look for Escobar to get his bearings back at the plate soon, and continue to thrive with RISP as his spot in the batting order is typically adjacent to a few other Diamondbacks who have been heating up lately like Adam Jones, Nick Ahmed, and Christian Walker.
Andrelton Simmons (SS, LAA) - 43% owned
As far as defense goes at the shortstop position, Andrelton Simmons is undeniably world-class. The four-time Gold Glove winner finished first in all of baseball in Defensive WAR for the 2017 season (4.2) and finished second in that category last season (3.1) to defensive prodigy Matt Chapman. The Western Oklahoma State College product also excelled at the plate over the last two seasons. He posted consecutive BA/OBP figures of .278/.331 and .292/.337, and though he is far from a power-threat, he has proven to be a sneaky power/speed player on offense by recording 25 HR and 29 SB over that span of time.
Simmons has so far had a dreadful time coming into 2019, notching a rock-bottom .299 OPS during spring training and an unsightly slash of .196/.211/.286 through the first 56 AB of the regular season. Simmons is far too valuable with his glove to lose playing time over an uncharacteristically weak start, and his work with the wood should start to look up quite soon. He has produced BABIP figures between .285 and .300 for the past four seasons, yet he has apparently been unlucky so far in how many batted-balls have been converted to hits as evidenced by his BABIP of .200 through the first 14 games. He is giving himself plenty of chances as well, as he seldom strikes out (12.3%). He has already nabbed two steals in his first two attempts, and once his batted-balls start dropping again, he'll be able to grab bags at a faster pace in conjunction with his typically-stellar BA and OBP.
Joey Wendle (2B/3B/SS/OF, TB) - 19% owned
Joey Wendle hit the 10-day IR just seven AB into the 2019 MLB campaign, but he is currently projected to return on Tuesday against the Baltimore Orioles. That should motivate a lot of team owners to exploit Wendle's injury-induced low ownership rate, because he's going to be an asset of impact once he returns to the field. Last season he arrived in a big way for Tampa Bay, putting up an extremely well-rounded slash figure of .300/.354/.435, seven homers (46 XBH), and an efficient 16 steals in 20 attempts over the course of 487 AB. Due to his promising effort, Wendle finished fourth in voting for AL ROY in an extremely talented rookie class that included Shohei Ohtani, Miguel Andujar, and Gleyber Torres. If you can actually believe it, Wendle led all rookies in WAR last season with a mark of 4.3.
Before he strained his hamstring, Wendle produced a body of work in spring training that read remarkably similar to his 2018 season, hitting for a .790 OPS, two HR, and three SB. The Tampa Bay Rays have caught all of baseball by surprise, getting off to a 12-4 start to the top of the AL East. They have largely accomplished this through a league-leading team ERA of 2.33, but the youth movement is in full swing across the roster. With Joey Wendle's overall value on the field, the Rays will be thrilled to have him back in the game. When that time comes, don't wait until he starts hitting XBH and stealing bases to add him to your roster.
Nick Ahmed (SS, ARI) - 15% owned
Speaking of players that have made themselves indispensable to their organization through their wizardry on defense, Nick Ahmed is a quintessential example. He finished fifth in baseball in Defensive WAR (2.7) during the 2015 season, and finished third in the league (2.9) last season on the way to his first Gold Glove award. His work on offense, in stark contrast, has been a long and steady development process. He struggled with reaching base by either a hit or walk last season, as evidenced by his .234 BA and .290 OBP. However, he developed inklings for a power game in 2018 and hit for 16 bombs (54 XBH) and a .411 slugging percentage behind a career-high .176 ISO.
Ahmed wasn't an efficient or high-volume base-thief in 2018, stealing five bases in nine attempts. However, he has already grabbed two bags in his first two tries this season, and has gotten off to an optimistic start with a slash of .310/.323/.466 through the first 58 AB of the 2019 regular season. He may appear at the back-end of the Arizona batting order, but he has been hitting adjacent to other competent hitters like Walker and Ketel Marte, and the Diamondbacks have been a surprisingly potent squad on offense thus far. If he is reaching base with relative frequency and continues to find the stands in hitter-friendly Chase Field, he'll be well on his way to another career-season.
For the Sneaky and Savvy
Ben Zobrist (2B/OF, CHC) - 12% owned
"Zobi-wan Kenobi" is not the versatile utility man that he once was, is no longer an everyday player for the 5-9 Chicago Cubs, and to make matters sketchier, he is pushing 40 years old. The three-time All-Star has nonetheless started the 2019 season with a signature display of his long-patented plate discipline, building off of his 2018 season that saw him hit nine pitches yard, steal three bases, and produce a .305/.378/.440 slash. With the Cubbies' offense still intact, Zobrist will continue to do damage by consistently reaching base in (or very close to) the lead-off spot in the batting order. Keep in mind that he is mainly deployed against right-handed pitchers, who he tuned up for an .828 OPS in 332 AB last year.
Brandon Lowe (2B/OF, TB) - 10% owned
24-year old Brandon Lowe went from promising in 2018 (14 XBH, two SB, .774 OPS) to ghost pepper-hot in 2019. He hit seven total homers and produced OPS of 1.109 and .925 through 102 AB over spring training and the regular season, making significant contributions to a young and hungry Rays squad. He put up some juicy power/speed figures last season in the minors (22 HR, eight SB, .949 OPS in 380 AB), and was rewarded with a top-100 prospect ranking by Baseball America.
Luis Urias (2B, SD) - 6% owned
Urias is just 21 years old, has already reached the major leagues, and is widely considered to be a top-25 prospect in all of baseball. While he has had an extremely limited professional sample size and has mostly appeared at the bottom of San Diego's order, he has already made starts at both second base and shortstop and the Padres have plenty of reason to wait things out and see what he can do. While his power/speed capabilities are still developing (along with the rest of his physique), his ten HR, four SB, and .300/.405/.457 in three seasons at Triple-A make him well worth keeping an eye on.
More Waiver Wire Pickups and Streamers
Check out RotoBaller's entire fantasy baseball waiver wire pickups and sleepers list, updated daily!