The 2021 NFL Draft RB class features two of the most productive RBs in college football history at the top. Najee Harris and Travis Etienne have both had storied collegiate careers and project as difference-making NFL backs. This class also features a talented duo from North Carolina and an enigmatic late-riser who produced at two powerhouse programs.
Unfortunately, the depth in this class is lacking. In today's football culture, the most talented athletes are playing QB and WR, a shift from the old days when coaches would typically put their best player at RB. We're starting to see the results of that shift in today's college game. Studying the film and athletic testing of this draft class has made it clear that having a stud QB or WR is more of a priority than developing a true workhorse runner at many college programs.
The purpose of this article to rank running backs based on where I would draft them if I were working for an NFL team. Projections are rooted in comprehensive film study and statistical analysis. As a background, I have more than seven years of experience coaching offense at the NCAA level.
Editor's Note: Our incredible team of writers received five total writing awards and 13 award nominations by the Fantasy Sports Writers Association, tops in the industry! Congrats to all the award winners and nominees including Best NFL Series, MLB Series, NBA Writer, PGA Writer and Player Notes writer of the year. Be sure to follow their analysis, rankings and advice all year long, and win big with RotoBaller!
Read More!
Najee Harris just does things. That's the best way to describe his style. Creativity is the most underrated trait in scouting RBs and Harris is an artist. Coming off an incredibly productive career at Bama (4624 yards from scrimmage, 57 touchdowns), Harris has the frame (6-2, 230) and film of a workhorse back. While he doesn't always run as physical as his size suggests, his ability to spin off contact, leap over defenders, and make guys miss is special. Harris is more Jeremy Hill than Derrick Henry, but he showed elite durability and improved receiving skills during his time at Alabama. There's fantasy greatness in his future.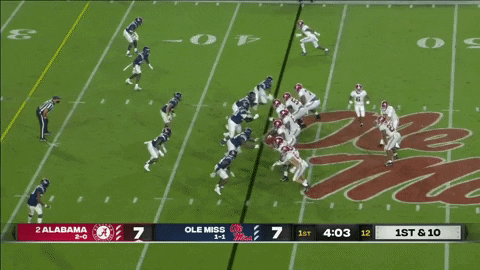 Travis Etienne is a true home run hitter with a great athletic profile and big-time production. Etienne scored 70 (yes, seven-zero) touchdowns during his four seasons at Clemson, flashing elite play speed and elusiveness in the process. He's a terrific pass-catcher and has excellent contact balance, especially using a spin move and falling forward.
Etienne is not a bruiser, and it's fair to question his lack of physicality as it relates to getting tough yards at the next level. His film running between the tackles is inconsistent. After returning for his senior season, Etienne put on a show against Miami and generally looked like he didn't belong on a college field anymore. His ceiling is an Alvin Kamara-type dual threat. The lack of hype surrounding his name is likely due to prospect fatigue.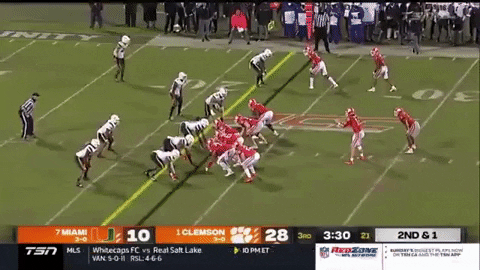 Javonte Williams was the 1A in the nation's most productive RB room at North Carolina, rushing 157 times for 1140 yards (7.3 ypc) and 22 touchdowns in 2020. He has adequate size at 5-10, 212, and tested well in agility drills at his pro day. His long speed didn't flash on film, so his unofficial 4.57 40 wasn't a major surprise, but it does cap his ceiling a bit. Williams' biggest strength is his ability to break tackles, as he broke the most tackles per rush (.48) since PFF started charting college games.
Williams' other positives include a tight burst, balance, low pad level, patience, and a consistent drive forward on every run.  While he runs with spirit and passion, he is not the most creative back and his film is tough to get a great grasp on due to the overwhelming dominance of North Carolina's rushing attack in terms of opening holes. There were long stretches against both Virginia Tech and NC State in which it looked like the defense was overmatched or gave up.
Williams' film also shows some promising pass protection reps, which may allow him to develop into a true three-down back depending on what NFL team drafts him. He has some borderline special RB-specific traits, but settling in as just solid is within his range of outcomes.
When scouting Kyler Murray back in 2018, I wrote in my notes how impressed I was with No. 4 from Oklahoma. Trey Sermon spent his first three years at Oklahoma, where he was at times overshadowed by Kennedy Brooks and Jalen Hurts, leading to his decision to enter the transfer portal. Ryan Day and Ohio State scooped him up after a couple of RB injuries, and the rest is history.
Sermon totaled 254 yards in the 2020 National Semifinal win against Clemson, showcasing his ability to run wide zone as well as any back in this class. The Ohio State offensive line was tremendous, consistently opening up gigantic holes for the 6-0, 215-pound Sermon. Isolating the traits from team performance, Sermon did show translatable skills, especially in terms of foot quickness, balance, and wiggle. There are multiple instances on film of him using his hand to stay up, transferring practice field drill work into game situations.
Sermon's pro prospects involve a lot of projection, as his mastery of the wide zone scheme is probably not a true one-to-one translation. The creases he was able to take advantage of will not be as pronounced in the NFL, so he will have to develop more creativity, especially on the interior, to reach his full potential. The good news is that his quick-cut ability, confirmed by his impressive 6.84 3-cone at his pro day, translates to any run scheme. Sermon also had an elite 1.49 10-yard split on his 40, and that burst is evident on film as well. Although his 4.61 40 isn't ideal, home run speed isn't his game. Only four RBs in this class project as starters and Sermon is the fourth. The drop-off from him to the next back is significant.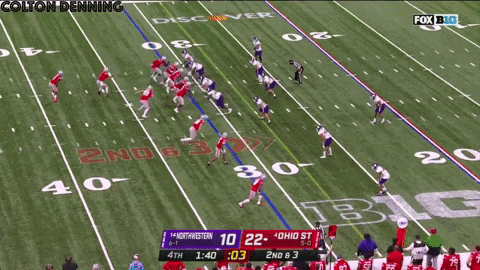 Michael Carter had just one less carry than Javonte Williams at North Carolina in 2020, rushing 156 times for 1245 yards and 11 scores. His insane 8.0 yards-per-carry average was better than Williams' also-amazing 7.3. Both RBs were tough to evaluate due to the overwhelming potency of the Tar Heel rushing attack from both a schematic and personnel standpoint.
Carter's best trait is his quickness, confirmed by a 98th percentile agility score on PlayerProfiler. While long speed is not necessarily a huge strength (4.54 40), Carter was more of a big-play threat than Williams and showed some whoa moves in the open field. The issue with Carter is in his translation to the pro game. He doesn't have elite burst, especially considering his lack of ideal size at just 5-8, 208. He's not powerful and his film showed ball security flaws at times. The production is great, but evaluating players is not only about college performance. I don't know how much "NFL stuff" he really does on film.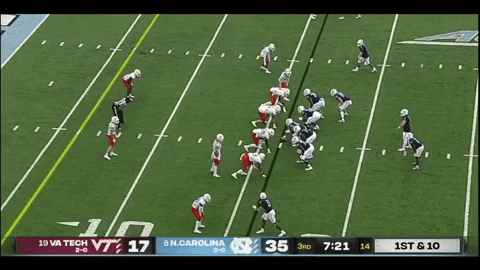 Memphis has produced solid RB prospects the past two drafts, and Kenneth Gainwell has a chance to be a day two pick.  Gainwell showed some tackle-breaking skills against Temple and Ole Miss and has terrific balance, the most underrated trait in scouting. He knocked down Micah Parsons, flashes some elusiveness, and possesses a smooth jump-cut. Unfortunately, he is lacking as a blocker and gets jolted back by real tackles inside the box. What makes him special is what he does at the second and third levels, in some cases against lower competition. He's a space player with limited upside, and his speed (unofficial 4.47) and agility scores are underwhelming for his size at 5-8, 201.
In this RB class, taking a chance on Javian Hawkins might make more sense than trying to find a starter with one of the second-tier bigger backs. Hawkins showed legitimate big-play speed at Louisville, reversing field and scoring long touchdowns against decent competition. He's quick with a thin lower body, which will likely preclude him from being anything more than a speed guy in a committee. There are reps where he's overwhelmed against size between the tackles, especially against Miami. A pinball-type playmaker at just 5-9, 183, Hawkins needs space to be at his best, but he is explosive.
Jermar Jefferson flashed home-run big-play ability at Oregon State, with a 6.5 yards per carry average for the Beavers in 2020.  He gets skinny through the hole, has legit burst, smoothness, and showed some excellent cutbacks on the outside zone. The issue with the 5-10, 206 Jefferson is that he's not powerful and doesn't project to break many tackles at the next level. He also ran into his blockers too many times on gap scheme runs. With limited power and a surprisingly slow unofficial 4.60 40 at his pro day, the wiry and slippery Jefferson profiles as a potential 1B runner in a committee.
Khalil Herbert is a short-stepper with patience who falls forward on most runs. His foot quickness is an asset, but he just doesn't show ideal burst through the hole and sometimes looks hesitant, which won't work as an average athlete with average size. While he runs his feet on contact well, he doesn't run away on the edge and I don't see some of his dancing translating.
With underwhelming depth in this class, taking a chance on a relative unknown in JaQuan Hardy might be worth a shot in the mid-to-late rounds. Hardy didn't get to play in 2020, as his Division II school Tiffin didn't have a season. In 2019, he was dominant against lower-level competition, displaying great change-of-direction skills and some power. I just wish he was a little bigger (5-8, 211) or more athletic (4.56 40). A 7.6 yards per carry average with over 200 carries is intriguing production regardless of the level of competition.
Jaret Patterson had some legendary production at Buffalo, but he's 5-6, 195 with below-average athletic testing numbers across the board. Patterson has a nose for the end zone and runs with good leverage, but he's tight-hipped and lacks NFL-level strength.
Chuba Hubbard rushed for over 2000 yards (6.4 YPC) in 2019, but in seven games in 2020, he totaled just 625 rushing yards (4.7 YPC). The film shows some speed and athleticism but very little in the way of translatable running traits. He had ball security and balance issues and ran with very little strength and power.
Rhamondre Stevenson (5-11, 231) is a heavy-footed, straight-line power back with limited burst and wiggle. He showed a good stiff arm and spin move along with power against Florida but doesn't seem to have the translatable juice of an NFL back.
Demetric Felton is a nice college player with solid receiving production. His constant spinning is fun to watch on film, but likely won't translate to the NFL. A substandard athlete, Felton had drops and double-catches on film. He doesn't appear to have pre-requisite NFL athleticism.
Chris Evans didn't do much on film to inspire NFL evaluators, but his Burst Score (94th percentile) and Agility Score (92nd percentile) make him a borderline draftable prospect. This class just doesn't have much depth, so taking a shot on a project with athleticism might make some sense in the sixth or seventh round.
Download Our Free News & Alerts Mobile App
Like what you see? Download our updated fantasy football app for iPhone and Android with 24x7 player news, injury alerts, rankings, NFL rookies & more. All free!


Win Big With RotoBaller
Be sure to also check out all of our other daily fantasy football articles and analysis to help you set those winning lineups, including this new RotoBaller YouTube video:


More Fantasy Football Analysis