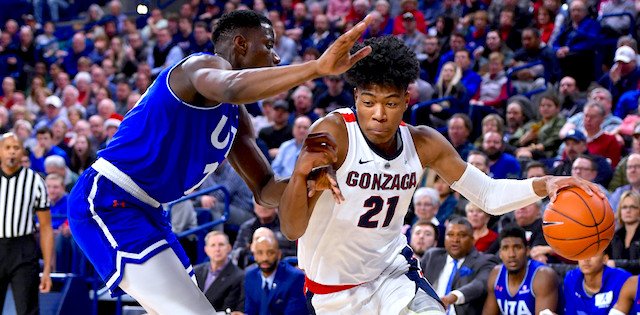 It's March Madness, which means it is the most exciting time of the year for college basketball. The 2019 NCAA Tournament is about ready to take over the sports world as the second round of the Tournament will get underway on Thursday and Friday.
One of the big reasons that the NCAA Tournament is so popular, besides being extremely exciting, is because of gambling and bracket challenges. Also, a lot of fans like to see smaller schools -- or teams from perceived lesser conferences -- defeat the Big Dawgs and it does happen often.
Who will be this year's UMBC or Loyola-Chicago? You can check out the other great content from RotoBaller to see what the experts think on a question like that. In this article, I will look at seven teams that could be upended earlier than expected.
Editor's Note: Be sure to check out the rest of our NCAA Tournament articles and analysis, including a guide on how to fill out your brackets. Read our March Madness picks, sleepers, busts and predictions for the East, West, South and Midwest regions.
Potential Tournament Busts
No. 5 Marquette Golden Eagles
NBA prospect Markus Howard has taken his game to another level this year and is one of the best shot-makers in the country, but the Eagles have lost five of six and they have an extremely tough matchup against projected top-five draft pick Ja Morant and the 12th-seeded Murray State Racers.
No. 3 Houston Cougars
The Cougars (31-3) are having its best season since reaching the national championship game in 1984. UH is excellent on defense and go eight deep, led by Corey Davis Jr. as well as Armoni Brooks. The Cougars do rely a lot on three-pointers and have a habit of getting into foul trouble.
Georgia State could give Houston all it can handle in the opening round as guards D'Marcus Simonds and Kane Williams can get into the lane at will and the Panthers are an excellent three-point shooting team overall. Even if the Cougars are able to get past the Panthers, Big 12 Tournament champions Iowa State, which is led by NBA prospect Marial Shayok, is expected to be waiting in the wings.
No. 4 Kansas State Wildcats
The Big 12 co-champions made an Elite Eight run last year and returned their top six players from that squad. However, star forward Dean Wade will miss the Tournament as a result of a foot injury. Plus, the Wildcats have a real difficult against UC-Irvine (30-5), who have won 16 straight.
No. 3 Texas Tech Red Raiders
History is not on the side of the third-seeded Red Raiders, who began the season unranked in the polls though they are currently situated ninth in the AP poll. Of the previous 53 teams that had similar profile, just 11 teams reached the Elite Eight with only two having gone onto the Final Four. In the same token, 24 teams either lost in their first or second game.
The Big 12 co-champions, led by potential NBA lottery pick Jarrett Culver, are terrific on the defensive end. However, the offense can be bogged down if Culver is held in check. Tech also does not rebound well.
The Raiders start tournament play with Northern Kentucky, which is solid defensively and likes to push the pace. The Norse can definitely score and they have four players who average double-figures. Forward Drew McDonald, who can score inside and out, is also a very good rebounder. If  TTU is able to get by Northern Kentucky, a terrific Buffalo Bulls squad will likely be waiting for them in the third round.
No. 3 LSU Tigers
The SEC regular season champions are probably the team that has the highest bust potential. The 12th-ranked Tigers are in total turmoil as they are dealing with coach Will Wade's scandal and were upset by Florida in the quarterfinals of the SEC after allowing 51 points in the second half.
The Tigers are a very talented team led by NBA prospects Tremont Waters and Naz Reid. Guard Javonte Smart, who is a key member of the bench mob, is back from suspension and scored 13 points in the loss to Florida. The Tigers also got a physical and athletic frontcourt with Kavell Bigby-Williams, Emmitt Williams, Darius Days along with Reid that likes to pound the offensive glass.
While LSU is great offensive rebounding team, they struggle on the defensive glass as the Tigers' opponents are hauling in 69.6 percent of all available defensive rebounds, which is the 71st worst percentage in the nation. Their inability to rebound the ball has allowed their opponents to get easy putbacks or other close range shots and are making nearly 50 percent of two-point shots.
Also, the Tigers do not have an easy first round matchup against Yale. The Bulldogs, who are led by NBA prospect Miye Oni, have a high powered offense and likes to push the tempo. Oni is of four players who average double-figures while a total of seven Bulldogs are scoring at least seven points. Defense is an issue for Yale.
Even if LSU gets by Yale, it is likely Maryland will be waiting in round three. The Terps are very talented and led upfront by NBA prospects Bruno Fernando and Jalen Smith.
No. 1's Gonzaga Bulldogs and Virginia Cavaliers
These two teams have been among the best teams all season. However, it is very likely that only two No. 1 seed will reach the Final Four and these two programs are the least likely to reach their ultimate destination.
Gonzaga has the most efficient offense as well as five NBA prospects including potential lottery pick Rui Hachimura. Brandon Clarke, Josh Perkins, Zach Norville, and Killian Tillie, who has played just 11 games, are the Bulldogs' other key players.  But the Zags have not played a top-tier team since losing to UNC on December 15 and their only big win came over Duke. Plus, Gonzaga has been to just one Final Four as well as two Elite Eight appearances in its previous 19 NCAA Tournament appearances under head coach Mark Few.
Virginia is a terrific squad and ranks in the top-five nationally in both offense and defense efficiency. The Cavaliers are led by NBA prospects De'Andre Hunter (potential lottery pick), Kyle Guy and Ty Jerome. The Cavs, who have accumulated 172 wins over the last six years, have not reached the Final Four since 1984. They also have only reached the Sweet 16 twice during this stretch and was bounced in the second -- by No. 16 UMBC last season -- and third round each of the past two years.
More March Madness Brackets Advice