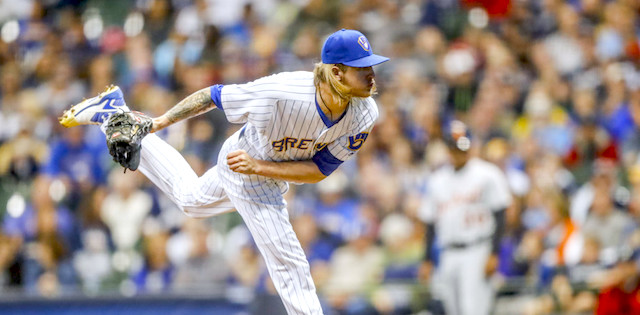 Now that the closers in each division have been covered, it's time to talk about those often-forgotten-but-possibly-even-more-important relievers: the setup men. A lot of times, closers can be pigeonholed into the ninth inning, especially by "old-school" or "traditional" managers, leaving the actual most critical late-game situations to another relief pitcher. In steps the setup man.
With more and more fantasy leagues including holds as a category (either as its own category or combined with saves as SV+HLD), relief pitchers who don't hold down a closer's role are becoming increasingly valuable in fantasy leagues.
Let's take a look at some of the top setup men for this upcoming season of fantasy baseball.
Editor's Note: Our incredible team of writers received 13 award nominations by the Fantasy Sports Writers Association including Baseball Writer of the Year, Football Writers of the Year, Golf Writer of the Year and many more! Be sure to follow their analysis, rankings and advice all year long, and win big with RotoBaller!
Read More!
Many people believed Adam Ottavino would sign with a team in need of a closer and he'd instantly become one of the best closers in baseball. Instead, he signed with the New York Yankees and will remain one of the best setup men in baseball. Last season with the Colorado Rockies, Ottavino led the league in holds with 34. He posted a 2.43 ERA and 12.98 K/9.
He should put up similar numbers this season, although his holds total might fluctuate a bit. He's moving to a team that should win more games, so there could be more hold situations, but he'll also be sharing those situations with a bullpen full of other elite relievers. Still, Ottavino is one of the top non-closing relievers in the game and should be drafted as such. He's a must-own in any holds formats and should have solid value in standard leagues as well.
In recent seasons, for reasons both good and bad, everyone around baseball has gotten to know the name Josh Hader. His work on the mound has been absolutely elite. Last season, he earned 21 holds and 12 saves, working in a hybrid role for Brewers manager Craig Counsell. Hader posted a 2.43 ERA and an elite 15.82 K/9.
With the Brewers seemingly handing the ninth inning back to Corey Knebel, Hader should slide into a more traditional setup man role, at least for the start of the 2019 season. His holds total should go up this season, and there's no reason to believe he will see a downturn in his strikeout numbers. Hader is another guy who, even outside of the closer role, should have value in standard leagues. Of course, he should be one of the first relievers off the board in any holds formats.
One of these relievers will almost certainly end up as the closer in Arizona, with the other working as the team's primary setup man. It seems like the beginning of the season may see a closer-by-committee situation in the desert, but manager Torey Lovullo would seem likely to choose one as a full-time closer before too long. Both of these relievers pitched well last season overall with some tough stretches.
Bradley ended up tied with Ottavino for the most holds in baseball with 34. Hirano was right behind them with 32. Bradley put up a 3.64 ERA with 9.42 K/9 while Hirano pitched his way to a 2.44 ERA and 8.01 K/9. Neither pitcher is an elite strikeout guy, but both are more than solid enough to be excellent sources of holds in any leagues that count them. Only the reliever that wins the closer job will have significant value in standard scoring leagues, however.
Most of the Yankees bullpen will probably end up being owned in a lot of fantasy leagues this season. Betances had the third highest K/9 in 2018, behind his teammate Aroldis Chapman and the previously mentioned Josh Hader. Betances put up a 2.70 ERA and 15.53 K/9 in 2018. Most impressively, he was able to resolve some of the control issues that plagued him in 2017. His 2017 season saw him put up a bloated 6.64 BB/9, but he lowered that to 3.51 BB/9 in 2018.
The only concerning thing about Betances' 2018 was his sudden increased susceptibility to giving up the home run ball. He posted a career-high 0.95 HR/9 (his previous high in a full season was 0.64) and 20.6% HR/FB ratio (his previous career high there was 13.2%). This season will determine whether that was just noise or if perhaps batters have picked up on something about Betances, but his strikeouts are still huge and that should give him some value in all formats, with an increased value of course in any holds leagues.
Tied for second in the league with 32 saves last season was Giants lefty Tony Watson. Watson came into some games as a lefty specialist, facing a batter or two before giving way to another reliever, but he also worked many games as a traditional setup man, getting a full inning late in the game.
MLB's hold stat officially requires just one out, so if Watson came into a close game with the lead, got one batter out, then left with the lead intact, he'd be granted a hold. Besides his 32 holds, Watson had a solid 2.59 ERA and 9.82 K/9. He's a good piece in holds leagues, but not someone necessary to own in standard formats.
Chaz Roe's 2018 season was an interesting one. He had 31 holds, the third-most in baseball, but he only pitched 50 1/3 innings. If you look at the list of most holds for the 2018 season (where Roe is sixth because of ties for first and second place), you'd get down to number 36 (Chris Devenski with 18 holds in 47 1/3 innings) before you found a guy with fewer innings pitched. Roe was almost exclusively used as a short-outing reliever when his team was clinging to a small lead.
His 50 1/3 innings were spread out among 61 games. He posted a 3.58 ERA and 9.48 K/9 while featuring some of the most movement on his pitches that you'll ever see. He should return to a similar role this season, although Rays manager Kevin Cash does tend to get creative with his bullpen use. Still, Roe is a strong target in holds leagues since he can rack them up quickly and without much risk of a blow-up inning.
More 2019 Fantasy Baseball Advice