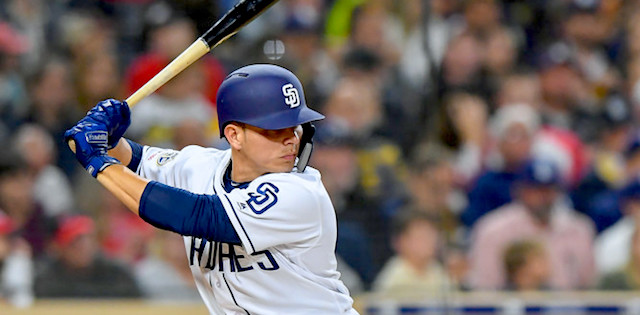 It was a quiet week for prospect promotions and catcher Will Smith was the only position player who was promoted and stuck. He's had some swing-and-miss to his game but he's hitting .286 with a home run through his first 14 MLB at-bats.
Jon Duplantier got another recall to The Show and was gifted with his first MLB start. He held his own but still allowed three runs over five innings. Nathaniel Lowe had a whirlwind week and was recalled for just one game with the Rays.
Forrest Whitley dropped the furthest this week and barely hung on to a Top 30 slot. The biggest movements upward came from Willi Castro, Bobby Bradley, and Brendan McKay. Minnesota added a new prospect at the tail end of the list and his last name will be familiar to many of you.
Editor's Note: Get any full-season MLB Premium Pass for 50% off. Exclusive access to our Draft Kit, premium rankings, projections, player outlooks, top prospects, dynasty rankings, 15 in-season lineup tools, and over 200 days of expert DFS research.
Sign Up Now!
Fantasy Baseball Prospect Rankings (1-10)
1. Yordan Alvarez, 1B/OF, Astros (AAA) (ETA: July)
Injuries have hit the Astros lately but the calls to the minors have been for the likes of Derek Fisher, Myles Straw, and Jack Mayfield. The club has favored athleticism and versatility over slugging, which has kept the hot-hitting Alvarez cemented in the Triple-A lineup. And perhaps it's getting to him a bit. The Cuba native is just 7-for-39 in his last 10 games. On the plus side, his BB-K is holding strong at 7-8 over that stretch.
2. Zac Gallen, RHP, Marlins (AAA) (ETA: June)
The sun continues to rise and set and the only thing just as consistent is that the strong pitching of Gallen for the Marlins' Triple-A roster. Gallen had another gem on May 29 when he allowed just one earned run in 6.2 innings. He allowed just four hits and two walks (only the first time he's walked more than one batter in four games) and struck out eight. The problem for Gallen is that the Marlins' starting pitching has been solid (and healthy), which is unusual for a club in last place.
3. Luis Urias, 2B, Padres (AAA) (ETA: June)
You really have to start wondering what Urias needs to do to earn another shot at the starting big league gig at second base… Urias is on a 15-for-35 (.429) stretch with a BB-K of 8-6 and three stolen bases. His OPS is up to 1.203 on the year and veteran infielder Ian Kinsler is hitting just .192. The Padres are nine games out of first place in the NL West and in the thick of the NL wild-card race with about 10 teams with realistic shots at a playoff spot. While other teams will need to flip multiple assets to acquire a difference maker, all the Padres may need to do is dip down to Triple-A for Urias and activate Fernando Tatis Jr. from the IL.
4. Carter Kieboom, SS, Nationals (AAA) (ETA: July)
Kieboom has hit a rough patch at Triple-A. He's hitting just .216 over his past 10 games with 10 strikeouts in 37 at-bats. And while Brian Dozier has been a huge disappointment in Washington, he's started 52 times at second base in 58 games for the struggling club. But Kieboom is also still just 21 years old so the organization isn't going to risk his long-term potential but thrusting him into a high-stakes situation when he's unprepared for the pressure.
5. Kyle Tucker, OF, Astros (AAA) (ETA: July)
Like teammate Yordan Alvarez, Tucker has watched from the sidelines as other players have received promotions to the Majors. Unlike Alvarez, Tucker has similar skills to those being promoted. However, those promoted players aren't playing every day so the Astros clearly prefer to have Tucker playing every day at Triple-A, especially with a pretty comfortable lead in the AL West. To his credit, the 22-year-old outfielder has continued to perform with a decent .286 average over his past 10 games. His four steals in that stretch now has him at a perfect 12-for-12 on the year. Add that to his 16 home runs and he's a legitimate candidate for his second straight 20-20 (HR-SB) season in Triple-A and third overall.
6. Dylan Cease, RHP, White Sox (AAA) (ETA: July)
Cease's last appearance came on May 29 and he was good. He allowed just two earned runs over seven innings, which was the first time he's recorded an out in the seventh inning this year. It was also his third straight start with at least six innings pitched. Overall, he has an above-average ground-ball rate and 54 strikeouts in 47 innings.
7. Logan Allen, LHP, Padres (AAA) (ETA: July)
The sounds of an impending promotion were getting louder after Allen's May 24 start which saw him strike out 10 batters in seven innings but he then threw up a dud on May 30. He allowed seven earned runs in 3.2 innings of work. Lack of consistent command continues to be an issue for Allen, and it's a big concern for any pitcher but especially one with modest stuff.
8. Nate Lowe, 1B, Rays (AAA) (ETA: July)
If you blinked you might have missed it, but Lowe was recalled for one MLB game last week and went 1-for-4 with a walk, strikeout and run scored before he was sent back down to Triple-A when Yandy Diaz was reactivated from the disabled list. Lowe really just needs to rediscover his power stroke if he's going to break into the Rays lineup (permanently) any time soon.
9. Willi Castro, SS, Tigers (AAA) (ETA: July)
He's not the most heralded prospect but Castro continues to hit the ball well in Triple-A and seems ready for a shot at the Majors. He's 16-for-42 (.381) over his last 10 games and his hitting .335 as a 22-year-old at the Triple-A level. The biggest knock against him is the lack of patience at the plate, with just one walk in the last 10 games but he has 17 in 46 games so it's not terrible by any means. Dawel Lugo has a .547 OPS, Josh Harrison is at .484, and Ronny Rodriguez is at .730 but he's not doing anything outside of hitting for some power.
10. Casey Mize, RHP, Tigers (AA)  (ETA: August)
Mize had another outstanding start in Triple-A on May 31 and is now on a stretch of three scoreless starts totaling 20 innings. In total, he's allowed just seven earned runs on 10 walks and 35 hits in 70.2 innings. Those are impressive numbers but perhaps the one negative from Mize's success is the innings total. How high with Detroit let it get in his first pro season? He threw 114.2 innings for Auburn University so he may not be allowed to go more than 130-140 innings, which means he's about halfway through his season. But how much more seasoning does he really need in the minors? Detroit has historically been an organization that doesn't play games with service time, which has endeared them to agents like Scott Boras.
Fantasy Baseball Prospect Rankings (11-20)
11. Bobby Bradley, 1B, Indians (AAA) (ETA: August)
The Indians continue to watch the division-leading Twins from a distance and they're now one of the six-to-eight teams in the hunt for one or two Wild Card spots. Jake Bauers has been a disappointment all year and could be the weak link that Bradley needs to break into the big league line-up. The first base prospect has been on fire lately with seven home runs in 10 games. He now has a .978 OPS on the year and is absolutely scorching the ball when he puts it in play which helps legitimize his .364 BABIP. The strikeout rate of 33% could be an issue at the MLB level but he's at least worth a flyer for the Indians at this point.
12. Brendan McKay, LHP/1B (AAA) (ETA: August)
The Rays are pacing McKay - he hasn't made an appearance since May 28. He continues to look like a dark-horse candidate to be promoted later this year with a chance to impact the playoff race.
13. Mitch Keller, RHP, Pirates (AAA) (ETA: August)
Keller had a rough one-game appearance in the Majors for the Pirates before being sent back down. He showed no ill effects from those struggles in Triple-A on June 2 when he allowed just two earned runs on two hits over six innings of work. If he can remain consistent in Triple-A, he should earn another shot before too long.
14. A.J. Puk, LHP, Athletics (Injured) (ETA: July)
Puk continues to throw to live hitters and is on the right path to open the year in short-season ball within two weeks.
15. Bo Bichette, SS, Blue Jays (Injured) (ETA: August)
The news on Bichette has been oddly quiet since mid-May when he was ramping up activity. We're now entering the seventh week since his 4-6 week injury occurred so he should be ready for activation any day.
16. Jesus Luzardo, LHP, Athletics (INJ) (ETA: July)
Like A.J. Puk, Luzardo seems on pace to join a short-season team for rehab when those leagues begin to play in mid-June.
17. Matt Manning, RHP, Tigers (AA) (ETA: August)
Manning had perhaps his worst outing on June 2 when he allowed three earned runs through 5.1 innings of work. He gave up five hits and really struggled with his control with four walks issued. He struck out just five batters, which tied his second lower total for the season stretched over 11 starts.
18. Kyle Wright, RHP, Braves (AAA) (ETA: June)
The Braves' handling of Wright continues to baffle me. He was recalled once again this past week but failed to appear in a MLB game. He went from May 19-29 without making an appearance and then went just 2.2 innings in a start on May 30. Wright probably needs a good month of consistent starts to find his command but it remains to be seen if the Braves will afford him that luxury.
19. Justus Sheffield, RHP, Mariners (AAA) (ETA: July)
Sheffield takes a big tumble this week after two straight poor starts. He's now allowed 10 earned runs over 6.2 innings in his last two starts. He's up to nine home runs allowed this season over 50.2 innings and the K-BB of 41-35 is very disappointing. But the good news for Sheffield is that the Mariners have few — if any — other options should a big league hurler get hurt. The trade that saw James Paxton head to the Yankees was a terrible deal the Mariners when they made it and it's looking worse and worse by the day.
20. Luis Robert, OF, White Sox (AA) (ETA: August) 
Robert has gotten hot again. He's hitting .404 (19-for-47) in his last 10 games. The BB-K is nothing special at 0-9 but it's hard to argue with the results.
Fantasy Baseball Prospect Rankings (21-30)
21. Justin Dunn, RHP, Mariners (AA) (ETA: August)
Dunn had an excellent game on June 2 and is inching closer to a promotion to Triple-A, if not the Majors, if the Mariners' player purge continues. The right-hander did not allow a run over five innings and he struck out seven batters. He now has 61 strikeouts in 48.1 innings this year.
22. Gavin Lux, SS, Dodgers (AA) (ETA: August)
Lux continues to perform well in a bid to help solidify the Dodgers' big-league infield. He's been a little inconsistent lately but he's still hitting .350 over the last 10 games. There's nothing standing in his way for a promotion to Triple-A but the club also doesn't hesitate to promote directly from Double-A. With a healthy lead in the NL West, it would make sense to give some players a taste of big league action in case injuries to some of the key veterans pop up late in the year and necessitate replacements in the playoffs.
23. Jorge Mateo, SS, Athletics (AAA) (ETA: August)
Mateo continues to succeed with his aggressive approach. He has just one free pass (and 10 strikeouts) over the past 10 games but is hitting .362. With his speed, he's a threat to reach base any time he puts the ball in play. He has 79 hits in 52 games. Oddly, he hasn't been great stealing bases and is just 13-for-20 so he really needs to improve his reads.
24. Ryan Mountcastle, 3B, Orioles (AAA) (ETA: August)
Mountcastle continues to swing the bat well with a .341 batting average in his last 10 games, and the power has really been on display recently. The third baseman went deep four times in the past two games, including three homers on Sunday. But he's also walked just once, bringing his total number of free passes to just seven in 45 games. There aren't many players that can be productive big leaguers with that kind of aggressiveness so it could be the only thing holding him back from an MLB opportunity.
25. Tony Santillan, RHP, Reds (AA) (ETA: August)
Santillan is on a solid stretch of games in Double-A and looks to be ready for the Triple-A challenge. He's allowed just three earned runs in his last three starts and has shown more consistent control with just one walk in three of his last four starts. The Reds' starting pitching has been pretty good but Santillan could still earn some innings if injuries (or trades) pop up in the second half.
26. Sean Reid-Foley, RHP, Blue Jays (AAA) (ETA: July)
It looked like things had gone from bad-to-worse in Reid-Foley's last start when he was pulled from his most recent start due to injury. But it was just a tweaked back and he made his next start albeit without his best command or control. He limited his opponents to just three runs in 5.1 innings but he gave up four hits and five walks.
27. Kean Wong, 2B/OF, Rays (AAA) (ETA: August)
Wong continues to be one of the top hitters in the International League and has hit .341 (15-for-44) over his past 10 games. He just doesn't have an opening to playing time with the Rays' big league roster construction and could perhaps be used as part of a package to acquire some pitching depth at the trade deadline.
28. Nick Gordon, SS, Twins (AAA) (ETA: August)
Dee Gordon's brother Nick jumps on the list after an injury kept him off the field for an extended period of time. He now has 22 hits in 19 games and is hitting .305 over the past 10. He struggled with strikeouts early on but has seen significant improvements over the past 10 with a BB-K of 5-6. With Jonathan Schoop and Jorge Polanco playing well, it may take an injury at the MLB level for Gordon to get a fair shot this year.
29. Alex Kirilloff, OF, Twins (AA) (ETA: August)
I've been preaching patience with Kirilloff, who began the 2019 season injured and that is starting to pay off. He's finally gotten hot and is hitting .351 over the past 10 games (including 5-for-8 over his last two games). His BB-K was 6-8 during that stretch and his power was also on display with the first two homers of the season.
30. Forrest Whitley, RHP, Astros (AAA) (Injured) 
Whitley is now in extended spring training to rest his shoulder. Once the top pitching prospect in all of baseball, his star has fallen a bit after a rough minor league season.
More MLB Prospects Analysis