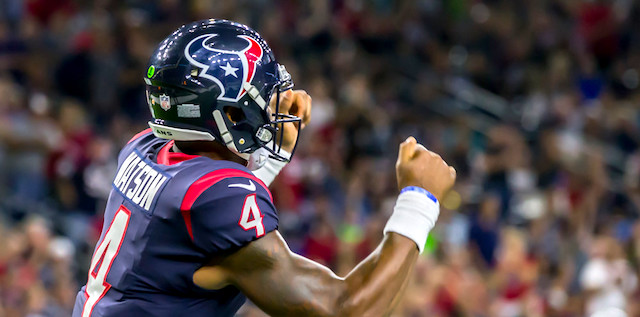 What a season, RotoBallers. Fantasy football is always a fun, interesting, and long season - filled with injuries, breakout players, and different strategies. It takes stamina and endurance to win the 16 week marathon, and we're here today to recognize those who pulled it off.
With 240 teams competing to be crowned champ of the 2018 Fantasy Football RotoBaller Challenge on RT Sports (and to have their bank account padded a bit more), only one prevailed. Below are each of the 20 league winners - congrats to all of them!
In case you missed it, the RotoBaller Challenge is a fantasy football tournament with lots of prizes, powered by RT Sports, Fleaflicker and Fantrax. In 2019 we will expand the tournament even further - stay tuned for details throughout the NFL off-season.
Who Has Been Crowned Champ?
🏆🏆 And the winner is... Rick's Warriors!!! 🏆🏆
A big congrats from everyone at RotoBaller and RT Sports! 🍾
In addition to winning the $500 grand prize, and a full year of RotoBaller's Premium Pass ($99 value), you now get to carry the ultimate prize - you are THE champ of theRT Sports RotoBaller Challenge, and get to carry bragging rights throughout the entire off-season.
This was no easy feat, as 240 teams competed for the gold, and you defeated all of them. You are a true RotoBaller!
Among the many draft picks and waiver wire additions made, the main studs leading you to glory were Ezekiel Elliott, Davante Adams, Zach Ertz, Deshaun Watson... and some late-season heroics by Jaylen Samuels and Daesean Hamilton. Here was the original draft roster, and the final roster, with a few waiver wire add/drops made in between:
Original Roster:
Final Roster:
Individual League Winners
While there can only be one RotoBaller Challenge champion, the competition was close and came down to the wire. Congrats to all of the individual league winners, who showed off their fantasy football skills and also won a full year of RotoBaller's Premium Pass ($99 value)!
| | |
| --- | --- |
| League Number | League Winner Team Name |
| RotoBaller Challenge 1 | Excalibur |
| RotoBaller Challenge 2 | Ambassador of Quan |
| RotoBaller Challenge 3 | ShibbyBacon |
| RotoBaller Challenge 4 | Man Up |
| RotoBaller Challenge 5 | Puduke55 |
| RotoBaller Challenge 6 | Tom Brady Makes Out With His Son |
| RotoBaller Challenge 7 | Sherman Tanks |
| RotoBaller Challenge 8 | RotoBaller - Phil Clark |
| RotoBaller Challenge 9 | Coach Clownlips |
| RotoBaller Challenge 10 | NY Ballers |
| RotoBaller Challenge 11 | Happy Valley |
| RotoBaller Challenge 12 | Cosbys Sleepers |
| RotoBaller Challenge 13 | Mageezemo |
| RotoBaller Challenge 14 | Lightning |
| RotoBaller Challenge 15 | Skeletones |
| RotoBaller Challenge 16 | Rick's Warriors |
| RotoBaller Challenge 17 | overwatchman |
| RotoBaller Challenge 18 | Bulldogs |
| RotoBaller Challenge 19 | Whiskey Creek Scurvy |
| RotoBaller Challenge 20 | ZeroLogic |
Final Standings
Below are the final standings for the playoffs:
| | | | | | |
| --- | --- | --- | --- | --- | --- |
| League Number | League Winner Team Name | Regular Season Avg | Week 15 | Week 16 | Total |
| RotoBaller Challenge 16 | Rick's Warriors | 146.96 | 146.25 | 209.50 | 505.84 |
| RotoBaller Challenge 14 | Lightning | 174.50 | 137.75 | 190.00 | 503.03 |
| RotoBaller Challenge 19 | Whiskey Creek Scurvy | 144.62 | 169.50 | 182.00 | 497.98 |
| RotoBaller Challenge 5 | Puduke55 | 157.06 | 129.00 | 196.00 | 484.00 |
| RotoBaller Challenge 13 | Mageezemo | 143.37 | 136.00 | 190.00 | 471.70 |
| RotoBaller Challenge 3 | ShibbyBacon | 158.92 | 139.00 | 172.00 | 470.58 |
| RotoBaller Challenge 20 | ZeroLogic | 160.42 | 127.50 | 171.75 | 460.24 |
| RotoBaller Challenge 2 | Ambassador of Quan | 150.71 | 123.75 | 180.00 | 455.93 |
| RotoBaller Challenge 12 | Cosbys Sleepers | 149.71 | 105.75 | 193.00 | 450.63 |
| RotoBaller Challenge 1 | Excalibur | 146.08 | 137.75 | 160.75 | 445.31 |
| RotoBaller Challenge 10 | NY Ballers | 134.29 | 161.25 | 146.00 | 442.12 |
| RotoBaller Challenge 15 | Skeletones | 163.58 | 137.25 | 130.75 | 429.94 |
| RotoBaller Challenge 8 | RotoBaller - Phil Clark | 145.56 | 115.00 | 166.00 | 427.58 |
| RotoBaller Challenge 7 | Sherman Tanks | 125.79 | 140.25 | 158.75 | 426.44 |
| RotoBaller Challenge 11 | Happy Valley | 149.19 | 144.00 | 131.50 | 423.81 |
| RotoBaller Challenge 18 | Bulldogs | 140.67 | 125.75 | 155.00 | 422.14 |
| RotoBaller Challenge 4 | Man Up | 144.96 | 114.75 | 159.00 | 419.41 |
| RotoBaller Challenge 9 | Coach Clownlips | 156.83 | 105.50 | 154.00 | 416.19 |
| RotoBaller Challenge 17 | overwatchman | 137.15 | 127.25 | 132.00 | 396.15 |
| RotoBaller Challenge 6 | Tom Brady Makes Out With His Son | 156.10 | 111.25 | 122.00 | 387.64 |