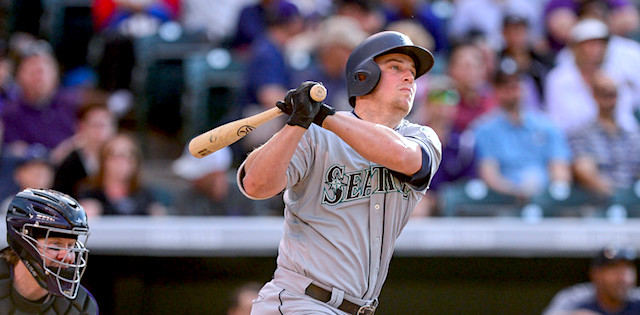 Your friendly neighborhood @Roto_Dubs here, filling in for the esteemed Mr. Bishop for the week.
This point of the season is a rough one for reinforcements on the waiver wire. Pretty much everyone is still trying to win, and with early breakouts long since snapped up and injuries taking their toll as usual, it can be tough to find help that doesn't require a trade partner. Tough - but not impossible. As always, we're here to help.
As a reminder, our focus is on players who are below 50% owned in Yahoo leagues, and standard 5x5 scoring. Your mileage may vary, in terms of availability or league settings. Using that cutoff point for ownership rate, however, these are your corner infield waiver wire targets and adds for Week 9 of the 2019 fantasy baseball season.
Editor's Note: Get any full-season MLB Premium Pass for 50% off, with exclusive access to our season-long articles, 15 in-season lineup tools and over 200 days of expert DFS research/tools.
Sign Up Now!
Pickups for Shallow Leagues
Justin Smoak (1B, TOR) — 43% Owned
Smoak is in the middle of a power surge right now--he's blasted five bombs in his last five games, attaching nine RBI to the big flies as well. Smoak is never going to be a bastion of batting average, but he has legitimate 30-homer power that plays especially well in the Rogers Centre where he plays his home games. Don't necessarily write him off due to the rough .219 batting average--pay attention to the .373 OBP that is due in large part to his patience at the plate. Smoak is currently posting the best walk rate of his career (17.9%) AND the lowest strikeout rate (19.4%). Smoak is a terrific example of why batting average doesn't tell the whole story, really.
Kyle Seager (3B, SEA) — 21% Owned
Many will have forgotten about Seager given that he's been on the IL since the beginning of the season, but he's officially back in the Mariners lineup on a fairly regular basis. Understand that Seager is not the under-the-radar All Star that he once was. He's making less contact now than ever before, and he is coming off of a career-worst season in just about every metric. With that said, he's still just 31 and should not struggle to hit 17-22 homers the rest of the way. Seager can be a nice depth piece right now with real upside if he's made any adjustments since last season.
Gio Urshela (3B, NYY) — 21% Owned
I can't fight this feeling anymore. Urshela simply continues to hit, and it's impossible to ignore now. Across 123 at bats, the 27-year-old is hitting a robust .333 with a healthy .463 slugging percentage, and while there isn't much to speak of as far as homers are concerned Urshela is still doing damage and driving in runs with regularity. With Miguel Andujar on the shelf for the season, Urshela is going to stick around, plain and simple. He has a terrific glove that will keep him on the 25-man for the summer, and if he continues to hit like this he'll have a regular place in one of baseball's most dangerous lineups. In the tone of Michael Scott: I. DECLARE. LEGITIMACY.
Pickups for Deeper Leagues
Renato Nunez (1B/3B, BAL) — 12% Owned
I admit I hopped off the runaway Renato train earlier this month. An early-season power surge seemed to have come to an end, and I was eager to cleanse my team of pretty much any Oriole not named Trey Mancini. Mr. Nunez has drawn me back in though thanks to two prolific series against the Yankees and Rockies. In the seven games he played against them in the past week, Nunez hit .400 with five homers, 10 RBI and eight runs scored--a hot streak if I've ever seen one. That actually brings his season totals up to 12 homers, 28 RBI and 26 runs scored, which are all perfectly usable from your corner infield slot.
Brian Anderson (1B/OF, MIA) — 10% Owned
Even in the deepest, darkest trenches of fantasy irrelevance there are pearls to be found. Like this particular Miami Marlin! Anderson is going to struggle with counting stats for most of the year simply because he's on such a bad team. That doesn't mean he's without value though, particular in the power department. Anderson has been tearing the cover off the ball lately, with three homers and nine RBI in his last six games. You'll take that kind of production from a corner infield depth piece like this, and the multi-positional eligibility never hurt anybody either.
For Your Radar
Joey Wendle (2B/3B/SS/OF, TB) — 7% Owned
Wendle has a tremendous rookie season in 2018, leading all rookies in batting average (.300) and coming in second in steals (16) while also posting 62 runs and 61 RBI. He's only played in eight games in 2019, as an errant pitch broke his wrist shortly after he returned from a hamstring injury, so he's fallen pretty far off everyone's radar. He is out of his cast and should be returning in early- to mid-June, and he could be a tremendous depth asset for any team in any format.
Mark Canha (1B/OF, OAK) — 5% Owned
Injuries to Matt Olson and Khris Davis have virtually guaranteed Canha a spot in the Athletics' starting lineup, and he's made the most of the opportunity. Canha has smacked six homers since May 13th when he returned as a mainstay in the lineup, and he should continue to serve as the team's primary designated hitter in Davis' absence. Canha is putting the ball in the air at a career-best rate (58.2%) in 2019, so he's clearly out there chasing dongs. Ride along with that pursuit if you're looking for cheap, reliable power.
More Waiver Wire Pickups and Streamers
Check out RotoBaller's entire fantasy baseball waiver wire pickups and sleepers list, updated daily!