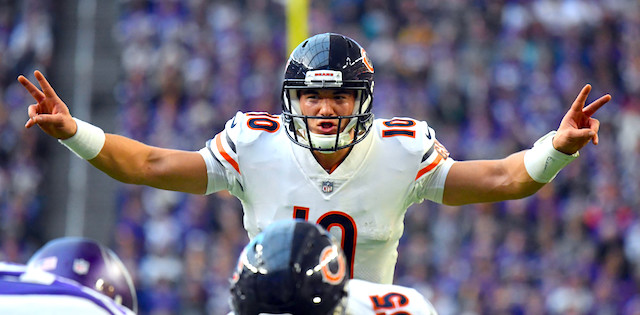 It's playoff time! Welcome to our Wild Card playoff matchups analysis and starts/sits column for fantasy football. We'll be covering every matchup from the first round of the playoffs to help you make the best decisions for your fantasy lineups.
We'll also be updating this as injury reports come in so check back often.
Check back here each week to get advice for your toughest start/sit decisions and take a look at our consensus rankings each week. Find me on Twitter @pfunk00 for more insight and help to your start/sit questions.
Editor's Note: Get any full-season NFL Premium Pass for 50% off. Our exclusive In-Season Lineup Tools, Lineup Optimizer and over 150 days of Premium DFS Research.
Sign Up Now!
Matchups Analysis - Saturday Games
The first set of games features some intriguing matchups, including a game between Indianapolis and Houston that could see a lot of points on the scoreboard. If you're playing in a playoff league, be it a weekly pick 'em or elimination-style, make sure to set those lineups in time by analyzing each matchup below to gain the best advantage!
Colts at Texans - 4:35 PM EST
Matchups We Love:
Andrew Luck (QB, IND)
Luck is coming off a great comeback season in which he finished with 39 TD and almost 4,600 passing yards. A large part of that success came in two games against the Texans, where he combined for 863 yards and six TD. Considering the Texans are at home and favored, that could work in his favor for fantasy purposes if the team has to match Houston blow for blow. He is possibly the top QB pick of Wild Card weekend.
DeAndre Hopkins (WR, HOU)
If you loved playing Hopkins on your team in the regular season, you should really love him come playoff time. In three career playoff games, Hopkins has an average of 67 yards per game but all of those came in past years with Brian Hoyer and Brock Osweiler at QB. Nuk has been a beast all year and comes into the playoffs on a roll, averaging 10.3 receptions and 140.3 yards per game over the last three games. Needless to say, he's pretty good. Don't sweat overpaying for him in DFS and going with the crowd in pick 'ems, he's worth it.
Keke Coutee (WR, HOU)
Coutee hasn't played since Week 12 with a hamstring issue that's given him trouble all year but is "trending toward playing" in this matchup. If so, he finds himself in an important role, given Demaryius Thomas' inopportune Achilles injury that puts him out for the playoffs. Coutee and could pay off as a differentiation play but the risk is more than tangible. If you have the nerve to put Coutee in your lineup, he could pay off huge.
T.Y. Hilton (WR, IND)
Hilton has absolutely owned Houston this year. In two games thus far, he put up lines of 4/115 and 9/199. He gets a plus matchup against Shareece Wright and should be considered one of the top WR picks of the week.
Eric Ebron (TE, IND)
Aside from the obvious fact that Ebron is a touchdown machine and one of the Colts' top targets with Jack Doyle out, he has a great matchup. The Texans allowed the fifth-most fantasy points to tight ends this year. In a week with precious few TE options worth starting, Ebron is a no-brain must-start.
Matchups We Hate:
Alfred Blue / D'Onta Foreman (RB, HOU)
Although Foreman is practicing in full and made an appearance in Week 16, he didn't touch the ball in Week 17 and won't be relied on in this crucial playoff game. Blue should be the change-of-pace back and could see some red zone work but as long as Miller is healthy, he'll stay under 10 carries and won't be fantasy-relevant.
Deandre Carter / Vyncint Smith (WR, HOU)
If Coutee plays, both these rookie receivers will see minimal targets. While Smith has the physical tools to make a big play, he's shown inconsistency, catching five of his 10 targets this year. Carter has a higher floor but shouldn't be counted on.
Chester Rogers / Dontrelle Inman / Ryan Grant / Zach Pascal (WR, IND)
The Colts head into the playoffs healthier than ever, getting their full complement of receivers on the field. All of these players will eat into each other's potential value, as Luck loves to spread the ball around. None has a plus WR/CB matchup either, making all simply punt plays in DFS but no more.
Other Matchups:
Deshaun Watson (QB, HOU)
He's got home field advantage with the game in Houston, where he typically performs better. In two games against the Colts this year, he put up 375 and 267 yards with a 3/1 TD/INT rate. Watson will be getting his first taste of the NFL playoffs, which shouldn't result in nerves; a former NCAA champion won't be rattled by a home game against a team that he's already faced twice. The loss of Demaryius Thomas and precarious health of Keke Coutee are cause for concern though. The Texans will try to establish the run, making Watson a decent play but not one with as high a ceiling as his counterpart.
Lamar Miller (RB, HOU)
The Texans will definitely make an effort to feature Miller early in order to keep Luck off the field and take pressure off the passing game to perform. It may not work too well, as Miller combined for 105 yards on 31 carries in two games against the Colts this year. Indy allowed the ninth-fewest rushing yards in the league as well. Miller may be touchdown-dependent for much value in this game.
Marlon Mack (RB, IND)
Mack wasn't around for the first matchup between these teams and only managed 33 yards in Week 14. That said, Mack has been on fire to end the season, scoring five TD in his last four games with two 100+ yard rushing efforts in the last three. Statistically, the Texans are a tough draw, having allowed the second-fewest rushing yards all season. That doesn't mean he should be avoided though, as he ranked 15th in red zone rush attempts among active players and has a good chance to score.
Nyheim Hines (RB, IND)
The same applies to Hines as Mack, except that Hines only touches the ball about nine times per game on average. Hines did have 22 red zone rushes and could find a chance to score but otherwise has little value, even in full PPR formats.
Jordan Thomas / Ryan Griffin (TE, HOU)
The tight ends in Houston get their share of targets, even in the red zone. There isn't a clear leader at the position though, making it impossible to gauge who might be the one to come away with a big play. Thomas is the safer bet based on his four touchdowns this year compared to zero for Griffin.
Seahawks at Cowboys - 8:15 PM EST
Matchups We Love:
Ezekiel Elliott (RB, DAL)
The Cowboys fed Zeke the ball a league-high 304 times this season, leading him to a second rushing title in his first three seasons. He only needed 16 carries to run for 127 yards in the first matchup against Seattle this year and he could see even more work this week. Elliott is the top RB of Wild Card weekend without a doubt.
Chris Carson (RB, SEA)
We know the Seahawks want to establish the run and should do so again in this game. The Cowboys seem to present a stiff defensive matchup with their eighth-ranked run defense but they've softened lately, allowing 178 and 143 rushing yards in two of the last three games. Carson shouldn't be faded, as he's averaged over four yards per carry in all but two games this season and is coming off three straight 100+ yard efforts.
Amari Cooper (WR, DAL)
Mr. Inconsistent will either put up a huge game or a dud, based on his prior history. Chances are the team will utilize their newest weapon to the fullest, peppering him with targets. It's not guaranteed he'll have a big day but the floor should be fairly high, as Seattle doesn't have any shutdown corners on the roster.
Tyler Lockett (WR, SEA)
Lockett has developed into Wilson's favorite weapon and could carry that mojo into the Wild Card round. Lockett went for 77 yards and a TD in the first game between these teams, although Baldwin didn't play that game. Still, Lockett has scored in seven of the last eight games and gets a plus matchup against Chidobe Awuzie.
Matchups We Hate:
Dak Prescott (QB, DAL)
Maybe it's just a familiarity thing but Prescott had some huge games against the NFC East and was simply mediocre otherwise. That includes Week 3 against Seattle when he threw for 168 yards, one TD and two INT. He didn't do any better last year, throwing for 181 yards, no TD and two INT in his first time facing the Seahawks. He often saves his fantasy day by running for a score but the Hawks haven't let a QB do that all year. Prescott should be avoided if possible.
Cole Beasley / Michael Gallup (WR, DAL)
It stands to reason that any receiver not named Cooper on the Cowboy roster can be safely avoided if Prescott is due to flop. As a rookie in his first taste of the playoffs, Gallup shouldn't see too much action. Beasley's ceiling is simply too low to trust when there are fewer options on the board.
David Moore / Jaron Brown (WR, SEA)
Scoring touchdowns against the likes of the Raiders, Lions, and 49ers in the regular season doesn't mean anything come playoff time. Moore has disappeared from the offense, catching a total of four passes in the last five games. Brown has never been anything but a TD-dependent desperation play at WR.
Nick Vannett / Ed Dickson (TE, SEA)
Vannett makes a token appearance in the end zone occasionally but hasn't caught more than two passes in a game since Week 9. Dickson has gone over 25 yards in a game once all season, back in Week 8. These are both desperation plays at best.
Other Matchups:
Russell Wilson (QB, SEA)
The game script needs to results in either a high-scoring game or an easy victory for Seattle in order for Wilson to put up big numbers. It's unlikely either comes to pass in this game. Wilson doesn't see enough passing volume to be considered a top QB pick against a tough defense.
Mike Davis / Rashaad Penny (RB, SEA)
When all three running backs for Seattle are healthy, only Carson presents real fantasy value. Davis could catch a few passes but it's not a plus matchup and the team should lean on Carson. It would be surprising if Penny saw more than five touches, if even that many.
Doug Baldwin (WR, SEA)
He is the receiver with the most playoff experience on both sides but he doesn't love facing Dallas. Baldwin has never posted more than 35 yards in five games vs Cowboys (he was a DNP in Week 3 this year). He does have five TD in his last six games but is averaging 57 YPG otherwise. Baldwin is a boom-bust play based on whether he can reach the end zone.
Blake Jarwin (TE, DAL)
Does Jarwin's three-TD explosion in Week 17 mean he is now a focal point of the offense? Or does it simply mean it was Week 17?  He's shown reliable hands and a knack for getting open but Seattle defense is a bit better than the Giants. Jarwin could be a differentiation play at TE if you don't want to stick with Ebron but you are counting on the red zone magic to continue after a very short track record.
Matchups Analysis - Sunday Games
The Sunday slate will focus more on the defensive side of the ball, as the Bears and Ravens, the league's two top defenses, are at home. It will be harder to find value in these games, which makes the individual matchups that much more important to analyze.
Chargers at Ravens - 1:05 PM EST
Matchups We Love:
Gus Edwards / Kenneth Dixon (RB, BAL)
This game should have Edwards' fingerprints all over it. He's run for 75+ yards in six of his seven games as a starter, including 92 against the Chargers in Week 16. The Ravens should give him plenty of touches as they try to control the game with their usual style of play. While Dixon broke out with 117 yards in Week 17, he is still splitting carries with Edwards and won't see quite as much room to run against a Chargers team that hasn't tightened up its defense in recent weeks. He has more upside than most RB2 types this weekend, though.
Keenan Allen (WR, LAC)
The Chargers lean on Allen when the matchups are toughest, evidenced by his huge target totals against Pittsburgh, Seattle, and Kansas City this year. Allen caught five of eight targets for 58 yards two weeks ago and should be just as busy this time around. He doesn't have the highest ceiling compared to the receivers in other matchups but he is a fairly safe play in full PPR leagues as he may be the only Charger worth recommending this weekend.
Matchups We Hate:
Lamar Jackson (QB, BAL)
Jackson has been one of the most consistent quarterbacks, if not the most effective, over the second half of the NFL season. He hasn't gone above 205 or below 125 passing yards in a game as the starter with six TD in seven starts. The rushing production keeps his floor somewhat high but his worst rushing game of the year came two weeks ago in L.A., as he managed just 39 yards without a touchdown. In a week where you are playing a tournament-style league with very few options, you should be seeking a player with a higher ceiling.
Philip Rivers (QB, LAC)
If Rivers could have his worst game of the year against the Ravens in a home game just two weeks ago, why would he fare better on the road? Rivers' reputation as a great regular season quarterback who can't get it done in the playoffs is deserved - he averages 240.6 yards per game with an 11/9 TD/INT rate over nine career postseason games. Whether he can do enough to lead his team to victory doesn't change the fact he faces an extremely tough matchup and shouldn't be considered a fantasy asset this week.
Melvin Gordon / Austin Ekeler (RB, LAC)
Come playoff time, there's often a tipping point where you have to decide whether to trust the stud player or play the matchup when it favors the defense. The Ravens allowed less fantasy points to running backs than any team other than Chicago. In the second half of the season, they were bar-none the best run defense, not allowing 100 rushing yards to any team since their bye in Week 10. Gordon has done the opposite, failing to reproduce his excellent first half numbers over the last several weeks, even when healthy. Aside from the three games he missed, Gordon also hasn't run for 100 yards since Week 9, including 54 total yards against the Ravens two weeks ago. With a questionable tag entering this game, Gordon is a risky play to say the least. Ekeler has not been more than a change-of-pace back when Gordon is on the field and is still nursing a groin injury.
John Brown / Michael Crabtree / Willie Snead (WR, BAL)
Needless to say, the Baltimore receivers aren't fantasy factors this weekend as has been the case since Lamar Jackson took over. Crabtree and Brown combined for three receptions and 47 yards the first time these teams met and that's about what they've produced on average over the last few games. Snead has fluctuated between five-catch games and goose-eggs the last few weeks, with one of those zero-catch games coming against the Chargers in Week 16. None are worth a lineup slot this week.
Mike Williams / Tyrell Williams (WR, LAC)
The tough matchup renders most of the Los Angeles skill players useless this weekend, other than Allen who has the best chance to see a high target total. Both Williams are completely touchdown-dependent and face a team that allowed the third-fewest touchdowns to WRs this season.
Antonio Gates / Hunter Henry / Virgil Green (TE, LAC)
The only thing worse than two ineffective tight ends is a three-headed monster at the position. The alleged return of Hunter Henry just reinforces the fact that you should leave this spot to someone on another team instead. Henry is highly unlikely to see much action if he does take the field, so don't view him as a deep sleeper so much as a wasted roster spot.
Other Matchups:
Mark Andrews / Hayden Hurst (TE, BAL)
Andrews was the star of the first matchup between these two with a 68-yard TD on a catch and run all the way down the field. You can't bank on that happening again but we know the Ravens love targeting the tight end and Andrews has reached at least 45 yards in five of the last eight games. Hurst can be ignored but Andrews may present good value at a thin position.
Eagles at Bears - 4:40 PM EST
Matchups We Love:
Mitch Trubisky (QB, CHI)
Other than the Washington Redskins, with their fourth-string QB, the Eagles had been allowing big passing games on the regular to opponents in the latter half of the season. A banged-up secondary and pass-happy offense have contributed to big games by Deshaun Watson, Jared Goff, and Dak Prescott in recent weeks. Trubisky hasn't put together a big game for a while, as the run game has taken precedent. Game script may change that plan, however. If Trubisky is efficient in the red zone or the run game isn't productive, he could put together a big game.
Tarik Cohen (RB, CHI)
The last couple of weeks, Cohen has taken a backseat to Howard but that could change this week. The Eagles are fifth-best in terms of limiting rushing yards to RBs but sixth-worst as far as yielding receiving yards to the position. Cohen is certainly more of a boom-bust play based on his low floor and the presence of Howard but his ceiling is intriguing.
Allen Robinson (WR, CHI)
With a week off to rest, A-Rob should be ready to go for the Wild Card round. He has a plus matchup against Avonte Maddox or Rasul Douglas either way and should be the preferred target for Trubisky.
Alshon Jeffery (WR, PHI)
If there's one player who especially enjoys having Foles at QB, it's Jeffery. He's averaging 5.3 receptions and 100 yards in three games with Foles. With Wentz, he averaged 54.2 YPG. You'd think he might be a sit candidate versus the Bears but they actually allowed more fantasy points to WR this year than the Chiefs and Bengals, ranking 15th. Jeffery is the top receiver to target in this game.
Matchups We Hate:
Nick Foles (QB, PHI)
Nobody's giving the Eagles much of a chance in this game - and neither are we. We've seen Foles defy the odds again and again but he's not faced a defense like the Bears at Soldier Field. Foles' two big statistical games this year came against Tampa and Houston, both of which have allowed multiple big performances to opposing QBs throughout the season. The Bears allowed 12.9 fantasy points per game to quarterbacks and led the way with 27 interceptions. Even if Foles and the cardiac Eagles find a way to eke out a victory, it shouldn't result in big fantasy numbers.
Josh Adams / Darren Sproles / Wendell Smallwood (RB, PHI)
Facing the top defense in the league is obstacle #1. Overcoming an offensive philosophy that has turned the Eagles into a pass-first team is #2. Adams hasn't seen more than 15 touches since Week 13 and consequently hasn't rushed for more than 50 yards in those games either, despite winning their last three. Adams will need a touchdown to make his day against the toughest run defense. Sproles and Smallwood both outsnapped Adams last week and will take turns on passing downs as a checkdown option. This has evolved into a true RBBC that should be avoided.
Anthony Miller / Taylor Gabriel (WR, CHI)
Between injuries and ineffectiveness, Miller has become a player to forget in the fantasy realm. His one advantage is in the red zone, where he caught six of 10 targets compared to five receptions on eight targets for Gabriel. The floor is literally zero points, however, as he's posted in three of the last four games. Gabriel has caught at least three passes in each of the last seven games but hasn't surpassed since Week 6 or scored since Week 4, making him an unappealing fantasy asset.
Golden Tate / Nelson Agholor (WR, PHI)
It's easy to fade Agholor based on the fact he faces Pro Bowler Kyle Fuller, who leads the league in interceptions (seven) and passes defended (21). Tate has been a dud in Philly green and doesn't have much hope for improvement in this matchup despite the absence of slot corner Bryce Callahan. His replacement, Sherrick McManis, has a grade of 85.8 according to PFF, which places him in the top-10 among all qualified cornerbacks.
Trey Burton (TE, CHI)
Burton's fantasy stock has faded hard as the season progressed. He went from a TE1 to waiver fodder, mainly due to the fact he's scored once in the last eight games. The Eagles haven't been the most stout on pass defense lately but they still rank as the third-stingiest fantasy defense against tight ends. Burton is a tough player to trust in any format.
Other Matchups:
Jordan Howard (RB, CHI)
Howard finished the season with his best performance on 2018, going for 109 yards and two TD against the Vikings. Recency bias can't get the best of us, however, as he faces an Eagles team that has been tough against the run at times, including the last three games in which they've allowed an average of 55 rushing yards. Howard relies on volume for value and he may get it if the defense does its part but we've seen how low his floor is when things don't break right.
Zach Ertz (TE, PHI)
In a record-setting season, Ertz has been more boom-bust than many people perceive. Since his enormous game against Dallas in Week 10, Ertz has fallen under 50 yards without a touchdown in four of the last seven games. In this tough matchup, it can't be assumed that Ertz will get away with being the top-scoring fantasy tight end.
More Weekly Lineup Prep