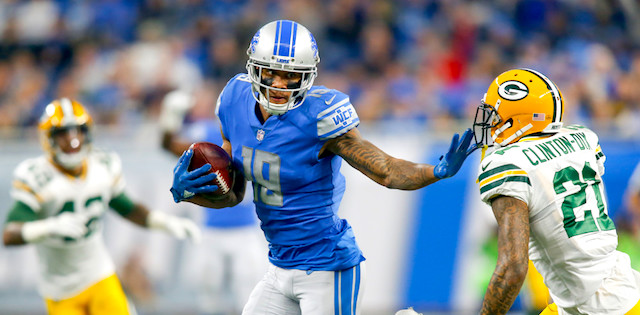 It's June and the football season is right around the corner. Soon we will be meeting with our league mates to conduct our fantasy drafts. This is possibly the most exciting time of the fantasy season. The social interaction with a live draft adds a personal element to our fantasy rosters. The memories and good times created from the draft our instilled with each player selected.
Of course, if you want to be successful in your draft whether it be at a restaurant with a bunch of friends or online with your college buddies, you must have a good set of rankings. This article is going to breakdown the standard wide receiver rankings by tiers to help provide a depiction of how players should be valued in standard drafts.
Don't worry, we will continue to update the rankings throughout the summer and during the regular season. If you need an up-to-date set of ranks for an upcoming fantasy draft, then you can always find a fresh copy of our ranks here.
Editor's Note: Our incredible team of writers received 13 award nominations by the Fantasy Sports Writers Association including Baseball Writer of the Year, Football Writers of the Year, Golf Writer of the Year and many more! Be sure to follow their analysis, rankings and advice all year long, and win big with RotoBaller!
Read More!
2020 Standard WR Rankings
Tier 1
Thomas finished the 2019 season as the WR1 in standard scoring. He posted a league-leading nine WR1 weeks. His success was fueled by a 32 percent target share 40 percent share of the Saints' air yards. He also led all wide receivers with 583 yards after the catch. Only time will tell if this level of volume will be sustainable going forward. If anything, he might be the safest wide receiver in the league.
Even though Adams played in just 12 games, he still managed to produce eight top-24 weeks in standard leagues last year. It's safe to say he's Aaron Rodgers' favorite weapon after a season where he owned a 29 percent target share and averaged 105.83 air yards per game. He will be a top ten wide receiver in all formats if he can manage to play a full 16-game season.
The Arizona Cardinals ranked fourth in the league with 28.35 seconds between plays while in neutral game script. With that being said, Hopkins will be transitioning into one of the most explosive offenses in the league. As we all know, he's a magician at the catch point and with the right amount of volume will be one of the league's leaders in all of fantasy.
Chris Godwin might be ranked at the bottom of the first tier, but everyone needs to realize he has just as much potential as any of the top target hogs in the league. He will now be paired with Tom Brady which could develop into a match made in heaven. Godwin ran 63.4 percent of his snaps out of the slot last season which is very encouraging since we all know Brady loves to target the slot.
Tier 2
Believe it or not, Evans quietly posted six straight 1,000-yard seasons. He appeared in just 13 games last year, but still finished in the top-12 in standard leagues. Evans would have scored double-digit touchdowns if he played a full 16-game season. He averaged an amazing 139.15 air yards per game last year. Living off of deep targets allowed him to be a high-end fantasy producer in 2019. Will Tom Brady be able to sling the ball downfield enough to maintain Evans' consistency?
Matthew Stafford averaged a pass of 20 yards or more on 19.2 percent of his pass attempts. When he's firing the cannon deep, he's routinely looking at Golladay who finished the season fifth in the league with 1,756 air yards. He only had the opportunity to play with Stafford for eight games last year, and still was able to finish as the WR3 in standard leagues.
Bad quarterback play might have been the main driver to Smith-Schuster's poor play last season. However, Ben Roethlisberger is back and is ready to fire YOLO-balls at his favorite target not named Antonio Brown. In 30 games, Smith-Schuster averages 74.77 receiving yards per game with Roethlisberger under center. With any other quarterback in the lineup, he is averaging just 54.33 yards per game.
Sutton has the chance to develop into one of the top wide receivers in the league. He has tremendous ball skills and has a knack for making plays downfield. With him being the team's main target hog, he managed to own a 25 percent share of the passing targets. If Drew Lock can take a step forward in his development, Sutton will be primed for a very productive season.
Tier 3
Chark achieved his first 1,000-yard season last year. After seeing 26 targets go for 20 yards or more, it's safe to say he's a magnet for the deep ball. Those deep targets allowed him to accumulate 1,358 air yards. If he can continue to connect on those deep passing targets, then he will continue to have another good season in 2020.
Russell Wilson, QB Sea is blessed to have two very talented wide receivers. Lockett is an exceptional route runner. He makes his money running in the slot where he lined up 69.4 percent of the time. Willson will typically look at him for the short to intermediate passes. However, he has more than enough speed to stretch the field. Metcalf is a size-speed freak with a 99th percentile size-adjusted speed score.  His elite-level speed makes him very dangerous. If he takes a step forward in his development, then he could finish as one of the top wide receivers in the league.
A lot of people are pegging Ridley as a breakout candidate. It makes sense, the Atlanta Falcons has one of the most explosive offenses in the league. Julio Jones takes away a lot of the heat from the defensive coverage. Todd Gurley was signed to keep the chains moving. It appears that all arrows are pointing to Ridley rising to the top of the fantasy ranks. The Falcons led the league with a 66.97 percent pass rate and they will look to continue more of their offensive production in the passing game in 2020.
Tier 4
After playing just 14 games during his rookie season, McLaurin managed to catch 58 passes for 919 and 7 touchdowns. He was highly efficient, averaging 2.04 yards per route run. The Redskins utilized him as a deep threat. McLaurin achieved an average depth of target of 14.0 yards. The deep passes combined with his 22 percent target share will allow him to be a highly productive fantasy asset.
The foot injury Samuel recently suffered could prevent him from starting the season. His ranking should drop a few notches considering he's in jeopardy of missing some time at the beginning of the season. Once he's installed back into the lineup, Samuel has the potential to dramatically impact your fantasy team's performance. Last year he averaged 8.5 yards after the catch per reception. His ability to make plays in the open field makes him a potential breakout candidate.
Joe Burrow will start his rookie season with two very talented wide receivers to toss the football too. When healthy, Green is one of the most talented wide receivers in the league. He's a deep threat who can outleap defenders at the catch-point. Boyd spends a large portion of his time operating out of the slot. His career 68.8 percent catch rate makes him a very dependable receiving option.
Tier 5
The fifth tier in the rankings is deep with talent and is infused with older veterans, highly talented rookies, and younger players who've displayed a lot of promise. There's a good chance there's a league winning asset in this group.
Let's look at the older veterans first. Edleman will be transitioning to life without Tom Brady. We don't know how this will pan out, but he will be inline to see a large portion of the targets. Landry has been productive throughout his career but has always managed to be underrated by producing 1,000-yard seasons in five of his last six seasons. He will be a key staple in the Browns' passing offense. Concussions and other injuries have deflated Cooks' fantasy value, but he does have the chance to blow the door wide open if he builds a rapport with Deshaun Watson.
There are three highly talented rookie wide receivers that we need to get well acquainted with before we enter our drafts. Lamb led all collegiate wide receivers with 3.99 yards per route run and was fantastic after the catch during his tenure at Oklahoma. Jeudy is pro read and will immediately enter the league as one of the best route runners in the NFL. Jefferson will start his career with a high possibility of seeing a large portion of the Vikings' targets since there isn't much competition for the WR2 spot on the team's depth chart.
We have some younger prospects who could emerge as one of the more lucrative wide receiver options in the league if the dominos fall in the right direction. Slayton burned the league with his speed last season, and it appears he win be one of Daniel Jones' main passing options in 2020. The Arizona Cardinals have one of the fastest-paced offenses in the league. Kirk will benefit from Arizona's offense who passed the ball on 61.6 percent of their plays a year ago.
Tier 6
Ruggs was the first wide receiver selected in this year's draft. He displayed all-world speed all throughout his career at Alabama and at the combine where he ran a 4.27 40-yard dash. It's hard to tell how he will transition to the league during his rookie season, but he has more than enough juice to blow by defenses on a weekly basis.
Williams had a strong start to the 2019 season until an ACL injury caused him to miss the rest of the season. However, during the nine weeks he was present in the Dolphins' lineup, Williams owned a 21 percent target share and obtained a 13.6 average depth of target. He had six or more targets in every game but one. If anything, he has proven that he can churn volume into fantasy production.
Johnson is one of the hot names going into the off-season. He led the team with 92 targets last season and could develop into one of Ben Roethlisberger's top targets this season. He's a highly efficient route runner who has very sticky hands. A full season of increased volume could lead to him be a valuable fantasy asset.
Tier 7
Perriman finished 2019 with four straight top-24 weeks in standard scoring. There was a lot of optimism surrounding Perriman when he entered the league as a rookie. Injuries prevented him from taking off and hitting his true potential. He is now with the Jets and will need to build a rapport with Sam Darnold for him to continue the upward progression of his fantasy success.
We saw some of the top rookie wide receivers get mentioned in tier six, but Reagor is another rookie wide receiver we shouldn't sleep on. The Eagles selected him in the first round of this year's draft. Philadelphia has an ambiguous depth chart at the wide receiver position. There's a very real possibility that he leaves his rookie season as the team's leader in targets.
Another breakout candidate we could see from this tier is Hardman. He's approaching his second year in the league and plays in one of the most explosive offenses in NFL history. It's hard to ignore his elite-level speed and his ability to make plays after the catch. All it takes is an injury at the top of the depth chart for his targets to increase. Last year we saw him score six touchdowns on just 41 targets. Although it's an unsustainable rate, he did produce more yards after the catch (292) than Tyreek Hill (275) did on 48 fewer targets.
Tier 8
Tier eight is another deep tier. This tier is riddled with young wide receivers and aging vets. It's very comparable to tier six and five, but the odds of these players hitting are a lot slimmer due to the lack of talent. The upside is there with this group, just the floor is a lot lower compared to some of the previously mentioned wide receiver prospects.
The rookies in this tier are Higgins, Pittman, Shenault, and Mims. Each of those receivers has qualities in their game that could allow them to break out during their rookie season. All of them are on ambiguous depth charts. I wouldn't be surprised if we see one of these rookies crack the WR2 range by the end of the year.
The aging veterans with question marks are Westbrook, Fitzgerald, Stills, and Cobb. Westbrook isn't an older player, but his play has dipped off recently, producing just 660 and three touchdowns in 2019. He will also be facing more competition for targets this year along with having to get acquainted with a new offensive coordinator. Father time is waiting to step in for Fitzgerald and Cobb. We don't know when their play will completely drop off the map, but it's eventually going to happen.
Stills has some upside, considering he could receive a large insertion into the starting lineup somewhere down the line. However, he is playing for one of the most questionable franchises in the league, and he will need something to happen to the top of the wide receiver depth chart for him to receive a larger workload.
Tier 9
The wide receiver pool starts getting very shallow as we approach the ninth tier of our rankings. Most of these players will go undrafted in traditional redraft leagues. This should be expected as we get deeper into our rankings. However, there are values that could be had from this list.
We will see Aiyuk shoot up draft boards after the reports from Deebo Samuel's recent foot injury. We should see him get bumped up a tier or two real soon. Don't be surprised if he breaks out during his rookie season. He has a first-round pedigree and due to attrition, he could be in line for a heftier workload than expected.
There are a few highly athletic wide receivers in this tier. These players have the athleticism to make something happen but need an increase in targets or more volume churned out by the passing offense. Claypool, Wilson, Conley, Isabella, and Boykin can all exceed expectations if given a higher work rate.
Funchess and Amendola are ancillary pieces in their respected offenses, but also have the potential of developing into cheap flex options somewhere down the line. They are both in good offenses and all they need is a little bit of volume to break their way for them to be fantasy relevant.
More Fantasy Football Analysis
Check out all of RotoBaller's fantasy football rankings. Staff rankings are updated regularly for all positions and include standard formats, PPR scoring, tiered rankings and dynasty leagues.