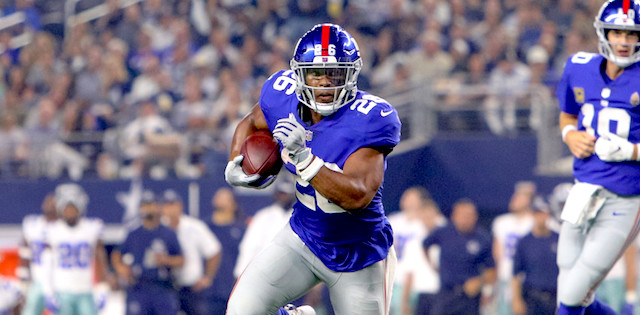 Zero-RB is a popular strategy that is touted online by several fantasy analysts. The gist of it is basically avoiding the running back position completely throughout the first few rounds of the draft, or taking a first-round workhorse, and then targeting wide receivers and maybe a premium tight end early on.
The strategy, if properly executed, can absolutely win leagues and is optimal for PPR leagues where rushing is devalued and high-volume receiving backs can dilute the RB pool significantly and make the middle-end backs' production negligible.
*As a disclaimer, this article is directed towards non-full PPR leagues, either half-PPR or standard scoring. That is the main format in which the strategy is viable.*
Editor's Note: Get any full-season NFL Premium Pass for 50% off. Our exclusive In-Season Lineup Tools, Lineup Optimizer and over 150 days of Premium DFS Research.
Sign Up Now!
Why Go Zero-RB?
There is legitimate merit to the Zero-RB strategy. Running backs are intrinsically fungible due to the nature of the position. They take more hits than any other offensive skill player on the field and can have their production dictated by various, uncontrollable factors. Top-end running back production is often accompanied by great offensive line/quarterback play along with scheming/blocking. It also helps when an offense includes downfield receiving threats who space out defenders further away from the line of scrimmage.
A particular held belief that is accompanied by various metrics is that talent level among running backs does not matter after a certain threshold. Essentially, if they are competent enough, they could get the job done. Not everyone needs a Saquon Barkley in their backfield. As long as they aren't at the level of Alfred Blue or Bishop Sankey, there is a good chance a running back could thrive in offenses that allow them to. We saw this with Austin Ekeler/Justin Jackson last year after Melvin Gordon got hurt. Then on the flip side, we witnessed two "elite" running backs have garbage years in recent history when everything around them fell apart (David Johnson's 2018, Todd Gurley's 2016).
Why It Should Still Be Avoided
In real-life football, running backs do not matter (much). However, in fantasy, they do. Owning multiple running backs in good offenses who touch the ball 20 times per game is essentially a cheat code. Their volume allows multiple scoring opportunities per game which raises your fantasy floor and ceiling significantly. Every year, outside of quarterbacks (who should not be drafted early at all outside of Superflex leagues), running backs are the top scorers, year-after-year. Five of the top-six FLEX-eligible scorers from last season in half-PPR were running backs. The highest-scoring running back (Saquon Barkley) scored more than 50 points more than the highest scoring wide receiver (Tyreek Hill).
2019 is especially top-heavy at running back and requires you to draft a handful in the first five rounds to have a competitive corps, at least during the first few weeks. Guys like Phillip Lindsay last season pop up every year or so, but banking on lucking into that waiver wire savior is not an ideal process. Wide receivers provide floor/security with their health and year-to-year production, but backs truly can carry your team, and there is a legit competitive advantage to flexing them. If two of the three running backs you start per week go off, they alone could win your matchups weekly (assuming the rest of your team doesn't lay an egg).
This year, in particular, the draft thins out at RB very quickly. After round four, and maybe early-round five, the other options left are backups (Latavius Murray), satellite backs (James White), and unclear situations (Ronald Jones II). While several of these types of backs could become/remain fantasy viable, there is inherent risk investing here given that you are paying for part-time players and hoping for full-time production. Wide receivers selected in the same range, while not as elite as those selected early, are still full-time players and will occasionally be presented with heavy workloads, especially if they are underrated WR1s on their respective teams (Robby Anderson, Allen Robinson, Christian Kirk).
Conclusion
In full-PPR, touchdowns are slightly devalued, allowing backs who just operate as budget receivers to contribute nearly as much. That is essentially why the disclaimer was included. Guys like James White and Chris Thompson (in the past) could fill in just as well as a workhorse back on some weeks.
Nevertheless, in non-PPR and half-PPR leagues, running backs are king. Stock up early and often. The best way to go about it is to draft three to four in the first five rounds. Pass up the wide receiver who is marginally better when making a selection around here unless the value is too good to pass up.
More Fantasy Football Analysis