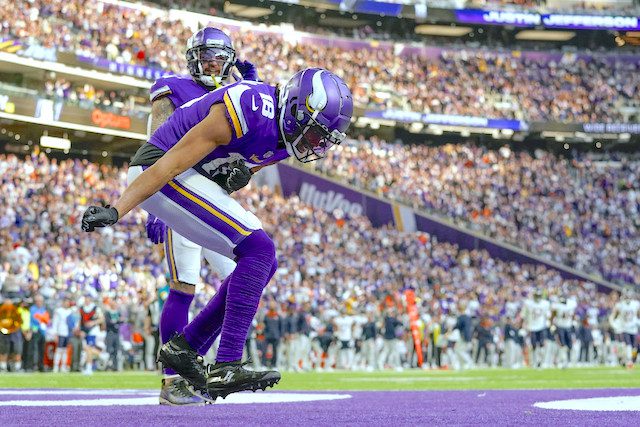 The 2022 fantasy football season is over, but that doesn't mean we are done analyzing the game. The 2023 draft season will be here before we know it.  There are plenty of fantasy football-obsessed people out there already thinking about next season, so it's time to take an early look at the potential top-five picks for traditional fantasy drafts.
There are more than five players who are up for consideration to be a top-five pick, so we'll talk about which guys just missed the list in the first part of the article. Since PPR (points per reception) formats have become so popular, we'll focus on that scoring system for this piece.
Obviously, many of these players' fantasy outlooks could be affected by free agency and the draft, but it's never too early to take a peek at next year's pecking order.
Featured Promo: The FFPC Playoff Challenge #2 is back for the Divisional Round with a massive $100,000 grand prize and $260k total prize pool. Here's the deal: no salary cap, no draft, no pickups, no subs. Choose 8 players, and as NFL teams get knocked out so will your players, so choose your team wisely. The 1,500 entries will sell out quickly, and registrations will close on Saturday January 21st at 4:30 pm ET . Don't wait - get your team now and end your fantasy football season with a shot at $100,000!
Sign Up Now!
Honorable Mentions
Tyreek Hill finishes the year with 119 receptions, 1710 receiving yards, and eight total touchdowns. His first season as a Miami Dolphin saw him finish as the No. 3 wideout in fantasy points per game (20.1), as he topped previous career highs in receptions and yards. However, the uncertainty of his quarterback situation given Tua Tagovailoa's concussions complicates calling him a top-five pick this early on. Hill will be 29-years-old when the 2023 season kicks off, and although he hasn't lost a step yet, players with his skill set can fall off the cliff quickly.
Davante Adams posted 100 receptions for 1,516 yards and 14 touchdowns on 180 targets in his first season with the Las Vegas Raiders. It was another elite fantasy season from the veteran wideout, finishing as the WR4 in fantasy points per game (19.7). However, his good friend Derek Carr is seemingly not a part of the future for head coach Josh McDaniels after he was benched in Week 17 and Week 18. Will Adams' ceiling be just as high with a potential rookie QB and alongside a healthy Darren Waller and Hunter Renfrow? There's a good chance it's not. He's still likely going to be a first-round fantasy choice, but he has more red flags than usual heading into 2023.
Cooper Kupp finished as the No. 23 wide receiver in total fantasy points, despite missing the last eight games of the regular season with an ankle injury. He was still the No.1 wideout in fantasy points per game (22.4), but it's tough to say he can replicate his elite production from the past two seasons. Sean McVay is rumored to step away from the Rams organization, and the team is in flux with very little cap space and no first-round pick thanks to the Matthew Stafford-Jared Goff trade. The team is looking at a full-fledged rebuild without much ammo to do so. We'll get more clarity on the situation in the coming weeks and months, but for now, it's tough to invest such an early pick on the soon-to-be 30-year-old pass-catcher.
Travis Kelce was in early discussions to be a top-three selection in 2023 drafts, but he was shockingly just the TE4 over the last six weeks of the season, failing to score a touchdown. Obviously, he was still a major advantage at tight end, scoring 100 more fantasy points than the TE2 (T.J. Hockenson), but regression has to come at some point, right? The 33-year-old is still very worthy of a first-round selection, but at some point, he's going to drastically underperform his ADP. Father time is undefeated, except against Tom Brady.
Jonathan Taylor missed six games this season ankle issues, but even when he was on the field, he busted in a major way. Taylor had just three finishes inside the top 12 weekly fantasy running backs, while all of the early first-round wideouts paid off in a major way. On the season, he finished as the RB23 in fantasy points per game. With the way the NFL is trending, wide receivers are beginning to take an edge over running backs. Only running backs who are elite PPR options with a ton of volume in the passing game are worth taking with a top-five selection. The Colts will still likely have offensive line issues in 2023 and the offense could be led by a rookie quarterback.
Saquon Barkley overcame his injury issues in 2022, finishing as the RB5 in fantasy points per game (17.5). Barkley rushed 295 times for 1,312 yards and caught 57 of his 76 targets for 338 yards. He rushed for 10 touchdowns but didn't catch any touchdowns in his fifth NFL season. Ultimately, he finished with roughly 100 total fewer fantasy points than in his breakout rookie season in 2018. While he was a fantasy stud for a lot of the year, his rushing efficiency and pass-catching volume weren't on par with the ceiling we saw early in his career. Barkley will be a free agent in 2023, so if he sees a change of scenery, his outlook could be affected.
No. 5 Pick For 2023 Fantasy Football Drafts: Austin Ekeler
Admittedly, I have been an age snob with running backs in fantasy football, but Ekeler has often avoided a lot of the inefficient between-the-tackles carries and saw just the fifth-most touches per game (18.5) among running backs in his age-27 season. He evidently still has plenty of tread on the tires, and unlike running backs like Jonathan Taylor and Derrick Henry, he can score tons of fantasy points without being an all-out workhorse. Despite not leading the league in touches, he finished the season as the RB1 in fantasy points per game (21.9).
Ekeler caught 107 of his 127 targets, leading both of those categories by a wide margin. Additionally, he has scored 38 total touchdowns since 2021, the most of any player in that two-year span. While touchdowns vary year-to-year and aren't always the best stat for projecting to the future, Los Angeles will continue to sport a top offense led by Justin Herbert, and Ekeler will continue to get a ton of valuable touches on passes and in the red zone. He's past the age apex, but he hasn't been overused and he checks all the boxes you want in a fantasy running back.
No. 4 Pick For 2023 Fantasy Football Drafts: Stefon Diggs
Despite a few down performances near the end of the 2022 season, Diggs projects as a top-five pick once again in 2023. Diggs finished his third year catching passes from Josh Allen with 103 receptions on 146 targets for 1,351 yards and 10 receiving touchdowns. All in all, he placed fifth among wide receivers in fantasy points per game (18.6). He hasn't matched his initial season with the Bills, but he continues to be a top-tier fantasy wideout. Diggs takes the edge over some of the other receivers because we know he'll be tied to an elite quarterback and elite offense once again next season.
Additionally, his game isn't built exclusively on explosiveness and speed, but rather route running savviness and chemistry with his All-World quarterback. Those types of wide receivers can remain dominant producers, even when some of their physical talents regress in their late 20s and early 30s. If Buffalo decides to make a major upgrade at WR2 since Gabriel Davis has underwhelmed, Diggs' value and outlook could take a hit, but he'll be a first-round pick regardless.
No. 3 Pick For 2023 Fantasy Football Drafts: Ja'Marr Chase
Before Chase suffered a hip injury in Week 7, he was up there in fantasy scoring with the elites at wide receiver. At 20.2 fantasy points per game through the first seven weeks, he trailed only Stefon Diggs, Cooper Kupp, and Tyreek Hill among wide receivers. At just 22-years-old, he's right in stride with league-winning pass-catchers from years past. His upside over the next few seasons is ridiculously high, as there's a solid chance he hasn't even reached his prime.
Ultimately, Chase finished the year as the WR6 at 18.3 fantasy points per game, notching five top-five weekly finishes and two No. 1 fishes among wide receivers. Chase is likely locked in with Joe Burrow, so expect the young stud to be drafted inside the top-five for many years to come. In 2022, he still caught more than 80 passes, surpassed 1,000 receiving yards, and scored nine touchdowns in 12 games. If he hits his ceiling outcome, he could be the surefire No. 1 overall fantasy pick as soon as 2024. Remember, Chase put up a 266-yard receiving day at just 21-years-old, so he arguably has a higher ceiling than any player in the fantasy landscape.
No. 2 Pick For 2023 Fantasy Football Drafts: Christian McCaffrey
For the first six weeks of the NFL season, McCaffrey was the RB4 in fantasy points per game, racking up 19.7 points per contest. However, from Weeks 7 to 18 as a San Francisco 49er, he was the RB1, scoring 21.7 points per contest. In five of his last six games, he finished no lower than the weekly RB9, posting two top-three finishes during that stretch. Ultimately, the main debate for the No. 1 running back in 2022 fantasy drafts was between Jonathan Taylor and Christian McCaffrey. Fantasy managers who chose McCaffrey likely contended for a title, while Taylor managers struggled to sniff the playoffs.
The 49ers gave up a huge haul for McCaffrey, so we can assume he's in their long-term plans. On the season, he finished with 1,139 rushing yards, eight rushing touchdowns, and 85 receptions for 741 receiving yards and five receiving touchdowns.  It'll be interesting to see what happens to his fantasy production if Trey Lance is pulling passing attempts out of the offense in 2023, but for now, he's a chalk selection in the top three and certainly has the No. 1 pick consideration.
No. 1 Pick For 2023 Fantasy Football Drafts: Justin Jefferson
In Jefferson's rookie season, he posted 1,400 yards. In his sophomore campaign, he posted 1,616 yards. Guess how many yards he posted in his third year as a pro in his age-23 season  -- a staggering 1,809 yards. He led the league in receiving with 184 targets for 128 catches and eight receiving touchdowns. AT TWENTY-THREE YEARS OLD. Chase is a formidable second-best dynasty wideout, but Jefferson is arguably already the very best pass-catcher in the NFL and is on track to be one of the greatest ever at the position.
Jefferson posted 22.6 fantasy points per game (second to Cooper Kupp) and finished as the overall WR1. He was a top-four weekly receiver in nine of his 17 games played. That said, not only did he provide consistency and a nice floor, but he provided week-winning performances with eight games of at least 29 fantasy points.
Ultimately, it's seemingly going to be a two-man race between Jefferson and Chase to compete for the No. 1 fantasy receiver over the next half-decade. In Year 2 of Kevin O'Connell's system and Year 4 with Kirk Cousins, Jefferson is more than worthy of the No. 1 overall pick. Wide receivers have been safer bets AND provided more upside -- all without the injury risk that most running backs come with. A 2,000-yard season almost feels inevitable for Jefferson, so when that's the ceiling, he has to be the top choice at the top of the draft.
Download Our Free News & Alerts Mobile App
Like what you see? Download our updated fantasy football app for iPhone and Android with 24x7 player news, injury alerts, rankings, starts/sits & more. All free!


Win Big With RotoBaller
Be sure to also check out all of our other daily fantasy football articles and analysis to help you set those winning lineups, including this new RotoBaller YouTube video:


More Fantasy Football Analysis
Check out all of RotoBaller's fantasy football rankings. Staff rankings are updated regularly for all positions and include standard formats, PPR scoring, tiered rankings and dynasty leagues.