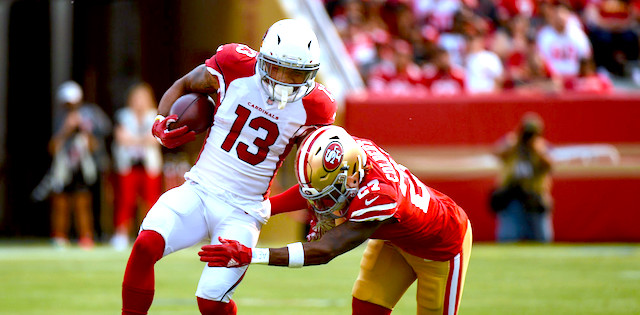 You'll notice that some of the same names tend to make their way into this article for multiple weeks. I try to mix it up as much as possible, but I do feel the need to mention guys multiple times, because if you didn't grab them when they first appeared in this article, time is running out. Just remember, make the move first on the waiver wire and it could pay huge dividends.
I split this article into a few different sections. Waiver wire priorities will range from players you should try to add with some urgency all the way to players you should keep your eye on, but don't make the move just yet unless you are in a deeper league. I'll also sprinkle in a few guys you can potentially move on from.
Check here for a complete list of our Waiver Wire Adds for Week 7 for help at all the skill positions. As always, RotoBaller has you covered!
Editor's Note: Our incredible team of writers received 13 award nominations by the Fantasy Sports Writers Association including Baseball Writer of the Year, Football Writers of the Year, Golf Writer of the Year and many more! Be sure to follow their analysis, rankings and advice all year long, and win big with RotoBaller!
Read More!
Front Runners for Week 7 - Wide Receiver Additions
This group consists of wide receivers that I would recommend adding if they are available on your waiver wire. Some are more viable for PPR formats, so take note of that. These players have either earned a greater workload due to injury/performance issues or have shown that they can be weekly contributors to their NFL teams. All players listed have 50% or less ownership levels across fantasy leagues.
Paul Richardson, WSH - 6% owned
Even though the Redskins were beat-up on offense against the Panthers on Sunday they were still able to come away with a victory. If Chris Thompson and Jamison Crowder miss more time, then I want to own some Paul Richardson shares. Jordan Reed and Vernon Davis were the lead "receivers" on Sunday, but Richardson owns the big play ability. He could be hit or miss with that big play ability, but if he finds the end zone, he was probably a decent start for the week as a WR3 or flex play.
Taylor Gabriel, CHI - 22% owned
If you watch the RotoRevolution on RotoBaller YouTube, then I have two things to say. Number one, shameless self-promotion because you should open another tab in your browser, head over there and subscribe if you don't already. Number two, my co-host Jake Hubman and I have been bringing up this name for three weeks now and he is still only 22% owned. Jake made a fantastic must start call for Gabriel a couple weeks ago as well.
If you haven't grabbed him yet, then you missed out on five catches for 110 yards against the Dolphins on Sunday. It also means you have missed out on seven catches for 104 yards in Week 4. Even with Anthony Miller back on the field this past weekend, Gabriel didn't go anywhere. If he is going to be a fixture in the box score every week, you need to get some of that in PPR leagues.
Christian Kirk, ARI - 14% owned
At only 14% owned, I think we need to have a serious conversation about what Christian Kirk needs to do for his ownership to reach 50% and be left out of this article. I mentioned Kirk last week after catching three passes for 85 yards and a touchdown. He followed that up in Week 6 with six catches for 77 yards. Dare I say Kirk is the new WR1 in Arizona? All the respect to Larry Fitzgerald, but Kirk leads the Cardinals in receptions and yards right now.
The switch to Josh Rosen is going to be best for this and considering Arizona has spent all season under-utilizing David Johnson, Kirk is the go to right now. How many teams have a WR1 still sitting on waivers right now? It's time we all grab Kirk and see what he has the rest of the season.
In the Running for Week 7 - Wide Receiver Additions
This group consists of wide receivers widely available on the waiver wire who aren't must-adds but could be worth stashing or streaming if the above options are already taken or if you are dealing with injuries.
Albert Wilson, MIA - 9% owned
Albert Wilson makes a return to this article after taking a couple of weeks off. Hauling in six catches for 155 yards and two touchdowns will make you a popular name on the waiver wire the following week. Doing that with Brock Osweiler will cause chaos because we all know that Wilson must have some voodoo going on to put up those numbers with Osweiler.
The deactivation of Ryan Tannehill was not one most of us anticipated and it left me suggesting that no Miami Dolphins should start on Sunday. Well, that was wrong. With his performance in Week 6, Wilson now leads the Dolphins in receiving yards, receptions and receiving touchdowns. I still think Stills can rebound and start putting together some bigger weeks, but Wilson is making a serious run at that WR1 status for the Dolphins.
Chester Rogers, IND - 16% owned
I have been talking about Chester Rogers for far too long now. Raise your hand if you said prior to 2018 that Rogers was going to be a name brought up every week for the Colts as a primary receiver. My hand is not up right now if you were wondering. Rogers is one of my favorite streaming options right now as we work our way through bye-weeks.
Over the last three weeks, Rogers has 32 targets and 206 receiving yards. He finally found the end zone in Week 6, but the amount of volume he has been racking up needs to be noticed. There is a chance some of that goes away when T.Y. Hilton returns, but he's becoming one of Andrew Lucks favorite targets. Considering Luck has more than 40 passing attempts per game, there should be more than enough volume every week.
Dark Horses for Week 7 - Wide Receiver Additions
This group consists of wide receivers who need some more time to show us what they have but should be on our radar still. Don't jump to add them yet, but another week or two could prove to be fruitful.
Adam Humphries, TB - 0% owned
This is probably a long shot, but we need to keep an eye on Adam Humphries in deeper leagues. Since Jameis Winston is under center again, things could change in Tampa Bay. Humphries has had at least 55 receptions and 600 yards the last two seasons. Chris Godwin, Mike Evans, DeSean Jackson, Cameron Brate and O.J. Howard are all above him on the totem pole, so he isn't a safe play by any means. If an injury happens or the matchup is just right, Humphries could be a streaming option in deeper leagues. Three receptions and 82 yards in Week 6 is enough to get my attention.
Willie Snead, BAL - 9% owned
John Brown has had much more attention in Baltimore this season and was the popular waiver wire choice earlier in the year. While that was happening, and owners continue to be infatuated with Michael Crabtree, Willie Snead is now tied for the lead in receptions for the Ravens. Snead also had 10 targets in the matchup against the Titans. We may have reached PPR flex status in deeper leagues, so stream away!
Say Goodbye for Week 7 - Wide Receiver Drops
This group consists of wide receivers who don't need to be owned. They aren't necessarily must-drop players, but if you need the roster space for one of the above players, don't hesitate to cut bait to chase upside.
 Antonio Callaway, CLE - 22% owned
As the main Antonio Callaway truther and president of his fan club, let me start by saying better days are ahead. You must remember this kid missed all last season and wasn't even expected to be on an NFL roster after the draft. While I think his talent wins out and he becomes and a much better option in 2019, his value this year is done for now. He continues to see a ton of targets, but just hasn't been able to haul in enough for fantasy relevancy this year. For now, he can find his way back to waivers.
Kelvin Benjamin, BUF - 19% owned
Is this the year Kelvin Benjamin truthers finally realize that he really wasn't that good? Or will the blame be placed solely on the Buffalo Bills and their awful offense? Either way it goes, drop Benjamin to waivers and say so long for this season. I would rather own anyone in this article (except maybe Humphries) than Benjamin right now. Just because he is the WR! In Buffalo and will see volume does not make him a decent play.
More Waiver Wire Analysis
Check out RotoBaller's famous fantasy football draft sleepers and waiver wire pickups list, updated regularly!