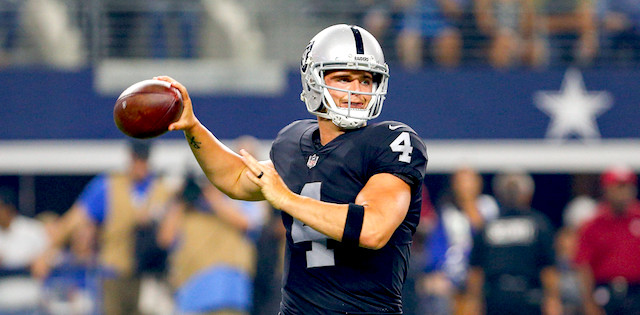 Week 1 of the NFL season offered up some very big games from the unlikeliest of sources. With the leaderboards filled with players such as Sammy Watkins and John Ross, the upper echelon of talent in fantasy football left some owners wanting more. But that is the nature of the game we play.
You have to learn to take the good with the bad and adjust your lineups accordingly. Who will be the players that are in store for good weeks yet under the radar? Also, what stars could set you up for disappointment in Week 2?
That is why I dive into the numbers for this week's Woo's and Boo's and help you answer those tough lineup decisions.
Editor's Note: Get any rest-of-season NFL Premium Pass for 50% off. Our exclusive DFS Tools, Lineup Optimizer and Premium DFS Research through the Super Bowl.
Sign Up Now!
Week 2 Woos
Derek Carr vs. Kansas City Chiefs
The Raiders looked like semi-functional offense in Week 1, a large departure from what we were accustomed to in 2018. Derek Carr looked more comfortable running the offense in year two under Gruden and it could be the signs of a quarterback poised for a bounceback season. In Week 2 the Chiefs come into Oakland for what could turn out to be a high scoring affair. Last week the Chiefs Defense allowed both Nick Foles and Gardner Minshew to look like glorified All-Pro level QBs (350 combined passing yards and 3 TDs), something that I expect to see from Carr in this matchup. In fact, in two of his last four games against the Chiefs, Carr has returned QB1 value. Look for much of the same here as he should throw for 300 yards and at least two scores.
Duke Johnson vs. Jacksonville Jaguars
Johnson had a very simplified stat line in Week 1 (90 total yards and four receptions). He played the majority of the snaps in backfield, but Carlos Hyde was the better rusher and his low catch total was a bit concerning. That should change in this week's matchup against the Jaguars, a team that allowed nine receptions to opposing RBs in Week 1. With Carlos Hyde likely not able to repeat last week's performance, look for the Texans to utilize Johnson in better ways this week. I could see him bringing in six receptions and a score in this matchup. He's a solid play as a low-end RB2 or flex.
John Brown @ New York Giants
In what could likely be the under-the-radar-start of the week, John Brown is poised for a big game. Looking to follow up on a great opening game (7-123-1), Brown will be facing a Giants secondary that allowed a career day to Dak Prescott and the Cowboys passing attack. While the Bills continue to sort things out with the ground game, look for Josh Allen to expose this defense. Brown could be in store for a very busy afternoon and return another seven-catch day along with another score in this matchup. Easily worth a start as a WR3.
Jack Doyle @ Tennessee Titans
After a quiet one-catch day in Los Angeles in Week 1, Jack Doyle will be looking to get on track in this divisional game. In his only game against the Titans in 2018, Doyle did find the end-zone. Something I expect to see again in this game. The Colts will be without Devin Funchess in this game and will need someone to step up to take the pressure off of T.Y. Hilton. Look for Jacoby Brissett to funnel the passing attack into the middle of the field to take advantage of a Titans Defense that is soft on the inside. If you are looking to stream at the TE position this week, Doyle could be your guy.
Week 2 Boos
Drew Brees @ Los Angeles Rams
Drew Brees and the Saints passing attack was hitting on all cylinders in Week 1, but this week they go on the road where Brees typically does not perform as well. Facing a tough Rams secondary that limited Cam Newton to next to nothing a week ago, Brees could find the going tough here. I expect much of the Saints offense to go through the ground game this week, limiting Brees's opportunities in Week 2. With secondary QBs that have better matchups this week (Josh Allen or Derek Carr), you shouldn't be locked into starting Brees.
David Johnson @ Baltimore Ravens
Johnson saved his fantasy owners in Week 1 with a solid performance through the air (6 receptions and a score). But as the Cardinals go on the road to face the Ravens, Johnson is primed for a very disappointing week. The Ravens Defense should be ready to face what Kyler Murray and the offense can bring and I expect them to hold the team to a low point total. Johnson could find the going to be rough in this game and I'm not sure he may even exceed 75 total yards. You may be hard-pressed to put him on the bench, but if you are starting him, lower your expectations.
Robby Anderson vs. Cleveland Browns
Anderson was a major disappointment in Week 1 (3 catches for 23 yards). That will again be the case in Week 2 as he will be matched up against Denzel Ward and is without starting QB Sam Darnold. New starting QB Trevor Siemian is not known for getting the ball down the field which will limit what Anderson can do. Until the return of Darnold under center, keep Anderson firmly entrenched on your bench.
Zach Ertz @ Atlanta Falcons
Now I am not advocating benching Ertz in this matchup, but he will have a tough draw on the road against a Falcons Defense that did not allow a reception to the position in Week 1. This defense is strong up the middle and with so many weapons in the Eagles offense, Carson Wentz will not be obligated to feed the ball to Ertz. You will be starting him (unless you picked up a player like Darren Waller), but do not expect a 100-yard and a touchdown type of day in this matchup.
More Week 2 Lineup Prep